Is China Interfering in American Politics?
Speaking before the General Assembly of the United Nations on Sept. 26, President Trump issued an incendiary charge against China. "We have found," the president declared, "that China has been attempting to interfere in our upcoming 2018 election…against my administration."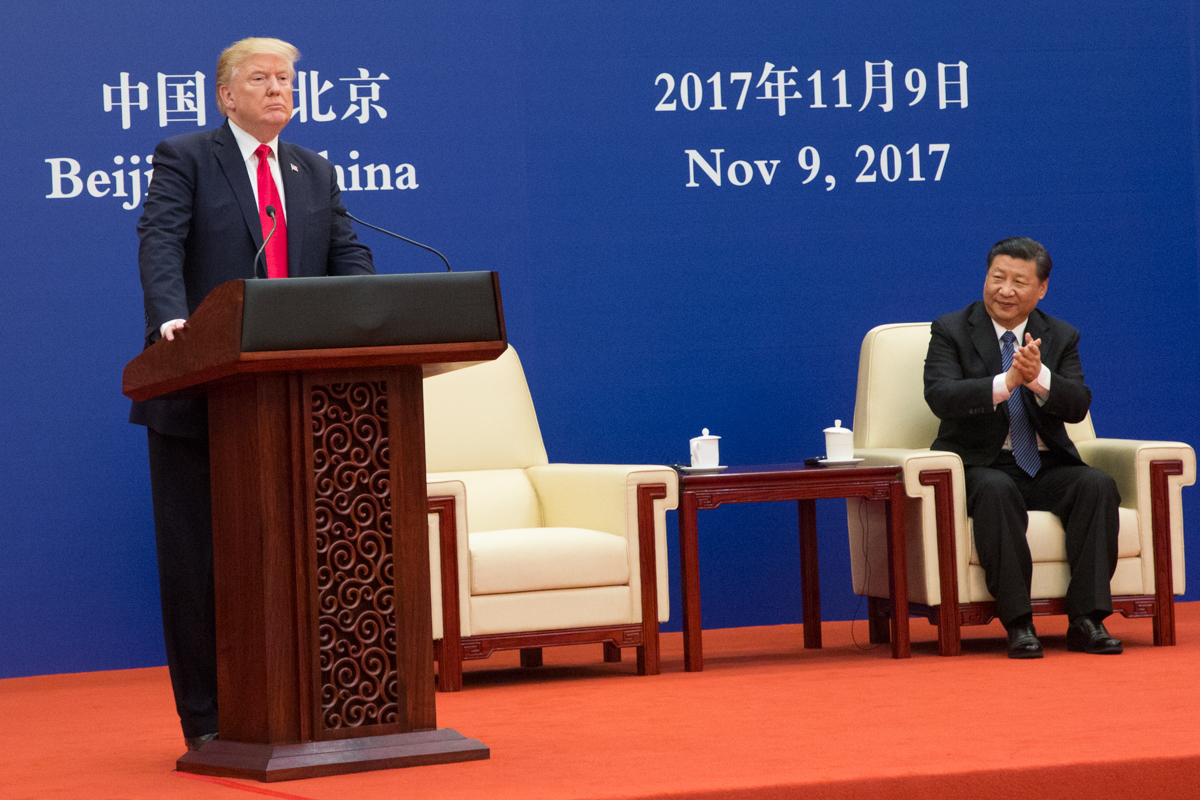 Published by The Lawfare Institute
in Cooperation With


Speaking before the General Assembly of the United Nations on Sept. 26, President Trump issued an incendiary charge against China. "We have found," the president declared, "that China has been attempting to interfere in our upcoming 2018 election…against my administration."
Trump's allegations of election interference call to mind Russia's brazen meddling in the 2016 presidential election. But while his claims should not be dismissed out of hand, the reality is more complex than his comments suggest. China is indeed pursuing influence efforts in the United States and elsewhere, but these differ from Russia's in important respects.
The lack of specifics in the president's comments will make it easy for some to dismiss these allegations of China's interference as politically contrived, while leading others to overheat the charges into a "China panic." Washington needs to better understand China's activities in order to avoid overreacting in ways that could harm the legitimacy of the democratic process, erode liberal values and complicate a serious discussion of Beijing's activities. Congress and the administration will instead need to craft solutions that respond appropriately to the challenges at hand. They will also need to adhere to strict standards for disclosure to avoid tainting the democratic process and squandering the government's credibility on increasingly important questions of foreign influence.
What Did President Trump Mean?
The president provided neither evidence nor elaboration for his claims, making it unclear precisely what he meant by "election interference." Most likely, Trump had in mind less Russia-style "active measures" than more mundane efforts, like politically-targeted trade retaliation and newspaper advertisements. His remarks Wednesday followed a week-old tweet in which he called China's trade retaliation against "farmers, ranchers, and industrial workers" a form of election interference. Notably, in a tweet following his remarks at the United Nations, Trump pointed to the China Daily's purchase of advertising in the Des Moines Register as further evidence.
These efforts by China differ in breadth, ambition and brazenness from those undertaken by Moscow in 2016, which included hacking private email accounts and working with third parties to time leaks for maximum political impact. In private discussions, many Chinese interlocutors have criticized Russia's interference as a crude and reckless gambit that risked backfiring then and has proven counterproductive now. Left unstated was the notion that there is a better way to influence audiences abroad—one that finds more explicit expression in some Chinese government documents on foreign propaganda and influence work.
Accordingly—and despite Trump's narrower focus on trade retaliation and newspaper inserts—China has long pursued a wide-ranging and very real campaign to influence the political and informational environment of other countries, including the United States. This has long been a routine feature of great power competition—though one that the United States and its allies and partners appear to have largely ignored from the end of the Cold War until recently.
China's Influence Strategy
China's top leaders have long emphasized the importance of influencing foreign public opinion. In 2006, President Hu Jintao declared that China must "strengthen the construction of foreign-related media and networks" that "promote China." He called for China to "innovate in foreign propaganda methods," and "strengthen external propaganda in language that is easily understood and accepted by foreign publics," underlining the need for China to "do a good job with work in the Western mainstream media" so as to "increase trust and dispel doubts" about China's rise.
China's efforts often go beyond mere media influence, most notably in Hong Kong, Taiwan, Australia and New Zealand. These efforts often involve China's United Front Work Department, an organ of the party-state that seeks to co-opt or neutralize foreign and domestic opposition to the party and its policies, and have included sizable Communist Party-linked donations to political parties, financial support for friendly research institutions or the launch of China's own, harassment of the overseas diaspora, monopoly of Chinese-language media, consulting contracts for former politicians, and other avenues. All this has been documented in open sources.
In Australia, for example, a government report detailed that Communist Party-connected donors have given generously to Australian political parties. An Australian senator resigned after it was revealed he parroted Beijing's talking points on the South China Sea while standing alongside a donor with Chinese citizenship, and had even advised that donor to set aside a cell phone lest it be surveilled by the Australian government. In New Zealand, a former Chinese citizen elected to Parliament failed to disclose his long-standing links to Chinese military intelligence on his citizenship application. Meanwhile, in Taiwan, United Front activities have reportedly included payments to organized crime elements that subsequently involve themselves in protests, disruption and political activity. Evidence of China's efforts to influence European politics is also on the rise.
In the United States, Chinese state-controlled media outlets like China Daily, CGTN and Xinhua clearly hope to influence the U.S. information environment. Several newspapers, including the Washington Post, carry inserts published by the China Daily. In addition, there is some evidence that United Front-linked donors have sought to support U.S. research institutions, though there remains an honest debate about whether and how such funding has impacted research products. At the same time, some state-linked donors have even launched their own institutions that participate in contemporary policy debates and endeavor to shape the discussion—with apparently limited success.
For now, there is no public evidence that China has sought to leak private information or access electoral systems to manipulate U.S. elections. Indeed, China's efforts in the United States appear less mature and flagrant than they are in Australia or Taiwan. Even so, the fact that influence efforts are in full swing elsewhere—and that Beijing could one day take a page from Moscow's more aggressive playbook here if relations continue to deteriorate—means that Washington needs to be proactive.
The Way Forward for Washington
Already, there are some signs that the U.S. government is taking action. Congress has held multiple hearings over the past year on the subject of Chinese influence operations, and members have put forward legislative proposals to deal with them by increasing the transparency of government-linked foreign media outlets and cultural centers such as China's Confucius Institutes.
The Foreign Influence Transparency Act (H.R. 5336, S. 2583), introduced in March, would compel any organizations that "promote the political agenda" of a foreign government to register as foreign agents under the Foreign Agents Registration Act (FARA). It would also lower from $250,000 to $50,000 the threshold at which universities must disclose foreign donations from entities such as Confucius Institutes to the Department of Education. Similarly, the Countering Foreign Propaganda Act would require foreign media outlets operating in the United States to disclose their relationships to foreign principals, including foreign governments. It would further require that such outlets include a "conspicuous statement" on video broadcasts indicating that the content is produced on behalf of a foreign entity.
Some legislative efforts have already borne fruit. The John S. McCain National Defense Authorization Act for Fiscal Year 2019 (NDAA), signed into law by the president on Aug. 13, requires the establishment of an interagency process and National Security Council strategy to understand and counter "malign foreign influence operations and campaigns." The NDAA also bars the use of Pentagon funds for Chinese language training at Confucius Institutes.
Beyond legislation, the Justice Department recently ordered two Chinese state-run media outlets, Xinhua and CGTN, to register as foreign agents under FARA. Although the department does not restrict content published by entities registered under FARA, it does require them to provide details of their operations. In the case of Russia's RT network, FARA registration preceded the loss of its congressional press credentials.
These transparency-focused efforts mark an important step forward, but they will require care and nuance in implementation. Policymakers will need to delicately balance the objective of curtailing foreign propaganda with the protection of First Amendment rights of free expression, particularly when it comes to political speech, the most highly protected form of expression under the Constitution. And efforts to curb influence operations must not succumb to fear-mongering or broad targeting of Chinese citizens and culture.
There are also practical questions about the administrability of certain disclosure provisions in the bills currently working their way through Congress. Under the Foreign Influence Transparency Act, for instance, what standards should law enforcement agencies use to evaluate whether an ostensibly academic entity should be subject to FARA registration because its activities "promote the political agenda" of a foreign government?
Setting Standards for Speaking Out
When the government reports foreign interference, it must do so carefully. False, unsubstantiated or premature accusations can damage faith in the American electoral process and squander the credibility that will be sorely needed when serious interference occurs. After Trump's erratic statements this week, the American public may tune out if Beijing escalates its interference at some future date.
In confronting this dilemma, policymakers must bear in mind a distinction between generalized foreign influence on the U.S. political environment and the covert action employed by Russia during the 2016 presidential election cycle. The Justice Department's recently released policy on "Disclosure of Foreign Influence Operations" puts forward the kinds of standards that should be considered before the U.S. government takes the extraordinary decision to publicly disclose and attribute an influence operation.
The policy emphasizes that partisan political considerations must play no role in the decision to disclose and appropriately recognizes the need for any disclosures to protect intelligence and investigatory sources and methods. It also cautions that the timing of disclosure should be consistent with other Justice Department policies designed to avoid influencing an election. Perhaps most importantly, it clarifies that influence operations should only be publicly attributed to a foreign government when such activities can be attributed to that government with "high confidence." This guideline implies a demanding evidentiary burden when the Department of Justice or any U.S. government entity takes the rare step of accusing a foreign government of interference in an election.
This is where President Trump's U.N. statement falls short. It lacks nuance and evidence while overheating the political climate and potentially even laying a foundation for the president to contest the legitimacy of the upcoming midterm elections. It may also provoke the kind of overreach that could undermine liberal values from freedom of speech to freedom of association.
Such rhetoric is not only a disservice to American democracy—it also puts American security at risk. The challenge that China poses to U.S. domestic politics is real and requires serious and sober debate. Cheap rhetoric will only delay that discussion and squander the government's credibility in tackling an increasingly salient challenge.
---
Rush Doshi is the Brookings-Yale Post-Doctoral Research Fellow. He focuses primarily on Chinese grand strategy and Indo-Pacific security.
Robert Williams is a senior research scholar, lecturer, and executive director of the Paul Tsai China Center at Yale Law School. He is also a nonresident senior fellow at the Brookings Institution.