A Dispatch From Italy: Meloni's First Six Months
An appraisal of "Europe's most dangerous woman" and her first months as prime minister of Italy.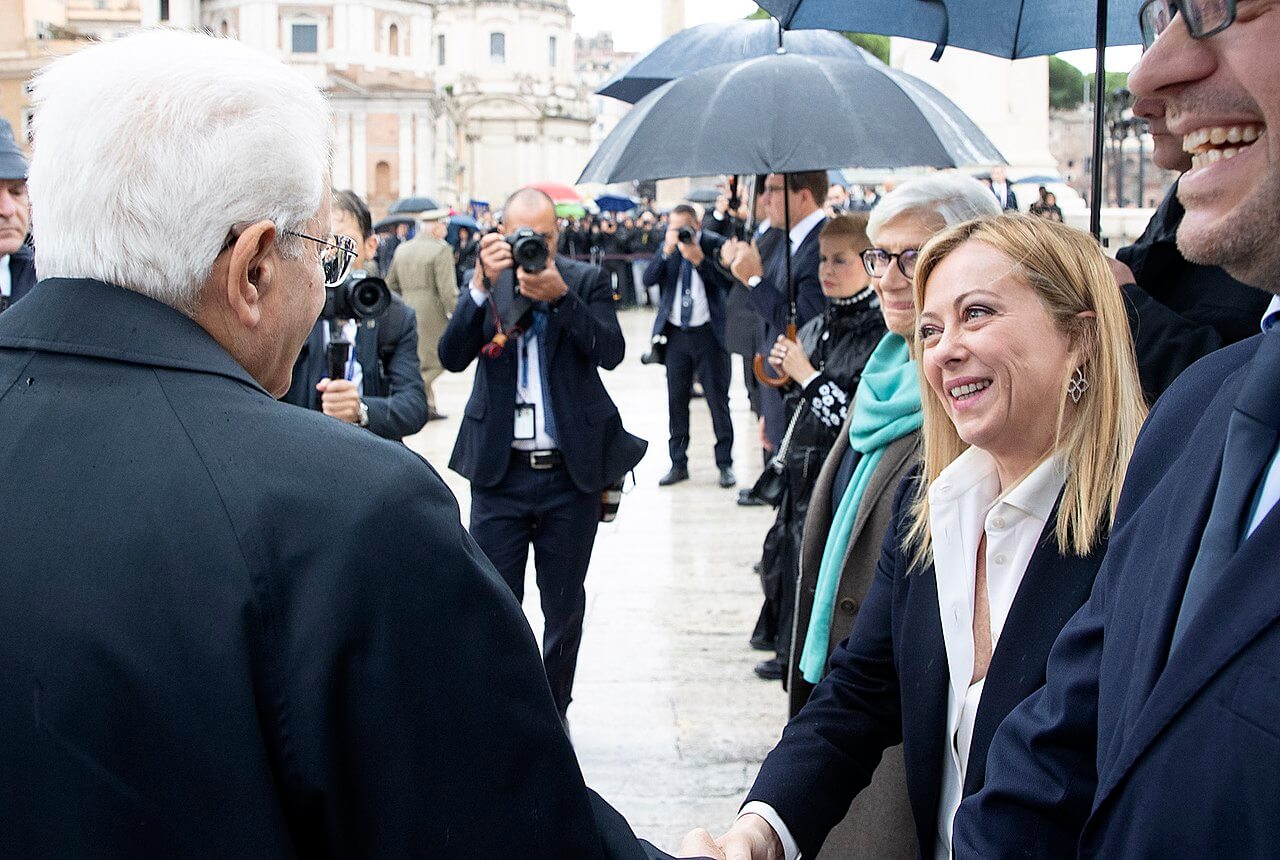 Published by The Lawfare Institute
in Cooperation With


The end of March will mark six months since newly minted Italian Prime Minister Giorgia Meloni was elected. It's a date that will likely fly by without much fanfare, not because the prime minister hasn't accomplished anything in the first few months of her tenure, but because the fear of Italy's far-right shift that accompanied her rise seems to have subsided, at least for now.
In February I spent a few days in Rome, where I held a series of conversations with various policymakers and thought leaders on Italy in the EU, NATO, and the U.S.-Italian relationship. One thing struck me: I didn't hear anything bad about Meloni. Not even from people who disagree with her. I even tried to coax people, in a way, to be critical. It didn't work. Coming from the U.S., I was surprised. These days, it's hard to have conversations here that don't include barbs being thrown at one party or another. The overall impression I took away is that Italians want her to do a good job, which I respect. A strong Italy that gets along with Brussels and has a good relationship with the United States means an Italy that is more relevant on the world stage. The broader picture, however, is more complicated.
The September 2022 election of Meloni's far-right populist party, the Brothers of Italy (Fratelli d'Italia), forced the country to grapple with its fascist past under Benito Mussolini. Fratelli d'Italia has "roots in postwar incarnations of the fascist movement" and even includes some modern-day supporters of Mussolini himself. His granddaughter Rachele is even a member of the party. Since its modern-day inception in 2012 (born out of a right-wing split within Silvio Berlusconi's former party "the People of Freedom"), Brothers of Italy was on the periphery of Italian politics, securing, for example, just 2 percent of the vote in 2013 and 4 percent of the vote in 2018. Since then, Meloni has made a concerted effort to distance the party from the various iterations of its controversial past, focusing instead on what the party looks like today and what it could mean for Italy's future. This attempted rebrand paid major dividends during September's election: Meloni's party secured 26 percent of the vote, a notable increase even though Italian voter turnout had decreased from 74 percent in 2018 to 64 percent this past year.
However, Meloni's rhetorical efforts weren't enough to quell skeptics in both the United States and Europe. Given the overall fear among many that right-wing populism is tightening its grip in different parts of the world, the mere thought that she could win the election was enough to send shockwaves throughout Brussels and Washington. In the lead-up to the election, a German magazine referred to her as "Europe's most dangerous woman," and the New York Times ran an op-ed last July with the title "The Future Is Italy, and It's Bleak."
Then, she won. Her first step as prime minister was to form a far-right coalition with Putin-fan Silvio Berlusconi's party, Forza Italia, and Matteo Salvini, from the right-wing Lega Nord. The fear among Italy's partners didn't just remain, it intensified. European Commission President Ursula von der Leyen said outwardly that Brussels has the tools to deal with Italy should it ever need to (mainly by cutting off its funding), a nod to the assumption that Meloni's right-wing tendency would be to pull Italy away from the EU. Even President Biden, after congratulating Meloni for her win, used her election as a warning to Democrats in the U.S., saying, "You just saw what's happened in Italy in that election. You're seeing what's happening around the world. And the reason I bother to say that is we can't be sanguine about what's happening here either."
Thus far, however, she's been shockingly transatlanticist in her approach to foreign policy and has deftly managed her coalition government at home. At the risk of losing popularity (given that only 40 percent of Italians approve of Italy supplying weapons to Ukraine), she's been very public about the need to provide long-term support for the country, even while Berlusconi has gone so far as to blame Ukraine for the war. Since the invasion began, Italy has provided weaponry and taken in more than 170,000 Ukrainian refugees, policies that Meloni has not only not reversed or publicly criticized, but championed. In fact, As Ivan Krastev and Mark Leonard wrote in Foreign Policy, the support of Meloni points to a broader theme in Europe: "The war reconciled many European nationalists to the idea of a stronger and more united EU, while at the same time forcing many pro-European liberals to discover the mobilizing power of anti-imperial nationalism." Meloni has even tried flexing her global muscles. In a recent trip to India (the first by an Italian prime minister in five years), she pushed for Prime Minister Narendra Modi to help facilitate a "just peace" in Ukraine.
Even Meloni's budget, often a reflection of a government's top priorities, passed without much fanfare. And, even though Italy has at times struggled to meet some of its targets and deadlines for the EU's post-COVID Recovery Fund, Minister of Economy and Finance Giancarlo Giorgetti said the country has met the policy requirements to receive a new 19 billion euro tranche of those funds in May.
Meloni does deserve credit for proving her detractors wrong thus far, at least in terms of foreign policy. But I kept trying to square Meloni's performance on the international stage with her conservative social policies at home. She's taken an approach to migrants in the Mediterranean Sea that many would call inhumane—France, for example, let an Ocean Viking rescue ship carrying hundreds of migrants dock in Toulon after Italy refused it. Additionally, there are very real and legitimate fears among Italy's LGBTQ+ community given that Meloni "presents herself as a defender of Christian values and an enemy of what she calls 'gender ideology' and the 'LGBT lobby'." Same-sex adoption is also on the chopping block; this month, the government instructed the city of Milan to to stop registering children of same-sex parents. The intricacies of Italian domestic laws require the U.S. and Brussels to continue to watch this disconnect between Meloni's foreign and domestic policies.
It's still early for Meloni in her role as prime minister. Italian politics are famously mercurial, and I wonder how long this honeymoon on the international stage might last and whether internal pressure will eventually hamper Meloni's efforts to be a pro-EU, pro-NATO transatlanticist. For example, in terms of Ukraine support, I couldn't help but compare what's happening in Italy with what's happening here in the United States. Even in the United States, support for arming Ukraine is waning: 48 percent of Americans say they favor the U.S. sending weapons to Ukraine, which is down from 60 percent in May 2022. I wonder if, in Italy—a much smaller country with much less influence on how the war turns out—public pressure will just be too much at some point, and if the voices like Berlusconi's and Salvini's will drown out the voices that say Italy needs to hold the line against fascism or other forms of right-wing authoritarianism. I worry that immigrants will continue to be used as political tools—in much the same way they're used as political tools here in the United States. And, finally, I'm curious as to how the relationship with the European Union will continue to evolve, especially in terms of post-COVID recovery funds.
Perhaps Meloni's next six months as prime minister will give us a better idea of what's in store for Italy—that is, if she lasts.
---
Rachel Rizzo is a nonresident senior fellow at the Atlantic Council's Europe Center. Her research focuses on European security and the transatlantic relationship. Prior to the Atlantic Council, she worked as the Director of Programs at the Truman Project and Truman Center for National Policy. From 2019-2020, she spent a year as a Robert Bosch fellow in Berlin and spent over five years at the Center for a New American Security. She began her career as a financial analyst at Goldman Sachs.