France Makes a Play to Try Foreign Fighters in Iraq
The French foreign minister has made a trip to Iraq to attempt to make a deal to try foreign fighters in the country. The plan faces diplomatic obstacles abroad and opposition at home.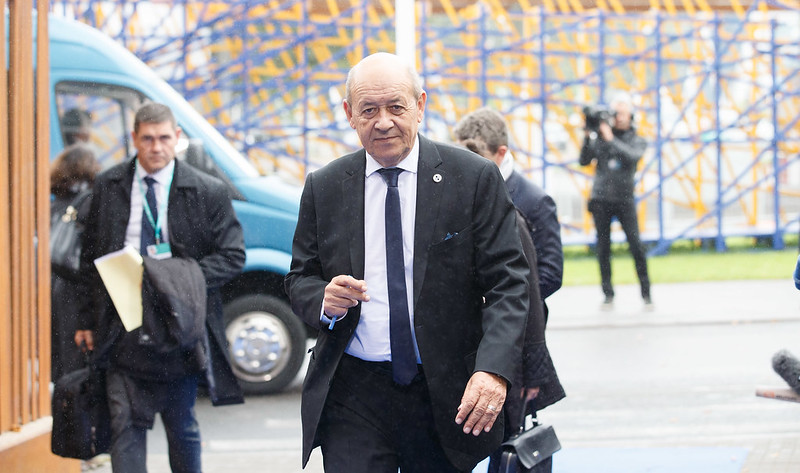 Published by The Lawfare Institute
in Cooperation With


France has a plan for dealing with European Islamic State fighters: get Iraq to handle them. While competing political train wrecks dominate the headlines in the U.S. and the U.K., the French foreign minister recently took a trip to Baghdad in an attempt to warehouse European jihadis, particularly French ones, far away from the continent.
Nowhere in Western Europe is the security threat of the United States's Syria withdrawal more pronounced than in France. The vulnerability to escape and jailbreak of the makeshift Kurdish prisons holding alleged Islamic State members has the fate of 200 French adults (60 of whom are feared jihadis) and 300 French children in question. Around 1,900 French nationals have traveled to join the Islamic State in Syria—more than double the number from any of its Western European peers. France has also been uniquely affected by foreign fighter violence. On a Friday night in Paris almost four years ago, French and Belgian nationals (many of whom had recently returned from fighting for the Islamic State in Syria and Iraq) threw grenades at concert-goers and sprayed machine gun fire into cafe terraces, killing 130.
It's no surprise, then, that the French government has taken a particularly active role in international talks about how to hold foreign fighters accountable. In France, too, the U.S. withdrawal from Syria has reignited a public debate about what to do with the French citizens detained there. The same question lies at the core of both France's diplomatic efforts and the debate over the fate of the fighters: Should France repatriate those who left to fight for the Islamic State and try them in domestic courts? The substance of France's diplomatic campaign offers a window into an approach European nations may take to deal with foreign fighters, and the success or failure of the effort will provide early clues as to the feasibility of European ambitions.
On Oct. 17, French Minister of Foreign Affairs Jean-Yves Le Drian went to Iraq to pitch a cooperative plan whereby the Iraqis would take custody of all foreign fighters detained in Syria, including the 60 accused French jihadis, and try them in Iraqi courts. Le Drian met with Kurdish leaders in Erbil that same day. The day after his visit to Baghdad, Le Drian announced that a new agreement with the Iraqis should be in place "very soon." Although the trip attracted scant attention in the English-language press, American audiences should not dismiss it as an insignificant one-off jaunt by an overzealous foreign secretary.
Le Drian's visit is the latest move in months-long negotiations between Iraq and European governments. European governments, overwhelmingly opposed to repatriating foreign fighters, appear to see the Iraqi justice system as a compelling solution to their detainee problem. The French minister is the highest profile official to participate in talks in recent weeks, but experts from seven Western European countries traveled to Baghdad two days prior to his visit to discuss the detention issue.
On the international stage, Le Drian faces diplomatic and logistical hurdles. Despite France's desire to get Iraq to take custody of all foreign fighters held in Syria, Le Drian's Iraqi counterpart, Mohammed Ali Alhakim, has expressed reluctance to take "foreign terrorists who committed attacks outside of Iraq." Taking on hundreds of European detainees also threatens significant resource strain on the Iraqi penitentiary and justice system. Reuters reports that the Iraqis want European countries to pay millions in return for taking custody of European fighters. Other reports suggest that American officials have participated in talks about financial support for building new prisons in Iraq for European foreign fighters.
A legal challenge, however, provides the most formidable obstacle to France and its European allies: European countries would have to work with Iraq to create a legal framework that satisfies international and European domestic humanitarian standards. In a French television interview, Le Drian stressed that a goal of the visit was to "find a way to have a legal system that can try all of the fighters, including Frenchmen." That means, among other things, crafting a judicial architecture with sufficiently robust protections against capital punishment and torture as to satisfy European countries' various international humanitarian obligations. In a story about Le Drian's visit to Baghdad, a prominent French newspaper cited human rights advocates who decried the "real risks of torture" and lack of any "guarantee of fair process" in Iraq. Concerns about capital punishment are hardly misplaced. In 2015, Iraq executed the fifth highest number of people in the world.
Indeed, to some observers, the prospect of Iraq trying European fighters might conjure an unnerving sense of deja vu. In January, Kurdish forces in Syria transferred almost a dozen French citizens to Iraq to stand trial for membership in the Islamic State. Iraqi courts sentenced 12 of the men to death, 11 of whom were French nationals and one of whom was a Tunisian French resident. French consular officials attended the trial without significantly intervening. Iraq has not yet executed any of the defendants.
The move provoked fierce objections. A letter from 45 French lawyers denounced what they saw as the hypocrisy of the government's inaction to stop the trials. Referencing the ban on capital punishment in article 66-1 of the French constitution, the group claimed that the government's nonintervention amounted to "responding to barbarity with a punishment that we categorically prohibit." The transfer also invited sharp condemnation from Agnes Callamard, U.N. special rapporteur on extrajudicial, summary or arbitrary executions. Callamard, writing to French Prime Minister Edouard Philippe, urged President Emmanuel Macron's government to repatriate French fighters detained in Iraq. Callamard declared that the transfer of the fighters "gave rise to multiple violations of international law." Callamard anchored her letter in a critique of the inadequacies of the Iraqi justice system. Iraq, she cautioned, is "a country whose legal system is marred by very serious structural problems." Referencing claims that the French government endorsed the transfer, Callamard stressed that she is "particularly disturbed by allegations that France may have had a role in this transfer, given the risk involved of torture and unfair trials and that they would likely face the death penalty." For its part, the French government has pushed back against claims about its role in the transfer.
Domestically, some observers have met Le Drian's overtures with approval. Among others, the move has gained the partial support of President Macron's fierce political rival: Marine Le Pen of the far-right National Rally (formerly National Front) party. "The government is right," Le Pen told a French radio station, to seek avenues to avoid repatriating alleged French jihadis. But Le Pen, never one to be outflanked to the right, urged the French government to adopt the Danish model of stripping foreign fighters of their domestic citizenship.
Yet France's repatriation debate reached its apex only after public intervention from a surprising source. David De Pas, a judge in a French judicial wing dedicated to terror cases, gave an interview two days after Le Drian's visit in which he advocated for the repatriation of French foreign fighters for the purpose of trying them in domestic court. Mathieu Delahousse, a French journalist who covers major terror trials, described De Pas's words as "rare and strong." While humanitarian concerns motivated the special rapporteur and the lawyers' group's objections to Iraqi involvement, De Pas seemed unmoved by such concerns. Instead, he objected to the Iraqi partnership for security reasons. He argued that repatriation offers "long term" public safety and "judicial" advantages and that failing to repatriate "runs a security risk" domestically. Referencing the successes of his own anti-terror court, De Pas wondered how the French could really control the fighters without "having them on hand" and in the French criminal justice system. Many French publications picked up De Pas's interview.
Recent anti-terror triumphs in France's domestic legal system perhaps understandably emboldened De Pas. Even in the past month, French courts have achieved a host of (sometimes symbolic) victories. On Oct. 14, a French court convicted two women for their role in a failed 2016 attempted bombing of Notre Dame Cathedral. The court also sentenced Rachid Kassim, a French-born Islamic State commander who recruited the pair to join the group, to life in prison in absentia. Analysts widely assume that Kassim died after a 2017 U.S. drone strike in Iraq, but Delahousse nonetheless described his life sentence as a "a strong act by French anti-terror authorities" and noted that Kassim's conviction will serve as valuable precedent for future prosecutors seeking to target recruiters. At the request of lawyers representing victims of the 2015 attacks, on Oct. 18 the French issued an international arrest warrant for Abu Bakr al-Baghdadi, the Islamic State's leader, and Baghdadi's former spokesman, Abu Muhammad al-Adnani. Though intervening events have removed the practical significance of the Baghdadi warrant and the Adnani warrant was always largely symbolic (he likely died August 2016), the moves symbolize the empowered sentiment of French courts. Finally, in the days following De Pas's interview, five French magistrates closed their investigation into the 2015 attacks and formally implicated 14 suspects, including the lone surviving attacker, French national Salah Abdeslam. Trials will kick off in 2021.
The government shows no signs of moving away from its recalcitrant position, though no one can say for certain whether Le Drian's position will triumph over De Pas's. Regardless of the outcome, the French debate offers a clear look at the posture of European governments and a preview into what a substantive public debate about foreign fighter detention might look like.
---
Jacob Schulz is the former managing editor of Lawfare. He previously served as deputy managing editor and associate editor. He hails from Pennylvania and attended Amherst College.