Has Whitaker Sought Ethics Advice on His Involvement with the Mueller Investigation? Inquiring Minds Want to Know
We're using FOIA to find out whether the acting attorney general has consulted with career ethics experts on his involvement with the Mueller investigation. If not, that could be a major red flag.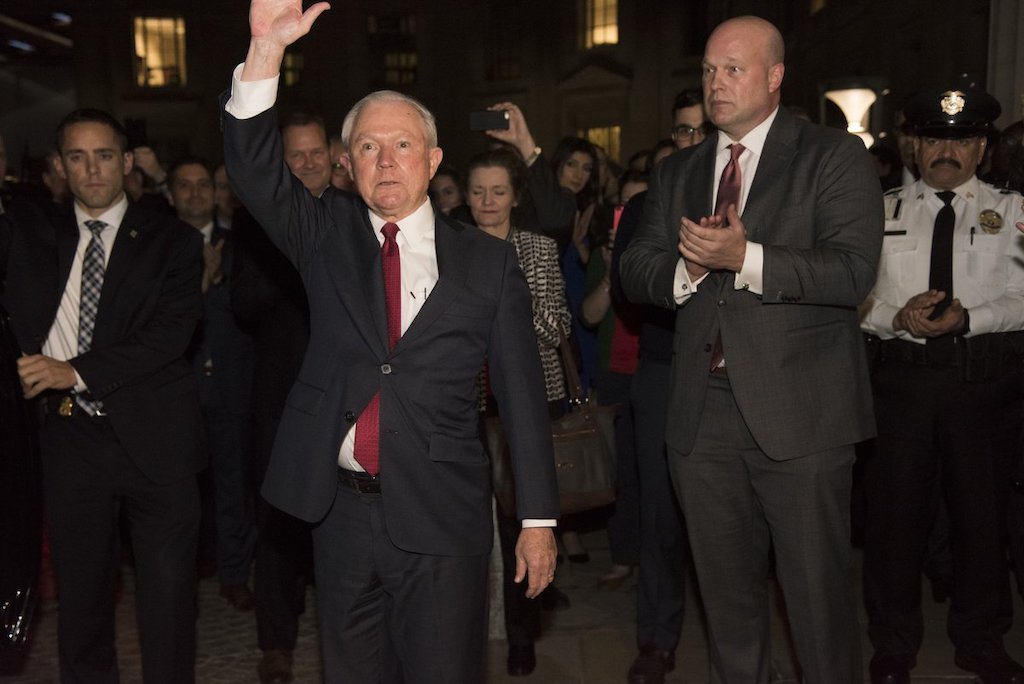 Published by The Lawfare Institute
in Cooperation With


Here's a job for the Freedom of Information Act: Finding out whether Matthew Whitaker has sought guidance from Justice Department ethics and legal experts on how he should handle possible conflicts of interest in supervising the Mueller investigation.
On Wednesday, President Donald Trump finally removed Jeff Sessions as attorney general, bringing an end to months of open and increasingly hostile criticism. An early political supporter who was in lockstep with much of Trump's domestic policy agenda, Sessions's fatal mistake appears to have been his decision to recuse himself from overseeing Special Counsel Robert Mueller's investigation—a move that Trump openly criticized as a "betrayal," even though Sessions acted on the advice of career Justice Department ethics officials. While he searches for a permanent replacement, Trump has appointed Sessions's former chief of staff, Matthew Whitaker, as acting attorney general. A Justice Department spokesperson has indicated that Whitaker will be assuming the full scope of the attorney general's responsibilities—including, it would seem, direct supervision of the Mueller investigation.
Yet Whitaker does not step into this role with a clean slate. Before joining the Trump administration in 2017, he was a vocal critic of the Mueller investigation, at one point going so far as to speculate as to how a future attorney general might "grind[] [the investigation] to almost a halt" by limiting its budget. Whitaker also chaired the 2014 Iowa state treasurer campaign of Sam Clovis, a former Trump administration official and current grand jury witness in the Mueller investigation who described Whitaker as a "friend" as recently as Wednesday. This history has led to several high profile calls for Whitaker to remove himself from any direct role in overseeing the Mueller investigation so as to ensure its continued independence. Thus far, however, there are no signs that he's willing to risk the president's wrath by following in Sessions's footsteps.
Whether this decision squares with the law is far from clear. A dense web of regulations and professional guidelines govern how Justice Department lawyers are supposed to handle potential conflicts of interest. Many of them reflect statutory requirements imposed by Congress, and several may well set substantial restrictions on Whitaker's eligibility to supervise the Mueller investigation due to his prior positions and relationships. For example, one regulation—the same one that ultimately led Sessions to recuse himself—specifically prohibits Justice Department employees from participating in any criminal investigation where they have "a personal or political relationship" with any person or organization that is "substantially involved" with the subject of the investigation or could be "directly affected" by its outcome. Whitaker's relationship with Clovis or other members of the Trump administration could well put him on the wrong side of this line. Overcoming this prohibition would normally require a written determination from the employee's supervisor that the conflict of interest will not make the official's work "less than fully impartial and professional" or "create an appearance of a conflict of interest" that might undermine public confidence. But it's unclear how this requirement operates in regard to the attorney general, who has no identifiable supervisor other than the president.
Fortunately, Whitaker does not have to navigate these requirements alone. The Justice Department maintains two offices of career experts who advise employees on such matters of ethics and professional responsibility: the Professional Responsibility Advisory Office and the Departmental Ethics Office , the latter of which works in coordination with ethics officials embedded within each Justice Department component. Whitaker should seek guidance from these components on whether his involvement with the Mueller investigation raises ethical or legal concerns, as both Sessions and Deputy Attorney General Rod Rosenstein did. Acting consistent with these experts' advice would make clear that Whitaker takes his responsibilities as attorney general seriously and intends to act in a fashion consistent with both the law and the Department's long-standing ethical and professional standards. Avoiding this step, meanwhile, would significantly increase the risk that Whitaker's supervision of the Mueller investigation will violate long-standing requirements—a dangerous behavior for the chief U.S. law enforcement officer to exhibit, even (or perhaps especially) if Whitaker may be acting at President Trump's implicit direction. For this reason, as one of us co-wrote for Lawfare on Wednesday, "[i]f Whitaker either does not obtain an ethics opinion from career officials or if he departs from that guidance, that would be a serious red flag."
To help us identify any such red flags, we have once again turned to our old friend: the FOIA. Yesterday, we submitted several FOIA requests to the Department Ethics Office, the Professional Responsibility Advisory Office and Office of the Attorney General seeking confirmation as to whether Whitaker has at any point asked for or received guidance regarding ethical or legal concerns arising from his possible involvement with the Mueller investigation. In addition, we requested any internal communications in which Whitaker commented on the Mueller investigation or Sessions's own recusal decision, both of which may shed light on his views regarding his own ethical and legal obligations. And we asked for any documents providing clarification as to how certain key conflict of interest regulations apply in practice to the attorney general.
Our FOIA requests are reproduced in full below. As always, we will share any documents we receive in response here on Lawfare.
---
Scott R. Anderson is a fellow in Governance Studies at the Brookings Institution and a Senior Fellow in the National Security Law Program at Columbia Law School. He previously served as an Attorney-Adviser in the Office of the Legal Adviser at the U.S. Department of State and as the legal advisor for the U.S. Embassy in Baghdad, Iraq.
Benjamin Wittes is editor in chief of Lawfare and a Senior Fellow in Governance Studies at the Brookings Institution. He is the author of several books.