India's Justice System Is No Longer Independent: Part III
Part III concludes this series, detailing how India's judiciary has been complicit in the Modi government's prosecution of political opponents.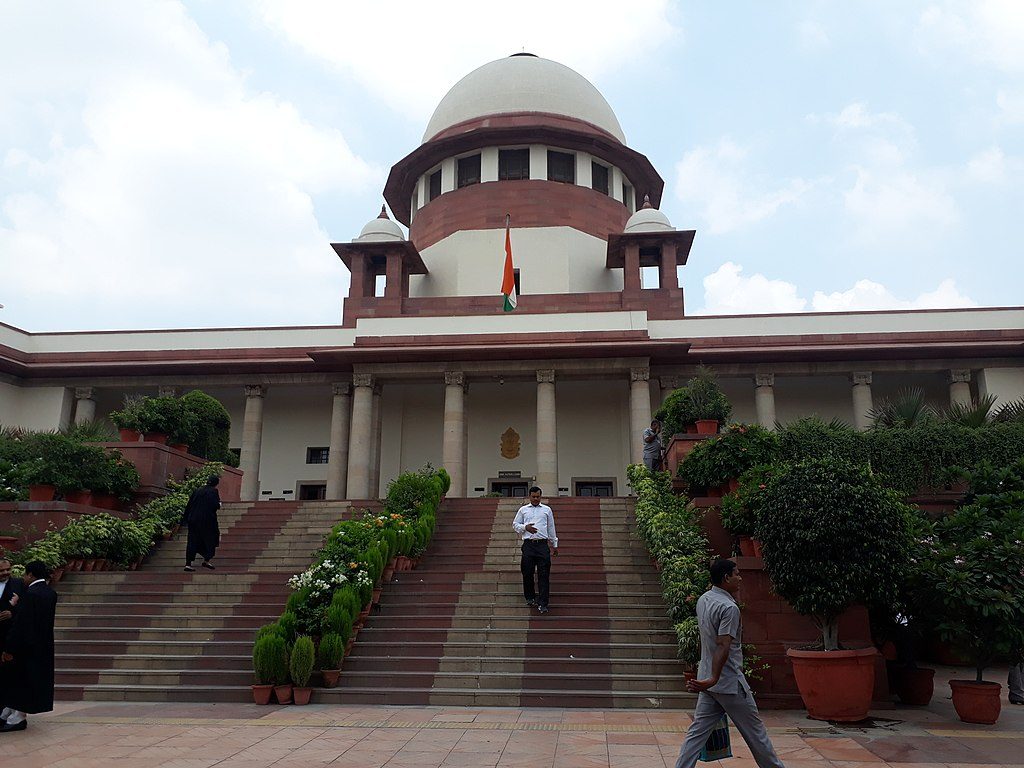 Published by The Lawfare Institute
in Cooperation With


The first two installments in this series detailed the nature and role of India's justice system and how the Modi government has undermined its independence. By halting judicial appointments, exerting influence on pending cases, and offering judges who provide favorable rulings with plum political jobs, India's justice system has been largely tamed—equal parts unable and unwilling to be the guardian of India's democratic, secular, and egalitarian constitutional mandates.
But a court tamed is only so useful. Far more valuable is a court mobilized and deployed. Indeed, increasing evidence suggests that attention has shifted from taming the courts to weaponizing them, in particular to undermine opposition figures ahead of next year's general election.
Consider, for example, the defamation case brought against Rahul Gandhi, recent leader of the BJP's rival political party, the Indian National Congress. At a rally in 2019, Gandhi hinted at alleged corruption by saying, "One small question, how are the names of all these thieves 'Modi, Modi, Modi'? Nirav Modi, Lalit Modi, Narendra Modi, and if you search a little more, many more Modis will emerge."
Shortly thereafter, Pranesh Modi, a BJP lawmaker from Gujarat—the state in which Prime Minister Narendra Modi led as chief minister for over a decade—filed a defamation case saying Gandhi had defamed everyone in India with the last name Modi. From the time of its filing in 2019, the case moved at the sluggish pace typical of India's justice system. Months went by between hearings, and when the judge rejected the plaintiff's request that Gandhi appear in person, the BJP lawmaker took the unusual step of asking that the case be halted indefinitely.
Then in February 2023, in the lead-up to crucial state elections and with the 2024 general election on the horizon, Pranesh Modi suddenly asked that the case be unfrozen, claiming that new evidence had emerged, which he ultimately failed to produce. Now in the hands of a different judge, Magistrate Judge Hadirash H. Varma, the case progressed with unprecedented speed. In the span of just 20 days, a total of seven hearings were held, and a verdict was rendered: guilty of criminal defamation.
Defamation accusations are particularly fraught in India because India's defamation laws are unlike those of other major democracies. A relic of 19th-century British colonial libel laws that the United Kingdom repealed in its own country in 2009, defamation in India can be tried as a civil or a criminal offense, and the bar for defamatory speech to be considered criminal is startlingly low. Any statement, whether true or false, that "harm[s] a person's reputation[,]" regardless of whether said person is alive or deceased, constitutes criminal defamation under the Indian Penal Code.
Compared to defamation laws in the United States, which are strictly matters of civil law (and hence preclude jail time) and which require the plaintiff to show that false or inaccurate statements were made with "actual malice," India's criminal defamation laws can be a potent tool for hamstringing political rivals.
More insidious than the conviction, however, was Gandhi's sentence. The maximum sentence for a defamation conviction is two years, but courts typically settle for a fine. In Gandhi's case, the magistrate court sentenced him to the maximum sentence. The two-year sentence also meant Gandhi would face an additional penalty: disqualification from parliament.
Under Article 102(1)(3) of the Indian Constitution and Section 8 of the Representation of the People Act, a two-year sentence is the statutory minimum penalty that disqualifies a sitting member from parliament. Indeed, just a day after the court found Gandhi guilty of criminal defamation and before Gandhi had the chance to appeal his case, the lower house of parliament disqualified him from his parliamentary duties. And with the prospect of spending the next two years in jail, his ability to stand in the 2024 general election was thrown into doubt.
Gandhi appealed his case to both the lower court and the High Court in Gujarat. Neither agreed to hear his case. When India's Supreme Court did take up his appeal on Aug. 4, they deliberated for no more than two hours before reaching a verdict:
[N]o … reason has been assigned by the learned Trial Judge while imposing the maximum sentence of two years. … [I]t is to be noted that it is only on account of the maximum sentence of two years imposed by the learned Trial Judge, the provisions of sub-section (3) of Section 8 of the Representation of the People Act, 1950 … have come into play. Had the sentence been even a day lesser, the provisions of … the Act would not have been attracted. … We are of the considered view that the ramification of sub- section (3) of Section 8 of the Act are wide-ranging. They not only affect the right of the appellant to continue in public life but also affect the right of the electorate, who have elected him, to represent their constituency. … We, therefore, stay the order of conviction.
The court stopped short of implying "foul play" at the magistrate level, but in suspending Gandhi's conviction, the court made plain that the maximum two-year sentence was suspiciously punitive given its connection to the disqualification statute. Even more suspicious was Varma's subsequent promotion to the district court in the weeks after he handed down Gandhi's sentence.
Gandhi, scion of the powerful Gandhi political dynasty, took the shrewd step of highlighting his case on a tour across the United States while India's Supreme Court decided his fate. Ultimately, a favorable result was handed down. A lesser-known political figure, Manish Sisodia, however, may not be so lucky.
Sisodia was deputy chief minister of Delhi and leader of the Aam Aadmi Party (AAP) from 2015 to February 2023. At the time, the AAP had begun to challenge the BJP's hold on states such as Gujarat—Modi's home state—and parts of Delhi, before Sisodia was arrested in February for corruption charges related to his official liquor licensing responsibilities in Delhi. Curiously, Sisodia was arrested for the very thing he was dispatched to do in his official capacity: reform and execute liquor licensing laws. The Central Bureau of Investigation (CBI) justified his arrest on the grounds that Sisodia gave "evasive replies" when questioned about licensing practices in Delhi and failed to "cooperate with the investigation."
Sisodia remains in custody. On Sept. 15, India's Supreme Court deferred hearing his bail pleas until early October. His chances of standing in next year's election look bleak.
It's true that Indian government leaders have long used charges like corruption, tax evasion, and defamation against opponents. During the "national emergency" period of the 1970s, for example, Prime Minister Indira Gandhi used income-tax raids to intimidate her opponents or jail them. And when an Indian National Congress-led coalition governed India from 2004 to 2014, 43 of the 72 political leaders (or roughly 60 percent) investigated by the CBI belonged to an opposition party.
But what sets the Modi government apart is the scale and systemization of the enterprise and the judiciary's complacency in the face of it. Since the BJP-led coalition government took charge in 2014, the number of CBI probes of prominent political leaders has reached 124, according to a report published by the Indian Express. Of these leaders, 118 individuals—or 95 percent of those being investigated—belong to the opposition, despite the fact that the opposition's footprint has shrunk during Modi's tenure as prime minister.
In his book, Sciences Po professor Christophe Jaffrelot details what he calls a "politics of intimidation" under Modi. He notes, for example, that during the 2019 campaign for state elections in Maharashtra, the law enforcement agency in charge of combating economic crimes in India registered cases against the Nationalist Congress Party (not to be confused with the aforementioned National Congress Party) leaders Praful Patel, Sharad Pawar, and Ajit Pawar. In addition, the Congress party leader of the state of Karnataka, D.K. Shivakumar, was arrested in an income-tax-related case while the BJP made a public push to reclaim control of the state. Others, notes Jaffrelot, were put under house arrest, "to prevent them from canvassing or taking part in protest movements." Among these included former chief minister Chandrababu Naidu and his son, Nara Lokesh, of the Telugu Desam Party and former home and finance minister P. Chidambaram of the National Congress Party, to name just a few. Moreover, Chidambaram faced 106 days of pretrial incarceration in 2019 for alleged money laundering, despite the CBI never leveling any charges against him. Naidu was arrested on Sept. 9 for alleged misappropriation of funds and remains in custody.
The courts, meanwhile, tacitly endorse this practice of burying opposition figures in legal battles by denying bail, for example, or keeping the accused in pretrial custody without charges being leveled against them for months, if not years.
Importantly, to presume that all of the accused are victims of unfounded allegations of corruption would be unwise, as corruption is endemic in India and is hardly the domain of one party or another. These developments might therefore be better described as the selective prosecution of political opponents. Lending support to this theory, the accused can often find an escape hatch out of their legal troubles if they align themselves with the BJP. Referred to by opposition figures as the "washing machine" strategy, it's not unusual for charges to miraculously vanish or for black money to "turn white" (namely, ill-gotten gains made legal) if the accused agrees to switch parties and join the BJP.
In addition to their political adversaries, the ruling party has taken a heavy-handed approach to prominent civil rights advocates like Indira Jaising and Anand Grover, and the courts have been reluctant to intervene. The government has also exploited a colonial-era anti-terrorism law, the Unlawful Activities Prevention Act, to silence dissent. Particularly striking is the suppression of student protesters who rallied against the divisive Citizenship Amendment Act, widely perceived as an anti-Muslim measure, as discussed in Part II. In the past five years, more than 8,300 people have been arrested and incarcerated under the anti-terrorism law. Only 2 percent of those cases resulted in conviction from 2016 to 2019.
The discretionary power vested in judges to prolong pretrial detention indefinitely under this law emerged as one of "Modi's most repressive tools." This grim reality has led to the prolonged suffering of thousands and, tragically, the death of 84-year-old Father Swamy, a Jesuit priest and activist with Parkinson's disease, who was repeatedly denied bail in spite of his diminished health.
More recently, extended pretrial detentions have touched the pinnacle of pop culture in India: Bollywood. Bollywood is notable not only for its immense reach throughout the world (an estimated 4 billion tickets are sold annually) but also for the influence its largest stars wield over public opinion within India.
Underscoring this phenomenon is the treatment of Bollywood's largest star, Shah Rukh Khan, a beloved figure across India and around the world. According to government critics, Khan's immense celebrity, coupled with his statements criticizing the growing intolerance of Modi's India—not to mention his Muslim heritage—has made him a target of the BJP's ire.
In 2021, Khan's son, Aryan, was arrested as part of a drug raid on a party boat. Despite not finding any drugs on him, or even conducting a drug test, the central government-controlled Narcotics Control Bureau charged him under laws "related to possession, consumption and sale of Illegal substances." He was detained in an overcrowded jail for 25 days and denied bail twice, once by a magistrate court and once by a special court that hears narcotics cases—an oddity given that the offense was minor enough for detainees to typically post bail without delay.
Although charges against Khan's son were eventually dropped six months later, Mehbooba Mufti, the former chief minister of Indian-administered Kashmir, alleged that Aryan Khan was targeted "because his surname happens to be Khan." Indian author Arundhati Roy, put it more simply: "These days in India you are arrested and jailed for who you are. Not for what you have done."
Such concerns are emblematic of the pervasive feeling across many segments of Indian society that prosecutors, ministers, judges, and even Supreme Court justices are increasingly behaving in ways that belie the system's duty of impartiality. As this series has detailed, the mounting evidence that India's judicial system is no longer impartially assessing questions of law and justice has grown in recent years. Through stalling judicial appointments, influencing the outcome of watershed cases, and burying opponents in legal battles, the Modi administration has chipped away at core judicial norms, leaving India to navigate the coming period of geopolitical ascendancy without genuine rule of law.
This is concerning not just for India's 1.4 billion people but for the direction of world affairs more generally. An India in which the judiciary is pressured by the executive in unconstitutional ways is an India that the many governments around the world looking to partner with India will find increasingly difficult to support. Whether these developments can be reversed, only time and the ballots of Indian voters can tell. For now, we would be wise to amend our understanding of how democratic the world's largest democracy really is.
---
Saraphin Dhanani is the Legal Fellow at the Lawfare Institute. She previously worked at the Estonian Ministry of Foreign Affairs for the Ambassador for Human Rights and in the Markets Group at the Federal Reserve Bank of New York. She holds a B.A. from Wellesley College, where she was a Fellow and Ambassador at the Madeleine Korbel Albright Institute, and a J.D. from Stanford Law School, where she was the Senior Articles Editor of the Stanford Law Review.