Iran and Hezbollah's Presence Around the World
Qassim Soleimani's death has prompted questions about Iran's ability to retaliate against the U.S. outside the Middle East. Iran and Hezbollah have spent the past several decades establishing international bases of operations—particularly in Latin America and Western Africa.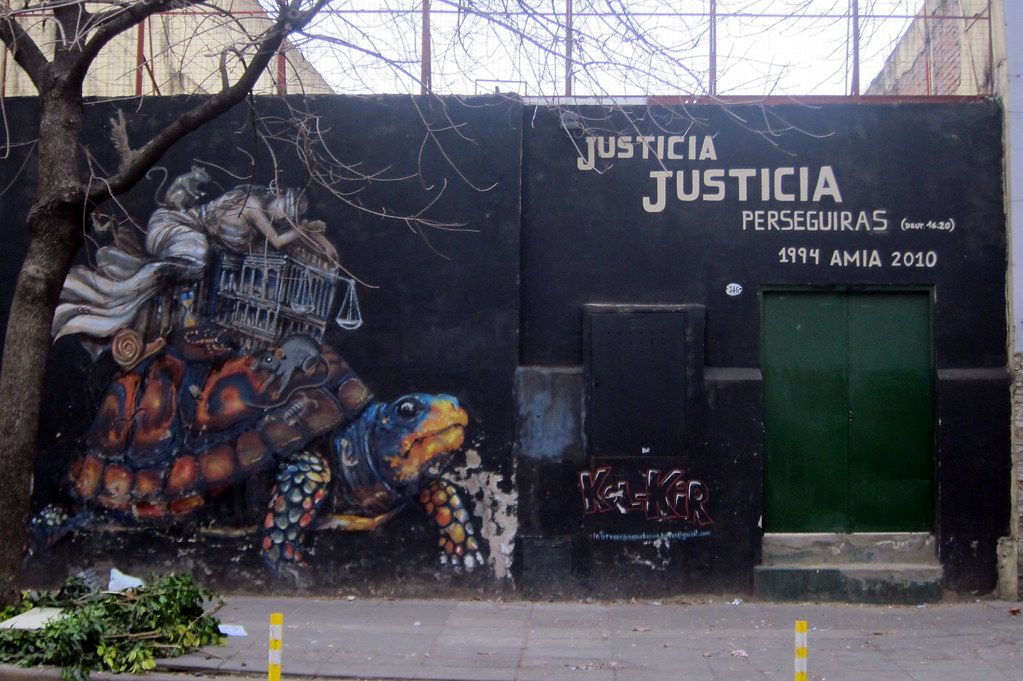 Published by The Lawfare Institute
in Cooperation With


In the days since the U.S. strike that killed Iranian Quds Force commander Major General Qassim Soleimani, Americans have heard many dire warnings about potential retaliation by Iran. Soleimani's Quds Force, a unit of Iran's Islamic Revolutionary Guard Corps (IRGC) that specializes in unconventional warfare, would be a likely source for such retaliation—but Iran doesn't rely on the Quds Force alone. Instead, the government's ability is enhanced by Iran's extensive network of proxy forces, most notably Hezbollah in Lebanon.
Many analysts have zeroed in on Iran's ability to retaliate in the Middle East. But Iran's area of influence is not limited to its region. Over the past decade, it has launched operations, either through Hezbollah or its own agents, around the world—including in Latin America, Eastern Europe, East and South Asia, Western and Central Africa, and within the United States itself.
The U.S government has repeatedly pursued Iran and Hezbollah's international presence, typically through Justice Department indictments and Treasury Department Office of Foreign Asset Control (OFAC) sanctions, and it has been joined in those efforts by foreign governments across several continents. Together these law enforcement activities paint a picture of Iran and Hezbollah flexing their financial and covert muscles far beyond their base in the Middle East, a pattern that presents ongoing implications for U.S. national security.
Latin America
The Tri-Border Area of Argentina, Brazil and Paraguay
Past studies of Iran and Hezbollah's global reach have emphasized their connections throughout Latin America. There are differing levels of certainty regarding the existence of those networks in specific countries, however. For example, many commentators have concluded that Hezbollah has a heavy presence in Venezuela, a claim fueled by Secretary of State Mike Pompeo's recent assertion that the group has "active cells" in the country. Moreover, news organizations have tied some Venezuelan government officials to Hezbollah—most notably Tareck El Aissami, a former vice president of Venezuela who is now the country's minister of industry. The U.S. government, however, has not provided any evidence to the public to support this claim.
On the other hand, the tri-border area between Argentina, Brazil and Paraguay has been documented as the central hub of Iranian and Hezbollah activity in Latin America for well over two decades. In 1994, Iran and Hezbollah infamously conspired to bomb a Jewish community center in Buenos Aires, killing 85 people and injuring more than 300. That AMIA attack—named after the Spanish initials of the community center—came two years after a Hezbollah suicide bomber attacked the Israeli Embassy in Buenos Aires in 1992; 21 people died and more than 200 were wounded.
Islamic Jihad, Hezbollah's terrorist wing, immediately claimed responsibility for the 1992 embassy bombing. But the investigation into the AMIA attack has continued for decades. The case was assigned to Alberto Nisman, a dogged Argentine prosecutor, who in 2006 accused Iran of ordering the attack and Hezbollah of carrying it out. Nisman's report detailed how Iran had created an intelligence network throughout Latin America, beginning as early as the 1980s and based in the Muslim diaspora in the region. Nisman continued his investigation beyond the 2006 charges, however, and in 2015 released a lengthy report accusing former Argentine President Cristina Fernández de Kirchner of covering up Iranian involvement in the attack. Nisman was murdered in 2015, hours before he was scheduled to testify against Kirchner. His death sparked its own investigation, which is ongoing today.
The U.S. has supported Argentina in its pursuit of the Iranian officials behind the AMIA bombing. Today there are active Interpol Red Notices—essentially international arrest warrants—against Iranians who held senior leadership roles at the time of the bombing, including former IRGC commander Mohsen Rezaei and former Intelligence Minister Ali Fallahian.
In July 2019 Argentina became the first Latin American country to declare Hezbollah a terrorist organization—a move timed to coincide with the 25th anniversary of the AMIA bombing. The Argentine government ordered the group's financial assets frozen. In August 2019, Paraguay—where much of Hezbollah's fundraising in the area was carried out—followed suit and designated Hezbollah as a terrorist organization.
At the same time as the Argentine announcement, OFAC placed sanctions on Salman Rouf Salman, a senior Hezbollah and Islamic Jihad commander, whom it accused of helping to organize the AMIA bombing. Additionally, OFAC claimed that Salman was the handler for Mohammed Hamdar, a Lebanese international arrested in Peru in 2014 for planning to carry out a terrorist attack in that country. OFAC announced sanctions on Hamdar in 2016, citing his role in the Peru plot.
Hezbollah and Iran have raised funds throughout Latin America by appealing to the well-established Lebanese and Shiite diaspora in the region. Much of the funding flows through one man, Assad Barakat, and his family. Barakat was a prominent member of the Lebanese community in Paraguay and ran a wholesale electronics store in Ciudad del Este, the country's second-largest city, in addition to his other business relationships. OFAC placed sanctions on Barakat in 2004, calling him "one of the most prominent and influential members" of Hezbollah. The organization also accused Barakat of being Hezbollah's chief representative in the tri-border area, where he used his businesses in Paraguay to cover the raising of funds for Hezbollah and their transfer back to Lebanon. In 2006, OFAC again targeted Barakat's network, placing sanctions on nine people, including two of his brothers, and two corporate entities for their role in Hezbollah's fundraising activities.
Hezbollah remains active in the tri-border area. In 2017, Secretary General of the Organization of American States Luis Almagro called the region "a source for Hezbollah financing," and in 2018 the State Department highlighted in its annual Country Reports on Terrorism the group's ongoing fundraising activities in the region.
Connections to Organized Crime
Iran and Hezbollah have repeatedly attempted to engage in transactional relationships with transnational organized criminal groups in Latin America. The most glaring example of that strategy was the plot to assassinate the Saudi Ambassador to the United States in 2011. In October of that year, federal prosecutors in the Southern District of New York charged two Iranian men with attempting to recruit members of a Mexican drug cartel to assassinate the Saudi ambassador, most likely with a bomb planted in a restaurant in Washington, D.C. According to the complaint against the two men, the mastermind of the plot was Golam Shakuri, a Quds Force official based in Iran; Shakuri directed Manssour Arbabsiar, an Iranian American dual national, to approach members of a drug cartel and offer to pay them to assassinate the ambassador. Manssour unintentionally approached a confidential source for the Drug Enforcement Administration Agency, who posed as a member of a cartel and agreed to carry out the bombing.
Manssour was ultimately arrested and cooperated with U.S. authorities, explaining to them that he was recruited in Iran by men he understood to be Quds Force officials. He was sentenced to 25 years in prison in 2013. In response to the plot and the planned violation of U.S. sovereignty, OFAC placed sanctions on Manssour and four Quds Force officials it claimed were involved in the planning, including Soleimani. The amateurish execution of the scheme—Manssour was not a trained operative and had previously worked as a used car salesman in Texas—-prompted skepticism about the veracity of the U.S. claims, but the government stood by its charges, and independent analysts have supported its conclusions.
But the Hezbollah operation that best demonstrates the sophistication of its connections to transnational organized crime is the network run by Aymad Joumaa, a Lebanese national who leads a global money laundering and drug trafficking organization. According to OFAC, which announced sanctions on Joumaa in January 2011, Joumaa would coordinate the shipments and sale of cocaine in Latin America before moving the funds through a Lebanese exchange house. Ultimately, he allegedly laundered the money through several used car dealerships and corporate entities that he controlled in Benin and Congo. OFAC claimed that the scheme generated more than $200 million in profits every month.
The Justice Department explicitly identified Joumaa's links to transnational organized crime in December 2011, charging him with laundering drug trafficking proceeds for Los Zetas, a major Mexican cartel. Neither the indictment nor the OFAC press release mentioned Joumaa's ties to Hezbollah, but U.S. government officials confirmed his connections to the organization in conversations with reporters. That being said, the officials cautioned that the ties between Hezbollah and Los Zetas were indirect, with Joumaa operating as the conduit between the two organizations. Joumaa remains at large today, and OFAC has placed sanctions on Hezbollah operatives and corporate entities who work for his network as recently as 2019.
Beyond these specific schemes, U.S. government officials have long suspected Hezbollah of partnering in various capacities with Mexican cartels such as the Sinaloa cartel, the preeminent drug trafficking organization in that country for much of the 2000s. For example, Matthew Levitt, director of the Program on Counterterrorism and Intelligence at the Washington Institute and an expert on Hezbollah's global connections, has documented how U.S. authorities believed that Hezbollah helped the Sinaloa cartel build smuggling tunnels under the U.S.-Mexican border, drawing on expertise from the group's work digging tunnels under the Lebanese-Israeli border. U.S. officials believe Hezbollah has provided that expertise to the Sinaloa cartel in exchange for cash.
Around the World
2012 Attacks During the Israel-Iran Proxy War
Iran's footprint extends beyond Latin America into the rest of the world. That reach was displayed in full in 2012 during an especially fraught period of the ongoing proxy war between Iran and Israel. Throughout that year, Iran—sometimes through the Quds Force and its own operatives, sometimes through Hezbollah—pursued various plots against Israeli and Jewish targets around the globe.
The bloodiest 2012 attack took place on July l8 of that year at the Burgas airport in Bulgaria, where a Lebanese national set off a bomb killing himself, five Israeli tourists and a Bulgarian bus driver. Bulgaria in February 2013 officially blamed Hezbollah for the bombing, an accusation that the U.S. government quickly supported. Bulgarian authorities stated that the bomber and the bomb-maker were Lebanese nationals and members of Hezbollah's military wing. The bomber was also a citizen of Canada and the bomb-maker had moved to Lebanon from Australia.
The Bulgaria bombing was an outlier in terms of its lethality; three attacks attempted by Iranian operatives earlier in the year had been much less successful. On Feb. 13, 2012, several Iranians attached a magnetic "sticky" bomb to the car door of an Israeli diplomat in India, wounding several people. The same day, a similar device was discovered on the car door of a Georgian staff member at the Israeli Embassy, but authorities defused it without any casualties. Israel named Iran as the attacker in both instances. The next day, Feb. 14, police in Bangkok, Thailand, responded to an explosion at a home rented by a group of Iranians and encountered a man who fled the scene and threw a bomb at a taxi, injuring four people. The investigation revealed that the group had been planning a separate bombing, but their materials accidentally exploded in their apartment. U.S. officials ultimately concluded that Iran was behind all three attacks.
Iranian and Hezbollah Activities in Africa
Much like its extended network in Latin America, Iran has deep-rooted connections in several African nations—through its own agents or those of Hezbollah—and probably maintains an extensive web of contacts and potential operatives. OFAC has pursued the operations of Iran and Hezbollah in Africa for years, issuing separate rounds of sanctions in 2012, 2013, 2015, 2018 and 2019 targeting Hezbollah's financial infrastructure on the continent, including many corporate entities that the group used to launder money. The information released by OFAC in connection with the successive waves of sanctions paints a picture of Iran's multilayered approach in Africa, ranging from foiled small-scale attacks to fundraising schemes and recruiting programs run by Hezbollah operatives.
The 2013 sanctions targeted four Lebanese nationals who represented the organization in several African nations; two of them were officially appointed as Hezbollah diplomats for the Ivory Coast and Sierra Leone, respectively. Another man used several supermarkets that he owned in Senegal to raise funds for the organization, while the fourth hosted weekly meetings for potential recruits in his home in Gambia.
Joumaa, the Hezbollah operative linked by the Justice Department to Los Zetas in 2011, represents the more sophisticated end of the group's fundraising activities in Africa. OFAC's diagram of Joumaa's network showed that his car dealerships and other corporate entities in Congo and Benin were essential components of his operation.
Hezbollah's activities in Africa have extended beyond fundraising. In 2013 Nigerian authorities arrested three Lebanese nationals for plotting attacks on Western and Israeli targets in that country on behalf of Hezbollah. The arrest was prompted by the discovery of a cache of weapons that the Nigerian government believed would be used by the conspirators in their attacks. The three men were acquitted that same year, but two of them, Mustapha Fawaz and Abdallah Tahini, were sanctioned by OFAC in 2015. The organization accused them of fundraising and recruiting for Hezbollah in Nigeria.
Fawaz exemplifies the heavy presence of Hezbollah and the Quds Force in Nigeria, which was documented extensively in a 2013 report released by the Combating Terrorism Center at West Point. For example, in 2010 Nigerian authorities seized 13 containers of weapons, including rocket launchers and grenades, that an IRGC front company had tried to ship to rebel groups in Gambia allied with Iran. Nigeria also arrested a Quds Force operative involved in the scheme.
Two years later, in 2012, OFAC announced sanctions on three Quds Force officials, two Iranian corporations, and a Nigerian shipping company for conspiring to move weapons on behalf of the IRGC, including the seized 2010 shipment. Also in 2012, Kenyan authorities arrested two Quds Force operatives who had hidden a cache of explosives in a golf course in preparation for an attack on British, Saudi, Israeli, or U.S. interests in that country. The government accused the men of plotting the attack with Al-Shabaab, the terrorist group based in southern Somalia that has menaced Kenya for years, to try to deflect suspicion away from Iran.
Hezbollah Activities in the U.S.
In the aftermath of the Soleimani strike, the most concerning element of Hezbollah's international operations for the U.S. government may be the group's activity within the United States itself. Unlike in the rest of the world, Iran itself has not been conclusively linked to activities in the U.S.; rather, it has likely outsourced these operations to Hezbollah. Although the publicly available information indicates that Hezbollah has a smaller presence in the U.S. than it does in Latin America or parts of Western Africa, the organization appears to consider the U.S. a serious target for terror attacks as well as a promising location to secure arms for the group's conflicts in other parts of the world.
In 2017, the Justice Department charged two naturalized U.S. citizens holding Lebanese passports, Ali Kourani and Samer El Debek, with providing material support for Hezbollah. The complaint against Kourani described his recruitment by Hezbollah in Lebanon before he emigrated to the U.S. in 2009. After becoming a U.S. citizen, Kourani communicated with a Hezbollah handler and returned to Lebanon for weapons and tactical training. Hezbollah instructed him to find weapons dealers in the U.S. who could supply the group's operations overseas and ordered him to surveil potential targets for attacks in the U.S., including military bases and airports in New York City. Kourani was convicted of the charges against him at trial in May 2019; in December 2019, a federal judge sentenced him to 40 years in prison.
The complaint against El Debek offers additional insight into Hezbollah's global presence. After El Debek obtained U.S. citizenship, Hezbollah leaders instructed him to go to Bangkok and clean up a weapons cache in a house that they believed was under surveillance. He also traveled to Panama to scout locations for terrorist attacks against the Panama Canal and the U.S. Embassy. Information provided by El Debek pursuant to his guilty plea has led prosecutors to charge another naturalized U.S. citizen, Alexei Saab, with providing material support for Hezbollah by surveilling possible targets for a terror attack in the U.S. The complaint against Saab lays out El Debek's involvement in the ongoing investigation against Hezbollah.
These examples are relatively recent, but Hezbollah's operations within the U.S. have a deep history. A 2006 FBI investigation into the group's criminal activities in the Philadelphia area led to two separate cases against Hezbollah operatives, both of which centered around attempts to purchase weapons on behalf of the organization. On Nov. 23, 2009, federal prosecutors in the Eastern District of Pennsylvania charged four men with crimes related to the attempted purchase of heavy weaponry for Hezbollah. The indictment laid out how the defendants' leader, Dani Tarraf, told an undercover FBI agent that he wanted to purchase 10,000 Colt M4 machine guns as well as FIM-92 Stinger anti-aircraft missiles and other weapons technology. After his arrest, Tarraf confessed to being a member of Hezbollah.
The day after prosecutors announced the charges against Tarraf and his co-defendants, they also unsealed an indictment against four men on various charges relating to activity on behalf of Hezbollah, including conspiring to provide material support to the group through attempting to provide 1,200 Colt M4s. The plot was directed by Hassan Hodroj, a senior-level Hezbollah leader who has served on the group's political council in addition to holding a senior role in arms procurement. Hodroj was not taken into custody and remains at large, along with Dib Hani Harb—his son-in-law, who played a significant role in the scheme.
***
In the wake of Soleimani's death, it is unfortunately clear that Iran is not limited to the Middle East in its ability to strike at American interests. Iran and Hezbollah are not consistently successful in their attempts at terror attacks in foreign countries, as the foiled plots in Peru, Nigeria, Kenya and Georgia demonstrate. Yet they have spent the past several decades creating international bases of operation, especially in Latin America and Western Africa, meaning that they likely already have resources in place that would allow them to strike U.S. interests far outside of the Middle East. Above all, the most concerning development in the past decade has been Hezbollah's activity inside the U.S. The lethality of the bombings in Argentina and Bulgaria are stark reminders that Iran, either on its own or in tandem with Hezbollah, is capable of attacking its enemies in many parts of the world—and has historically been very willing to do so.
---
Eric Halliday is a graduate of Harvard Law School, where he was Co-Editor in Chief of the National Security Journal. He holds a B.A. in Political Science and Italian Studies from Tufts University.