Iraqis and Kurds Compete for Oil Deals, Gulf States Still Fighting PR War in Washington, Deadly Ambush in Egypt
Iraq and Kurdistan Broker Oil Deals in Contested Regions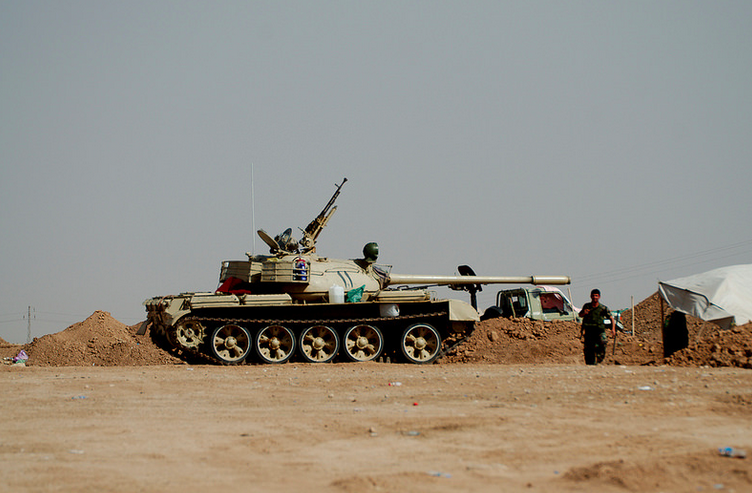 Published by The Lawfare Institute
in Cooperation With


Iraq and Kurdistan Broker Oil Deals in Contested Regions
The pressure is continuing to mount on Iraqi Kurdistan. After Iraqi forces pressed into Kirkuk last week, Baghdad and its regional partners have cinched their cordon around Kurdish areas tighter. Over the weekend, Iraqi security forces announced that they were in full control of Kirkuk province. Iraqi authorities have ordered the arrest of Kurdistan Regional Government Vice President Kosrat Rasul for allegedly complaining that Iraqi troops in Kirkuk are "occupying forces," and Kurdish defense officials warned Monday that Baghdad is massing troops and equipment, potentially for an incursion deeper into the Kurdish region. Kurdish authorities retaliated against the warrant for Rasul's arrest by issuing warrants for 11 Iraqis, including leaders of pro-government militias that participated in the Iraqi advance.
Turkish forces have also been involved in clashes with Kurds in Iraq, operating in the Zap region near the Iraq-Turkey border, where Turkish forces have been fighting militants from the Kurdistan Workers' Party (PKK). The Turkish military reports that four soldiers were killed in two roadside bomb attacks, setting off clashes and a series of Turkish airstrikes that killed more than a dozen PKK militants. The Turkish intervention targeting PKK militants near the border predates the independence referendum crisis, but the charged situation could affect the ongoing operations.
Israeli Prime Minister Benjamin Netanyahu, the only regional leader who supported the Kurdish referendum, is reportedly lobbying other countries to support Masoud Barzani's embattled Kurdish faction. President Donald Trump has said that the United States will not take sides in the dispute, but U.S. Secretary of State Rex Tillerson did call on the Iraqi government to send home Iranian-backed popular mobilization units and called for a mediated solution to the crisis. However, in a meeting with Tillerson on Monday, Prime Minister Haider al-Abadi defended the militias as "part of the Iraqi institutions" and "the hope of country and the region."
Despite the turmoil, the Kurdistan Regional Government is looking to expand its oil development.
Baghdad's rapid sweep into Kirkuk caught some Kurdish officials off guard, and plans for electing the region's new president and legislature, scheduled for November 1, have been postponed indefinitely. Despite the turmoil, the Kurdistan Regional Government is looking to expand its oil development. Russian oil giant Rosneft said last week that it is "implementing existing agreements" and launching a new pipeline project with the Kurdish government. But that may not be a sure thing, and Iraqi Foreign Minister Ibrahim al-Jaafari is expected to pressure Moscow about the arrangement in meetings in Moscow this week. Baghdad is also interested in new oil projects that could serve to consolidate its control of Kirkuk. Last week, within days of Iraqi forces entering the city, Iraq's oil minister reached out to BP about renewing plans to develop the nearby Havana and Baba Gurgur oil fields.
Gulf States Still Sparring in Strange, Manufactured Crisis
The Gulf states' feud with Qatar is still going strong. Amid other, more important regional headlines in recent weeks—the crisis in Kurdistan, the Trump administration's decertification of the Joint Comprehensive Plan of Action, the ouster of the Islamic State from Raqqa—the Gulf spat has been a bit forgettable, but both sides are making moves this week to try to remind Washington of their disagreement.
One person who would apparently disagree about the significance of the Qatar crisis is Steve Bannon, President Trump's former chief strategist. "I think the single most important thing that's happening in the world is the situation in Qatar," he told a day-long conference hosted by the Hudson Institute yesterday on the theme of "Countering Violent Extremism: Qatar, Iran, and the Muslim Brotherhood." Bannon seemed to suggest that the United States was supportive of the Saudi and Emirati-led campaign isolating Qatar, saying that it wasn't an accident that the crisis started soon after Trump's visit to Saudi Arabia this spring and that "Qatar finally had to be called to account for their continual funding of the Muslim Brotherhood, their continual funding of Hamas." Bannon has reportedly established business ties in the United Arab Emirates since leaving the administration; according to McClatchy, he visited the country last month and the UAE recently signed a $330,000 deal with a company linked to Cambridge Analytica, where Bannon worked as vice president and which placed targeted online ads for the Trump presidential campaign, to participate in its own ongoing messaging campaign targeting Qatar. At the conference yesterday, Bannon denied any involvement with the company.
Other speakers at the conference included former CIA directors Leon Panetta and David Petraeus, who criticized Qatar for providing funds to the Muslim Brotherhood (which the Gulf states have designated a terrorist group, but the United States has not) and hosting Al-Jazeera (a key issue in the Gulf's pressure campaign). Attendees received flash drives with a documentary, titled "Qatar: A Dangerous Alliance," narrated by ousted National Security Advisor Michael Flynn and produced by a DC-based lobbying and communications firm.
While Qatar was being raked over the coals at the Hudson Institute conference on Monday, Doha was trying to remind Washington of its military partnership with the United States. A ceremony was held yesterday to inaugurate Qatar's new military attache office in Georgetown, which will house emissaries from Qatar's army, navy, air force and special forces.
Saudi and Emirati officials think they can circumvent Tillerson and push their preferred policies through other administration advisors.
While both sides wage their public-relations battle in Washington, the U.S. State Department is still trying to resolve the dispute. Secretary Tillerson met with Saudi officials last week, including Crown Prince Mohammed bin Salman, but said that they weren't receptive to opening a dialogue to end the feud. After his meetings in Riyadh, Tillerson traveled to Doha, where he told reporters, "There is not a strong indication that the parties are ready to talk yet. So we cannot force talks upon people who aren't ready to talk."
As Bruce Riedel told BuzzFeed, Saudi and Emirati officials think they can circumvent Tillerson and push their preferred policies through other administration advisors. "The Saudis and their allies believe that they have the inside track to the White House through Kushner and Bannon and they can ignore the State Department on issues like Qatar and Yemen," Riedel said. "So far they are right."
Deadly Ambush in Egypt
Militants in Egypt staged a ruthless attack on security forces southwest of Cairo over the weekend. The attack occurred on Friday night, as a convoy of Egyptian police was drawn into the desert and ambushed by gunmen. At least eight vehicles were hit by small arms and rocket-propelled grenade fire; Egyptian authorities have said officially that 16 police personnel were killed, but sources for the New York Times and Reuters put the number of dead at more than 50. Witnesses who escaped described militants going from car to car after the ambush, executing wounded police officers and seizing weapons.
The attack is unusual for the region. Large, coordinated armed attacks like Friday's ambush are more common in the Sinai Peninsula...
It is still unclear who is responsible for the attack. Hasm Movement, a militant group associated with assassinations targeting judges and police claimed credit, but the Times reports that experts have cast doubt on the Hasm's involvement. The attack is unusual for the region. Large, coordinated armed attacks like Friday's ambush are more common in the Sinai Peninsula, where Egyptian authorities have been fighting a franchise of the Islamic State. Earlier this month, approximately 100 militants swarmed and Egyptian outpost near Sheikh Zuweid; six Egyptian troops and 24 Islamic State fighters were killed in the battle.
---
J. Dana Stuster is the deputy foreign policy editor for Lawfare and a PhD candidate at Yale University. He worked previously as a policy analyst at the National Security Network and an assistant editor at Foreign Policy magazine.