Jihadist Terrorism Encroaching on Coastal West Africa, Spilling Over From the Sahel
The U.S. recently laid out a security assistance package to help counter the growing jihadist threat in West Africa. But is the new initiative too little and too late?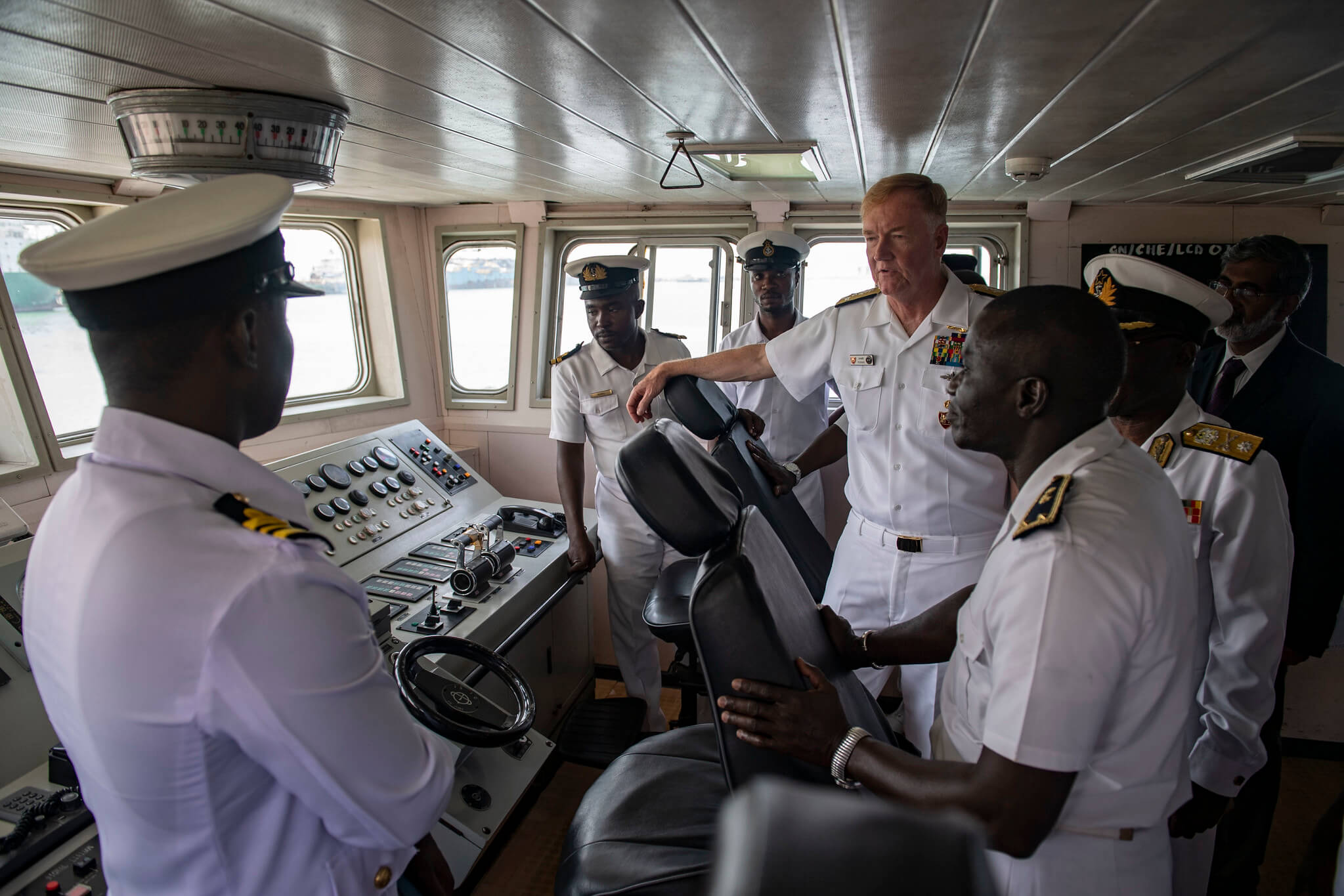 Published by The Lawfare Institute
in Cooperation With


On a recent visit to West Africa, U.S. Vice President Kamala Harris laid out a new U.S. security assistance package that will provide more than $100 million in aid to combat the growing jihadist threat in the region. The aid will be earmarked for Ghana, Benin, Togo, and Ivory Coast. But as terrorism spills over from the Sahel to coastal West Africa, is the new U.S. initiative both too little and too late?
As countries in the Sahel have been overrun by terrorist groups linked to al-Qaeda and the Islamic State, Washington has been slow to respond, distracted by great power competition with China and Russia's illegal invasion of Ukraine. France has also drawn down its presence in the region, partially in response to growing anti-French sentiment among the local population—a sentiment that Russia has notably sought to exacerbate with disinformation campaigns targeting former colonies of the West. Western militaries are winding down counterinsurgency and counterterrorism operations after two decades of the so-called global war on terrorism, but that has merely opened the door to Russian mercenaries, who have sought to capitalize on the Sahel's valuable natural resources and further destabilize the region. In November, France formally ended Operation Barkhane, concluding its presence in the Sahel.
Within sub-Saharan Africa, the Sahel has become the center of gravity for jihadist terrorism, now accounting for more terrorism deaths in 2022 than both South Asia and the Middle East and North Africa combined. According to the Global Terrorism Index, terrorism deaths in the Sahel constituted 43 percent of the global total in 2022, compared to just 1 percent in 2007. Many of the victims from these advances are civilians.Terrorist groups now control vast swaths of territory throughout the African continent. The U.S. estimates that al-Qaeda's local affiliate, Jama'at Nusrat al-Islam wal Muslimin (JNIM), controls 40 percent of Burkina Faso's territory. Meeting only minimal resistance given limited state capacities, jihadist groups are now encroaching on coastal West Africa. And as lamentable as this is, it seems that the Biden administration is making a judgment that this is a tragic, yet local, problem that the U.S. lacks both the bandwidth and the capacity to respond to in a meaningful way.
Jama'at Nusrat al-Islam wal Muslimin formed in 2017 as a conglomeration of jihadist factions in the Sahel. These included al-Qaeda in the Islamic Maghreb (AQIM)'s Furqan Brigade, which mostly comprised the group's Sahel-based fighters, as well Katiba Macina and Ansar al-Din, which catered, respectively, to Fulani and Tuareg ethnic constituencies. JNIM's leader, Iyad Ag Ghali, had a career as a Tuareg rebel and fought against the Malian government with Moammar Gadhafi's backing in the 1990s. He became a Malian diplomat in Saudi Arabia in the 2000s as a part of a truce deal between Mali and the Tuareg separatists. While he lived in the Gulf, Ag Ghali steadily grew more devout, traveling throughout other Islamic countries and studying with the Islam missionary group Tablighi Jamaat. Upon returning to Mali in 2010 (because he was expelled by Saudi Arabia on suspicion of al-Qaeda ties), Ag Ghali allied with AQIM.
Under Ag Ghali's direction, JNIM gradually shifted southward from Algeria into the Sahel, forming part of the jihadist rebellion in northern Mali in 2012. JNIM has combined formidable combat skills with political savvy, providing protection to and engaging with local communities in an effort to win hearts and minds. By contrast, the Islamic State in the Greater Sahara, also known as ISIS-Sahel, has attempted to consolidate power by intimidating local populations and massacring security forces in deadly ambushes. The groups regard each other as ideological foes and have clashed on and off since 2020, despite their initial efforts to work together.
Political turmoil has made the Sahel particularly fertile ground for militant groups. Sahelian populations, notably those in Mali and Burkina Faso, have seen military coups upend nascent democratic institutions in recent years. By law, the United States is prevented from conducting security cooperation programs with countries that have undergone coups or committed egregious human rights abuses. Accompanying this political instability has been the new regimes' focus on blaming France for security shortcomings in their respective countries. Yet, "going it alone" in Burkina Faso's case, or allying with Russia's Wagner Group as the Malian junta has done, has not successfully combated a growing jihadist threat. These governments are similarly unequipped to deal with growing economic turmoil and climate-related challenges such as desertification, drought, and food insecurity. Throughout the Sahel, governments are seemingly more concerned with maintaining power than providing for the population.
JNIM has proved remarkably perceptive in understanding the political element of armed conflict, insurgency, and terrorism. By occasionally softening the group's hard-line Islamic views to cater to the region's traditional Sufi brand of Islam, JNIM has adapted to the local social, religious, and political context. Further, it has succeeded in winning recruits by appealing to co-ethnics, particularly those who feel marginalized. By contrast, the central governments tend to neglect rural areas outside the capital or main cities and have resorted to a draconian approach in dealing with minority groups. This is especially true for Fulanis, an ethnic group of nomadic herders and farmers widely dispersed across Western Africa. Sahelian armies and allied militias have blamed Fulanis for supporting the jihadists and targeted Fulani villages with heavy-handed counterterrorism operations. This in turn has led to a self-fulling prophecy in which the jihadists have sought to recruit those same village members, capitalizing on their disillusionment with the government.
JNIM maintains a more widespread presence in the Sahel than does the Islamic State in the Greater Sahara. The group's reach not only includes Mali and Burkina Faso but also increasingly encompasses the borderlands of littoral West African states. Its fighters have launched large-scale attacks in Togo, killing soldiers and pilfering weapons. Along the border with Burkina Faso, jihadists have launched complex assaults, including an attack in November 2022 that killed 17 Togolese soldiers. Ghana is also now in the crosshairs of jihadist groups, which are operating near northern Ghana, bordering Burkina Faso and northern Ivory Coast. As in other areas of Africa, the al-Qaeda-affiliated militants could seek to gain control over artisanal gold mines in Ghana—an illicit financing approach for which there is notably already precedent: Terrorist groups in Ghana have been known to extract taxes from artisanal gold mines in areas under their control. Tribal disputes in Ghana might additionally provide an opening for JNIM, which has proved adept at leveraging tribal divisions in its favor. In Benin, JNIM has seized territory and established a supply corridor through which its fighters send and receive weapons, vehicles, and new recruits. A heavy-handed response from Beninese security forces has led to concerns over human rights violations, creating new grievances for jihadist groups to exploit.
With violence spilling over from the Sahel into coastal West Africa, the region risks spiraling into cascading volatility. To ameliorate some of these challenges, the U.S. passed the Global Fragility Act in 2019, which authorized a 10-year strategy focusing on the promotion of good governance and peace-building efforts on an international scale. In 2022, President Biden announced that the strategy would center specifically on strengthening the rule of law in several partner countries, including the coastal West African states of Benin, Ghana, Guinea, Ivory Coast, and Togo. But fostering peace and stability is easier said than done. The current approach must account for just how monumental these challenges are and the likelihood that—despite earnest efforts—the situation could worsen.
In addition to jihadist violence, issues related to demographics, migration, climate change, and land exploitation are bringing ethnic groups and tribes into conflict with one another. The region faces significant social, environmental, political, and economic challenges. And while these problems are tragic and immense, U.S. interests in coastal West Africa must be balanced against Washington's efforts in other regions of the globe, including current hot spots such as Ukraine. This means that Americans are unlikely to support the types of assistance necessary to make meaningful progress against issues in the region such as corruption and climate change.
Policymakers have pursued programs many times in the past to help partner nations provide basic services equitably to the population and ensure governmental accountability, without much success. Many of the problems that currently plague coastal West Africa cannot be solved with U.S. military assistance (which itself could have unintended consequences, like exacerbating existing issues such as corruption). One of the overarching lessons learned from research on building partner capacity is that even the most well-funded security cooperation efforts will fail without genuine buy-in from the partner nation.
For coastal West African states, there are no easy answers. In the meantime, the U.S. should continue offering support and monitoring the situation, paying more attention to the spread of jihadist groups beyond the Sahel. But the encroachment of terrorist violence on coastal West Africa should also be a warning call. Security aid is necessary, but the U.S. needs to be better at preventive assistance, anticipating problems before they metastasize, while also recognizing its own limits in addressing the challenges of reducing state fragility and building functioning institutions in other countries.
---
Colin P. Clarke is the director of policy and research at The Soufan Group and a senior research fellow at The Soufan Center.
Jacob Zenn is an adjunct assistant professor on African armed movements at Georgetown University's Security Studies Program and a senior fellow on African affairs at the Jamestown Foundation. He conducted an organizational mapping of Boko Haram for the Swiss Embassy in Nigeria in 2015, ahead of negotiations that led to the release of 123 Chibok schoolgirls. Zenn's new book, "Unmasking Boko Haram: Exploring Global Jihad in Nigeria," was published in April 2020 by Lynne Rienner in association with the Handa Centre for the Study of Terrorism and Political Violence, University of St Andrews.