Key Takeaways From the Glasgow Climate Pact
Here are some of the key takeaways and surprises from the Glasgow Climate Pact.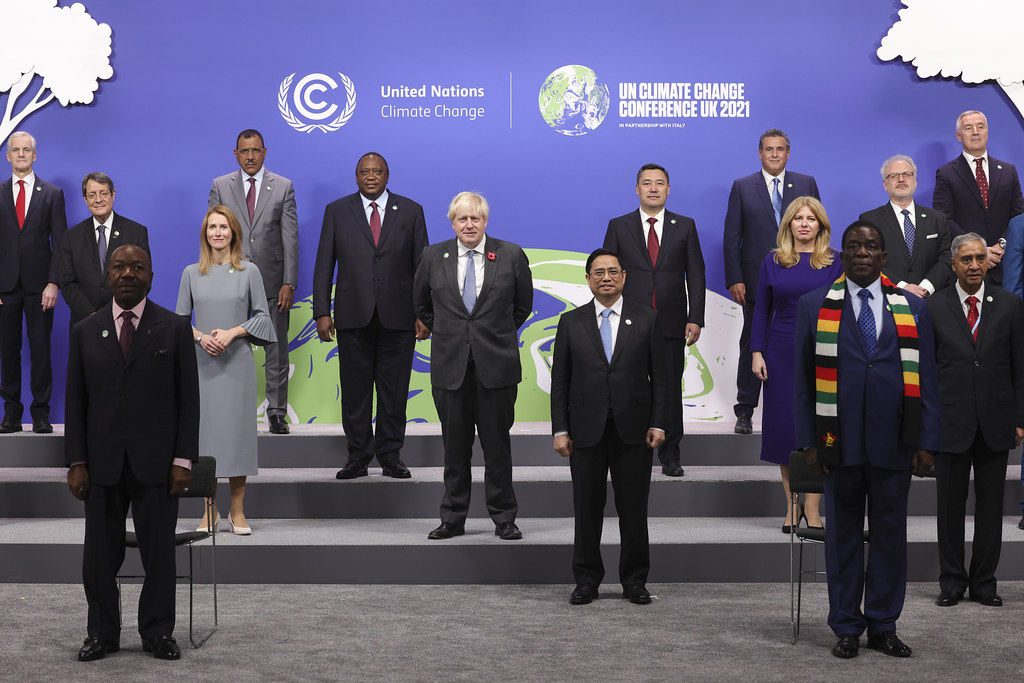 Published by The Lawfare Institute
in Cooperation With


Nearly 200 nations signed the Glasgow Climate Pact on Nov. 13. Acknowledging the increasingly strong connection between climate change and its role as a threat accelerant, the pact explicitly states that climate change is a "social, economic and environmental threat." It also called on world leaders to "strengthen the global response to the threat of climate change."
Climate change is the ultimate environmental and security destabilizer, exacerbating extreme weather, drought, wildfires, and sea level rise. Climate change is already destabilizing many parts of the world. This new climate-security reality was brought home just last month in the U.S. National Intelligence Estimate and other U.S. climate-security reports. Reducing greenhouse gas (GHG) emissions from human activity is now inextricably linked to broader security concerns.
The Glasgow Climate Pact consists of 94 paragraphs and eight thematic subparts. In what follows, I highlight the key takeaways, some surprises, and what to look for in the future.
Acknowledg[ing] that climate change has already caused and will increasingly cause loss and damage and that, as temperatures rise, impacts from climate and weather extremes, as well as slow onset events, will pose an ever-greater social, economic and environmental threat.
Wealthier, developed nations are more likely to have the resources to rebuild following extreme weather events and other climate-related disasters. Following Hurricane Ida, for example, the Federal Emergency Management Agency funneled more than $800 million in federal funding to affected communities in the U.S. But what are developing nations without the resources of affluent, developed nations to do?
The Paris Agreement first attempted to address this disparity via what is known as loss and damage. Many observers hoped that Glasgow would breathe life into these provisions through concrete financial commitments, but this did not occur. To the disappointment of many, the Glasgow Climate Pact addressed loss and damage through the establishment of a "dialogue" between parties to "minimize and address loss and damage associated with the adverse impacts of climate change." Developing nations sought a "facility" that would set in motion more concrete financial commitments to compensate for climate harm.
The move away from a loss and damage "facility" to a "dialogue" showcases that developed nations are reluctant to commit to anything that may be perceived as climate reparations. So what is the responsibility of rich countries to the poorer countries that contributed the least to climate change and will suffer the most from climate impacts? This question will take on increased importance, particularly as advances in climate attribution science make the linkage between climate change and climate impacts unassailable.
Where Do We Go From Here?
First, observers should keep an eye on the private sector's response to the Glasgow Climate Pact. Fossil fuel companies may well view the pact as a signal that they need to diversify their business lines soon and move away from fossil fuel extraction. But oil and gas remain lucrative, particularly with high gas prices in the U.S. and beyond. Second, the U.S. is considering passing landmark climate legislation—Build Back Better—that could provide another shot in the arm for climate efforts. Third, the issue of climate reparations via the loss and damage dialogue is not going away. Loss and damage discussions may take center stage as developing nations continue to suffer from climate harm. I anticipate that pressure will build to fund a loss and damage facility as calls for climate justice grow louder and affluent nations are pressured to make amends for past, present and future climate damage. Outside of loss and damage funding, the U.S. military is preparing for climate risks at home and abroad and will be called upon to respond to climate-exacerbated disasters.
Finally, the Glasgow conference saw 100,000 climate protesters take to the streets outside the convention hall. Yet, the next two climate conferences will take place in locations where it will be more difficult to duplicate these protest efforts. COP27 will take place in Egypt in 2022, and COP28 will take place in the United Arab Emirates (an OPEC member) in 2023. Egypt has passed legislation restricting peaceful political demonstrations, so it is difficult to envision a similarly sized climate protest effort unfolding in Sharm el-Sheikh, the resort town that will host COP27. Regardless of how these next two COPs unfold, it is increasingly clear that what happens outside the COP negotiations can and will influence the negotiations inside. Whether this pressure will be enough to prompt transformational action to halve global GHG emissions this decade remains to be seen.
---
Mark Nevitt is an Associate Professor of Law at the Emory University School of Law. Before joining Emory University, Nevitt served as an Associate Professor of Law at the Syracuse University College of Law and the Distinguished Professor of Leadership and Law at the US Naval Academy in Annapolis, MD. From 2017-2019 Nevitt served as the Sharswood Fellow, Lecturer-in-Law at the University of Pennsylvania Law School, where he taught climate change law and policy, and a seminar on national security law and society. Nevitt recently completed grant-funded research via the Kleinman Center at the University of Pennsylvania addressing the legal issues associated with climate adaptation and managed retreat. Before academia, Nevitt served as both a tactical jet aviator and attorney (JAG) in the United States Navy, serving in the rank of commander.