Russia Stumbles in the Fog of Syrian War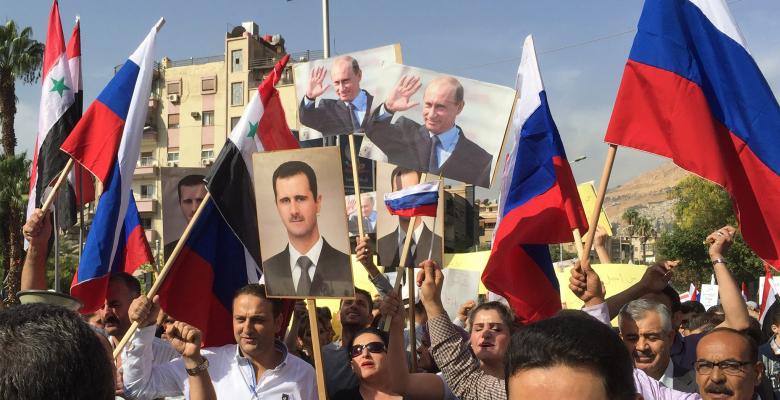 Published by The Lawfare Institute
in Cooperation With


Editor's Note: This article originally appeared on Order from Chaos.
The February 10 Israeli air force strike on the Tiyas (or T-4) military airbase near Palmyra, Syria brought the Syrian civil war into a new phase, as my Brookings colleagues Dror Michman and Yael Mizrahi-Arnaud recently argued. Russia overall finds its ability to control the complex Syrian conflict—particularly the interplays between the parties involved—much diminished. Just a couple of months ago, its mission of ensuring the survival of the internationally ostracized Bashar al-Assad regime evidently appeared so accomplished to President Vladimir Putin that he declared "victory" in Syria. But Russian forces on the ground are still taking casualties, Russia's alliances are in disarray, and its Syria policy has lost decisiveness and direction.
The Russian military intervention, launched in September 2015, has always remained limited in scale, but Putin's personal diplomacy worked as a force multiplier. He has been able to communicate with just about every stakeholder in the Syrian calamity, from Iran to Saudi Arabia, and from Israel to Hezbollah. The only message he is now trying to convey to his interlocutors is a vague promise not to interfere with their strikes and counter-strikes, which leaves few of them satisfied. The limits of Russian power projection capabilities have become exposed, and political ambivalence has aggravated that weakness. Putin keeps talking with Middle Eastern peers—for instance with Mahmoud Abbas, presented on the Kremlin website as "President of the State of Palestine"—but avoids elaborating on these matters, perhaps assuming that the Syrian theme doesn't work all that well for his re-election campaign.
Disagreeable Troika with Iran and Turkey
Establishing functional political and military cooperation with Iran and Turkey was a major breakthrough for Russia's Syrian policy in 2017. The "brotherhood in arms" with Iran had been forged in fall 2015, as Russian bombers provided close air support for Iran-trained Shiite militias. Turkey, at that time, was fiercely opposed to the Russian intervention (after a Turkish F-16 shot down a Russian Sukhoi Su-24M in November 2015, for instance, it took months for the bitter quarrel to be resolved). Putin has exploited Turkish President Recep Tayyip Erdoğan's fears, driven by the coup attempt in July 2016, and pulled him into the triangular proto-alliance with Iran aimed at enforcing a ceasefire in Syria on terms beneficial for Assad. The November 2017 trilateral Putin-Erdoğan-Rouhani summit in Sochi was the culmination of that effort, but with the military defeat of ISIS, the three "peace enforcers" went their different ways.
For Turkey, as another one of my Brookings colleagues Kemal Kirişci argues, the fight against ISIS was always of secondary importance, while the main battle was with the Syrian Kurds. Erdoğan is distraught about U.S. support for the Kurdish People's Protection Units (YPG), which has been the main fighting force in capturing Raqqa and pushing ISIS into far corners of Syrian desert. Seeking to break this alliance, Turkey launched an offensive into the Kurdish enclave Afrin in January. Russia had cultivated ties with the Kurds, but opted for sacrificing this "friendship" and gave consent for the Turkish attack when Chief of General Staff General Hulusi Akar and Chief of National Intelligence Hakan Fidan visited Moscow shortly before the offensive began. The Russian leadership has good reasons to assume that U.S.-Turkish tensions will escalate because of the Afrin offensive, so Foreign Minister Sergei Lavrov accuses Washington of ignoring Turkish concerns and building a "quasi-state" for Kurds in northeastern Syria. Meanwhile, the Turkish forces are encountering stiff resistance in Afrin, and Moscow is quietly encouraging the Assad regime to provide support for the Kurds.
For Iran, the key goal in Syria is to consolidate its military positions so that it can put pressure on the vulnerabilities of deployed U.S. forces and directly threaten Israel. Russian high command had deep reservations about Tehran's plan to build a structure in Syria resembling the Islamic Revolutionary Guard Corps, instead of propping up the unreliable army. Israel's severe retaliation for the recent Iranian drone incursion has pushed Russian policy into an awkward limbo. Putin highly values his personal ties with Prime Minister Benjamin Netanyahu, and Russian air defense assets deployed in its Tartus and Khmeimim bases—and covering most of Syrian airspace—did not interfere with Israel's air strikes. The "made-in-Russia" Syrian air defense managed, nevertheless, to down one Israeli fighter plane, and now—after losing about a half of its assets—this system needs to be rebuilt, and Damascus will demand help from Moscow.
Standing by its Dictator in Distress
Firm Russian support for the Assad regime was aimed at making that support acceptable for most other parties to the Syrian war, but the defeat of ISIS has made that proposition more—not less—shaky. Erdoğan has never fully subscribed to it, but Iran is so eager to embrace the Syrian dictator that Netanyahu has urged Putin to prevent a further deepening of Assad's dependency. This, however, would require an expansion of Russian aid and military presence, something Putin is reluctant to commit to. He never had any particular sympathy toward Assad, and saw Syria primarily as a key battlefield in the struggle against the menace of "color revolutions." The decision on launching the intervention was taken in the Kremlin with very superficial understanding of the messiness of the multi-party war. But now, after publicly embracing the young(ish) dictator, he has to demonstrate resolve for sustaining support for the permanently insecure regime.
Since last November, Moscow's main plan has been centered on gathering a so-called "congress" of opposition groups of various persuasions, who would agree to stop fighting. But the results of the January gathering were disappointing. The Russian Foreign Ministry invited some low-profile representatives from Kurdish factions, but even that tentative acknowledgment of the key role of the YPG angered Turkey. Saudi Arabia had been ambivalent about this Russian initiative, but in the end opted against sending the delegation of groups under its control, so the event was reduced to a farce. Putin had a phone conversation with King Salman and met with Jordan's King Abdullah in Moscow on February 15. This networking makes Assad more uncertain about Russian support and provokes more doubts in Tehran.
The Moscow-Washington Axis
Syria is a security paradox for Russia vis-à-vis the United States, as Moscow seeks simultaneously to maintain military cooperation and defeat presumed U.S. political intentions in this messy conflict. This odd pattern was tested on February 7, when a heavy U.S. air and artillery strike destroyed a grouping of pro-government forces advancing to capture an oil plant to the east of the Euphrates. Russian social networks exploded with rumors about hundreds of casualties among mercenaries from the so-called "Wagner group," and a few cases were reliably confirmed. The official position, however, remains complete denial of the first major direct clash between Russian and U.S. forces in Syria, which allows Moscow to act as if there's been no damage in relations.
U.S. President Donald Trump called Putin on February 11, but the brief readout contained no mention of Syria. While there is some outcry in Damascus, calling the move a U.S. "war crime," Putin can't join in: U.S. command used the de-conflicting communication channel to warn its Russian counterparts about the forthcoming strike and make sure there were no Russian forces in the vicinity. It's illegal in Russia to employ private defense contractors, so the Russian Defense Ministry cannot possibly admit that the mercenaries of the "Wagner group" were deployed in large numbers to compensate the withdrawal of regular troops after Putin's declaration of "victory."
Useful as it may be to pretend that the war business in Syria goes as usual, Moscow can hardly hope that its eroded positions would go unnoticed by the antagonists who are busy advancing theirs. Russia still has important assets in Syria and is exploiting the confusion in U.S. policy around the Iraq/Syria war zone. Its own policy, however, is distorted by a series of new challenges, which test its staying power. Putin thought that he figured out a proper balance of key drivers in the convoluted war, but its new mutation has caught him unprepared. The space for maneuvering between regional adversaries is narrowing, and Moscow can neither take sides nor secure its own ground.
---
Pavel Baev is a nonresident senior fellow in the Center on the United States and Europe at Brookings and a research professor at the Peace Research Institute Oslo (PRIO). He specializes in Russian military reform, Russia's conflict management in the Caucasus and Central Asia, and energy interests in Russia's foreign and security policies, as well as Russia's relations with Europe and NATO.