Saudi Crown Prince Consolidates Power at Home While Preparing for More Conflict Abroad
Saudi Crown Prince Purges Potential Challengers in Royal Family...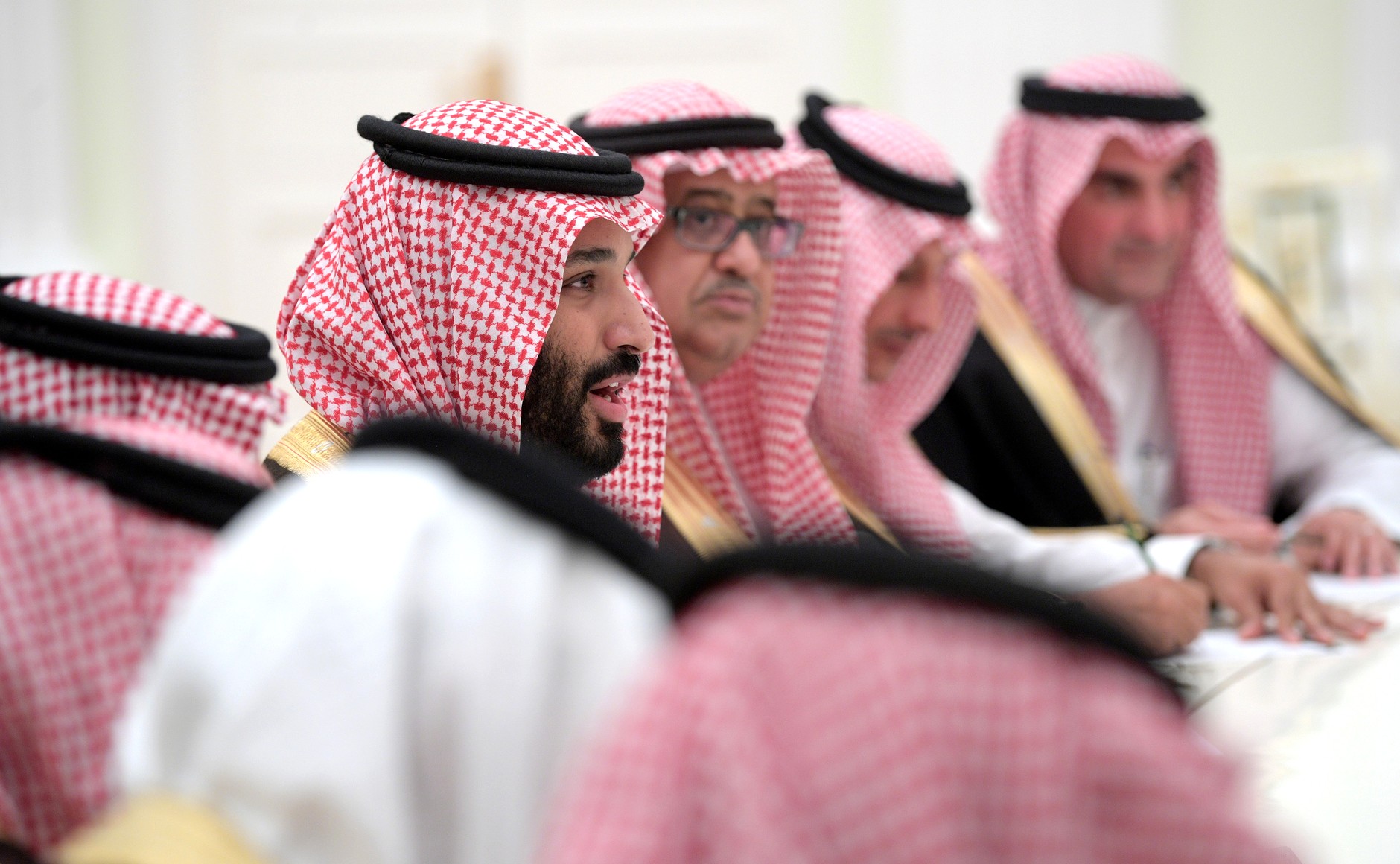 Published by The Lawfare Institute
in Cooperation With


Saudi Crown Prince Purges Potential Challengers in Royal Family...
Saudi Arabia's ascendant crown prince, Mohammad bin Salman (MBS), swept aside dozens of potential rivals in a series of arrests and firings on Saturday. Eleven princes are now being imprisoned at the Ritz Carlton in Riyadh, among them Alwaleed bin Talal, a businessman deeply involved in the kingdom's foreign investment projects. Also targeted was Prince Miteb bin Abdullah, who was removed from his role as head of the Saudi National Guard, one of the few branches of the military not already under MBS' direct control in his role as minister of defense. One prince, Abdulaziz bin Fahd, son of King Fahd, was reportedly killed, possibly in a shootout while resisting arrest; he had previously been imprisoned under suspicious circumstances in September, supposedly for his own safety. On Saturday night, another prince, Mansour bin Muqrin, was killed in a helicopter crash; bin Muqrin was the son of former intelligence minister Prince Muqrin bin Abdulaziz, who was next in the Saudi line of succession after King Salman until Salman appointed Muhammad bin Nayef in his place in 2015. There is no evidence of foul play in the crash, but the timing of bin Muqrin's death has raised suspicions in an already tense political landscape. The arrests continued on Monday, and the Saudi government has frozen bank accounts and imposed travel restrictions on other members of the royal family.
The Saudi government has framed the arrests as part of an anti-corruption campaign, led by MBS and tied to his economic reform plan, Saudi Vision 2030. But corruption is an alien concept among the Saudi royal family. As Emma Ashford, a fellow at the Cato Institute, noted on Twitter, there's no clear way to "define corruption in a country with no legal lines between state revenues [and the r]oyal family's assets." The royals' business practices may be an obstacle to the foreign investment needed to make Saudi Vision 2030 a success, but it's not like this has changed princes' profligate spending—including MBS' own lavish lifestyle. And it's unclear how imprisoning bin Talal, an investor in Apple, Twitter, and Citigroup, will improve Saudi Arabia's efforts to reach out to foreign investors. The swift purge over the weekend has a lot less to do with corruption than it does naked power.
MBS' rapid ascent has had a "move fast and break things" ethos. Since his father, King Salman, was crowned in 2015, he has quickly risen through the political ranks and accumulated a diverse portfolio of responsibilities, becoming the leading figure for the kingdom's economic and foreign policies. During this time, the Saudi government has undertaken an accelerating agenda of social and economic transformation—diversifying away from oil, privatizing Saudi Aramco, women's suffrage, driving rights, and attendance at sports events, the promise of moderate Islam and a glistening techno-futurist paradise. Making the pitch to Western officials, Saudi royals have said the plan is "revolution under the cover of modernization."
On Saturday, MBS came closer to marginalizing anyone who could possibly have the power or influence to challenge his authority.
In truth, though, revolution couldn't be farther from MBS' goal. In many respects, the purge on Saturday began in June, when he was appointed crown prince and promptly removed his predecessor, Mohammed bin Nayef, from his official duties and placed him under house arrest. Over the past several months, he has cracked down on dissent in the kingdom in ways that have been surprising even by the extremely repressive standards of the country. Dozens of Saudis have been arrested for mild criticism of the kingdom's feud with Qatar. Clerics have also been caught up in the arrests, coinciding with the shift towards marginally more liberal social policies. Coups are common early in leaders' tenures and when they enact dramatic reforms that shift the balance of power in a country. On Saturday, MBS came closer to marginalizing anyone who could possibly have the power or influence to challenge his authority. The goal isn't revolution, but a more consolidated, more modern autocracy—a process Steven Heydemann has called "authoritarian upgrading." As Stéphane Lacroix, a professor at Sciences Po, told the Washington Post, "Mohammed bin Salman wants to destroy the game of checks and balances that had characterized Saudi Arabia over the past few decades."
MBS' consolidation of power has come with the implicit support of the Trump administration. He has cultivated a close relationship with Jared Kushner; David Ignatius reports that, during Kushner's recent unannounced trip to Riyadh, "The two princes are said to have stayed up until nearly 4 a.m. several nights, swapping stories and planning strategy." On Saturday, as the purge was occurring, President Trump tweeted that he "[w]ould very much appreciate Saudi Arabia doing their IPO of Aramco with the New York Stock Exchange. Important to the United States!" He also called King Salman the same day, but according to the readout of the call, the two did not discuss the arrests targeting the Saudi leadership; Trump instead thanked the king for his recent purchase of U.S. missile defense systems and his cooperation in confronting the Islamic State. On Monday evening, two days later, he finally addressed the purge on Twitter: "I have great confidence in King Salman and the Crown Prince of Saudi Arabia, they know exactly what they are doing," he wrote.
...While Doubling Down on His Aggressive Foreign Policy
Saudi Arabia's crackdown at home has coincided with an escalation of its conflicts abroad. All of it ties back to Riyadh's confrontation with Iran.
On Saturday, Lebanese Prime Minister Saad Hariri resigned from office in a televised announcement filmed in Riyadh. In his statement, Hariri said he was stepping down due to an assassination plot—he may have even fled the country, only calling President Michel Aoun after he left Lebanon. "We are living in a climate similar to the atmosphere that prevailed before the assassination of martyr Rafik al-Hariri," Hariri said in his announcement. "I have sensed what is being plotted covertly to target my life." He also promised retribution against Iran, saying that Lebanon and the Arab states will "cut off the hands that wickedly extend into it."
Hariri's resignation concludes an uncomfortable year-long arrangement, in which he regained the prime minister's seat in exchange for endorsing Aoun, an ally of Hezbollah, for president. At the time, the compromise ended a two-and-a-half-year political crisis, during which Lebanon did not have a president, but it always made for strange bedfellows. For the past year, Hariri has served in a government alongside Hezbollah, the group international investigators believe to be responsible for his father's murder. "We have an understanding with Hezbollah," Hariri told Foreign Policy during a visit to Washington in July. "The functioning of the government, parliament and everything—it's important to have this consensus."
Despite the obvious fragility of the arrangement, Hariri's resignation has been met with surprise and confusion in Beirut. Hezbollah Secretary General Hassan Nasrallah tried to contain the fallout on Sunday by blaming Saudi Arabia for Hariri's resignation. "It was definitely a Saudi decision that was imposed on him," he said. "It was not his will to step down." President Aoun told reporters he won't recognize Hariri's resignation until he explains it in person. At a minimum, Hariri's resignation means a competition for leadership of Lebanon's Sunni community and a delegitimized government tilted towards Hezbollah. Elias Muahanna, an insightful observer of Lebanese politics, notes that Saudi Arabia could try to isolate Hezbollah and Lebanon the way it has Qatar, leading a boycott of the country and potentially cutting off lucrative business contracts between Saudi and Lebanese companies. But it could also be much more destabilizing than that. Lebanon, though racked with intermittent violence and overwhelmed by refugees, has remained surprisingly stable over the past several years, despite the civil war next door. A Saudi-backed clash with Hezbollah, though, could dissolve that semblance of stability, and with the conflict in Syria winding down, Sunni militants could shift their attention west, setting the stage for more violence in a different theater. The New York Times reported that on Sunday Bahrain warned its citizens to leave the country, which could be a worrying sign.
Also on Saturday, on another front, Houthi rebels launched a missile from Yemen toward the King Khaled Airport, north of Riyadh; the missile was intercepted without hitting its target, but residents in the area described loud explosions and debris was observed near the airport. The Houthis have fired rockets into the kingdom before, but previous attacks have mostly been concentrated along the Saudi-Yemeni border. The Yemeni missile, a new Scud variant likely developed with the help of Iran, puts Saudi Arabia at much greater risk of attack. Both Trump and Saudi Arabia's foreign minister, Adel al-Jubeir, have pinned responsibility for the attack on Iran, though the head of Iran's Revolutionary Guards denied involvement. "We do not have even the possibility to transfer missiles to Yemen. The missiles belong to them and they have increased their range," Mohammad Ali Jafari told Iranian state media. Saudi Arabia retaliated by tightening its grip on Yemen, closing off the Saudi-Yemeni border and blocking sea and air traffic.
The opening gambit of MBS' more assertive foreign policy, the war has become a grinding stalemate.
Saudi Arabia's military intervention in Yemen is now more than two and a half years old. The opening gambit of MBS' more assertive foreign policy, the war has become a grinding stalemate. A recent U.N. report found that the Saudi campaign is responsible for the death or maiming of 683 children last year, and strikes targeting hospitals and public gatherings have been common; just last week, a Saudi airstrike killed more than two dozen people when it hit a hotel and market in the Houthi stronghold of Saada. But the casualty figures barely scratch the surface of the war's devastation: Two-thirds of the country does not have reliable access to food or clean water, and thousands have died of a preventable cholera epidemic. MBS' other foreign policy adventure, the artificial feud with Qatar that was renewed in May, has also gone nowhere; if anything, it has backfired, pushing Doha further from the Gulf mainstream and closer to Turkey and Iran.
The weekend's events have signaled a new, more overt phase in Saudi Arabia's cold war with Iran. On Monday, Saudi officials began characterizing the kingdom as being "at war" with Iran. "We see this as an act of war," Jubeir, the foreign minister, said on CNN on Monday. "Iran can not lob missiles at Saudi cities and towns and expect us not to take steps." Jubeir's comments were echoed by Saudi Minister of State for Gulf Affairs Thamer al-Sabhan, who told Al-Arabiya, "We will treat the government of Lebanon as a government declaring a war because of Hezbollah militias." This could prefigure an even more assertive approach to confront Iranian proxies across the region. Saudi Arabia clearly has its sights set on Yemen and Lebanon; Syria and the Palestinian territories could also be involved. As Saudi Arabia has ramped up its rhetoric, it has drawn its allies closer. Riyadh's grip on Hariri is evident, and the Associated Press reported Monday that Saudi officials have barred Yemeni President Abed Rabbo Mansour Hadi and many officials in his government from leaving the kingdom for months. Yesterday, Palestinian President Mahmoud Abbas was summoned to Riyadh for an urgent meeting, likely to discuss Iranian influence with Hamas. MBS is shoring up his allies before his next big move.
---
J. Dana Stuster is the deputy foreign policy editor for Lawfare and a PhD candidate at Yale University. He worked previously as a policy analyst at the National Security Network and an assistant editor at Foreign Policy magazine.