SinoTech: Xi and Trump Agree to Restart Trade Talks
Xi and Trump Agree to Restart Trade Talks, With Slight Reprieve for Huawei in Sight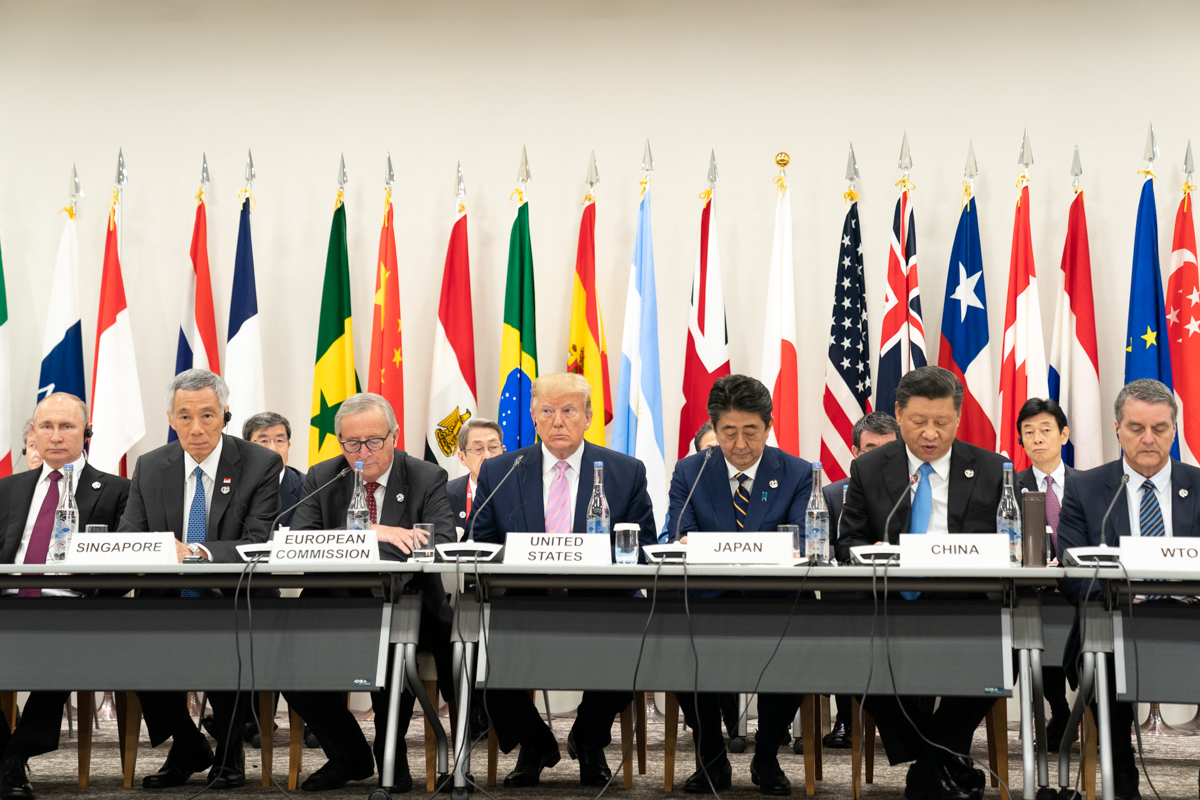 Published by The Lawfare Institute
in Cooperation With


Xi and Trump Agree to Restart Trade Talks, With Slight Reprieve for Huawei in Sight
On June 29, President Trump held a press conference in Osaka, Japan, to review key issues discussed with his fellow world leaders at the G-20 summit, focusing much of his speech on his discussions with Chinese President Xi Jinping. Most significantly, Trump announced that U.S. and Chinese officials would resume trade negotiations and that the United States will maintain its tariffs on $250 billion worth of Chinese goods but will not raise tariffs on additional goods while talks proceed. Trump had previously threatened to raise tariffs on an additional $300 billion of Chinese goods.
U.S.-China trade negotiations previously broke down in May after the U.S. government accused China of backtracking on certain commitments. Now, however, Trump suggested that both sides have made some concessions during bilateral talks in Osaka. Trump revealed that "China is going to be buying a tremendous amount of food and agricultural product," arguing that "our farmers are going to be a tremendous beneficiary." And as CBC News reports, Xi said that China would unilaterally "move to cut tariffs" and to ease nontariff trade barriers by opening new free trade zones in the country and by introducing changes to China's "negative list of access," which lists sectors and businesses that are closed to foreign investment.
The day after Trump's remarks, Xinhua elaborated on reforms to the foreign investment negative lists. There are currently two such lists: one for free trade zones (FTZs) and another for the rest of China. The FTZ negative list will be trimmed from 45 to 37 sectors, while the non-FTZ list will cover 40 instead of 48 sectors. Xinhua heralded the reduction in listed items, arguing that the "service sector will see greater opening-up in transport, infrastructure, culture, and value-added telecommunications." The reforms are set to go into effect on July 30.
In terms of U.S. concessions, Trump announced that the United States will allow American companies to "sell their equipment to Huawei" as long as "there is no great national emergency problem with it." In May, the Commerce Department placed Huawei on a list of companies to which U.S. firms may not sell components without government approval, leading key component and software suppliers to sever ties with Huawei. On Sunday, White House economic adviser Larry Kudlow expanded on Trump's statement, noting that "Huawei will remain on an American blacklist as a potential security threat" but that U.S. firms will be able to sell general merchandise—"chips and software generally available around the world"—to the Chinese firm.
Existing U.S. restrictions on Huawei have hurt that company's bottom line. Google has had to constrain Huawei's access to its Android operating system to comply with Commerce Department restrictions. According to Huawei CEO Ren Zhengfei, the company's global smartphone sales "plummeted 40% between May 17 and June 16" alone. Trump's announcement has inspired a sharp backlash from key Republicans, with Sen. Marco Rubio tweeting that Trump's move "will destroy the credibility of his administration's warnings about the threat posed by [Huawei]."
Despite concessions by both the United States and China, commentators have continued to temper their expectations as to the likelihood of a trade deal. The South China Morning Post notes that "pundits on both sides remain doubtful about how long a ceasefire can avert a looming showdown between the two economic superpowers." The state-run China Daily, which celebrated the resumption of trade talks, noted that "pressing the pause button on trade friction ... doesn't mean the dispute has ended." And in the U.S., CNBC warned that "the gentleman's agreement struck between the leaders of the world's two largest economies over the weekend ... offers no clear path to rolling back tariffs and ending a trade war." Still, the respite from further tariffs represents an opportunity for the two sides to reopen communication channels and resume the hard work of negotiation.
Commerce Department Places Five Chinese Supercomputing Companies on the Entity List
The Commerce Department announced on June 21 that it was placing five Chinese companies on the "Entity list" because they posed national security concerns. Firms on the list cannot purchase parts from U.S. suppliers, including companies that previously exported to them, unless those companies seek a waiver. Each of the five entities—Sugon, the Wuxi Jiangnan Institute of Computing Technology, Higon, Chengdu Haiguang Integrated Circuit and Chengdu Haiguang—is part of the Chinese supercomputing industry, with the latter three involved in the design and manufacture of microchips for supercomputers. The announcement came just over a month after the Trump administration placed Chinese telecommunications company Huawei on the Entity List, a decision that added new strain to the U.S.-China relationship.
The move to target supercomputing companies specifically opens up another front in the increasingly fraught technological competition between the United States and China. While the United States currently hosts the fastest supercomputer at the Oak Ridge National Laboratory, China's supercomputer industry is developing rapidly. Sugon in particular is a prominent producer of supercomputers and supplies a range of well-known Chinese businesses including State Grid, China Mobile and JD.Com.
In the announcement, the Commerce Department's Bureau of Industry and Security cited a number of links between the listed companies and the Chinese military, claiming that Sugon "has publicly acknowledged a variety of military end uses and end users of its high-performance computers" and that an affiliate of the People's Liberation Army owns the Wuxi Jiangnan Institute of Computing Technology. The department also highlighted concerns surrounding "exascale high performance computing," which is considered the next stage in supercomputing development. Three of the newly listed companies are leaders in the field in China, and the announcement also included information on aliases and revised addresses used by the listed companies.
Many of the five companies currently use U.S.-manufactured semiconductor chips provided by companies such as Nvidia and Intel, and will now need to find alternate sources for chips if those suppliers cannot obtain waivers. This decision may further accelerate domestic development of China's semiconductor industry as a result.
This is not the first time that the Commerce Department has placed a Chinese company tied to the supercomputing industry on the Entity List; the department added the National University of Defense and Technology in February 2015. However, the timing of the most recent announcement surprised trade scholars: It came just a week before Trump and Xi were scheduled to meet on the sidelines of the G-20 in Osaka to continue negotiations that could conclude the trade war.
In Other News
Global News reports that Xi and Canadian Prime Minister Justin Trudeau had several "positive, constructive interactions" on the sidelines of the G-20 summit. The Globe and Mail reports that Trudeau has offered "few details about the ongoing effort to liberate" Michael Spavor and Michael Kovrig, Canadians whom China has arbitrarily detained. Trump did not mention the Sino-Canadian dispute in his own G-20 press conference, despite having earlier said that he would do "anything" he could to help Canada. In an op-ed for the Globe and Mail, Charles Burton concludes that "Canada certainly seems no closer to getting Michael Kovrig and Michael Spavor out of the hell of Chinese custody."
The Wall Street Journal reports that Apple will move assembly of its Mac Pro—Apple's "only major device assembled in the U.S."—from Texas to China. Taiwanese firm Quanta Computer Inc. will manufacture the Mac Pro in a factory near Shanghai and will benefit from the plant's proximity to suppliers in the Shanghai area. Tech Crunch notes that "Apple hasn't denied the report" and that when asked for comment, an Apple spokesperson only affirmed that the Mac Pro "includes components from several countries including the United States."
Reuters has released an in-depth investigative piece into Cloud Hopper, China's global hacking campaign. Hackers working for China's Ministry of State Security reportedly hacked eight of the world's biggest technology service providers "in an elaborate and years-long invasion": In particular, Ericsson was hacked by suspected Chinese spies "five times from 2014 to 2017." In a follow-up article, Reuters found that "at least six other technology service providers were [similarly] compromised." Although Reuters was "unable to detail the full extent of the damage done … senior Western intelligence officials say the toll was high."
Commentary
For Brookings, Paul Gewirtz considers what would be needed to relieve the current tensions between the United States and China. An interview with Tarun Chhabra, Rush Doshi, Ryan Hass and Mira Rapp-Hooper offers perspectives from the "next generation" of scholars on where U.S.-China relations are headed. Matthew Goodman analyzes the trade debates likely to arise at the G-20 for the Center for Strategic & International Studies. In the Financial Times, former World Bank President Robert Zoellick explains that even if the United States and China reach a trade deal, that is unlikely to resolve the underlying issues plaguing relations between the two countries.
Robert Farley discusses why enforcing the Commerce Department's export ban against Huawei may prove challenging. In Bloomberg View, David Fickling and Anjani Trivedi argue that the United States and China should be better aligned on issues of intellectual property. Finally, Annegret Bendiek explores four scenarios for how the technology relationship between China and the European Union is likely to evolve.
On Lawfare, Evelyn Douek and Kate Klonick analyze Facebook's recent update on its oversight board. Justin Sherman and Robert Morgus discuss why the U.S. government's messaging to allies about the risks of Huawei equipment has proved so ineffective. Bobby Chesney offers the legal and policy context for an operation in Iran by U.S. Cyber Command. And Sean Quirk explains how the Philippines and China are investigating a collision that led to the sinking of a Philippine fishing boat.
---
Rachel Brown holds a J.D. from Yale Law School. Before law school, she worked as a research associate in Asia Studies at the Council on Foreign Relations. She holds a bachelor's degree in Ethics, Politics, and Economics from Yale.
Preston Lim is a graduate of Yale Law School. He holds a Bachelor's degree in Near Eastern Studies from Princeton and a Master's in Global Affairs from Tsinghua University, where he studied as a Schwarzman Scholar.