Sixteen-Year-Old American Islamic State Fighter Reportedly Captured in Syria
On Jan. 9, the People's Defense Units (YPG) announced the capture of eight individuals, ostensibly foreign fighters for the Islamic State, in a series of operations conducted by the group near the town of Deir-ez-Zor in eastern Syria. Reportedly among the captured are fighters from seven different countries.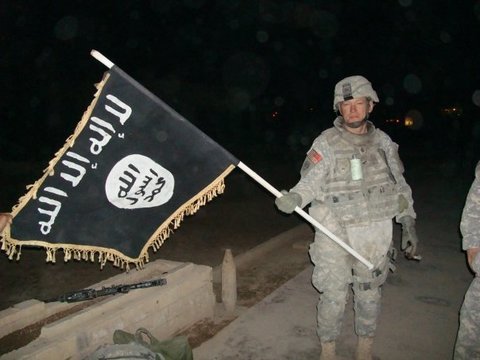 Published by The Lawfare Institute
in Cooperation With


On Jan. 9, the People's Defense Units (YPG) announced the capture of eight individuals, ostensibly foreign fighters for the Islamic State, in a series of operations conducted by the group near the town of Deir-ez-Zor in eastern Syria. Reportedly among the captured are fighters from seven different countries. The YPG's press release claims that the youngest detainee, identified as Soulay Noah Su (Abu Souleiman al-Amriki), is a 16-year-old United States citizen. If confirmed, this would make Su the youngest American known to have fought on behalf of a jihadist group in Syria or Iraq.
Su is the third purported American Islamic State fighter who was captured this week on the battlefield in Syria. On Jan. 6, the Syrian Democratic Forces (SDF) announced the capture of two Americans, Warren Christopher Clark and Zaid Abed al-Hamid. The Department of Defense announced that it was "unable to confirm" Clark and al-Hamid's arrests, and has yet to comment on today's report of Soulay Su's capture. In addition, some scholars and analysts doubt the extent of al-Hamid's ties to the U.S.; he was a known extremist in Trinidad and Tobago prior to his departure for Syria in 2014.
The FBI claims that approximately 295 Americans joined or attempted to join militant groups in Syria and Iraq. A database we maintain at the Program on Extremism, where we work, identified 73 U.S. citizens who successfully joined jihadist groups by name. Soulay Noah Su's name was not on the list, as we don't include minors—but if his capture is confirmed, Su's case would represent a departure from norms that apply to many of the travelers in the sample. The two most notable differences, and the ones that would likely entail significant questions for U.S. authorities in handling this case, are the circumstances of his capture and his age.
Su joins at least five other American travelers who have been captured on the battlefield in Syria and Iraq. In the majority of these cases, fighters were captured by sub-state actors—the YPG, SDF and forces aligned with the Kurdish Regional Government in northern Iraq. This adds complications to efforts by the Department of Justice to return Americans to the U.S. to face trial. In these cases, law enforcement must take additional steps to secure evidence, ensure consular rights of U.S. citizens arrested abroad, and negotiate their extradition. In certain cases, the U.S. government successfully gained custody of accused Islamic State members from detention by Syrian and Iraqi militia groups. Last year, the Justice Department indicted two U.S. citizens, Ibraheem Musaibli and Samantha Elhassani, in the Eastern District of Michigan and Northern District of Indiana respectively, after securing their transfer to U.S. custody from the SDF. In another well-publicized case, however, the suspect in question never saw a courtroom: Abdulrahman Ahmad Alsheikh, better known as John Doe, was held in U.S. military custody after his capture by the SDF, and was transferred to Bahrain following a lengthy court battle.
On top of the array of legal issues that would be present in any such case, perhaps the more pertinent question here is Su's status as a minor. Our research at the Program on Extremism found 14 American minors in jihadist-controlled territory in Syria and Iraq, the majority of whom are young children who traveled along with relatives who eventually joined jihadist groups. From that number, seven were returned to the United States. Due to their young age and other mitigating factors, no minors who returned to the U.S. have been prosecuted.
This approach is understandable. The sins of the parents should not be the sin of their children. Su's case, however, is somewhat of an anomaly: While it is not yet known if he traveled to Syria along or with others, he is the only American minor who was alleged to have directly participated in battlefield operations on behalf of a jihadist organization. If his capture and age are confirmed, and there is evidence that Su fought on behalf of the Islamic State, authorities will likely face a conundrum about how best to proceed.
Prosecution of minors for provision of material support to terrorism is difficult and controversial. These barriers often lead prosecutors to pursue lesser charges or shift cases to the state level when minors are accused of providing support to designated foreign terrorist organizations. For instance, Zakariya Abdin was accused of planning an attack against police in South Carolina on behalf of the Islamic State in 2015, when he was 16 years old. He initially pleaded guilty to a state-level firearms offense, carrying a sentence of one year in a juvenile facility. Following his parole, he made another attempt to provide support to the Islamic State through traveling to Syria—this time at the age of 18. Only then did the Justice Department charge Abdin with provision of material support. In another case in New Jersey, where 15-year-old Santos Colon pleaded guilty to providing material support to the Islamic State, a court released him to a halfway house pending sentencing. As part of the agreement, Colon now receives court-ordered counseling and visits with his family.
But Su, unlike Abdin or Colon, actually made it to Syria and purportedly fought alongside the Islamic State. Non-prosecutorial responses for cases like his—including counseling, return to familial custody and mental health services—potentially face other hurdles. The U.S. lacks an overarching strategy for deradicalization and disengagement of minors who have been involved in terrorist groups. Earlier cases involving minors of Su's age returning from jihadist-controlled territory may not be helpful guides in the case of a minor with direct battlefield experience. In one example, the U.S. government purportedly facilitated the return of a pregnant 15-year-old Kansas girl who was forcibly married to an Islamic State fighter after her father brought her unwillingly to Syria, releasing her into the custody of her grandmother. In instances in which the minor participated in combat operations, however, law enforcement may not acquiesce to this type of response without stringent monitoring, supervision and extensive contingency plans should non-prosecutorial options fail.
The parameters of Su's case point to the difficult decisions for that U.S. authorities must make in processing and prosecuting U.S. citizens captured while fighting for terrorist groups in Syria and Iraq. The choices—leaving Su in YPG custody, attempting to extradite Su with no guarantee of successful prosecution due to his minor status or providing him with non-prosecutorial deradicalization and disengagement programming in lieu of his potential combatant role—all have significant disadvantages. This "minor" issue may become a major concern for U.S. counterterrorism authorities in determining how best to process captured foreign fighters.
---
Seamus Hughes is a senior research faculty member and policy associate at the University of Nebraska at Omaha-based National Counterterrorism Innovation, Technology, and Education Center (NCITE)
Bennett Clifford is a senior research fellow at the Program on Extremism at George Washington University. He studies violent extremist movements and organizations in the United States, as well as in the Caucasus, Central Asia, and the Balkans.