The Week That Was: All of Lawfare in One Post
Your weekly summary of everything on the site.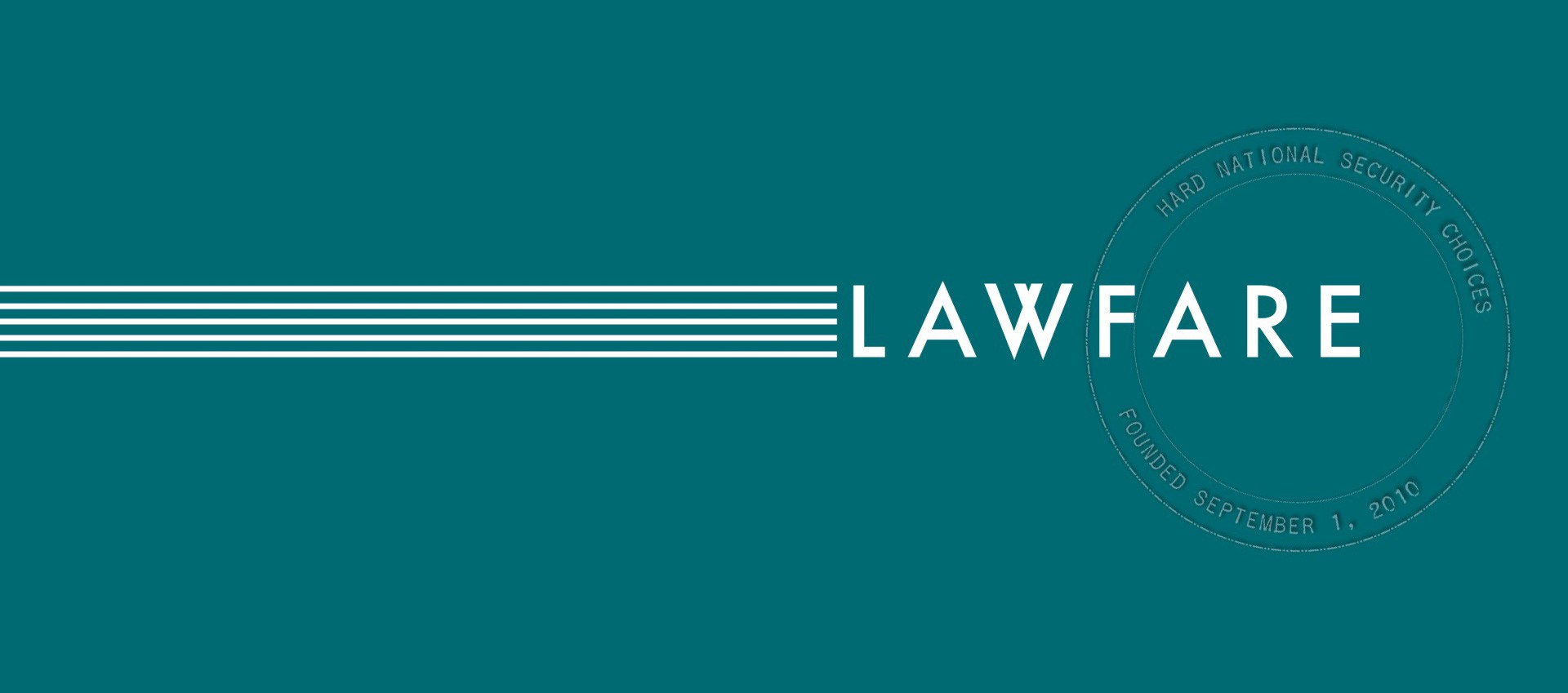 Published by The Lawfare Institute
in Cooperation With


Roger Parloff evaluated former President Donald Trump's motion to recuse Judge Tanya Chutkan, determining it holds little water in light of D.C. Circuit and Supreme Court precedent.

On the Lawfare Podcast, Tyler McBrien sat down with Saraphin Dhanani and Benjamin Wittes to discuss Trump's potential presidential immunity defense, the prosecution's likely counterarguments, and how the defense could still be useful to Trump even if Judge Chutkan does not accept it:
On this week's episode of "Lawfare Live: Trump's Trials and Tribulations," Scott R. Anderson sat down with Anna Bower and Parloff to discuss the Jeffrey Clark and fake electors removal hearings, the proposed gag order the government is seeking in the D.C. Circuit court case, updates on cases seeking to remove Trump from ballots under Section 3 of the 14th Amendment, and more:
Bower reported on the Sep. 18 hearing in which Judge Steve C. Jones heard arguments on removing the Fulton County election interference case against Jeffrey Clark from Georgia state court to federal court.

Bower also reported on the Sep. 20 hearing in Fulton County in which Judge Jones heard arguments for three alleged fake electors seeking to remove their election interference cases to federal court.

On the Lawfare Podcast, Wittes sat down with Bower, Dhanani, and Parloff to catch up on events in Mar-a-Lago, Fulton County, and Washington, D.C. They also discussed whether Judge Chutkan would recuse herself and the status of ongoing Section 3 litigation under the 14th Amendment in Colorado, Minnesota, and elsewhere:
Hyemin Han shared Minnesota Supreme Court Chief Justice Lorie Gildea's order that petitioners bringing a Section 3 challenge against Trump in the state file briefs addressing key interpretation questions of the statute. Oral arguments are currently set for Nov. 2.
Anna Hickey shared a livestream of Attorney General Merrick Garland's testimony in front of the House Judiciary Committee for a hearing entitled "Oversight of the U.S. Department of Justice."

On Lawfare No Bull, Caleb Benjamin shared edited audio of the House Judiciary Committee hearing in which Attorney General Garland was questioned about the Hunter Biden investigation, the role of special counsels, the Justice Department's actions related to Jan. 6, and more:
Chuck Rosenberg argued the Justice Department's increased use of special counsels is potentially unwise as it unnecessarily undermines people's confidence in the department's otherwise strong prosecutorial capabilities and nonpartisan credibility.
On the Lawfare Podcast, McBrien sat down with Steven Levitsky and Daniel Ziblatt to discuss their new book, "Tyranny of the Minority: Why American Democracy Reached the Breaking Point." They discussed the diagnoses and prescriptions of this breaking point, the most damaging counter-majoritarian features of the U.S. Constitution, and why constitutional and electoral reform is so difficult in America:
Hickey shared the Justice Department's indictment of Sen. Bob Menendez (D-N.J.) and his wife Nadine Menedez on charges of conspiracy to commit bribery, honest services fraud, and extortion.

Eugenia Lostri and Stephanie Pell examined the first installment of the Biden administration's implementation plan for its National Cybersecurity Strategy. They discussed the plan's initiatives for reaching the five pillars laid out in the strategy, the varying levels of progress the initiatives have made toward reaching strategic objectives, and potential implementation challenges moving forward.

On the Lawfare Podcast, Dhanani sat down with Lostri to talk about why cybersecurity aid is necessary, the new cybersecurity initiatives the U.S., EU, and international bodies are beginning to enact, and the many challenges that await these initiatives:
Justin Sherman examined the FTC's recent actions against the genetic testing company 1Health.io for publicly storing users' genetic data. He argued that while the FTC's order against 1Health.io is laudable, the case demonstrates the need for stronger privacy laws and regulations for companies handling genetic data.

Jacob Pagano discussed the split in circuit court opinions over whether the border exception to the Fourth Amendment allows law enforcement to search individuals' phones when they enter and exit the U.S. without a warrant. Pagano argued in favor of the Fourth Circuit's approach in U.S. v. Kolsuz, in which it found that digital data related only to an ongoing border crime could qualify for the exception.

Wittes moderated a Brookings Institution Governance Studies discussion with Homeland Security Under Secretary for Intelligence and Analysis Kenneth Wainstein. A recording of Wainstein's remarks and the discussion can be found here.

Kate Starbird discussed the multifaceted attacks mis- and disinformation researchers are facing and the threat this poses given the disinformation likely to surround the 2024 election and social media platforms' retreat from transparency and moderation.

On the Lawfare Podcast, Jack Goldsmith sat down with John Mearsheimer and Sebastian Rosato to talk about their new book, "How States Think: The Rationality of Foreign Policy," and why they think most states act rationally most of the time in developing grand strategy and managing crises. They also discussed how their theory of state rationality differs from rational choice theorists and political psychologists, why understanding state rationality is important to success in international affairs, and why Mearsheimer thinks, despite his own personal views on the subject, that U.S. expansion of NATO and pursuit of liberal hegemony after the Cold War was rational:
On the Lawfare Podcast, Han sat down with Henry Farrell and Abe Newman to discuss their new book "Underground Empire: How America Weaponized the World Economy." They talked about how U.S. weaponization of the global economy came to be, how U.S. national security objectives are bleeding into economic warfare, and what policymakers might focus on in trying to ensure the U.S.-centered economic web is not ravaged by its own power:
On Rational Security, Anderson and Quinta Jurecic sat down with Eric Ciaramella and Dhanani to discuss this week's big national security news stories, including President Biden and Ukrainian President Volodmyr Zelenskyy's addresses to the UN General Assembly, Canada's allegation that the Indian government was involved in the assassination of a Sikh separatist leader (and Canadian citizen) on Canadian soil, the prisoner swap deal the Biden administration struck with Iran, and more:
Hickey shared a livestream of President Biden's address to the UN General Assembly in New York City.
In the first article of a three-part series on the erosion of India's judicial independence, Dhanani discussed the structure of India's judiciary and the pivotal moment in 2018 when four justices alerted the world about the institutional decline of the Indian justice system resulting from Prime Minister Narendra Modi's rule.

In the second article of the series, Dhanani discussed the strategies the Modi government has used to undermine the judiciary and the structural factors that have exacerbated the judiciary's decline.

In Lawfare's foreign policy essay series, Christina Bouri examined the kafala system—which governs contracting of foreign laborers in many Middle Eastern countries—and why abuses continue to result from its use despite promises of reform.
And on Chatter, David Priess sat down with Rory Cormac to discuss how the British royal family and U.K. intelligence operations have been linked historically and in modern times:
And that was the week that was.
---
Caleb Benjamin is Lawfare's fall 2023 editorial intern. He holds a B.A. with high honors in government from Dartmouth College. He has previous work experience at the Combating Terrorism Center at the U.S. Military Academy, Brunswick Group, and the Democratic Erosion Consortium.