The Week That Was: All of Lawfare in One Post
Your weekly summary of everything on the site.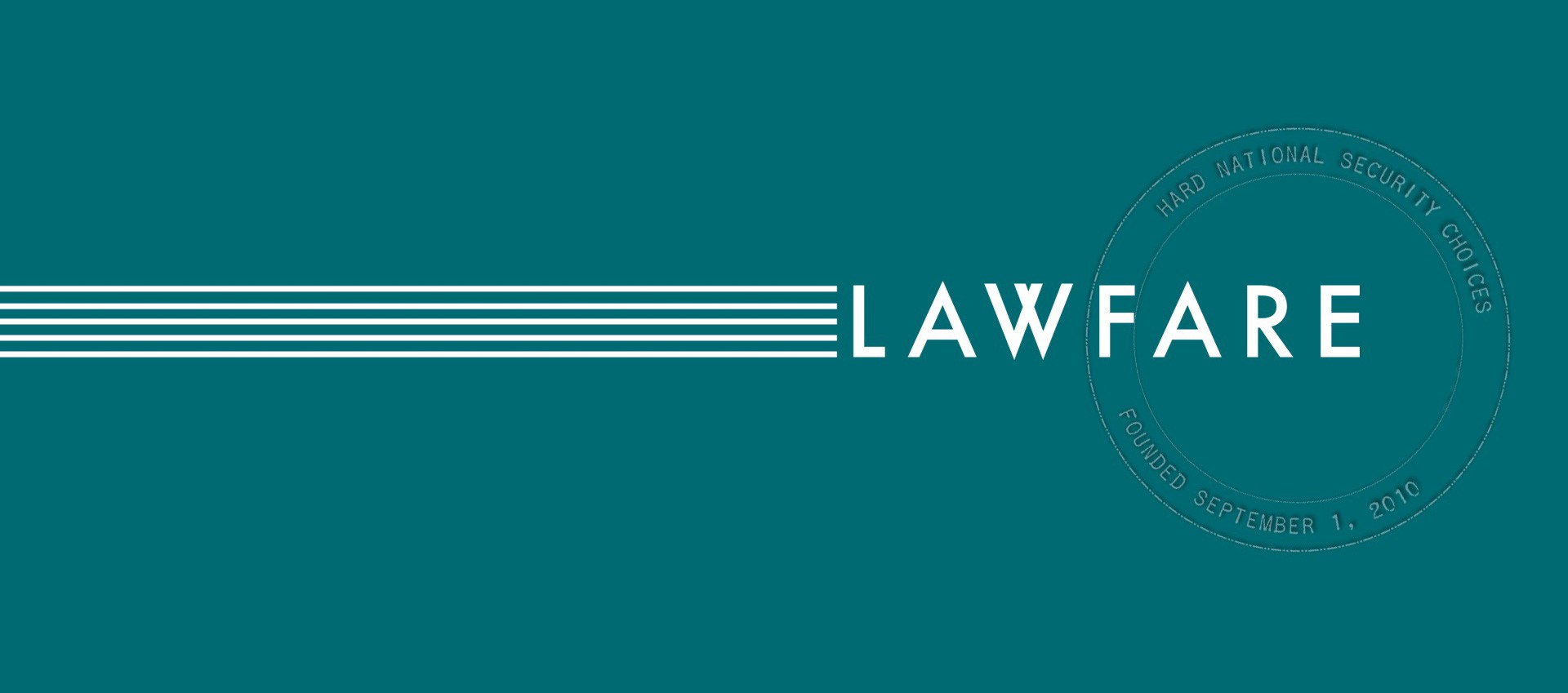 Published by The Lawfare Institute
in Cooperation With


On the Lawfare Podcast, Scott R. Anderson sat down with Ned Foley and Derek Muller to discuss how Section 3 of the 14th Amendment might be interpreted, the ways it might be implemented in relation to former President Donald Trump, and what avenues for enforcement might apply against people facing a similar possibility of disqualification:
Ilya Somin discussed the potential disqualification of Trump and others from holding public office under Section 3 of the 14th Amendment. Somin argued disqualification, while it limits democracy, is necessary to protect democracy itself.

Katherine Pompilio shared a lawsuit filed on Wednesday in the Denver City and County District Court by six Colorado voters seeking to remove Trump from the state's ballot in 2024 under Section 3 of the 14th Amendment.

On this week's episode of "Lawfare Live: Trump's Trials and Tribulations," Anna Bower, Roger Parloff, and Benjamin Wittes sat down to discuss the Colorado lawsuit to keep Trump off the state's 2024 ballot, the Proud Boys' sentences, Kenneth Chesebro and Sidney Powell's severance hearing in Fulton County, and the potential removal of Mark Meadow's Fulton County election interference case to federal court:
Bower, Alan Z. Rozenshtein, and Wittes argued in favor of removing Meadow's Fulton county election interference case to federal court.

Anna Hickey shared a livestream of Chesebro and Powell's hearing in Fulton County in which their respective counsel argued to sever their cases from each other and other co-defendants in The State of Georgia v. Donald John Trump, et. al.
Pompilio shared the Fulton County Special Purpose Grand Jury's final report, which details alleged election interference committed by Trump and others in the 2020 presidential election in Georgia.

Bower discussed the Fulton County Special Purpose Grand Jury's final report, noting that District Attorney Fani Willis was more conservative in her indictment than the grand jury was in its recommendations, among other insights.
On the Lawfare Podcast, which featured audio from the Aug. 31 edition of "Trump's Trials and Tribulations," Wittes was joined by Bower, Saraphin Dhanani, and Quinta Jurecic to get an update on the Mar-a-Lago case, the Georgia Fulton County case, and the Jan. 6 case in Washington:
Nick Lewis discussed the Justice Department's appointments of special counsels to investigate the president, the former president, and those in their inner circles. Lewis considered the structural and practical issues of "special counsel status" and why the department has fallen short in its efforts to independently investigate presidents and close associates.

Joshua Busby, Kim Nguyen, and Steve Slick shared the results of two surveys that asked respondents their views on the U.S. Intelligence Community in "Public Attitudes on US Intelligence (2021-2022)," finding that while most Americans believe that the Intelligence Community plays a vital role in protecting the nation, partisanship has a significant impact on public attitudes.

On Rational Security, Anderson, Rozenshtein, and Jurecic celebrated the second anniversary of Rational Security 2.0 by judging hot takes from their Lawfare colleagues on whether Russian President Vladimir Putin or Trump will be held accountable first; whether there will be a government shutdown in September; and what should happen with overseas U.S. troops:
Concerning technology and privacy, Susan Landau discussed private-sector collection and use of individuals' "non-content"— communications metadata and software and device telemetry. Landau proposed strictly limiting private sector uses of non-content through regulation or legislation to protect user privacy.

Stewart Scott, Maia Hamin, and Trey Herr examined three questions to help close the conceptual gaps preventing effective application of liability to software: (1) How much security is sufficient? (2) What do we mean when we talk about software liability this time? (3) What has gone wrong with existing incentives, and how do we do better?

On the Lawfare Podcast, Stephanie Pell sat down with Kate Hanniford to discuss the requirements and challenges presented by new Securities and Exchange Commission compliance and disclosure obligations surrounding material cybersecurity incidents, when an incident rises to the level of a material cybersecurity incident, and whether the new rule is consistent with the National Cybersecurity Strategy's goal of harmonizing disclosure and reporting requirements for companies:
Randy Beck, Mary Brooks, and Paul Rosenzweig analyzed the results of the White Hat Cyber Forecasting Tournament, a prediction platform for cybersecurity intended to increase understanding of whether information from prediction markets is useful in generating accurate forecasts that could help policymakers to make informed cybersecurity decisions.
Kevin Frazier argued in favor of creating an independent auditing body–using the Insurance Institute for Highway Safety as a model–that would foster regulatory innovation for AI.

On the Lawfare Podcast, Jack Goldsmith sat down with Mustafa Suleyman to discuss his new book, "The Coming Wave: Technology, Power, and the Twenty-first Century's Greatest Dilemma," that looks at threats posed by AI and synthetic biology, AI's promises and dangers, and what governments and firms can do to address those dangers:
In the latest installment of Lawfare's Foreign Policy Essay series, Debak Das examined the current tensions between India and Pakistan as both countries modernize their nuclear weapons while India's nuclear competition with China, and China's competition with the U.S., intensifies.

On Chatter, Shane Harris sat down with Steve James to discuss his new documentary entitled "A Compassionate Spy." The film explores the life of Ted Hall, a physicist on the Manhattan Project who, fearing an American monopoly over nuclear weapons might lead to global tyranny, shared secret designs with the Soviet Union to help it build a bomb:
On the Lawfare Podcast, Goldsmith sat down with Samuel Moyn to discuss his new book, "Liberalism Against Itself: Cold War Intellectuals and the Making of Our Times," that examines how liberal intellectuals reacted to the rise of fascism, Nazism, and Soviet communism. They discussed how and why Cold War liberals transformed liberalism, why Moyn thinks the transformation had negative effects on U.S. foreign and domestic policy, and the relationship between his project and recent anti-liberal projects from the right:
And Hickey shared an order from U.S. District Court Judge Ezra granting the federal government's request for a preliminary injunction against Texas Gov. Greg Abott in its suit over the construction of barriers in the Rio Grande River. The order requires the state to stop constructing "buoys, blockades or structures of any kind in the Rio Grande River" and remove all current structures by Sept. 15.

And that was the week that was.
---
Caleb Benjamin is Lawfare's fall 2023 editorial intern. He holds a B.A. with high honors in government from Dartmouth College. He has previous work experience at the Combating Terrorism Center at the U.S. Military Academy, Brunswick Group, and the Democratic Erosion Consortium.