Water Wars: American Angling Ahead of ASEAN Summit
U.S. Secretary of State John Kerry spent much of this week in Laos, Cambodia, and China in an effort to pressure Beijing to change course in the South China Sea. Returning to Washington on Wednesday, Secretary Kerry could boast of, at best, mixed results.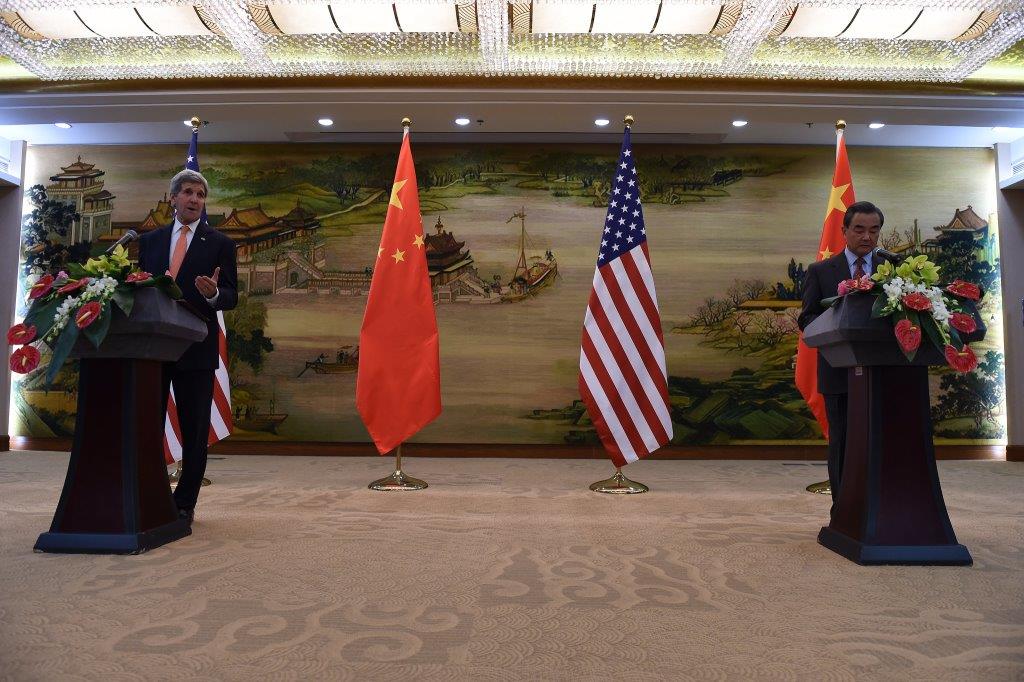 Published by The Lawfare Institute
in Cooperation With


U.S. Secretary of State John Kerry spent much of this week in Laos, Cambodia, and China in an effort to pressure Beijing to change course in the South China Sea. Returning to Washington on Wednesday, Secretary Kerry could boast of, at best, mixed results.
America's top diplomat kicked off his Asia tour last Sunday in Laos—this year's chair of the ten-member Association of Southeast Asian Nations (ASEAN). On Monday, Mr. Kerry enjoyed the greatest success of his trip, when he was able to shore up Laotian support for the protection of maritime rights and opposition to military build-up in the South China Sea. According to the Secretary, Prime Minister Thongsing Thammavong to "was very clear he wants a unified ASEAN and he wants maritime rights protected, and he wants to avoid militarization and to avoid conflict." This was no small feat, as Laos traditionally has operated within China's orbit, not to mention that the landlocked Southeast Asian nation has little to gain by challenging the PRC on maritime issues. Laos's support may prove critical at the ASEAN summit President Obama will convene in California this February, given that advancing any agenda hostile to Chinese interests virtually requires the support of the ASEAN chair. Reuters suggests that the "black mark" of Cambodia's 2012 chairmanship made this lesson all too clear.
Mr. Kerry fared less well in Cambodia on Tuesday. Despite "candid and constructive" meetings with Prime Minister Hun Sen and Foreign Minister Hor Namhong, Secretary Kerry was unable to budge Cambodia from its previous support for the Chinese view that individual countries should settle maritime disputes among themselves without the involvement of ASEAN.
Rounding out the trip, on Wednesday, Secretary Kerry met with PRC Foreign Minister Wang Yi for more than four hours in Beijing. Although the diplomats found some common ground, they butted heads on both North Korea and the South China Sea. Mr. Kerry admitted that "our differences will continue to test us," while Mr. Wang asserted that the PRC would honor its pledge to not militarize the South China Sea but would not accept any allegation that its words are not matched by actions. PRC Foreign Ministry spokeswoman Hua Chunying piled on during her daily briefing, urging the U.S. to cease its "groundless" accusations about China's maritime intentions and noting that "the U.S. official [i.e. Mr. Kerry] is not the spokesperson of ASEAN."
In other news…
United States
The PRC-U.S. war of words spilled well beyond Secretary Kerry's Asia trip. During an interview on Sunday, President Obama singled out China in suggesting that all countries should play by the same rules in the South China Sea. Striking a similar note, U.S. Secretary of Defense Ash Carter deemed China's recent maritime moves as "self-isolating." But Admiral Harry Harris was the least sparing in his remarks at CSIS on Wednesday. The PACOM Commander predicted that U.S. freedom of navigation (FON) operations would increase this year—not only in number but also in scope and complexity—and vowed that the United States would "clearly defend [the Senkakus] if they are attacked by China."
Vietnam
The Vietnamese Communist Party reappointed Nguyen Phu Trong for a second five-year term as party general secretary during its congress this week. Mr. Trong, who represents the party's China-friendly old guard, easily defeated a seemingly promising bid by the reformist Prime Minister Nguyen Tan Dung for the country's top leadership post. The Washington Post suggests that Mr. Trong is unlikely to be as subservient to China as some fear, and the BBC offers a further look at the behind-closed-doors election process.
Indian officials announced that Vietnam has agree to host an Indian satellite tracking and imaging facility in exchange for pictures that cover China and the South China Sea. Although the deal might be expected to irritate Beijing, PRC Foreign Ministry spokeswoman Hua Chunying appeared to dismiss its significance, declaring that China merely hoped the facility "will be able to make a positive contribution to pushing forward relevant cooperation in the region."
Taiwan
Cross-Strait fallout has continued since the landslide electoral victory of Tsai Ing-wen and her Democratic Progressive Party (DPP) over the pro-China Kuomingtang (KMT). Late last week, Chinese state media broadcasted live-fire military and landing drills from PLA "winter exercises," sparking frustration on the self-ruled island. One Taiwanese military official went so far as to call the broadcast "psychological warfare," although the PRC Ministry of Defense said not to read too much into it. This week, China Post reports that the Mainland will reduce the number of tourists allowed to visit Taiwan this year. The official KMT website tied the tourism sanctions to the DPP's refusal to recognize the "1992 Consensus" on the One China Principle and added that, in addition to restrictions on the overall number of tour groups, the PRC will also cut the number of Mainland cities from which individual tourists can visit Taiwan from forty-seven to four.
On Thursday, outgoing KMT President Ma Ying-jeou visited Taiping (Itu Aba)—a disputed island in the Spratly chain. During a speech on the island, Mr. Ma explained that the trip advanced four objectives: (1) visiting personnel stationed on the island to offer Lunar New Year wishes; (2) unveiling the South China Sea Peace Initiative Roadmap; (3) explaining the island's peaceful use; and (4) clarifying the legal status of Taiping, which is at issue in the Philippines v. PRC maritime arbitration case. He also reaffirmed Taiwan's territorial claims, suggesting that the Republic of China "enjoys all rights over these islands and their surrounding waters in accordance with international law." President-Elect Tsai declined an invitation to join President Ma on the trip.
The move elicited a mix of responses throughout the Pacific. Ma Xiaoguang, spokesman for China's Taiwan Affairs Office, appeared to welcome the visit and noted that "[p]rotecting the rights of the country and keeping its territory whole . . . are the shared responsibilities and duties of China and Taiwan." Reuters suggests the response can be attributed to Beijing's expectations that it will one day take possession the island when it resumes control over Taiwan. Meanwhile, the American Institute in Taiwan (AIT), the de facto U.S. embassy in Taipei, deemed the trip "extremely unhelpful" to the "peaceful resolution of disputes in the South China Sea." Likewise, Vietnam's top official in Taiwan said Hanoi "resolutely opposed" the trip, and the Philippine Department of Foreign Affairs offered an implicit rebuke by reiterating the shared responsibility of all parties "to refrain from actions that can increase tension in the South China Sea."
Japan
In a speech before the Diet late last week, Japanese Foreign Minister Fumio Kishida condemned China's aggressive maritime activities in the South China Sea, stressing that "any unilateral attempts, such as land reclamation, to [support validity of its territorial claims] cannot be accepted."
Japan's Air Self-Defense Force announced on Tuesday that it will double its F-15 squadron at Naha Air Base in Okinawa, as the increased presence of PLA aircraft in the area led to a record number of scrambles in 2015. The following day, Japanese officials reported that four PRC Coast Guard patrol vessels—including one that was armed with cannons—entered Japan's territorial waters near the Senkaku/Diaoyu Islands for the third time this year.
Australia
Sky News reports that the Australian government is considering a formal FON patrol to challenge Chinese territorial claims in the South China Sea, after Prime Minister Malcolm Turnbull discussed the subject with President Obama during his state visit last week. Such an exercise would be more aggressive than Australia's overflight mission late last year in that the P-3 Orion surveillance aircraft involved in that incident were not within twelve nautical miles of any PRC-held features. According to undisclosed sources, Tokyo has offered to participate in such an exercise, but American officials have been weary of creating a situation that might bring PRC and Japanese forces into direct conflict.
China
Archaeologists have uncovered a submerged seaside palace from the Qin Dynasty in the East China Sea. Such discoveries can play a central role in maritime disputes as a means of bolstering a claimant's historical narrative, as Bill Hayton describes in his excellent book on the South China Sea.
Analysis, Commentary, and Additional Information
Particularly apt given PRC-Vietnamese tensions this week over the location of a Chinese oil rig, the International Crisis Group takes a closer look at hydrocarbon resources as a potential driver of conflict in the South China Sea.
Over at The Diplomat, Wu Shicun argues that the jurisdictional ruling in Republic of Philippines v. PRC was "illogical, unfair, and risks escalating tensions in the South China Sea." Richard Javad Heydarain examines the new U.S.-Philippine defense pact and explains why the deal could be a double-edged sword. Meanwhile, Ankit Panda highlights a much-needed bit of positive news from the Asian Pacific: both the U.S. and the PRC are satisfied with how the Code for Unplanned Encounters at Sea (CUES) has functioned amid rising tensions between the two powers.
With the Iowa Caucuses just around the corner, it's worth noting that the East-West Center has compiled all Asia-related statements from the 2016 U.S. presidential candidates in its new tracker, which should prove to be a great resource for our American readers this election season. And on the subject of elections, the U.S.-China Commission released an issue brief on the recent landslide victory by Taiwanese President-Elect Tsai Ing-wen and her Democratic Progressive Party.
Water Wars is our weekly roundup of the latest news, analysis, and opinions related to ongoing tensions in the South and East China Seas. Please feel free to email us with breaking news or relevant documents.
---