Water Wars: Drill, Maybe, Drill
China and Vietnam are poised for confrontation over oil drilling in the southwestern portion of the South China Sea. Vietnam alleges that a Chinese survey vessel, Haiyang Dizhi 8, has been conducting an oil and gas survey within Vietnam's Exclusive Economic Zone (EEZ) since July 2019.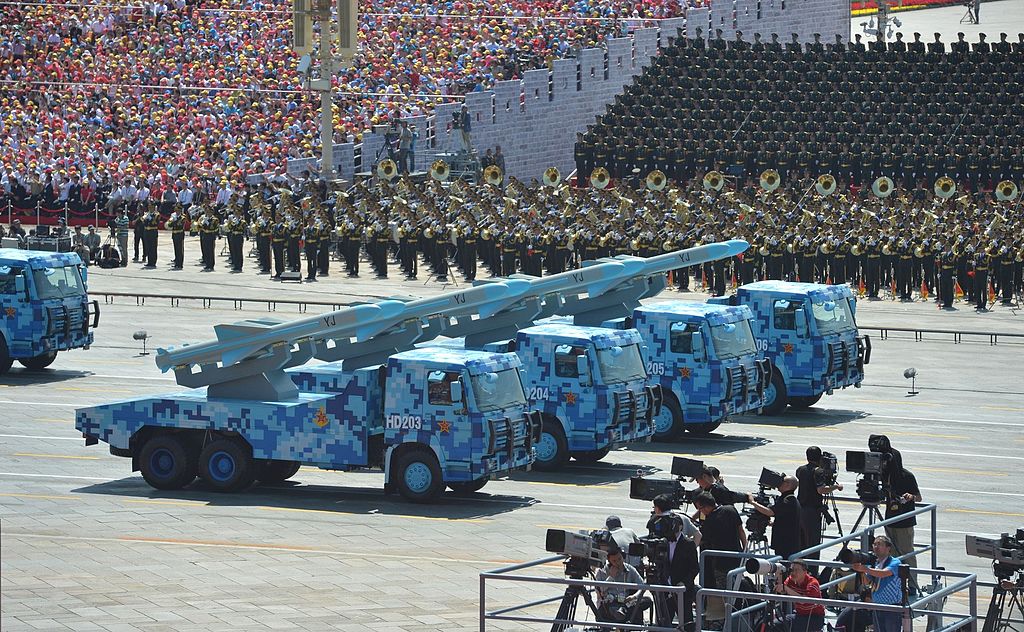 Published by The Lawfare Institute
in Cooperation With


China and Vietnam are poised for confrontation over oil drilling in the southwestern portion of the South China Sea. Vietnam alleges that a Chinese survey vessel, Haiyang Dizhi 8, has been conducting an oil and gas survey within Vietnam's Exclusive Economic Zone (EEZ) since July 2019. The Chinese survey vessel left the disputed Vanguard Bank west of the Spratly Islands on Sept. 23 and traveled to Fiery Cross Reef, a Chinese-occupied feature in the Spratlys. However, it is unclear if Haiyang Dizhi 8 will return to the disputed waters, and Twitter users claim the ship has left Fiery Cross and is now further north along Vietnam's coast.
Haiyang Dizhi 8 made a similar voyage to Fiery Cross Reef in August, when it refueled and resupplied before returning to Vanguard Bank. The ship first traveled to the bank apparently in response to Vietnam's joint venture with Russian company Rosneft to drill off the southeastern coast of Vietnam. Since May, China Coast Guard (CCG) vessels have been harassing Vietnam- and Malaysia-sanctioned oil rigs operating within their respective EEZs. Vanguard Bank sits within Vietnam's EEZ, but China claims the area as falling within its "nine-dash line." Vanguard Bank lies 750 miles from China's Hainan Island, while only 250 miles from Fiery Cross Reef. The survey vessel and CCG ships' actions demonstrate the operational flexibility China now wields through its control of South China Sea island features hundreds of miles south of the Chinese mainland.
The Chinese survey vessel's operations coincide with concerns in Vietnam over China's recent launch of a new 10-story oil drilling platform. The Chinese Central Political and Legal Affairs Commission recently said that the new platform, the Haiyang Shiyou 982, went into operation in the South China Sea on Sept. 21, although its exact whereabouts are unknown. The platform's predecessor, Haiyang Shiyou 981, was China's first deepwater rig platform and went into operation in the South China Sea in 2012. China moved it closer to the Paracel Islands in 2014, leading to a large standoff with Vietnamese ships and its eventual removal after Vietnam lodged diplomatic protests. During that standoff, a Chinese vessel rammed and sank a Vietnamese fishing boat, while widespread demonstrations occurred throughout Vietnam.
Vietnam intends to raise its concerns about Chinese activities in the South China Sea in an upcoming summit with India, said Vietnamese Ambassador to India Pham Sanh Chau. Beyond Haiyang Dizhi 8, Vietnam claims that there have been four Chinese intrusions into Vietnam's EEZ since July, with the latest on Sept. 30 including 28 Chinese vessels. Vietnam insists that Chinese incursions continue, despite more than 40 Vietnamese government representations to the Chinese government in the past three months. Vietnam's "comprehensive strategic partnership" with India is one of three such partnerships that Vietnam maintains; the others are with Russia and China. Later this month, government representatives from both Vietnam and India will convene for the annual Vietnam-India security dialogue in Ho Chi Minh City. India's state-owned oil company, Oil and Natural Gas Corporation (ONGC), recently sought a two-year extension to explore a Vietnamese oil block in disputed waters of the South China Sea through its overseas arm ONGC Videsh Ltd.
In Other News...
Elsewhere in the South China Sea
A Chinese social media user posted a satellite image on Sina Weibo, the Chinese version of Twitter, alleging that seven Chinese warships surrounded the aircraft carrier USS Ronald Reagan (CVN 76) on Sept. 28. But it is unclear from the low-resolution image which ships are Chinese and which are merely U.S. warships that routinely escort a U.S. aircraft carrier. Chinese warships typically "shadow" foreign warships that enter the South China Sea. A spokesperson for the U.S. Navy's Seventh Fleet said the Ronald Reagan Strike Group was "conducting routine operations."
The Asia Maritime Transparency Initiative (AMTI) identified 14 CCG ships that have been broadcasting automatic identification system (AIS) signals while patrolling near Luconia Shoals, Second Thomas Shoal and Scarborough Shoal over the past year. Malaysia administers Luconia Shoals, and the Philippines claims both Second Thomas Shoal and Scarborough Shoal. Military and law enforcement vessels have discretion about when to broadcast AIS, while most large commercial vessels are required to broadcast to avoid collision. Elsewhere in the South China Sea, CCG vessels do not typically broadcast AIS unless they are leaving or entering port. AMTI suggests that CCG vessels may be broadcasting AIS as a means of "signalling sovereignty" and maintaining a semi-permanent presence that makes regional states "eventually accede to [China's] de facto control of those areas." Such states have not acceded just yet—on Oct. 2, Philippine Foreign Affairs Secretary Teodoro Locsin Jr. directed a diplomatic protest against China for the presence of Chinese vessels near Second Thomas Shoal (known as Ayungin Shoal in Tagalog). This recent filing is at least the fifth diplomatic protest by the Philippines against China in 2019.
Around the Indo-Pacific
On Oct. 1, the U.S. Navy tested its new surface-to-surface naval strike missile (NSM) as part of a combined exercise with the Republic of Singapore Navy. The launch from Littoral Combat Ship USS Gabrielle Giffords (LCS 10) occurred approximately 170 nautical miles off the coast of Guam. The sea-skimming NSM "can find and destroy enemy ships at distances up to 100 nautical miles away," according to a Navy statement. As part of the SINKEX on Oct. 1, several units other than USS Gabrielle Giffords fired weapons at the ex-USS Ford (FFG 54), including missiles from U.S. maritime patrol aircraft, bombs from U.S. Air Force B-52 bombers, and surface-to-surface Harpoon missiles from Singaporean frigates RSS Formidable (FFS 68) and RSS Intrepid (FFS 69). The United States and Singapore renewed an agreement on Sept. 23, granting the U.S. military access to Singaporean facilities until 2035. In 2013, Singapore began hosting rotationally deployed U.S. littoral combat ships and later P-8 Poseidon maritime patrol aircraft.
The Navy's NSM test occurred the same day that the Chinese Communist Party celebrated Chinese National Day and its 70 years in power. China's President Xi Jinping oversaw a large military parade of 15,000 troops in Beijing, overshadowed in Western media by Hong Kong's large protests and the Oct. 1 police shooting of a protestor. The Chinese National Day parade featured the DF-17, which has a hypersonic glide vehicle that flies more than five times the speed of sound, or about 3,400 miles an hour. Combined with an ability to change directions, the DF-17 can likely evade all modern missile-defense systems. Many of the weapons on display at the parade have implications in the maritime domain: The HSU-001 underwater drone can track foreign naval vessels, the DR-8 supersonic aerial drone can provide intelligence gathering in enemy airspace, the previously unveiled "carrier killer" Dongfeng-21D (DF-21D) uses ballistic-missile technology to strike an aircraft carrier, and the "Guam killer" DF-26 intermediate-range missile puts neighboring countries and U.S. military bases at risk. A Chinese state television announcer for the parade called the weapons a "force for realizing the dream of a strong nation and strong military." Back in 2017, Robert Farley noted that the DF-17 could become a hypersonic anti-aircraft carrier missile to add to China's "anti-access/area denial" (A2AD) arsenal.
Analysis
Edward Wong at the New York Times argues that the National Day Parade highlights how China walks a "diplomatic and domestic tightrope" between appearing militarily strong at home, while not posing a threat to foreign powers. After reciting Mao Zedong's phrase that "the Chinese people have stood up," Xi said in his parade speech, "There is no force that can shake the status of this great nation. No force can stop the Chinese people and the Chinese nation forging ahead." Wong argues that the military prowess on display in Beijing conflicts with China's diplomatic assertions that China is a peaceful power and is using only peaceful means to resolve insecurity in Hong Kong, Xinjiang and Tibet.
An updated report by Anthony Cordesman at the Center for Strategic and International Studies (CSIS) addresses China's emergence as a global superpower. Titled "China and the United States: Cooperation, Competition, and/or Conflict," the report calls the Chinese military buildup in the South China Sea "a key U.S. strategic concern." The report's white paper on disputed territory in Asia cites a Defense Intelligence Agency analysis that "China primarily uses maritime law enforcement ships, with its Navy ships in protective positions, to pressure other claimants and limit access to Chinese-occupied features."
At the National Interest, Hunter Stires argues that Chinese actions in the South China Sea are a "maritime insurgency," challenging the governing power of international law and intimidating mariners from neighboring Southeast Asian countries. Stires calls for a U.S.-led "maritime counterinsurgency" to reinforce international law and protect civilian mariners from Chinese harassment.
---
Sean Quirk is a graduate of Harvard Law School and Harvard Kennedy School. He holds a BA in Political Science from Columbia University and served as a surface warfare officer in the U.S. Navy for five years. The views expressed here are his own and do not reflect those of the Department of Defense, the U.S. Navy, or any other agency of the United States Government.