Water Wars: Two Collisions in Two Months; China Prods U.S. While Navy Investigates
The guided-missile destroyer USS John S. McCain collided with a merchant vessel in the Straits of Malacca at 5:24 am local time on Monday morning, resulting in one confirmed U.S. Navy casualty, nine sailors still missing, and several others injured.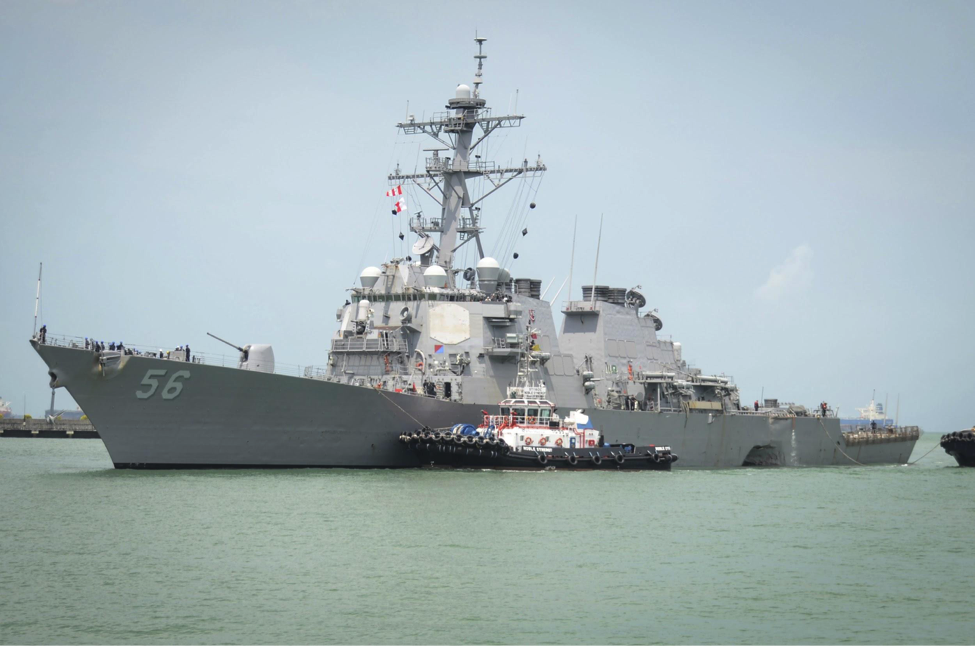 Published by The Lawfare Institute
in Cooperation With


The guided-missile destroyer USS John S. McCain collided with a merchant vessel in the Straits of Malacca at 5:24 am local time on Monday morning, resulting in one confirmed U.S. Navy casualty, nine sailors still missing, and several others injured. The McCain was transiting through the congested waterway en route to Singapore for a port visit at the time of the crash, less than two weeks after conducting a freedom of navigation operation near Mischief Reef in the Spratly Islands. U.S. Navy officials said the destroyer experienced a loss of steering prior to the collision, but that there were no immediate indications of a cyberattack or physical sabotage. Despite sustaining major damage to its port side, the McCain was still able to reach Singapore's Changi Naval Base under its own power. Oil and chemical tanker Alnic MC suffered less significant damage and reported no injuries to its crew. Singapore, Malaysia, Indonesia, and Australia have provided search and rescue assistance in the aftermath.
The McCain crash came only two months after the USS Fitzgerald, another guided-missile destroyer, collided with a cargo ship off the coast of Japan, killing seven U.S. Navy sailors. The Navy released its first public report on that crash, and the Fitzgerald's crew's response, on August 17. This year has proven to be a particularly perilous one for U.S. forces conducting non-combat operations in the Pacific: On August 15, an Army helicopter crashed off the coast of Hawaii during a training exercise, killing five crew members; on August 5, a Marine Corps MV-22 crashed off the coast of Australia during a training exercise, killing three; on May 9, the guided-missile cruiser USS Lake Champlain collided with a South Korean fishing vessel in international waters; and on January 31, the guided-missile cruiser USS Antietam ran aground while coming to anchor near its home port of Yokosuka, Japan.
Later on Monday, Chief of Naval Operations Admiral John Richardson ordered a brief operational pause for all naval forces around the world and announced a comprehensive review to examine the training and certification of forward-deployed forces. Admiral Phil Davidson, Commander of U.S. Fleet Forces Command, will lead the study, which will look at "operational tempo, trends in personnel, material, maintenance and equipment...[and] how we train and certify our surface warfare community, including tactical and navigational proficiency." On Wednesday, Vice Admiral Joseph Aucoin, who led Seventh Fleet at the time of the incident, was relieved of command. Aucoin was previously expected to retire in the coming weeks, and will be replaced by Rear Admiral Phil Sawyer.
Chinese state media outlets took the opportunity to allude to U.S. naval vessels as a "threat and hidden danger…to [] safety and navigation" and condemn U.S. naval presence in the South China Sea. Analysts in the region have commented that the picture of "a high-publicity vessel in a very bad way" is worth a thousand words, and that repeated mishaps "[drive] home growing worries about a competence deficit within American organs of power."
In Other News…
Philippines/China
In the Philippines, Chinese movement in the Spratlys is pitting officials against each other. Last week, Congressman Gary Alejano of the Philippines reported that a Chinese flotilla had encircled Thitu (China) or Pag-asa (Philippines) Island off the western coast of the Philippines, a claim quickly confirmed by AMTI-provided satellite images. Justice Antonio Carpio of the Philippines' Supreme Court referred to the move as "an invasion of Philippine territory" and called upon President Duterte and Foreign Secretary Alan Cayetano to "vigorously protest" the move. But on Monday, Duterte offered a strikingly acquiescent response, asking reporters, "Why should I defend a sandbar and kill the Filipinos because of a sandbar?" When asked about claims that China barred a Philippine vessel from approaching the area, Duterte responded credulously, "That is not true. China would not do that." Duterte's trust in the United States, meanwhile, appears to have ebbed: "I will not call on America. I have lost trust in the Americans," the President told reporters.
Rep. Alejano further claimed this week that a Chinese flag had been planted on a sandbar on nearby Kota Island. Philippines officials rejected the claim, quoting a "very reliable" source who affirmed that "as of this stage, there is no flag."
Taiwan
As Taiwan's Defense Minister Feng Shih-kuan embarks on a trip through Central America to "further deepen bilateral friendly relations," his "transit stops" in New York and Los Angeles have China concerned. Taiwan's interest in the region is genuine, as Central American and Caribbean countries make up approximately half of the countries that recognize Taiwan, and just last month Panama broke ties with Taiwan and recognized the People's Republic of China. And Panama is just one of the Central American nations over which the countries have fought. The defense minister's trip follows a similar trip taken by the country's president earlier this year, in which he also made "transit stops" in Houston and San Francisco. On Tuesday, China warned the United States against developing its military contacts with Taiwan.
Indonesia/Vietnam
While Indonesia is a not a claimant in the South China Sea dispute, its maritime conflicts with Vietnam have had significant regional consequences. The countries took a step toward resolving their disagreements overtime maritime boundaries and fishing rights this week as the countries' leaders met in Jakarta. Their primary accomplishments include an agreement to speed up the definition of the countries' respective Exclusive Economic Zones. They also affirmed the importance of ASEAN in "creating peace and stability as well as regional welfare."
Analysis, Commentary, and Additional Information
Several analysts this week focused on Chinese military capability development. In a report published by the Jamestown Foundation, Dennis Blasko, Elsa Kania, and Stephen Armitage assess "The PLA (People's Liberation Army) at 90" through the lens of the military parade staged for the anniversary. The authors survey the capabilities displayed during the parade, which "demonstrated an important development in the PLA's pursuit of developing improved joint operations capabilities by incorporating the key components necessary for combat operations, supported by information support, electronic warfare, logistics support, and other non-combat units." They conclude that the event "reveal[ed] a force that is still growing and developing, concurrently envisioning itself as a modern, advanced military and acknowledging its own weaknesses."
For Financial Times, Emily Feng and Charles Clover highlight the development of Chinese drone swarm technology, showcased in a June demonstration by China Electronics Technology Group which included a record-breaking 119 drones. Beijing, they say, "is now betting that swarms of drones, low-tech hardware knitted together with high-tech artificial intelligence, will become a weapon of the future" and can be used in contested environments like the South China Sea "to project force with a lower probability of military confrontation."
In New Scientist magazine, David Hambling discusses a claimed breakthrough by the Shanghai Institute of Microsystem and Information Technology in superconducting magnetometer technology, which would allow anti-submarine platforms to register magnetic interference, and thereby detect foreign submarines, at a much greater distance than current technologies allow. And writing in The National Interest, James Holmes looks at the development of next-generation, ultra-quiet PLA Navy submarines and considers how undersea tactics may evolve as technology improvements boost the PLAN's defensive anti-access capability and enable more aggressive patrolling of both near and far seas.
Finally, also in The National Interest, Russell Hsiao calls on the United States to rethink its Taiwan strategy in light of the ongoing PLA build-up and the growing threat to Taiwan thereby presented. He argues that "greater clarity of U.S. commitments to defend Taiwan, and demonstrative commitments by Taiwan to its own defense, are critical for purposes of deterrence and stability," and that the United States must therefore publicly reaffirm that "preserving Taiwan's democracy [is] a vital interest of the United States."
Water Wars is our weekly roundup of the latest news, analysis, and opinions related to ongoing tensions in the South and East China Seas. Please email Sarah Grant with breaking news, relevant documents, or corrections.
---
Jimmy Chalk is a JD candidate at Harvard Law School. Before law school, he worked for five years as a multimedia journalist in Latin America, primarily for The New York Times. He graduated cum laude from New York University.
Sarah Grant is a graduate of Harvard Law School and previously spent five years on active duty in the Marine Corps. She holds an MPhil in International Relations from the University of Cambridge and a BS in International Relations from the United States Naval Academy. The views expressed here are her own and do not reflect those of the Department of Defense, the Marine Corps, or any other agency of the United States Government.