The Week That Was: All of Lawfare In One Post
Your weekly summary of everything on the site.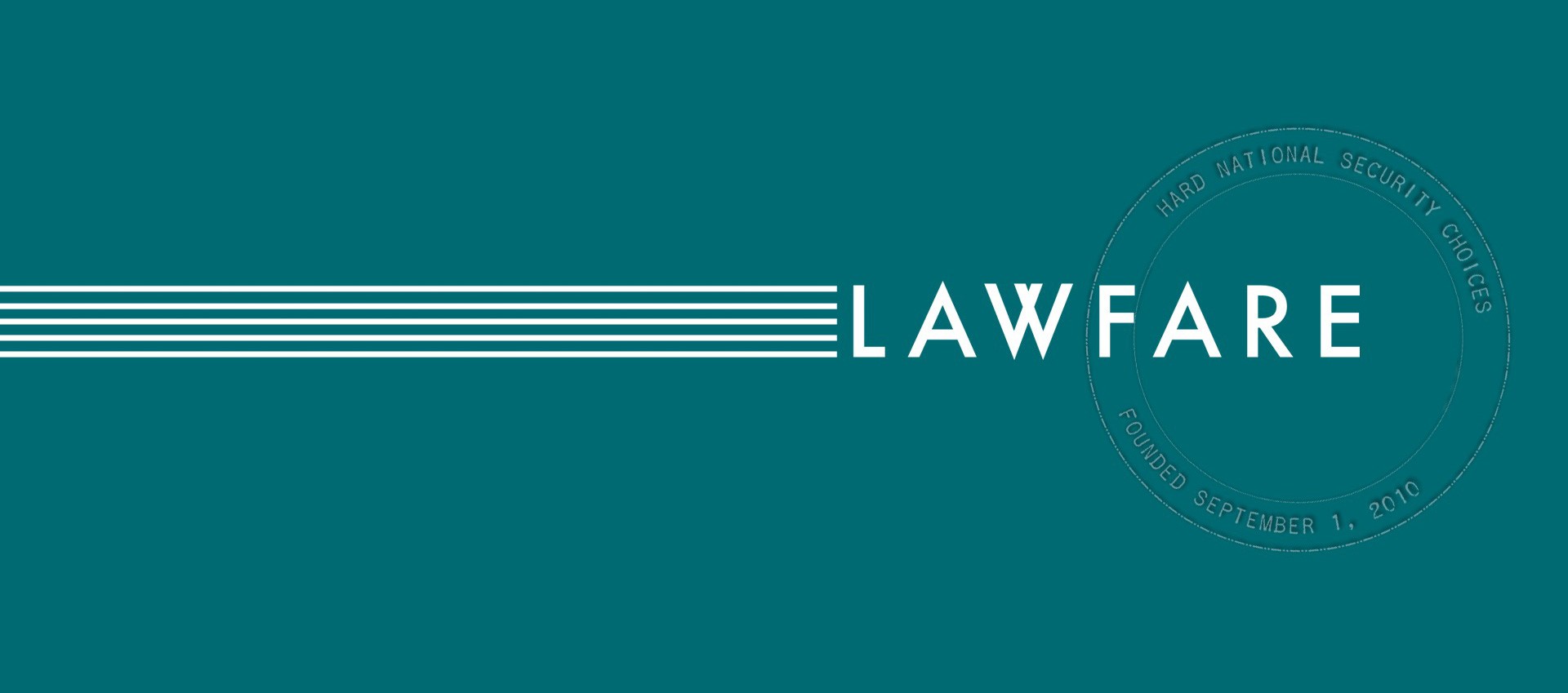 Published by The Lawfare Institute
in Cooperation With


Natalie Orpett shared the most recent episode of The Aftermath, Lawfare's narrative podcast on the government's response to Jan. 6 and the search for accountability. The latest episode explores Congress's efforts to create an investigative body after the attack:
Benjamin Wittes sat down with Scott R. Anderson, Orpett, Quinta Jurecic, and Roger Parloff to reflect on the Jan. 6 insurrection on its two-year anniversary. They discussed the search for accountability that has taken place since the attack including the efforts of the House Select Committee, criminal investigations and prosecutions, efforts to ensure an insurrection doesn't happen again, and more:
Katherine Pompilio shared that the Jan. 6 committee's final report and all of its supporting materials—including hundreds of interview transcripts and video exhibits—can be found, and will remain, on Lawfare's Jan. 6 Project page, which serves as a primary source repository for all Jan. 6 related documents.
Lawfare editors answered your burning questions on national security law issues from the past year, including the Mar-a-Lago investigation, the Secret Service, the state of the U.S. legal system following the Jan. 6 attacks, the failed German coup, and more:
Wittes joined hosts Alan Rozenshtein, Jurecic, and Anderson to discuss the major national security news stories starting off the year, including current chaos in the House of Representatives, the Supreme Court's ruling on Title 42, and U.S. arms exports to NATO allies:
David Priess shared the latest episode of Chatter in which he spoke with Rep. Abigail Spanberger (D.-Va.) about her time working at CIA and the U.S. Postal Inspection Service and how the skills she learned at both of those jobs have helped her as a representative:
Wittes sat down with Shane Harris to discuss Harris' recent Washington Post article on the Nord Stream 2 attacks and who could be responsible for them:
Saraphin Dhanani sat down with Anderson to discuss the core legal issues that U.S. policymakers need to consider as they weigh whether and how to move forward with seizing and diverting any frozen Russian-related assets to Ukraine. Their conversation builds on a piece that Anderson and Chimène Keitner wrote for Lawfare titled, "The Legal Challenges Presented by Seizing Frozen Russian Assets":
Ryan A. Musto argued that, in addressing the dangerous ongoing Russian attacks on the Zaporizhzhia nuclear power plant in Ukraine, experts should look to the African Treaty of Pelindaba—which established a nuclear-weapon-free zone—for guidance.
Bobby Chesney and Steve Vladeck kicked off the new year with a discussion of the Supreme Court's "Title 42"-related action in Arizona v. Mayorkas, highlights from the National Defense Authorization Act for Fiscal Year '23, Central Command's year-end summary of its counter-ISIS operations in Syria and Iraq in 2022, and more:
Karen J. Greenberg discussed the contradictions of U.S. policy during the global war on terror, and discussed the treatment of Saifullah and Uzair Paracha to highlight the structure of the military commissions at Guantanamo as it relates to the structure of the federal system.
Christine Bell reviewed Paul Williams' 2021 book entitled "Lawyering Peace" (Cambridge University Press).
Hannah Neprash and Rozenshtein discussed the growing incidents in ransomware attacks against healthcare systems and offered three recommendations to policymakers interested in supporting a data-driven approach to enhancing cybersecurity in healthcare.
Paul Rosenzweig commended President Biden's proposed cybersecurity strategy which aims to address the issue of third party liability for cybersecurity failures, and notes that Biden's strategy is just the beginning of the fight over this issue.
Darrell West was joined by John Villasenor and Mark MacCarthy to discuss Gonzalez v. Google, a case coming before the Supreme Court that could have profound consequences for social media sites and content moderation policies:
Florence G'SELL discussed how French authorities might approach a new Twitter controlled by Elon Musk, considering whether Musk will be inclined to have Twitter follow Europe's content moderation rules and whether Twitter possesses the means to comply with them.
Timothy R. Heath analyzed the shortcomings of using wargames to deter a potential Chinese attack on Taiwan and how experts might overcome them.
And Jordan Schneider took a break from interviews to read from his weekly ChinaTalk newsletter in which he shared his favorite books and more:
And that was the week that was.
---
Katherine Pompilio is an associate editor of Lawfare. She holds a B.A. with honors in political science from Skidmore College.