Brett Kavanaugh and the Mueller Investigation: What Do His Writings Really Say?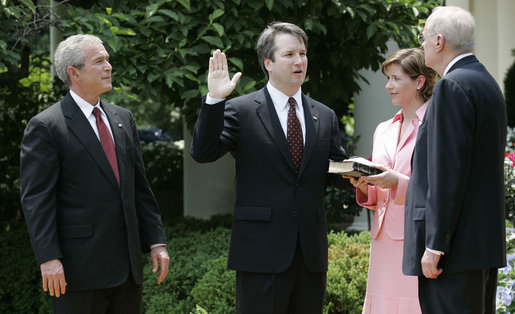 Published by The Lawfare Institute
in Cooperation With


I think I am on safe ground in saying that when Brett Kavanaugh and I presented our papers at the Minnesota Law Review symposium in October 2008—his on separation of powers and mine on (of all things) judicial nominations—neither of us imagined that 10 years later, four pages of his text would be cited as proof that he is unfit for confirmation to the Supreme Court. Yet in the context of the Mueller investigation and the Trump presidency, a segment of Kavanaugh's speech—the whole of which he later published as an article—has become an exhibit in the early case for the grave danger that he poses to our republic.
The Washington Post reports that:
U.S. Circuit Judge Brett M. Kavanaugh, a former clerk for Supreme Court Justice Anthony M. Kennedy who was nominated replace him, has argued that presidents should not be distracted by civil lawsuits, criminal investigations or even questions from a prosecutor or defense attorney while in office.

Kavanaugh had direct personal experience that informed his 2009 article for the Minnesota Law Review: He helped investigate President Bill Clinton as part of independent counsel Kenneth W. Starr's team and then served for five years as a close aide to President George W. Bush.

Having observed the weighty issues that can consume a president, Kavanaugh wrote, the nation's chief executive should be exempt from "time-consuming and distracting" lawsuits and investigations, which "would ill serve the public interest, especially in times of financial or national security crisis."

If a president were truly malevolent, Kavanaugh wrote, he could always be impeached.

Kavanaugh's position that presidents should be free of such legal inquiries until after they leave office puts him on the record regarding a topic of intense interest to Trump — and could be a central focus of his confirmation hearing to succeed Kennedy, legal experts said.
The Nation goes further, declaring in an article entitled "Brett Kavanaugh Once Argued That a Sitting President Is Above the Law":
believers in the rule of law should be concerned that something [other than conservatism] about this nominee appealed to Donald Trump. Kavanaugh has been an open advocate for precisely the sort of imperial presidency that the founders of the American experiment feared—and that Donald Trump relishes.
Other news and commentary outlets have piled on—and so have Democrats. Senate Minority Leader Chuck Schumer on Tuesday went so far as to say that of the candidates considered for the nomination, President Trump, "chose the candidate who he thought would best protect him from the Mueller investigation." Added Schumer, "Mr. Kavanaugh was probably the most extreme on that issue of the 25" judges the president reportedly considered. "Not only did Mr. Kavanaugh say the president should not be subpoenaed, he said a president shouldn't be investigated." At the same press conference, Sen. Cory Booker also commented on the matter.
And Sen. Richard Durbin added a tweet.
And in light of the ongoing Russia investigation, is it a coincidence that President Trump picked a nominee who has expressed staunch opposition to criminal investigations of sitting Presidents?

— Senator Dick Durbin (@SenatorDurbin) July 10, 2018
---
Benjamin Wittes is editor in chief of Lawfare and a Senior Fellow in Governance Studies at the Brookings Institution. He is the author of several books.