Forty-Seven Years of Feckless Digging
Thoughts on the Anniversary of Jimmy Hoffa's Disappearance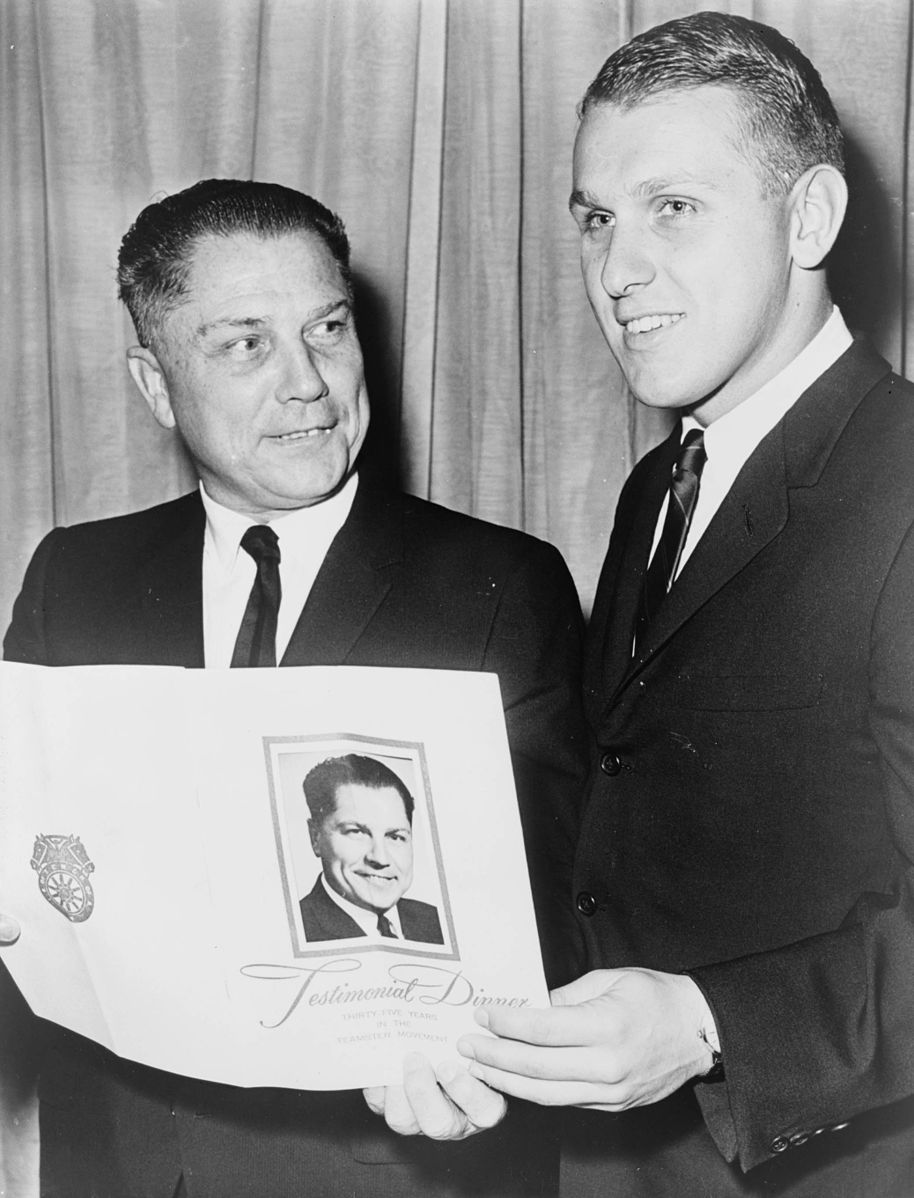 Published by The Lawfare Institute
in Cooperation With


Jimmy Hoffa disappeared 47 years ago tomorrow. He was last seen in the parking lot of the Machus Red Fox, a restaurant in the Detroit suburbs, at around 2:45 p.m. on July 30, 1975. And he was last heard from, on a call from a nearby pay phone, around 3:30 p.m. Very soon after that call, Hoffa vanished.
There are lots of good reasons to think the mob murdered Hoffa. But there is not a speck of real evidence about how it did so, or what happened to Hoffa's body. The unexplained vanishing of the iconic labor leader has over the decades stimulated the imaginations of dozens of people who have confessed to the crime or claimed to know what happened to Hoffa's body. It has also led to a lot of feckless digging in locations around the country in search of Hoffa's remains.
I was not surprised when the FBI reported earlier this month that its latest dig for Hoffa—at a former landfill under the Pulaski Skyway in Jersey City, New Jersey—turned up nothing. I was not surprised because I knew that much of the justification for the search rested on mistakes. Like so much else in the long Hoffa investigation saga, the current interest in the New Jersey landfill appears to be based at bottom on old mendacious leaks to the press accepted as true, and a "confession" decades later modeled on these earlier untruths.
***
Soon after Hoffa disappeared, the FBI and state and local investigators were flooded with informant tips about his fate and went on wild goose chases for his remains. They looked in a trash compactor at a restaurant in Northwest Detroit; dug in a cornfield 100 miles southwest of the city; raided a poker club in Gardena, California; examined a construction site near Marion, Michigan; and excavated a farm near Waterford Township, Michigan, 15 miles from where Hoffa disappeared. None of these tips panned out.
But the tips, and confessions, never stopped coming. Some of the more notorious examples:
Charles Allen, a Hoffa associate, told a Senate committee in 1982 that

Provenzano associates "ground up [Hoffa] in little pieces" that were "shipped to Florida and thrown into a swamp."

Donald "Tony the Greek" Frankos

claimed to have been part of a Hoffa hit team that dismembered the corpse and buried it in cement at Giants Stadium in New Jersey.

Frank "The Irishman" Sheeran

claimed to have murdered Hoffa in Detroit. (The cops found no evidence to support Sheeran's claim at the home where the murder supposedly occurred. For my debunking of Sheeran's claim, see

here

and

here

.)

Richard "The Iceman" Kuklinski

claimed to have killed Hoffa in Michigan, buried the body in a New Jersey junkyard in a 50-gallon drum, and later dug up the drum, compacted it, and sold it as scrap metal.

Richard Powell

, a convicted murderer, claimed that Hoffa was buried at his Bay City, Michigan, home. (The cops dug there but found nothing.)

Anthony Zerilli

, a former Detroit underboss, claimed that Hoffa was abducted, killed, and taken to a farm in Oakland County, Michigan, where he was buried. (The FBI dug there and found nothing.)

Donovan

Wells

, an associate of Teamsters official Roland McMasters, claimed that Hoffa's body was buried on a farm in Milford Township, Michigan, where he once lived. (The FBI dug up the farm for two weeks but found nothing.)

Reginald Haupt

, a lawyer who represented Chicago mobster Lou Rosanova, recently claimed that Hoffa's remains were flown to Georgia and buried at the former Savannah Inn and Golf Country Club on Wilmington Island.
Since I published my book on the Hoffa disappearance in 2019, I have received dozens of calls, letters, or emails from people who claimed to have evidence of how Hoffa disappeared or where he is buried.
***
The latest unsuccessful dig began last fall after a New Jersey man's sworn statement led the FBI to obtain a warrant and conduct a "site survey" for a steel drum located 15 feet below ground at a former landfill along the Hackensack River below the Pulaski Skyway. The landfill was run by Genovese crime family soldier Phil Moscato and was known as "Brother Moscato's dump." The New York Times reported in November 2021 that "the new lead is bolstered by records showing that the F.B.I. received tips as far back as 1975, immediately following his disappearance, that Mr. Hoffa was buried in the landfill in Jersey City." The Times added that in 1975 "[a]gents searched and, finding nothing, wrote off the tips."
Much of this backstory to the recent dig is misleading. The FBI received tips in 1975 that Hoffa was buried in Moscato's dump. But it never took the tips seriously. And it never searched Moscato's site.
The tips about Moscato's dump came as the Hoffa investigation was starting to lose steam. At the outset of the investigation, in August 1975, the FBI believed that my stepfather, Charles O'Brien, picked up Hoffa in the Detroit suburb and delivered him to his killers. The evidence for that view was circumstantial and revealed nothing about who killed Hoffa or the fate of his body. By early November, the FBI had run out of concrete leads and, despite one of the most aggressive investigations in its history, couldn't get anyone in the know to talk.
Enter Ralph "Little Ralphie" Picardo. In early November 1975, the FBI field office in Newark received an anonymous letter claiming that an inmate named Picardo in the Trenton State Prison knew something about the Hoffa disappearance. Picardo, a 5-foot-3-inch fireplug of a man, had lived a fast life. He dropped out of college and found success working the waterfront rackets in Hackensack, New Jersey. He once worked for Anthony "Tony Pro" Provenzano, the former president of Teamsters Local 560 and a caporegime in the Genovese crime family. Picardo also owned a trucking company, Lift Van, that his pal Salvatore "Sally Bugs" Briguglio, a Teamsters union official and a hitman for Provenzano, used as a front for kickbacks from freight companies.
Flush with cash and a bevy of girlfriends, Picardo sported around Hackensack in a Corvette and made a big show of gambling on the ponies. The fun ended when he was convicted in 1975 for the murder of a confederate in an illicit drug scheme.
Picardo hated prison. And he was angry that his mobster friends were trying to take over his trucking company and did not support his wife and two children during his incarceration. The note to the FBI was a gambit to get out of jail and to get him and his family into witness protection. (In this goal Picardo eventually succeeded.)
FBI agents Jim Dooley and Brad Wickersham, who had been working the Hoffa case from New Jersey, went to visit Picardo. (I interviewed Dooley for my book "In Hoffa's Shadow.") They found him four miles from the New Jersey State Prison in a bare white room in the infamous Vroom Building of the Trenton Psychiatric Hospital—a maximum security facility for mentally ill criminal inmates. (Picardo had been relocated there because he was a troublesome inmate.)
Picardo told Dooley and Wickersham that Provenzano was the mastermind of the Hoffa murder. Picardo said that in a Miami hotel in 1973, almost two years before Hoffa's disappearance, he had witnessed an argument between Hoffa and Provenzano, and heard Provenzano order subordinates to kill Hoffa. Picardo also said that soon after Hoffa disappeared, he was visited in prison by Stephen and Thomas Andretta, associates of Briguglio, and Lift Van's accountant, Martin Shindler. Picardo claimed that Stephen told him that Provenzano's group was involved in Hoffa's disappearance and that the body was shipped to New Jersey on a Gateway Transportation Company truck.
The FBI could not corroborate much of this story. But enough of it checked out—Picardo knew Provenzano and was close to Briguglio, he had worked with the Andretta brothers, and Shindler and Stephen Andretta (but not Thomas) had visited him in prison soon after Hoffa disappeared—to galvanize the Hoffa investigation.
Provenzano had been a suspect from the beginning since he was one of two mobsters whom Hoffa had told friends he was meeting the day he disappeared. But Picardo's story put a much brighter spotlight on Provenzano and his lieutenants, who at this point became central suspects in Hoffa's murder. Picardo would later testify in three trials that resulted in convictions of Provenzano—for the murder of a former confederate, racketeering, and kickbacks.
Yet the FBI never bought Picardo's story about Hoffa's body being sent to New Jersey. It fully investigated what Picardo said, of course, in a grand jury and elsewhere. But Provenzano had been publicly proclaimed a suspect long before Picardo began to talk, and the FBI discovered holes in Picardo's account and no evidence to support it. Nor could anyone ever explain why the mob would take the extraordinary risks of transporting Hoffa's remains over 600 miles and depositing him in the landfill of a mobster with connections to Provenzano. Picardo gave the FBI good evidence on some matters, especially about the illegal practices of mobbed-up Teamsters officials in New Jersey Local 560. But he very often lied.
Jim Dooley, the agent who handled Picardo and knew him best among government officials, told me that he "would not believe a word that came out of [Picardo's] mouth, 'including a and the,' to quote Mary McCarthy, unless there was independent corroboration." Dooley explained that Picardo's practice was to "take the little he knew first-hand and extend it as far as he could using what he heard, up to and including gossip." The FBI was "constantly sifting through what he told us, looking for what we could verify." At one point, for example, Picardo said he was a made guy, but he wasn't. "That was Ralph," Dooley said. "We put up with him because he was the only game in town."
***
Starting on Dec. 6, 1975, a month after Dooley and Wickersham first spoke to Picardo, the news was filled with claims that the government believed Hoffa was buried in Moscato's dump and was planning to search there for his remains. The source for this news was Picardo, who was described as an informant "who is close to the killing," as a typical story noted. "Police Think Hoffa Buried in Dump, Shipped in Barrel," screamed one headline. "N.J. Dump Said Hoffa's Gravesite," said another.
One complication for these stories was that the FBI had secured a search warrant for Moscato's dump to look not for Hoffa but, rather, for Armand "Cookie" Faugno, a Provenzano lieutenant who had been missing for years. Yet it was widely reported that the Faugno warrant was a ruse.
"It's Hoffa's body they believe is buried at Moscato's dump," an unnamed law enforcement official said. Another unnamed source added: "The Faugno angle was a smokescreen. Law enforcement officials think there is a good possibility Hoffa is there in the dump." But why get a warrant for Faugno if the search was for Hoffa? "They had a better chance of obtaining a search warrant for Faugno than for Hoffa," the latter source said. "Faugno is from the East Coast."
All of this was widely reported and widely accepted as true—then and later. But none of it was true. Picardo never told the FBI that Hoffa was buried at Moscato's dump; the FBI never believed he was there; and the Faugno warrant was not a pretext to look for Hoffa.
Here's what really happened.
Dooley told me that during interviews at the Vroom Building in November 1975, Picardo told him and Wickersham that Provenzano's cronies had, three years earlier, murdered Faugno, rolled him up in a rug, and buried him in Moscato's dump. Dooley and Wickersham quickly got a search warrant to look for Faugno's body—in part to solve that crime to gain leverage over the Hoffa suspects, and in part to test Picardo's credibility.
Dooley says that the Faugno warrant was genuine and not a subterfuge to look for Hoffa. And the government sought to belie the false rumors, on the record, a few weeks after it got the Faugno search warrant. "We never said that Hoffa's body was there," said Justice Department Criminal Division head Dick Thornburgh. "What we are searching for is the body of Armand Faugno. That's what the warrant says and that's what we're looking for."
That is what they were looking for when they got the warrant, but in fact, the FBI never searched Moscato's dump for Faugno or anyone else. Dooley and Wickersham never executed the warrant because their supervisor, Robert McCarthy, blocked the search. "Are you crazy?" said McCarthy when he learned about the warrant. Moscato's dump—which would become an EPA Superfund site a decade later—was a toxic mess of methane gas and burning rubbish fires. A hunt there for Faugno would have been dangerous and difficult, and was too distant from the mainline Hoffa case. So while federal officers spent a bit of time at the site in early December 1975, they never examined the dump for bodies or any other evidence.
On a different occasion when Dooley and Wickersham were talking with Picardo about the supposed transport of Hoffa's body to New Jersey, Picardo conjectured that the body was probably located in a place like Moscato's dump. As the FBI's nearly contemporary summary of the interview made clear, "PICARDO only speculates that HOFFA's body may be in Moscato dump in New Jersey and has no direct knowledge of the exact location." Dooley told me that "Picardo never told us at any time that Andretta had included Moscato's dump in the 'Gateway' story." He added that "there was never any information to support any expectation that Hoffa had been buried there." (The FBI received two tips that mirrored the previously published false narrative about Moscato's dump but never took them seriously.)
How did the reality of what Picardo said to the FBI about Hoffa and Moscato's dump, and the FBI's views about the likelihood that Hoffa was in the dump, get so distorted in the public record? Almost certainly because someone planted the lies to try to scare or flush out the suspects. As I showed in my book "In Hoffa's Shadow," this was a typical government tactic throughout the long Hoffa investigation. But it wasn't just the government that manipulated the press. Many of the endless stream of false leaks from unnamed sources came from Teamsters members or people connected to the mob trying to mislead investigators or settle scores.
One thing that was not distorted in the public record, at least at the time, was whether the FBI ever actually searched Moscato's dump. Two days after the initial story, Washington Post journalist William Claiborne reported—consistent with what Dooley told me—that federal investigators had "scrapped plans to excavate" Moscato's dump. A month later, a widely circulated AP story reported that "Federal investigators have apparently shelved plans to dig up a 60-acre landfill where sources say the body of former Teamsters James R. Hoffa may be buried." Three years later, Hoffa retrospective stories confirmed that "a warrant to search the dump, issued in 1975, expired without any digging being done."
***
Brother Moscato and his noxious dump disappeared from the never-ending but always-changing list of conspiracy theories about Hoffa's fate for 40 years until Dan Moldea—the leading expert on Hoffa's disappearance, from whom I have learned a great deal—published some of the fruits of an interview with Moscato on July 30, 2015, the 40th anniversary of Hoffa's disappearance. (Moldea interviewed Moscato beginning in 2007, but he waited to reveal what Moscato told him until after Moscato died on Feb. 16, 2014.)
During their first interview, on April 28, 2007, Moscato told Moldea that Picardo told the FBI "that he knows where Hoffa's buried" and that "he [Picardo] was with me and Sally [Briguglio] when we buried Hoffa in my dump." When Moldea pressed him on this, Moscato said that Picardo "took them [the FBI] down there [to Moscato's dump]" and that the FBI "dug the dump up for three months."
"I thought they were looking for Faugno," Moldea interjected.
"No," Moscato replied.
"In a fifty-five-gallon drum? They were looking for Hoffa himself?," Moldea appeared to ask.
Moscato continued: "That was Hoffa in the fifty-five-gallon drum. [Picardo] said a pick-up truck brought … the truck in and Hoffa was in it, and we buried him."
"I never heard that story that you were part of it. I never heard that one before," Moldea said.
"That's what it was all about," replied Moscato.
Moldea noted in his story about the Moscato interview that "[o]ne obvious problem with Moscato's story" was that Picardo was in prison when Hoffa disappeared and thus that there was "no way that [Picardo] could have made a claim to have been present when Moscato and Briguglio buried Hoffa at the landfill." Moldea pressed Moscato on this issue 10 days later, when he interviewed Moscato in person:
Moldea: "Let me ask you, when I interviewed you over the phone — again this is in my notes — did you say that Picardo said he was with you and Sal when you guys buried the body at the dump?"
Moscato: "Yeah."
Moldea: "So he wasn't in jail then — in July '75?"
Moscato: "The government took him out."
Moldea: "No, no. In July '75. Was he in jail for manslaughter then?"
Moscato "I don't know. I don't know. But he took them down there. 'Oh, here's where [Hoffa] is.' And they dug and dug. 'No, it was over there. ... No, it was over here.'"
Moldea: "He said he knew?"
Moscato: "Yeah."
Whether Moscato was confused, lying, or both, very little if anything that he says here is true. The untruths go far beyond the one Moldea noted—that Picardo told the FBI that he was with Briguglio and Moscato when they buried Hoffa's body at the dump. Moscato also said that the FBI dug at Moscato's site for months, looking for Hoffa, under the guiding eye of Picardo, who claimed to know where Hoffa was buried at Moscato's site. But the government never "dug and dug," or even dug at all, at Moscato's dump; never took Picardo out of detention to be present for a dig at the dump; and never heard from Picardo that he knew where Hoffa's body was.
Moldea had other interviews with Moscato, as recounted in the third edition of his book "Confessions of a Guerrilla Writer." In one of them, Moscato, who was always cagey with Moldea, stated that "Ralph Picardo basically had it right." It is unclear what Moscato meant by this. But I have a hard time taking it as serious confirmation of anything, since Moscato had so many misimpressions, and said so many obviously false things, about Picardo and his story to the FBI.
***
The FBI's recent interest in Moscato's dump originated with a more recent confession to Dan Moldea. In October 2019, Moldea secured a sworn declaration from Frank Cappola, whose father, Paul, was a partner with Moscato at the dump and knew him well. Frank Cappola says he saw a black limousine appear at Moscato's dump in "mid-summer" of 1975 and witnessed the digging of a large hole. Fourteen years later, Paul pointed to that hole and told Frank, "This is where Jimmy Hoffa is buried."
Around 1989, just before Paul died, he told Frank about what happened to Hoffa's body because he wanted Frank "to help Hoffa return home to his family." The bottom line—according to Frank's account of what Paul told him—was that Hoffa's body was placed head-first in a 55-gallon steel drum and then buried by Paul in a different hole, along with 15 to 30 chemical drums, in a location that only Paul knew, but that he later told Frank. Frank did not reveal the location of the drum in the declaration, but he showed Moldea where he believed Hoffa was buried. Frank died about six months later.
I am skeptical that Paul Cappola was telling the truth. His account lacks internal plausibility. Among many other things, it has a limousine delivering Hoffa's body to the dump; Moscato pointing to the hole where Hoffa is to be buried; Moscato telling Paul that because he has an engagement that evening, Paul should "handle" the burial; and then Paul digging a different hole and placing Hoffa in it.
In addition, despite decades of false or misleading reporting presented to the public as true, there was never any evidence or any reason to think that Hoffa's body was in Moscato's dump. It would be the most extraordinary of coincidences if the place long rumored without justification to be the location of Hoffa's remains turned out to be the actual location of his remains.
It would also be completely out of character (and irrational) for the mob, in the hit of the century, to take so many risks involving so much time and distance, and so many people, and so many casual loose ends, to dispose of Hoffa's body in, of all places, a location tied to the suspected mastermind of the murder. It seems much more likely that Paul Cappola concocted a story to loosely fit a false but widely repeated public narrative. Why would he go to the trouble of devising such a detailed lie? I do not know, but many before him have done the same.
Moldea, of course, assessed Frank Cappola's credibility about what his father told him and came to a different view. In November 2020, Moldea and a team of technicians began a ground-penetrating-radar examination of the area where Cappola said Hoffa was buried. They eventually found a 12-foot-by-15-foot perimeter of steel barrels buried 15 feet below ground. Moldea turned over the information to the FBI, which, in a testament to Moldea's work, decided to examine Moscato's former dump after all these years.
On July 21, the Times reported that "the FBI announced that a nine-month investigation that included two visits to the site had discovered nothing." Special Agent Mara Schneider stated that "[n]othing of evidentiary value was discovered during that search."
The indefatigable Moldea, who has been on the Hoffa trail for 47 years, is not done. "I'm more than happy to accept this verdict," he said, before adding: "but there is one lingering issue that I believe remains unresolved. This is a stone left unturned." I agree with Scott Burnstein, another learned Hoffa sleuth, and the leading expert on the Detroit mob: "If anyone in this crazy, surreal and quite well-documented near half-century journey of tracking down leads in the Hoffa disappearance deserves to be the man who can finally say he found the holy grail that is Hoffa's tomb, it's Dan."
My own view is that Hoffa's body was disposed of in Michigan soon after the disappearance. This view is based, first of all, on something I reported in my book: The FBI in Detroit believes, based on wire and informant information, that Hoffa was abducted and killed by Detroit mobsters. And it is based, second, on a belief that there would be no conceivable reason for the mob to take the enormous risks inherent in burying Hoffa at Moscato's dump. Of course, I, like everyone else, lack any direct evidence for my surmise about Hoffa's resting place.
To be continued, probably forever.
---
Jack Goldsmith is the Learned Hand Professor at Harvard Law School, co-founder of Lawfare, and a Senior Fellow at the Hoover Institution. Before coming to Harvard, Professor Goldsmith served as Assistant Attorney General, Office of Legal Counsel from 2003-2004, and Special Counsel to the Department of Defense from 2002-2003.