How Presidents Talk About Deploying the Military in the United States
How does the rhetoric of past presidents who have deployed federal troops to enforce domestic law compare to President Trump's?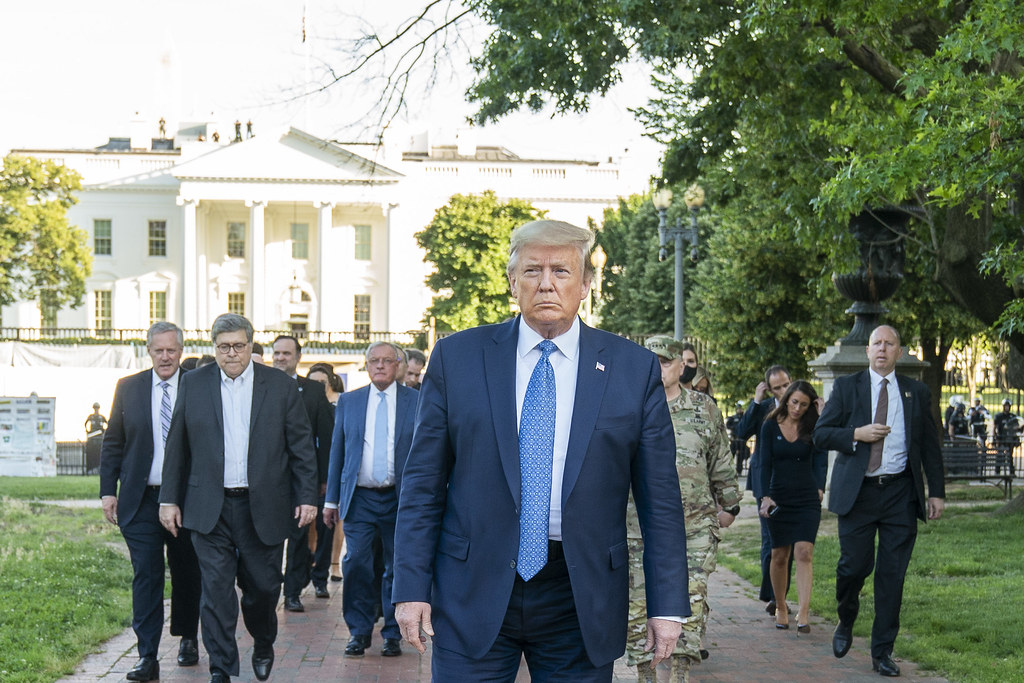 Published by The Lawfare Institute
in Cooperation With


On June 1, President Trump spoke to governors and the public about deploying the military within the United States. Trump threatened to—but ultimately did not—invoke the Insurrection Act to deploy troops to the states. He did, however, deploy the U.S. military in Washington, D.C. He also relied on section 32 U.S.C. § 302(f) to authorize the use of various states' National Guard troops in Washington, D.C. The move was unprecedented, as troops were deployed to engage in ordinary civilian law enforcement in a city where local authorities were engaged in such law enforcement and objected to the presence of troops controlled by the federal government. (As Steve Vladeck points out, this authority is not pegged to D.C.'s unique territorial status and could be exercised anywhere, including to send one state's unfederalized National Guard into another state without that state's permission.) In prior cases in which presidents deployed troops domestically, they did so either because a state government refused to comply with a federal court order or because state government officials had expressly asked for support.
The way Trump spoke about deploying troops also was unique. Prior presidents, including Eisenhower, Kennedy, Johnson and George H.W. Bush, described their decisions to deploy the military in solemn terms, explaining in detail why the move was necessary, and making clear that the deployments were measures of last resort not intended to supplant local law enforcement. Trump, by contrast, made it clear he was eager to deploy troops and gave few specifics about what he was doing or might do next. Rather than taking pains to make clear that federal troops are not a substitute for local law enforcement, Trump told governors that state and local officials needed to "dominate" the streets or else he would deploy troops to do so.
President Trump's Comments
On June 1, President Trump told governors on a phone call that in response to the images of protests, looting, arson and acts of physical violence by people in the protest areas in U.S. cities including Los Angeles, New York City, Philadelphia and Dallas, the White House was "strongly looking for arrests" and governors had to get "much tougher" if they were to avoid getting "overridden." He blamed "the radical left," along with looters. In an extended riff, he compared the situation to the 2011 "Occupy Wall Street" movement:
It's a movement that if you don't put it down it will get worse and worse. This is like Occupy Wall Street. It was a disaster until one day somebody said, "that's enough," and they just went in there and wiped them out and that's the last time I heard the name "Occupy Wall Street." ... They were there for forever it seemed, on Wall Street. They closed up Wall Street—the financial district of the world, and they had total domination. They were ordering pizzas, nobody did anything. And then one day somebody said that's enough—you're getting out of here within two hours. It was bedlam for an hour and after that everything was beautiful. And that was the last time we heard about it. But these are the same people. These are radicals and they are anarchists.
He told governors, "You have to dominate. If you don't dominate you're wasting your time. You're going to look like a bunch of jerks. You have to arrest people. And you have to try people and they have to go to jail for long periods of time." "It's a movement," Trump told governors, "If you don't put it down, it will get worse and worse …. The only time it's successful is when you're weak and most of you are weak."
By the time of the phone call, more than 20 states had activated their National Guard contingents. That meant that more than 17,000 members of the National Guard stood ready to support local law enforcement—the same number of active-duty troops currently deployed in Iraq, Syria and Afghanistan.
The president's message a few hours later in an address to the public from the Rose Garden was milder but echoed the same themes. He blamed state and local governments for failing to protect their populations against "professional anarchists, violent mobs, arsonists, looters, criminals, rioters, antifa, and others." He vowed to "protect the rights of law abiding Americans including your SECOND AMENDMENT RIGHTS," pausing on each of the last three words for emphasis. Importantly, he vowed that "[i]f a city or a state refuses to take the actions that are necessary to defend the life and property of their residents, then I will deploy the United States military and quickly solve the problem for them." For the District of Columbia, over which the president exercises unfettered authority, he actually did so, but without any information about which troops were being deployed, or where: "As we speak, I am dispatching thousands and thousands of heavily armed soldiers, military personnel and law enforcement officers to stop the rioting, looting, vandalism, assaults and the wanton destruction of property."
In his speech, Trump claimed to be an ally of peaceful protesters. Minutes earlier, however, Attorney General William Barr had ordered federal law enforcement officials and military police under federal control to push peaceful protesters from the streets around Lafayette Square—which they did using flashbangs, smoke bombs, pepper balls, rubber bullets and mounted police officers. Other such officers attacked an Australian news crew, including hitting a cameraman with a police shield before punching him in the face, and then hitting a reporter on the back with a baton as she tried to run away. Trump then strolled, along with Barr, Pentagon leaders, Ivanka Trump and other advisers, through the park to pose for a photo in front of St. John's Episcopal Church holding a bible above his head. The show of aggression against a crowd of largely peaceful protesters sparked outrage and widespread condemnation.
Meanwhile, the governors of several states were rejecting the president's offer of a military response. Michigan Gov. Gretchen Whitmer called the president's remarks "dangerous" and said that they "send a clear signal that this administration is determined to sow the seeds of hatred and division, which I fear will only lead to more violence and destruction." Illinois Gov. Jay Pritzker went further, saying: "I reject the notion that the federal government can send troops into the state of Illinois …. [The president's] rhetoric is inflaming passions around the nation. He should be calling for calm. He should be calling for bringing the temperature down. He's doing the exact opposite."
On June 10, the president renewed his threats to take military action. He wrote in a tweet that has since been deleted: "Radical Left Governor @JayInslee and the Mayor of Seattle are being taunted and played at a level that our great Country has never seen before. Take back your city NOW. If you don't do it, I will. This is not a game. These ugly Anarchists must be stooped [sic] IMMEDIATELY. MOVE FAST!"
Earlier that same day, the President tweeted:
Domestic Terrorists have taken over Seattle, run by Radical Left Democrats, of course. LAW & ORDER!

— Donald J. Trump (@realDonaldTrump) June 11, 2020
---
Richard (Ricky) Altieri is a third-year student at Yale Law School. He holds a Bachelor's degree in Philosophy from Amherst College and a Master's in Global Affairs from Tsinghua University, where he studied as a Schwarzman Scholar. From 2015-2016, as part of a Watson Fellowship, Richard performed stand-up comedy in English, Spanish and Chinese in various countries. From 2017 to 2019, Richard served as a Business Advisory Services Manager at the US-China Business Council in Beijing, where his work focused principally on Chinese technology policy and intellectual property law.
Margaret L. Taylor was a senior editor and counsel at Lawfare and a fellow in Governance Studies at the Brookings Institution. Previously, she was the Democratic Chief Counsel and Deputy Staff Director for the Senate Foreign Relations Committee from 2015 through July 2018.