National Security Roundup for the 2023 State of the Union
National security highlights from President Biden's 2023 State of the Union.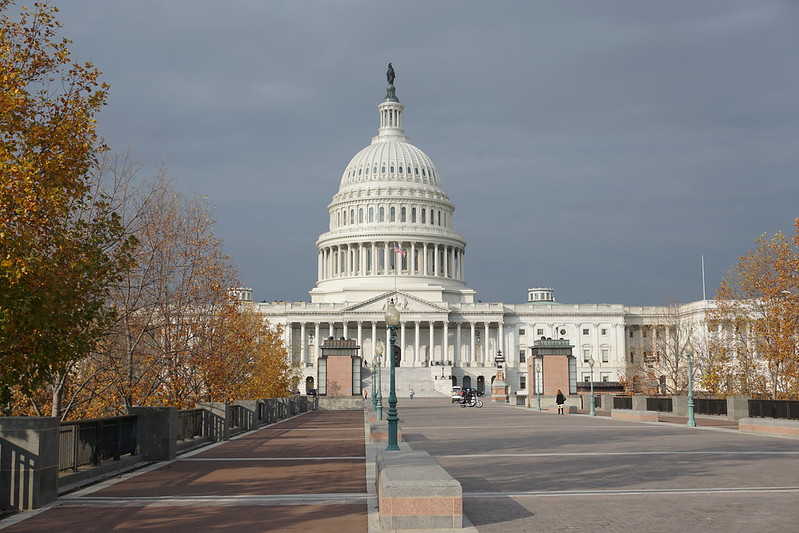 Published by The Lawfare Institute
in Cooperation With


On Feb. 7, President Biden delivered the State of the Union address from the U.S. Capitol.
Although the lion's share of Biden's address focused on domestic issues, particularly economic ones, there were still plenty of national security and foreign policy highlights to pique the interest of Lawfare readers.
Biden began his address by touting bipartisan accomplishments from the first two years of his administration, including U.S. aid to Ukraine. He said, "Democrats and Republicans came together, came together to defend a strong and safer Europe."
Biden returned to the Russian invasion of Ukraine when he discussed the effect on global supply chains. He identified "[Russian President Vladimir] Putin's unfair and brutal war in Ukraine" as a source of disruption to energy supplies and food supplies. Though he never uttered the word "Russia," he mentioned Putin by name four times.
Beyond the Russian invasion, Biden called attention to the general uncertainty of global supply chains. Implicit in his discussion about restoring American manufacturing jobs and ensuring that "the supply chain for America begins in America" was a concern for securing the country's own means of production. He paid special attention to semiconductors, "small computer chips the size of a fingerprint that power everything from cellphones to automobiles and so much more." While the United States used to produce 40 percent of the world's chips, it's now down to 10 percent.
Even on a few traditionally domestic issues, Biden highlighted a national security angle. On the opioid epidemic, Biden blamed fentanyl trafficking at the U.S. border and the prevalence of assault rifles in the United States, calling for strong measures to address both of these security issues. With regard to the former, he urged greater funding and tools for those patrolling the border to stop fentanyl from entering the country. On the latter issue, he made clear that a complete ban of assault rifles was required.
On the issue of public safety, police violence, and equal protection of laws, Biden said, "What happened to Tyre in Memphis happens too often. We have to do better. Give law enforcement the training they need. Hold them to higher standards. Help them succeed in keeping us safe." He stated that police officers and departments that violate public trust "must be held accountable."
Biden emphasized the need to pass bipartisan laws to "hold social media companies accountable for experimenting … on children for profit," "stop big tech from collecting personal data" of children and teenagers, ban targeted advertising toward children, and impose stricter limits on the collection of personal data, in general, by companies.
As he neared the end of this address, Biden returned to more traditional national security issues. He called Putin's invasion "a test for the ages, a test for America, a test for the world" and described the war as posing fundamental questions to the United States: "Would we stand for sovereignty? Would we stand for the right of people to live free of tyranny? Would we stand for the defense of democracy?" He then answered, "One year later, we know the answer. Yes we would and yes we did." Biden claimed that the United States met Putin's aggression by "unit[ing] NATO" and building a "global coalition."
Biden then turned to the gallery to address the Ukrainian ambassador to the United States, Oksana Markarova. He praised Markarova, saying she "represents not just her nation, but the courage of her people." Biden assured her, "We're united in support of your country. We're going to stand with you, as long as it takes."
After discussing the war in Ukraine, Biden moved on to the broader global security landscape. He described U.S. policy toward the People's Republic of China, saying that both the U.S. government and he personally have made clear that "we seek competition, not conflict." He pledged "to work with China where we can advance American interests and benefit the world." However, referencing his recent decision to shoot down the Chinese surveillance balloon that had recently floated over the United States, he said, "As we made clear last week, if China threatens our sovereignty, we will act to protect our country." He also emphasized that the United States would "make no apologies" for acting to become stronger in its competition with China. Specifically, he said that the United States was "investing in our alliances," protecting "advanced technologies so they will not be used against us," and "modernizing our military to safeguard stability and deter aggression." The upshot of these efforts, Biden said, was that "today we're in the strongest position in decades to compete with China or anyone else in the world."
Recalling the Jan. 6 attack, Biden said, "such a heinous act should have never happened," and that "there is no place for political violence in America." He stressed the importance of protecting the right to vote, upholding the rule of law, and restoring trust in institutions and democracy, affirming the need to "give hate and extremism no safe harbor." He continued, "Democracy must not be a partisan issue. It's an American issue."
Biden's final word on national security was optimistic. He praised allies for "stepping up, spending more, and doing more" and praised the United States for "rallying the world" to meet challenges such as terrorism and "territorial aggression."
---
Dominic Solari is a third-year J.D. student at Harvard Law School. He holds a bachelor's degree in Government and History from Georgetown University.
Simhanjana Gopikrishna Sumathi is a foreign-trained attorney from India. She is currently pursuing her LL.M. in National Security Laws with a specialization certificate in International Human Rights Law at Georgetown University Law Center. She previously clerked with Hon. Justice N. Anand Venkatesh at the High Court of Judicature at Madras, India, after which she practiced as an independent litigation attorney.