Oral Argument Preview: Turkiye Halk Bankasi A.S. v. United States (Halkbank)
The case raises novel questions of the FSIA's applicability, as well as the extent of foreign sovereign immunity within criminal law.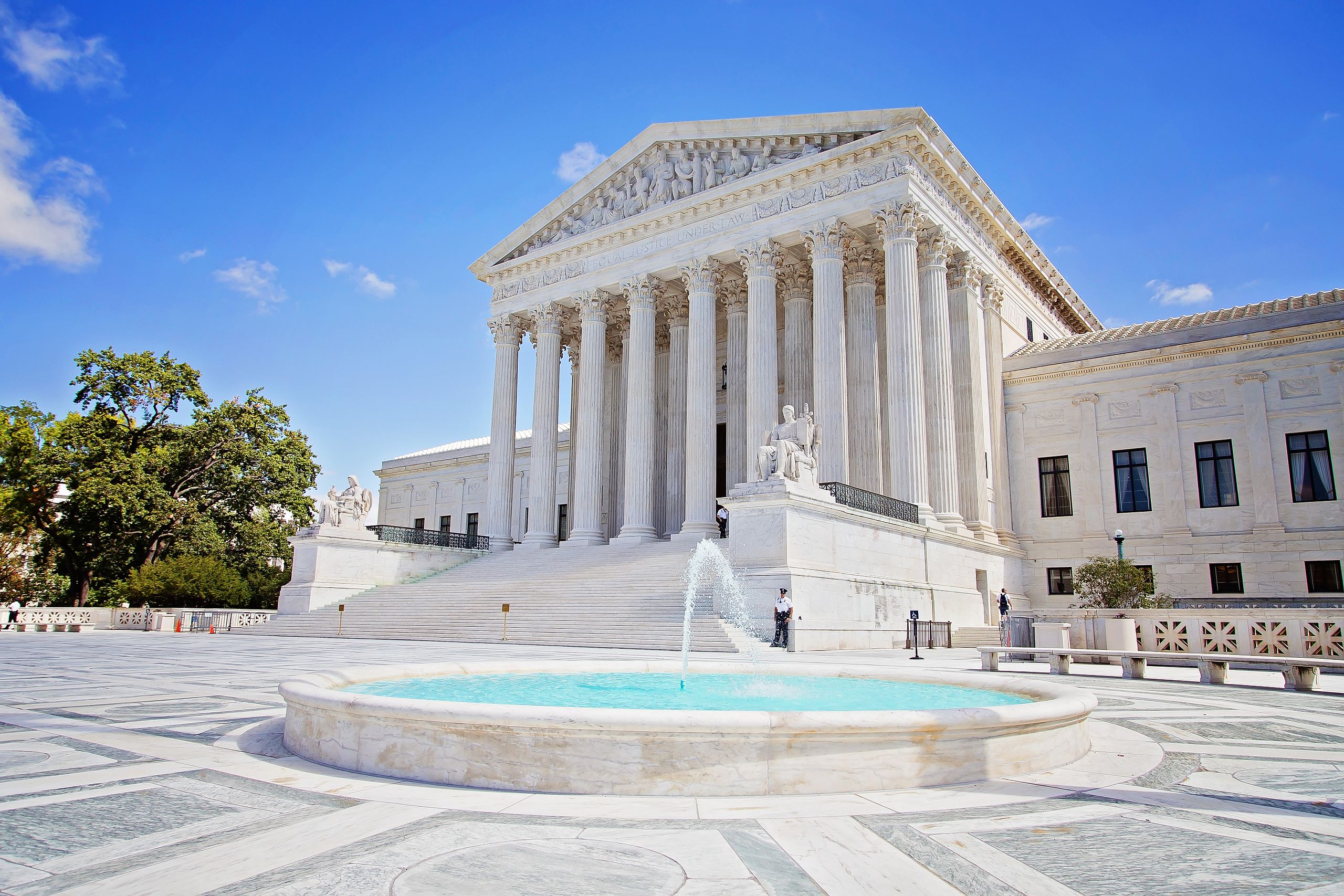 Published by The Lawfare Institute
in Cooperation With


On Jan. 17, the Supreme Court will hear oral arguments in Turkiye Halk Bankasi A.S, v. United States (Halkbank,) a case that brings criminal charges against a Turkish bank for laundering Iranian assets in violation of U.S. sanctions regimes, presenting novel issues under the Foreign Sovereign Immunities Act (FSIA). The case's arrival before the Supreme Court serves as a time capsule, harkening back to the days of former Attorney General William Barr's time leading the Justice Department and a reported pressure campaign enacted by Turkish President Recep Tayyip Erdogan.
The case deals with a novel question about the application of the FSIA to criminal cases, and the scope of its "commercial activities" exception. The act's exception allows for jurisdiction over sovereign entities under three circumstances: when charges relate to "commercial activity carried on in the United States by the foreign state; … an act performed in the United States in connection with a commercial activity of the foreign state elsewhere; or … an act outside the territory of the United States in connection with a commercial activity of the foreign state elsewhere [which] causes a direct effect in the United States." In the case, the government argues that the FSIA applies only in civil—not criminal—cases and that, even if the statute were to apply, the commercial activities exception would allow prosecution against Halkbank to proceed. Halkbank, conversely, contends that the FSIA does apply to criminal cases, but that the exceptions apply only in the civil context, and that its conduct does not fall under the commercial activities exception regardless.
Also at issue is the government's ability to extend criminal federal jurisdiction over foreign sovereign-owned commercial entities under 18 U.S.C. § 3231, the statute that establishes the federal court's jurisdiction in criminal cases. Section 3231 grants federal district courts "original jurisdiction, exclusive of the courts of the States, of all offenses against the laws of the United States." The government argues that § 3231's grant of jurisdiction extends to Halkbank even though it is a foreign sovereign-owned enterprise. Halkbank argues, however, that it is exempt from prosecution under § 3231, both for reasons of sovereign immunity and through proper interpretation of the statute. The bank also argues that the criminal prosecution of a sovereign in national courts is an act without international precedent.
Factual Background
Halkbank is a Turkish financial institution that is majority owned by the Turkish Wealth Fund, an entity that is in turn wholly owned by the Turkish government. All three entities have personal ties to Erdogan, his associates, and his ruling Justice and Development Party (the AKP). In October 2019, then-U.S. Attorney for the Southern District of New York Geoffrey Berman indicted Halkbank on six criminal charges, including conspiracy to defraud the United States, conspiracy to violate sanctions, bank fraud, money laundering, and conspiracy to commit both bank fraud and money laundering. These offenses related to what the Justice Department described as a "multi-year scheme" to "violate and to evade and avoid prohibitions against Iran's access to the U.S. financial system, restrictions on the use of proceeds of Iranian oil and gas sales, and restrictions on the supply of gold to the Government of Iran and to Iranian entities and persons." Specifically, the indictment alleged that Halkbank knowingly facilitated illegal transactions that allowed proceeds from Iranian oil and natural gas sales to be laundered into gold and transferred back to the Iranian entities. It also asserted that Halkbank facilitated transactions "fraudulently designed to appear to be purchases of food and medicine by Iranian customers, in order to appear to fall within the [sanctions'] so-called 'humanitarian exception.'" The U.S. Attorney's Office for the Southern District of New York had previously charged two executives linked to the Halkbank scheme, Reza Zarrab and Mehmet Hakan Atilla, for their involvement in the scheme.
Over the next two and a half years, the case proceeded to wind its way through the federal courts, litigating issues of the FSIA's applicability to the criminal prosecution and sovereign. While the case proceeded, however, a far more sordid story ran in parallel: a pressure campaign against Berman's investigation into Halkbank from the White House. The New York Times reported in October 2020 that then-Attorney General Barr had met with Berman in June 2019 and urged him to accept a settlement proposal where Halkbank paid a fine but avoided indictment, in return for ending investigations into individuals connected to Halkbank. This conversation was reportedly the result of pressure enacted by Erdogan on then-President Trump, which stretched back even before Trump took office. Trump's relations with the Turkish strongman were further complicated by the former president's extensive financial ties to the country. The New York Times linked Trump's desire to appease Erdogan and cut concessions on Halkbank to Berman's eventual firing from his U.S. attorney post in June 2020. As Lawfare wrote in 2020, the net takeaway from the episode paints an "ugly" picture—one in which the former president "interven[ed] in an investigation and a prosecutorial decision in a fashion that appear[ed] self-interested, appear[ed] to cut against stated U.S. policy to the benefit of an authoritarian leader and his interests, and appear[ed] influenced by [his] own business concerns."
Procedural Background
In the legal arena, Halkbank filed a motion to dismiss in August 2020. It alleged, primarily, that Türkiye's majority ownership in the bank granted Halkbank sovereign immunity from prosecution under both the FSIA and general common law, as informed by international law. Halkbank also made claims relating to the presumption against extraterritoriality, personal jurisdiction, and failure to properly allege conspiracy—none of which is at issue on appeal.
In October 2020, Judge Richard Berman of the District Court for the Southern District of New York dismissed Halkbank's motion. On the FSIA charges, Berman declared that the statute "does not appear to grant immunity in criminal proceedings." Berman reasoned that "nothing in the text of the FSIA suggests that it applies to criminal proceedings; and the 'legislative history ... gives no hint that Congress was concerned [about] a foreign defendant in a criminal proceeding.'" Secondly, Berman wrote that, even if the statute were to apply, the FSIA's "commercial activity exception" would apply to Halkbank's actions, allowing jurisdiction. Berman cited "Halkbank's business meetings, conference calls, and other interactions and communications at the U.S. Department of Treasury" and the alleged laundering of more than $1 billion through the U.S. financial system as activities that fulfill all three prongs of the commercial activities exception. The district court also failed to find any justification for immunity in common law, noting that the courts would defer to political decisions of the executive branch, which had evidently given the green light for the prosecution of Halkbank in this case.
Halkbank filed an interlocutory appeal of the district court's decision to the U.S. Court of Appeals for the Second Circuit. It argued that the FSIA, properly read, grants sovereign immunity in both civil and criminal cases, but that FSIA's exceptions clauses, including the commercial activities exception, apply only to civil cases. (While the FSIA does not explicitly specify its application to criminal cases, it has been used exclusively in civil cases.) To reach this conclusion, Halkbank relied on two provisions of the FSIA read in conjunction: § 1604, which is the FSIA's general grant of immunity for sovereign states, and § 1330(a), which grants "federal district courts jurisdiction only over 'nonjury civil action[s] against a foreign state' that satisfy the FSIA's exceptions." Halkbank argued that §1604 grants sovereign immunity in all cases (criminal and civil), while § 1330(a) allows for jurisdiction over sovereigns in a small subset of exceptions, which apply only in civil cases. Moreover, Halkbank argued that the FSIA was intended to "displace[]" any other statute granting jurisdiction over a sovereign, and that the FSIA remains the "sole and exclusive standard" to extend jurisdiction over a sovereign.
Halkbank also addressed the district court's conclusion about the commercial activities exception. It argued that, even if deemed to apply in criminal cases, the FSIA's commercial activities exception does not apply to Halkbank's actions, because the "gravamen" of the charges occurred overseas through Halkbank's alleged participation in illicit transactions with Iran, rather than in the United States.
The Second Circuit affirmed the district court's decision on appeal. Writing for the panel, Judge Jose Cabranes reasoned that there was an independent basis of subject matter jurisdiction for prosecution of sovereign entities under 18 U.S.C. § 3231 that "plainly" granted jurisdiction even over foreign sovereigns. "'All' [offenses] means 'all,'" he wrote, in reference to § 3231's text. The court declined to determine whether FSIA applies in a criminal context—Calabres argued that there was jurisdiction over Halkbank in any case under § 3231 and that, even if Halkbank were to apply in criminal cases, the commercial activities exception would apply. The court found that actions of Halkbank qualified under all three categories of commercial activities listed in the exception, because of Halkbank's substantial interactions with U.S. regulators and Treasury Department officials as well as the large effect of its actions on the United States.
Briefs Before the U.S. Supreme Court
Halkbank petitioned for certiorari on May 13, 2022. Over the Justice Department's opposition, the Supreme Court granted Halkbank's petition on Oct. 3, 2022. The Court granted cert over whether U.S. district courts may exercise subject matter jurisdiction over criminal prosecutions against foreign sovereigns and their instrumentalities under 18 U.S.C. § 3231, and in light of the FSIA.
Halkbank's brief framed the case as one of monumental implications: the first time that a sovereign has been prosecuted in the national courts of any state and a "demeaning move against Türkiye's dignity." Halkbank first addressed the Second Circuit's finding of an independent basis of jurisdiction within 18 U.S.C. § 3231. It argued that § 3231, which traces to the Judiciary Act of 1789, does not apply to foreign sovereigns because the first Congress showed no indication of intent to extend criminal jurisdiction over foreign sovereigns. Relying on Schooner Exchange v. McFaddon, Halkbank argued that the presumption of sovereign immunity would have required a "clear statement" of Congress's intent to extend criminal jurisdiction over sovereign entities.
On the FSIA, Halkbank reiterated its argument that Congress's enactment of the FSIA in 1976 "expressly immunize[d] foreign sovereigns and instrumentalities against all federal jurisdiction unless expressly provided in the FSIA[,] [which] confers only civil jurisdiction against sovereigns" through its exceptions. The "baseline rule" of immunity codified in FSIA, Halkbank argued, applies to criminal cases as well as civil cases, and the statute provides for jurisdiction over sovereigns in only "one category of cases[,]" which references the civil circumstances set out in the FSIA's § 1330 exceptions. Halkbank argued that, even if the FSIA exceptions were to apply, the indictment is not "based upon" Halkbank's activity within the United States and thus lacks sufficient nexus for the commercial activities exception.
The government's brief—reiterating in large part the reasoning adopted by the Second Circuit—argued that § 3231 extends to criminal cases against foreign sovereigns, that FSIA's immunities apply only to civil cases, and that the FSIA's commercial activities exception would apply to Halkbank's conduct regardless. On § 3231, the government echoed the Second Circuit's contention that in § 3231's grant of jurisdiction, "all [offenses] means all," and includes those committed by sovereign entities. The government also drew a distinction under § 3231 and common law between a sovereign nation as defendant and a sovereign-owned commercial entity. Under common law, sovereign-owned commercial entities such as Halkbank "generally lack immunity" and the executive retains the discretion to prosecute them.
On the FSIA, the United States argued that the greater context of the FSIA—through its text, structure, and history—makes clear that it applies only to civil cases. Further, the United States argued that even if the FSIA were to apply to Halkbank, the exceptions within the act would also apply, and that the "gravamen" of the charges against Halkbank had sufficient U.S. nexus through Halkbank's interactions with the Treasury Department, U.S. officials, and the U.S. financial system.
The case—which presents novel issues of foreign relations law and sovereign immunity—has drawn significant international and scholarly attention. Sovereign states, nongovernmental organizations (NGOs), and academics submitted briefs as amici curiae on the issues of the international doctrine of sovereign immunities, U.S. statutory interpretation, and the international precedent of Halkbank's prosecution.
Türkiye and a coalition of its allies wrote in support of Halkbank, arguing that Halkbank holds sovereign immunity, and that criminal prosecution of sovereigns would have severe negative consequences. The Republic of Türkiye argued that there is no difference under law between Halkbank and Türkiye, writing "Türkiye treats the Bank as an arm of the state, indistinguishable from the government itself." Türkiye's brief provides factual and cultural context stretching back to Halkbank's founding, attempting to demonstrate that "distinguishing between the state and the Bank would be improper." The Republic of Azerbaijan and the Islamic Republic of Pakistan argued together that Halkbank should receive the same jurisdictional immunities as a sovereign, and that granting criminal jurisdiction against Halkbank "would be unprecedented in world history[, would] make the United States an extreme outlier in the international community," and would "upset[] the delicate diplomatic balance upon which foreign sovereign immunity has always rested." While amici agree that a "restrictive doctrine" of sovereign immunity may allow for civil charges against sovereigns for commercial activity in some cases, they point to international practice that suggests that criminal immunity should remain unqualified and absolute for sovereigns and sovereign entities. Azerbaijan and Pakistan expound at length on the negative consequences of allowing criminal prosecution of sovereign entities for diplomacy, the rule of law, and the international community writ large. Addressing the specific context of U.S. law and the FSIA, amici argued that Schooner required a "clear statement" to extend criminal jurisdiction over a foreign sovereign and that the FSIA's "text, structure, and history" make clear that it was intended not to allow a grant for criminal prosecution. (Azerbaijan and Pakistan also filed a second joint brief, joined by the State of Qatar, which presents substantially similar arguments.)
Academics also submitted briefs. Mark Feldman, former State Department deputy legal adviser, and Professor Chimène Keitner filed an amicus brief in support of the government. They argued that Halkbank, as a sovereign-owned commercial enterprise, should be treated differently than a sovereign, and its criminal prosecution does not implicate Türkiye's sovereign rights. Feldman and Keitner also argue that "the FSIA was drafted purely with civil litigation in mind." Professors Roger O'Keefe and Lord Daniel Brennan K.C. wrote separately, both in support of Halkbank. O'Keefe argued that international law grants foreign sovereigns—and their commercial entities—absolute immunity from criminal jurisdiction in national courts. Brennan also argued that Halkbank's prosecution runs counter to international law rules on sovereign immunity and is also in violation of the United States and Türkiye's mutual assistance treaty. Writing on an issue tangential to the FSIA's immunity provisions, Professors Ingrid Wuerth (a Lawfare contributing editor) and William Dodge submitted a brief in support of neither party. They wrote to address—and correct—the lower courts' determination that "courts at common law defer[] to Executive Branch immunity determinations" for sovereign actors. Wuerth and Dodge argued that courts are not, as the lower courts suggested, bound to follow the political determinations of the executive branch but can make their own determinations of immunity.
A coalition of NGOs headed by the Turkish Red Crescent wrote in support of Halkbank, arguing that allowing criminal prosecution of sovereign entities would have severe consequences for international business, global commerce, and international cooperation on humanitarian relief and law enforcement. Writing in support of the United States, the NGO United Against Nuclear Iran argued that the Court should respect discretion of the executive to prosecute sanctions offenses and also that Halkbank's status as a foreign-owned commercial entity opened it up to prosecution.
The results of the Halkbank case could have profound implications for the international law of sovereign immunities and also for the ability of federal prosecutors to bring criminal cases against sovereign nations in violation of sanctions offenses. As Professors Curtis Bradley and Jack Goldsmith wrote on Lawfare earlier this month, the Court has several paths before it, including decisions that would require it to wade into "difficult nonstatutory questions" of the scope of sovereign immunities under common law—issues that amici have deservedly flagged as of significant importance within international law. As for Halkbank, if the Court grants jurisdiction through the FSIA or through § 3231, the case will return to the district court to hear arguments on the merits of the government's criminal charges.
---
Emma Svoboda is a student at Harvard Law School interested in foreign policy and human rights. A former teacher, she has lived in Kyrgyzstan, Turkey, and French Guiana.