Shoes Yet to Drop in the Mar-a-Lago Investigation
Friday's indictment may be just the beginning. Here are four additional directions the investigation may head in before it's all over.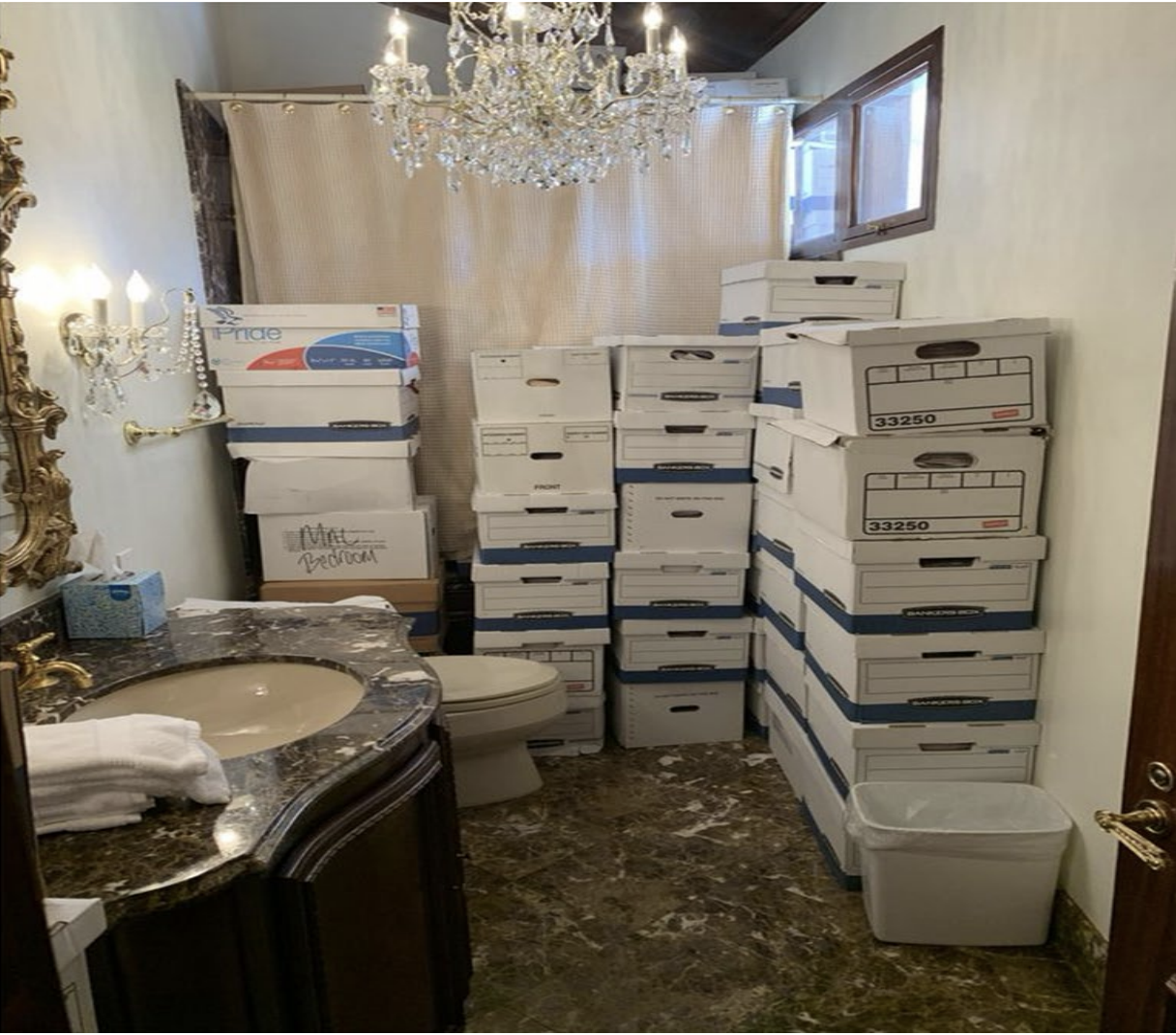 Published by The Lawfare Institute
in Cooperation With


The indictment of former President Donald J. Trump that was unsealed in the Southern District of Florida this past Friday is a historic one. No former president has ever been charged with a federal crime. In this sense, it's the first of its kind.
But it may not be the last. At several points, the unsealed indictment points towards more possible misconduct by Trump and some of his associates that is not covered by the charges it brings. The fact that special counsel Jack Smith is willing to make these factual allegations suggests that he and his team have already begun to investigate them and reached at least some preliminary conclusions. And federal prosecutors are not limited to just one bite at the apple; if they acquire sufficient evidence of additional criminal conduct, they can file updated or additional indictments, both in Florida and elsewhere.
One obvious area where additional charges may yet be forthcoming is the other half of Smith's mandate as special counsel: interference with the lawful transfer of power following the 2020 presidential election, including in relation to the Jan. 6 insurrection. While Friday's indictment does not address these issues, we know from media reports that the special counsel is still actively investigating them. And if that investigation uncovers unlawful misconduct then additional indictments will likely follow.
Yet the areas pointed towards by the indictment are closer to the subject matter of the current indictment and arise directly from the classified documents investigation, even though they are not covered by the charges the indictment brings. Of course, there is no guarantee that any of them will result in additional criminal charges. But they are good areas to watch for those who want to know where the special counsel's investigation may go next.
Removal of Classified Documents from the White House
The indictment begins by addressing an open question that has long bothered those closely watching the investigation: What role did Trump play in removing classified documents from the White House in the first place? The answer is not clearly relevant to the charges the indictment brings, which focus on Trump's retention of those documents after their return was requested by federal authorities, not how he acquired them. But the indictment makes clear that the special counsel has an answer to this question—and, in so doing, points to a new area of possible criminal misconduct that the present indictment does not address.
Trump's legal team has long maintained that the removal of classified documents "was the result of White House institutional processes, rather than intentional decisions by President Trump[.]" But the indictment tells a different story. It states unequivocally that Trump himself "gathered newspapers, press clippings, letters, notes, cards, official documents, and other materials in cardboard boxes that he kept in the White House[,]" a collection that included "hundreds of classified documents." Later, it asserts that Trump played a direct role in transferring those boxes to Mar-a-Lago:
In January 2021, as he was preparing to leave the White House, Trump and his White House staff, including [co-defendant Waltine Nauta], packed items, including some of Trump's boxes. Trump was personally involved in this process. Trump caused his boxes, containing hundreds of classified documents, to be transported from the White House to The Mar-a-Lago Club.
The indictment doesn't provide much detail beyond this snapshot. But the fact that the indictment takes such an unequivocal position strongly suggests that the special counsel has investigated the matter and reached some conclusions about Trump's conduct.
This shouldn't be a surprise. Any investigation into mishandled classified documents is likely to begin with how they left governmental control. The fact that a grand jury has been empaneled in Washington, D.C., since the early days of the classified documents investigation suggests their departure from the White House was a focus here. In addition, we know that, despite the complications presented by executive privilege and the other legal protections that often apply to a president's interactions with their personal staff, the special counsel has secured grand jury testimony from several of Trump's White House staff, including his former chief of staff Mark Meadows. And, it has reportedly subpoenaed information that might speak to Trump's motive and state of mind during his time in the White House, including information on the Trump Organization's foreign business deals from 2017 onward. These investigatory steps all might involve other aspects of the special counsel's work, including his ongoing investigation into events following the 2020 presidential election. But they would also provide the special counsel opportunity to gather evidence regarding the roles that Trump and others played in how the classified documents exited the White House in the first place.
If Trump or any White House staff deliberately arranged for the removal of classified documents from the White House, as the indictment alleges, then there may well be grounds for additional criminal charges. These would almost certainly be brought through a separate indictment in D.C. federal district court. The most likely legal grounds is the Espionage Act, which outlines several criminal offenses relating to the mishandling of national defense information, a category that generally includes classified information. One provision makes it a criminal offense to try to obtain national defense information by "tak[ing]...any…document…connected with the national defense[,]" which could readily apply here. Another makes it a crime for anyone who "lawfully ha[s] possession of [national defense information]"—as Trump and his White House staff did during his administration—to "willfully…caus[e] [it] to be communicated, delivered, or transmitted…to any person not entitled to receive it[.]" Transferring classified documents to a private facility like Mar-a-Lago—which, as the indictment makes clear, "was not an authorized location for the storage, possession, review, display, or discussion of classified documents"—would seem to qualify under this provision. So could arranging for the transfer of documents to Trump himself if the sender knew he would receive them after he ceased to be president and no longer had authorization to possess them.
Of course, these sorts of charges would likely run headlong into the broad claims of presidential authority over classified information that already feature prominently in Trump's legal defense. Trump would almost certainly argue that, as president, he had the authority to handle classified information and send it to whomever he saw fit. Of course, this defense would likely face many of the same problems that it is likely to face elsewhere in the trial, including that it does not appear to be backed up by any declassification orders or other documentation from Trump's time as president—steps he routinely pursued in other cases involving declassification, including up to his penultimate day in office. Nonetheless, the fact that much of Trump's problematic conduct took place while he was president could be seen as a complicating factor that ultimately weighs against bringing charges against him or those acting at his direction.
Another tricky issue may be distinguishing Trump's conduct in this regard from other former senior officials found to have classified documents in their possession, including President Biden (who is being investigated by a separate special counsel) and former Vice President Pence (who the Justice Department has formally declined to charge). We don't know if Biden or Pence intentionally removed those classified documents when they left office or not. But insofar as the special counsel wishes to focus on those areas where Trump's misconduct is undeniably distinguishable from prior similar cases, the potential parallels may give him pause.
Another possible complication is that the investigation of these charges is inevitably intertwined with the special counsel's separate investigation into efforts to interfere with the lawful transition following the 2020 elections and the Jan. 6 investigation, particularly as it is likely to involve many of the same witnesses and potential defendants. For this reason, the special counsel may want to wait to bring charges until that investigation is also complete—something that may take some time, given the scope and complexity of the issues it covers.
Nonetheless, the indictment is unequivocal that Trump himself played a role in coordinating the removal of classified documents from the White House, an assertion of wrongful misconduct that the special counsel would not make without substantial evidence in support of it. Thus we should not be surprised if this misconduct forms the basis of yet more criminal charges against Trump and potentially others, if and when charges are ultimately brought in Washington, D.C.
Disclosures of Classified Information
The indictment points to a second area of potential criminal misconduct not covered by the current charges, one related to two of its most sensational allegations: that Trump not only showed classified documents to unauthorized third parties on two separate occasions, but openly acknowledged that he shouldn't be doing so as they remained classified. Neither incident was the basis for a specific criminal charge in the existing indictment, where they serve as evidence of consciousness of guilt and criminal intent. But each almost certainly implies criminal misconduct that could be charged in a different jurisdiction.
Both incidents are alleged to have taken place in Trump's personal office at his golf club in Bedminster, New Jersey, in the summer of 2021. While the indictment is somewhat light on specifics, media reports have helped fill in several of the details. The first incident occurred in July 2021 at a meeting between Trump, several of his staffers, and a number of individuals working on the autobiography of Trump's former chief of staff Mark Meadows, the audio of which was recorded by one of Trump's staffers and recovered by the special counsel's office. There Trump reportedly showed the attendees a classified memorandum regarding U.S. military options against Iran. "Secret. This is secret information[,]" Trump is quoted as saying in the indictment, presumably from the audio recording. "See as president I could have declassified it….Now I can't, you know, but this is still a secret." The second incident took place in August or September 2021. At that meeting, Trump is alleged to have shown a representative from his political action committee a classified map of a foreign country while noting that "he should not be showing the map" and urged the representative "to not get too close."
Whether these are the only two incidents the special counsel knows about is unclear. Trump has a long history of sharing classified information inappropriately. And the special counsel appears to have included these two incidents in the indictment in order to establish that, even as he retained the broader universe of classified documents, Trump knew that the documents were in fact still classified as marked and that he did not have the authority to declassify them. Other incidents without such revealing exchanges may not have warranted inclusion but would be no less legally problematic.
Deliberately sharing classified information with a third party not authorized to receive it is undoubtedly a crime. The same provision of the Espionage Act under which Trump is already charged also makes it a criminal offense to "willfully communicat[e], delive[r], [or] transmi[t]" national defense information "to any person not entitled to receive it[.]" A less frequently used provision that similarly makes it a crime to "knowingly and willfully…mak[e] available to an unauthorized person" any "classified information" relating to U.S. or foreign government communications intelligence could also be implicated, depending on what information was in the underlying documents. Preventing such wanton and deliberate disclosure is arguably a main purpose of the classification system and the criminal laws used to enforce it. In this sense, it would be surprising for the special counsel (or broader Justice Department) to be aware of such brazen incidents without seriously considering criminal charges.
Of course, any such charges would most likely have to be brought through a separate indictment in federal court in the District of New Jersey. And this presents separate complications. Because, among other issues, the indictment hints that the potential misconduct at Bedminster goes further than these two incidents alone.
Further Unlawful Retention (and Possible Destruction) of Classified Documents
The fact that Trump shared classified documents with third parties at his golf club in Bedminster suggests that he retained classified documents there at some point. But the indictment indicates that the universe of classified documents Trump held there may in fact go well beyond those discussed in these two incidents—a fact that, if true, could yet make Bedminster the focus of another round of criminal investigation and prosecutions similar to what has been charged in relation to Mar-a-Lago.
The facts surrounding the two incidents in which Trump is alleged to have shared classified documents with unauthorized third parties strongly suggest that Trump had a number of classified documents with him at Bedminster as of the summer of 2021. In the recorded July 2021 incident, which took place in Trump's office at Bedminster, Trump reportedly told the people participating in the conversation that he had "a big pile of papers" and that the document being discussed "just came up" prior to their meeting. The August or September 2021 incident similarly took place in Trump's office and involved Trump producing a classified map of a foreign country that came up in conversation.
But the indictment goes further. It also alleges that Trump and his co-defendant Waltine Nauta transported another set of boxes with Trump and his family "north for the summer" in June 2022—the same day that Trump assured visiting Justice Department personnel that he was being "an open book" about having returned all the classified documents in his possession. While the indictment does not say so expressly, it is clear from context that the destination is Bedminster, as Trump is described as having delayed his annual summer trip there so that he could be present at Mar-a-Lago for the Justice Department meeting.
At a minimum, one would expect the special counsel to investigate the possibility that classified documents remain at Bedminster, most likely through a subpoena and, if necessary, a search warrant, just as the Justice Department did in relation to Mar-a-Lago. And it is possible that this obvious step has already been taken. The only relevant subpoena that's been publicly reported thus far relates to the document discussed in the July 2021 incident, which Trump and his attorneys reportedly could not find. But such investigatory steps aren't always known to the public. The subpoena issued in relation to documents at Mar-a-Lago was not reported by the media until after Trump himself revealed that he'd been the subject of an FBI search several months later. And even the subpoena for the July 2021 incident document was not reported until June 2023, months after Trump's attorneys reportedly responded. Hence, even if the special counsel or his Justice Department colleagues did pursue these common sense investigatory steps, the public would not necessarily be aware of them.
If the special counsel recovers (or has recovered) classified documents from Bedminster, then Trump might well face criminal charges similar to what he is facing in relation to Mar-a-Lago, only in the District of New Jersey as opposed to the Southern District of Florida. There is no reason to think that the special counsel would hesitate to charge Trump with additional counts of unlawful retention under the Espionage Act in relation to at least some of whatever classified documents turn up, just as he did with the documents recovered from Mar-a-Lago. Depending on what steps Trump and others at Bedminster took in response to the Justice Department's investigation, they may also face similar obstruction of justice and false statement charges.
Alternatively, if classified documents that were located at Bedminster have not been recovered or otherwise accounted for, then the special counsel may need to consider another possibility: that Trump or his associates are continuing to withhold or have even destroyed them. After all, Trump had a well-documented practice of destroying documents while president, despite laws obligating him to preserve presidential records. And the indictment gives vivid quotes from a memorialization by one of Trump's attorneys (known from media reports to be M. Evan Corcoran) indicating that Trump not-so-subtly encouraged him to either withhold or destroy particularly problematic documents that he was preparing to return to the Justice Department in response to its earlier subpoena. Either could lead to an array of additional obstruction of justice charges as well as contempt of court for failing to comply with the subpoena in the first place.
Of course, gathering the evidence to prove such serious charges would be a significant investigatory undertaking, which may help explain why the special counsel opted to first move forward with separate charges relating to Mar-a-Lago first. That said, the indictment was clear in its suggestion that Trump and his associates also pursued an array of wrongful conduct at Bedminster.
Possible Additional Co-Conspirators
The final area of possible misconduct pointed to by the indictment is more closely tied to one of the more serious sets of charges in the indictment: the alleged conspiracy between Trump and Nauta, in which they sought to conceal Trump's possession of classified documents from attorney M. Evan Corcoran and cause him and others to falsely certify to the Justice Department that Trump had returned "[a]ny and all responsive documents[.]" The indictment only charges Trump and Nauta as members of that conspiracy, but suggests that they conspired "with each other and with others known and unknown[.]" And at several points, it hints at who those other persons might be.
The clearest possibility is the individual identified in the indictment as "Trump Employee 2," who routinely helped Nauta move the boxes, texted back and forth with Nauta regarding the status of Trump's review, and traded photographs clearly showing the presence of classified records in those boxes. The fact that Trump Employee 2 was not charged in the indictment might suggest that he or she is cooperating with investigators; indeed, they seem like the most likely source of the texts with Nauta quoted in the indictment. Yet this does not necessarily preclude criminal charges, especially if pleading guilty was a condition of whatever cooperation agreement they may have entered into.
But Trump Employee 2 isn't necessarily the only person who might be complicit in the efforts to cover up Trump's retention of classified documents. The fact that so many boxes of records were spread across Mar-a-Lago means that any number of other staff might have become aware of their contents—or even involved in efforts to repeatedly relocate them. The indictment specifically quotes from an exchange between Nauta and a "Trump Representative 1" who was liaising with the National Archives and Records Administration on Trump's behalf about Trump's review of the boxes. It also describes an exchange between Nauta and one of Trump's female family members regarding Trump's review of a subset of the boxes and the possibility that they would be transported with Trump on a family trip. Neither exchange suggests full awareness of, or participation in, the conspiracy as written. But both indicate that these individuals—and likely others around Mar-a-Lago—were aware of at least parts of the conspiracy relating to Trump's boxes. Moreover, the indictment is clear that Trump and Nauta did not, in prosecutors' view, conspire only with one another. And these individuals, being the ones on the periphery of the conspiracy, seem like the most plausible candidates, especially if they had more knowledge of the conspiracy than the indictment currently alleges.
A final group of individuals whose conduct raises questions in this regard are those of Trump's lawyers who were involved in the false June 2022 certification to the Justice Department indicating that "[a] diligent search was conducted of the boxes that were moved from the White House to Florida" and that "[a]ny and all responsive documents" were handed over. The indictment makes clear that Trump Attorney 1, whom media reports have identified as M. Evan Corcoran, drafted this certification after spending about two and a half hours searching more than thirty boxes located in a single storage room. The indictment is unclear, however, whether Corcoran actually reasonably understood this to be the full universe of "boxes that were moved from the White House to Florida[,]" as suggested in the certification. And even though he was the one who conducted the search, Corcoran declined to sign the certification. Instead, he asked Trump Attorney 3—known to be Trump attorney Christina Bobb—to do so. The indictment states that she did so "[b]ased upon the information that [had] been provided to her[,]" not on her own review of the documents.
Once again, neither act is necessarily wrongful on its own. Indeed, in the (still sealed) litigation that ultimately required Corcoran to provide notes regarding his representation of Trump to the grand jury, a federal judge reportedly concluded that Corcoran was more a dupe of Trump and Nauta's conspiracy than a co-conspirator. That said, the difference between being a lawyer caught in the middle of a client's conspiracy and knowingly acting on its behalf can be a fine one. And evidence that Corcoran or Bobb had more reason to believe that the certification was false than the current indictment suggests could conceivably come to the fore.
Unlike the other scenarios discussed above, any additional co-conspirators would most likely be charged alongside Trump and Nauta in the Southern District of Florida through a superseding indictment. Depending on what actions individuals undertook, some may also face individual obstruction or false statement charge, as Trump and Nauta do. The exact nature of any additional charges, if any, will depend on what investigators know beyond the facts as set forth in the indictment.
* * *
But if the indictment points to these areas of potentially unlawful conduct—and suggests the special counsel has already investigated at least some of them—then why is this conduct not included in the charges brought by the indictment?
In several cases, the clearest explanation is venue. Once the special counsel opted to indict Trump in the Southern District of Florida—a move that was most likely motivated by a desire to avoid the venue concerns that broader legal theories that might have allowed for similar charges to be brought in D.C. federal courts would have raised—he was necessarily limiting the indictment to criminal conduct with a factual nexus there. But Trump travels frequently and works with a network of associates and employees that is nation-wide. Hence misconduct that occurs elsewhere would have to be charged separately in different indictments in each relevant jurisdiction.
There in turn raises a question of timing. The charges brought in the indictment appear to be backed up by extraordinarily strong evidence, including text messages with Trump's alleged co-conspirator, photographs of mishandled documents, audio recordings of Trump acknowledging his possession of classified documents, and incriminating accounts by Trump's own lawyer. This sort of evidence is exactly what prosecutors would want to have in a case as high-profile and politically charged as this one. But it takes time and effort for investigators to collect this evidence and assemble the case necessary to secure an indictment. At the same time, the fact that Trump is a leading contender for the 2024 Republican presidential nomination is no doubt putting pressure on the special counsel and his team to move quickly and maximize the chances that any charges are resolved before the election takes place. In this context, it would arguably make sense for the special counsel to move forward with an indictment for the charges for which they have the strongest evidence first, even as they continue to investigate and build the case for additional prosecutorial steps down the line.
Notably, pursuing additional charges in different jurisdictions may also have taken on new appeal since the special counsel initially filed the now unsealed indictment last week. In the ensuing days, the court has randomly assigned Judge Aileen Cannon to the matter, the same judge whose extremely Trump-friendly rulings in a related matter late last year substantially delayed the Justice Department's ability to access the classified documents it recovered from Mar-a-Lago, before she was rebuked and reversed by the Eleventh Circuit. The special counsel was no doubt aware that she could be assigned to the case and was prepared to proceed even in that event. And while a hostile district court judge can certainly make a prosecutor's job more difficult, it's not clear Cannon could stop a prosecution with such clear evidence from moving forward even if she wanted to. Nonetheless, her assignment may help illustrate the advantage of pursuing criminal accountability along multiple avenues, at least some of which are outside the control of one particular federal judge.
Of course, any effort to divine the internal operations of the special counsel's office—let alone to anticipate its future moves—is inherently speculative and should be taken with several grains of salt. There may in fact be evidence showing that the possible misconduct hinted at in the indictment is, in fact, entirely above board. Or the special counsel may ultimately exercise his prosecutorial discretion not to pursue additional criminal charges, even if they might be legally available. In some cases, he may also refer certain conduct to other components of the Justice Department to investigate and pursue, particularly if it doesn't involve Trump himself.
As outside observers, we inevitably have an incomplete understanding of what the special counsel's office is likely to do before it does it. For now, the key point is that the special counsel's work is not done until he says it's done. The investigation remains ongoing and the current indictment may yet change or be joined by others in different jurisdictions depending on what the special counsel's office finds. In this sense, even in the Southern District of Florida, there may yet be shoes waiting to drop.
---
Scott R. Anderson is a fellow in Governance Studies at the Brookings Institution and a Senior Fellow in the National Security Law Program at Columbia Law School. He previously served as an Attorney-Adviser in the Office of the Legal Adviser at the U.S. Department of State and as the legal advisor for the U.S. Embassy in Baghdad, Iraq.