The Week That Was: All of Lawfare in One Post
Your weekly summary of everything on the site.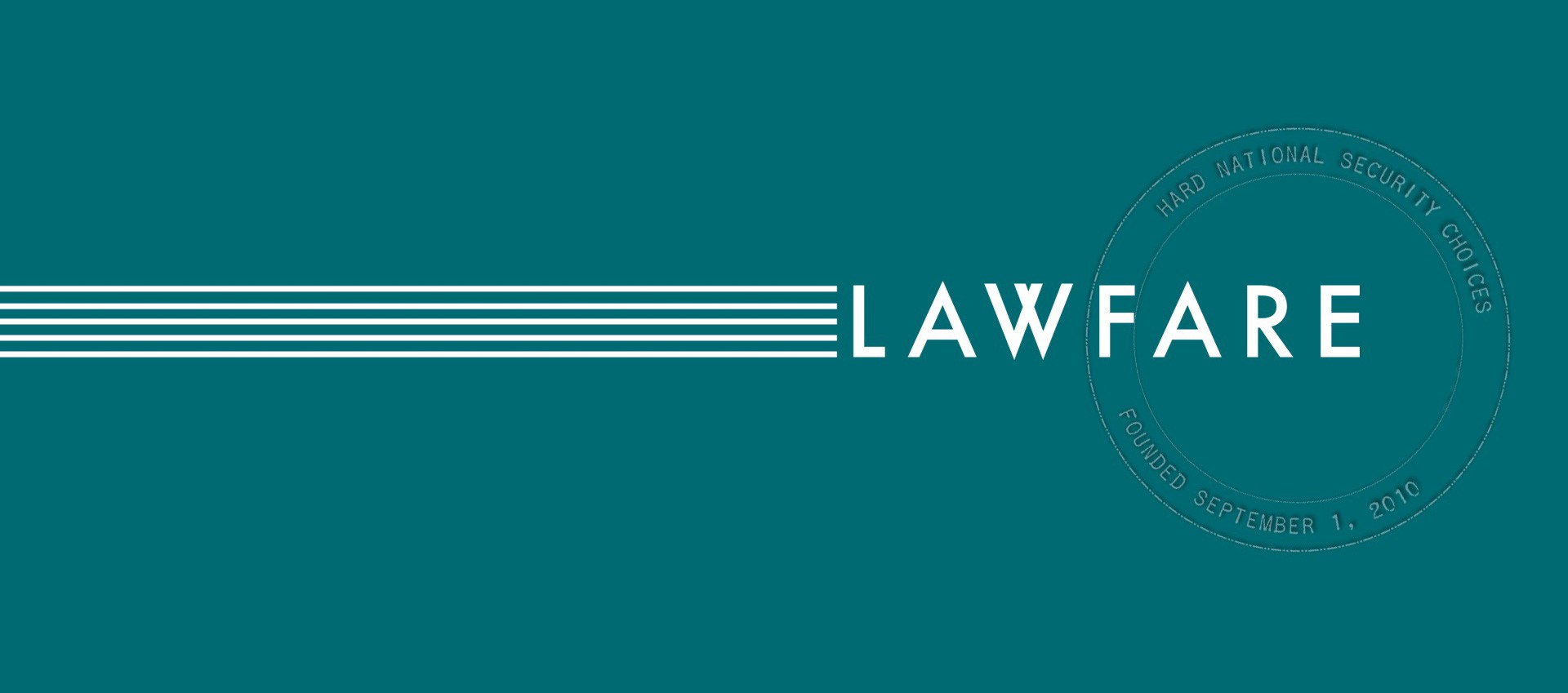 Published by The Lawfare Institute
in Cooperation With


Anna Bower reported on Monday's hearing in Georgia in which Mark Meadows testified in support of his motion to remove his criminal case from Fulton County court to federal court.
Saraphin Dhanani reported on Monday's hearing in Washington, D.C. in which Judge Tanya Chuktan set March 4, 2024 as former President Donald Trump's trial date for the Jan. 6 case.
On the Lawfare Podcast, Quinta Jurecic sat down with Bower, Dhanani, and Hyemin Han to discuss the two aforementioned hearings that took place on Monday:
Jurecic also discussed the professional sanctions imposed on the lawyers named as co-conspirators in state and federal indictments against Trump whose malpractice allegedly supported or enabled Trump's effort to undermine the results of the 2020 election.
On Aug. 31 at 4 p.m. ET, Benjamin Wittes was joined by Bower, Dhanani, and Jurecic for this week's episode of "Lawfare Live: Trump's Trials and Tribulations:"
On Rational Security, Scott R. Anderson, Jurecic, and Alan Rozenshtein sat down to discuss this week's big national security news stories, including the death of Wagner mercenary chief and Kremlin caterer Yevgeny Prighozin, the agreement of Republican presidential candidates to use the military to go target drug cartels in Mexico, Mark Meadows's request that his Jan. 6 case be removed from Fulton County to federal court, and more:
On the Lawfare Podcast, David Kris sat down with Michael Collins to discuss the new National Intelligence Strategy. They covered the increasing geopolitical significance of non-state entities, the meaning of the word intelligence, Collins's thoughts on the future of U.S. intelligence, and more:
Han discussed military commissions Judge Lanny J. Acosta Jr.'s recent ruling finding self-incriminating confessions produced by the "clean team" interviews of Abd al-Rahim al-Nashiri inadmissible under 10 U.S.C. § 948r. She laid out Acosta's finding that the 2007 interviews failed to break Nashiri's preconditioned mental "contract" with investigators formed through years of torture and analyzed the decision's implications.
John Rogan discussed the need to ensure Congress can continue operating after a catastrophic event, arguing in favor of a constitutional amendment to establish a clear process for quickly declaring incapacities followed by the succession of temporary replacement legislators.
On the Lawfare Podcast, Bryce Klehm sat down with Shala Gafary and Jennifer Quigley to discuss the current legal status of Afghans who were relocated two years ago when the U.S. military withdrew from Afghanistan, immigration challenges that remain for relocated individuals, and the potential passage of the Afghan Adjustment Act:
In an installment of Lawfare's Digital Social Contract paper series, Josh A. Goldfoot discussed cybersecurity's composition of technical and social elements. He argued that law is the foundation of cybersecurity's social facet by defining "security" in the term and regulating the behavior of both humans and governments.
On the Lawfare Podcast, Rozenshtein sat down with Goldfoot to discuss his recent Lawfare Digital Social Contract paper and what viewing cybersecurity as a social problem means for our ongoing efforts to secure our digital lives:
Kenneth Propp discussed the newly created Data Protection Review Court's authority to issue U.S. adequacy decisions about disputes arising from foreign collection of U.S. signals intelligence and the positive effects that may come from review reciprocity.
Wittes and Paul Rosenzweig announced the launch of a new multi-year Lawfare project that will create a density of works evaluating the elements of the "security by design" approach to software security.
Nicholas Weaver discussed the Justice Department's indictment of the founders of Tornado Cash, a website that allows users to disguise the origins of their cryptocurrency. He argued that the charges have a strong legal foundation because they allege that the founders aided and abetted the financial crimes that took place through the website rather than committing the crimes themselves.
Alexis Jori Shanes, Hannah Sweeney, and Olivia B. Hoff discussed the Ljubljana-The Hague Convention on Mutual Legal Assistance and its role in the larger universe of international criminal law. They examined the convention's scope, procedure for prosecution and extradition, expansion of victims' rights, and requirements for transferring sentenced individuals.
Chris Carpenter and Duncan B. Hollis discussed Costa Rica's position paper on the applicability of international law in cyberspace following two significant ransomware attacks last year against Costa Rican government bodies.
In this week's edition of Lawfare's Foreign Policy Essay Series, Kathrin Bachleitner discussed how West Germany's 1952 Luxembourg Agreement with Israel can serve as a model for using atonement as a political strategy to approach the legacies of other international human rights abuses.
On the Lawfare Podcast, Jurecic sat down with Manuel Meléndez-Sánchez to discuss the Aug. 20 election of Guatemala's new president Bernardo Arévalo. They covered Arévalo's victory, the wild months leading up to it, and the challenges that lie ahead:
On Chatter, David Priess sat down with Rosemary Salomone to discuss her background in linguistics and education studies, how the study of languages helps us understand geopolitics, and more:
And Amy Gaudion announced that the American Association of Law Schools will host webinars on presidential power and the manifestation of race in national security and is accepting submissions for its program, New Perspectives in National Security Law.
And that was the week that was.
---
Gia Kokotakis was an intern at Lawfare and is a senior at Georgetown University, where she studies government, French, and Jewish civilization. She received an Attestation d'Études Politiques from Sciences Po Lyon in May 2023.