The Week That Was: All of Lawfare in One Post
Your weekly summary of everything on the site.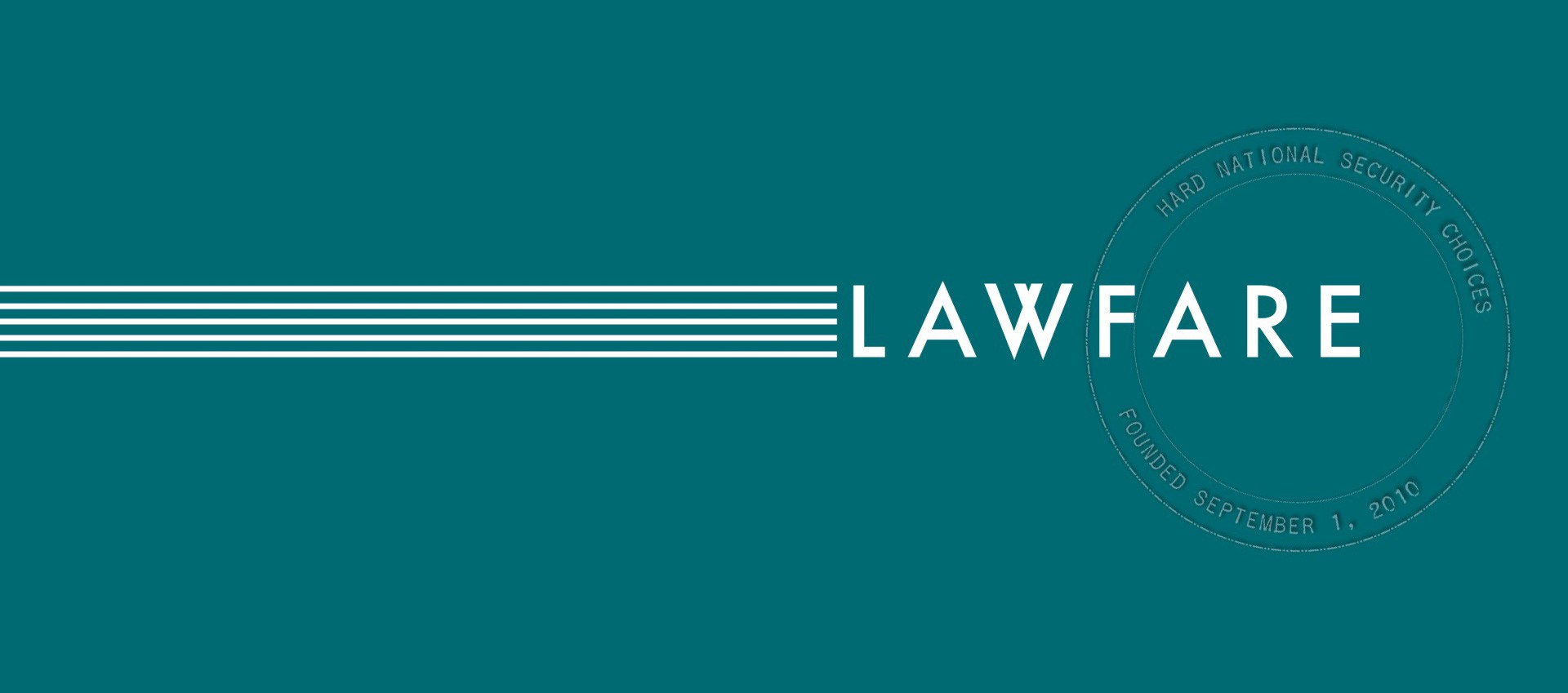 Published by The Lawfare Institute
in Cooperation With


Lee Kovarsky discussed the likelihood that former President Donald Trump and Mark Meadows are successful in attempts to remove their prosecution for charges in Georgia to federal court.
At 4 p.m. ET on Aug. 24, Natalie Orpett, Scott R. Anderson, Quinta Jurecic, and Anna Bower sat down to discuss the week's developments in the various Trump trials on the latest episode of "Lawfare Live: Trump's Trials and Tribulations."
On the Lawfare Podcast, Orpett sat down with Benjamin Wittes, Saraphin Dhanani, and Roger Parloff to discuss their recent Lawfare articles on Trump's defenses in the criminal cases against him: that he was protected by the First Amendment, that he relied on the advice of counsel, and that he really believed what he was saying:
On Rational Security, Anderson, Jurecic, and Orpett sat down to discuss the week's big national security news stories, including a military commission judge's ruling to exclude Abdul Raheem al-Nashiri's confession on the grounds that it was tainted by prior torture, the argument by a pair of leading conservative constitutional scholars that Section 3 of the 14th Amendment excludes former President Donald Trump from the presidency, Elon Musk and SpaceX's roles in the Ukrainian military effort, and more:
Wittes wrote about his visits to Tallinn and Narva. He reflected on the history of Estonian-Russian relations and the role NATO may play in their future.
On Chatter, Katherine Pompilio sat down with Wittes to discuss his recent international ERAS (Eradicating Russian Ambassadorial Sleep) Tour. They covered Wittes's most successful special military operation yet, dealing with international law enforcement, NATO's impact on Baltic countries, the American versus European understanding of the war in Ukraine, and more:
Mailyn Fidler proposed the concept of applying Fourth Amendment law to protect users' data privacy even when data is not considered property. She argued that Fourth Amendment protections would apply to data under a situational right-to-exclude model without requiring a complete revolution of property law.
Jake Laperruque analyzed the President's Intelligence Advisory Board's July 31 report on Section 702 of the Foreign Intelligence Surveillance Act (FISA). He argued that while the report's recommendations to codify the signals intelligence executive order and place reasonable limits on the scope of FISA 702 surveillance would be notable improvements, it takes a concerningly weak stance on U.S. person queries.
David Kaye and Sara McKune critiqued Asaf Lubin's Aug. 9 Lawfare Digital Social Contract paper proposing a binding multistakeholder legal framework to regulate commercial spyware, arguing instead for a regulatory framework rooted in international human rights law that undertakes an analysis of the legality, necessity, and proportionality of spyware.
Sarah Harrison discussed how Section 7008 of the Department of State, Foreign Operations, and Related Programs Appropriations Act for Fiscal year 2023—a law that restricts certain types of aid the U.S. can send to countries in the midst of a coup–could apply to the recent coup in Niger and what the State Department's approach to Section 7008 might say about U.S. strategy in the Sahel region.
Christina Knight discussed Tsinghua University engineering students' opinions on U.S-China tech competition. She analyzed their thoughts on tensions between national and self-interest, the impact of U.S. sanctions on the Chinese technology industry, and the industry's future.
Vinod K. Aggarwal and Andrew Reddie discussed the history and likely consequences of U.S. economic statecraft efforts focused on the technology sector following President Joe Biden's executive order mandating that U.S. firms disclose or restrict investments in certain Chinese markets.
Gia Kokotakis shared the 2023 National Intelligence Strategy which discusses threats posed by Russia and China and lays out six goals for the intelligence community.
Naman Karl-Thomas Habtom discussed how private military companies (PMCs) may be gradually replaced by state-owned military companies (SOMCs). He argued that SOMCs hold a greater level of authority and trustworthiness than PMCs but may create liability risks for the state, concluding that SOMCs can be an additional asset for policymakers.
In this week's installment of Lawfare's Foreign Policy Essay series, Rueben Dass discussed how recent drone strikes conducted by al-Qaeda in the Arabian Peninsula (AQAP) against members of a group aligned with the Southern Transitional Council (STC) indicate a strategic shift toward targeting the STC. He argued that the strikes suggest external technological support from the Houthis and are likely an attempt by AQAP to boost their influence amid waning strength.
On the Lawfare Podcast, Eugenia Lostri sat down with Nathalie Jaarsma to discuss the tensions plaguing cyber negotiations in the United Nations, how diplomacy can help ensure accountability for malicious state behavior in cyberspace, and how to think about progress in the field:
Karin Landgren, Gaurav Redhal, Paul Romita, and Shamala Kandiah Thompson discussed the events that led to the UN Security Council's failure to adopt a resolution reauthorizing the Syria cross-border aid mechanism and what the failed reauthorization may mean for the council's future engagement on Syrian humanitarian issues.
On the Lawfare Podcast, Tyler McBrien sat down with Caitlin Vogus to discuss the recent police raid of a family-owned newspaper in Marion, Kansas. They covered what motivated the raid, how it went down, what journalists can do to protect themselves from press freedom violations, and more:
Also on the Lawfare Podcast, Anderson sat down with Zach Dorfman to discuss "Spy Valley," Dorfman's new podcast series examining the 1984 arrest of James Harper: a former U.S. Marine, engineer, and Silicon Valley entrepreneur convicted for playing a central role in a scheme to sell classified documents relating to U.S. missile defense to the Soviet bloc and its allies. They discussed Harper's story and what it can tell us about the relationship between the U.S.'s national security and those working at the bleeding edge of technological development:
In the newest installment of Water Wars, Teresa Chen and Alana Nance discussed the United States's recent activity in the Indo-Pacific, including the indictment of two U.S. Navy sailors for passing sensitive military information to Chinese intelligence officers. They also examined military developments in Taiwan, AUKUS progress on nuclear submarine capabilities, developments in the Philippines' relationships with China and the United States, and more.
On the Lawfare Podcast, Anna Hickey sat down with Emily Bass to discuss the President's Emergency Plan for AIDS Relief, how the program has changed since its creation by President George W. Bush in 2003, why it is at risk of expiring this fall, and what the expiration would mean for the millions of people who depend on it:
And Wittes, Scott Shapiro, and Sean O'Brien shared the sixth class in Lawfare's Hacking and Cybersecurity course, entitled, "Networking II." They covered the internet, packet and circuit switching, command line exercises, Wireshark, and more.
And that was the week that was.
---
Gia Kokotakis was an intern at Lawfare and is a senior at Georgetown University, where she studies government, French, and Jewish civilization. She received an Attestation d'Études Politiques from Sciences Po Lyon in May 2023.