Trump Indicted in Mar-a-Lago Probe
We don't know much—yet.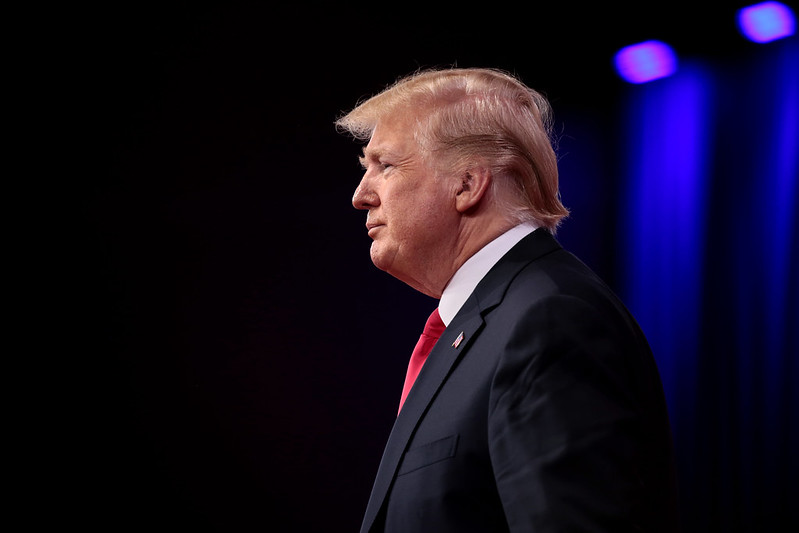 Published by The Lawfare Institute
in Cooperation With


A grand jury in South Florida has reportedly indicted former President Donald Trump in connection with the Mar-a-Lago documents investigation. The indictment is under seal, but it apparently includes seven counts involving improper retention of classified material and conspiracy to obstruct the special counsel investigation.
The former president is taking it well: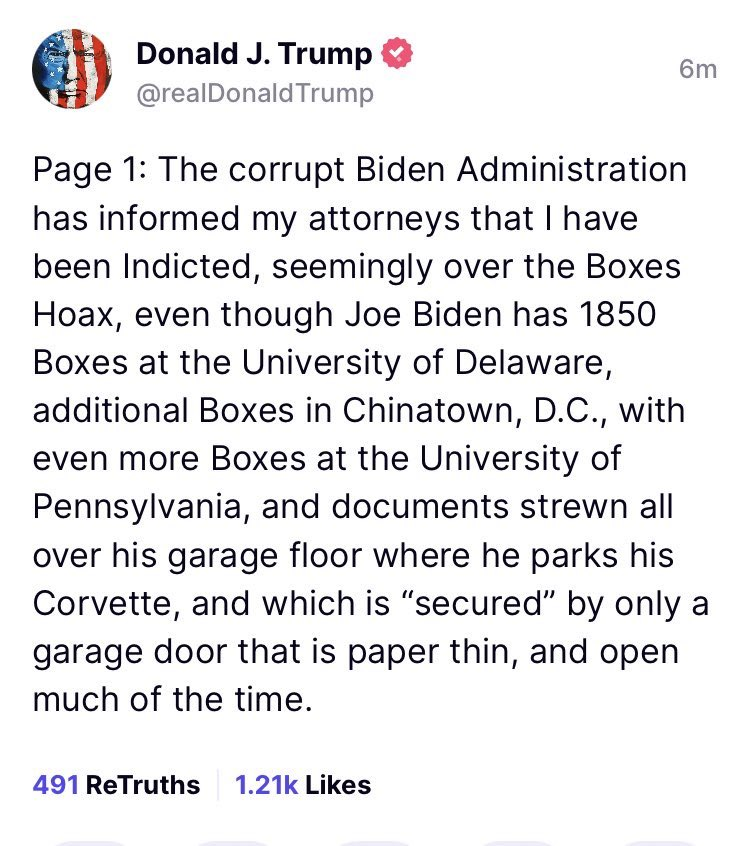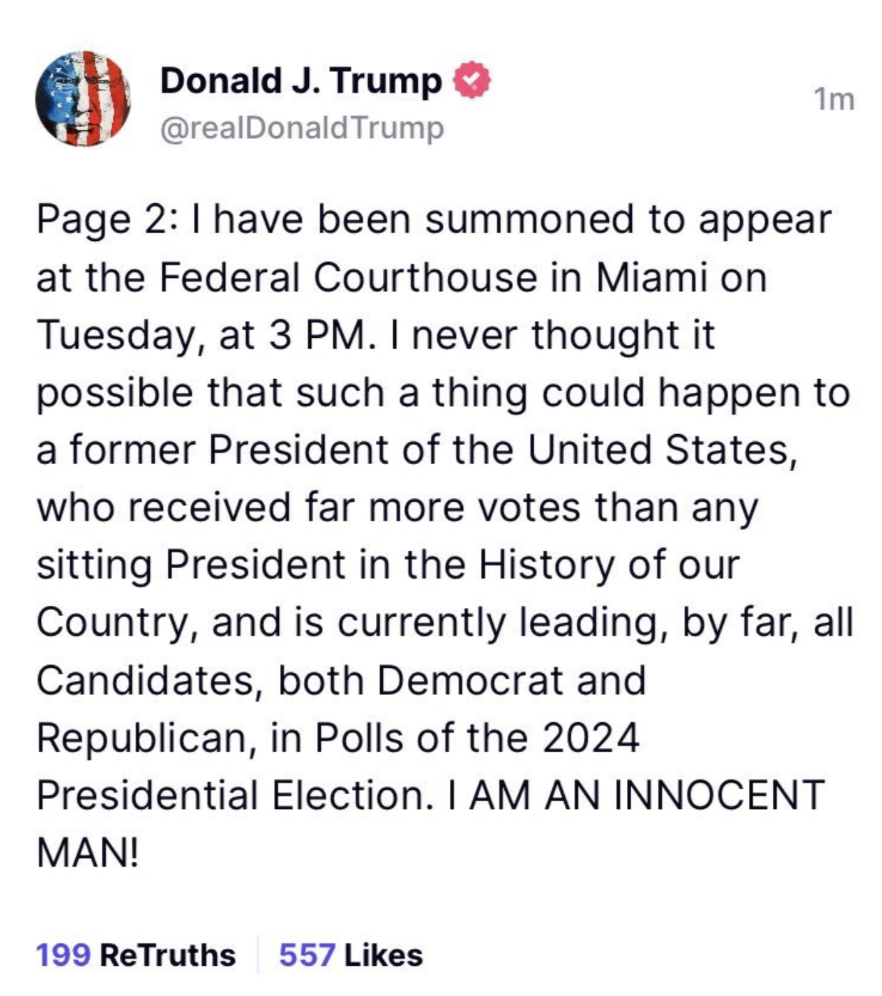 The indictment is no surprise. Only yesterday evening, multiple press organizations reported that Trump had received a target letter from the Office of Special Counsel, and on Monday, Trump's attorneys met with the special counsel to try to talk him out of bringing the case. These were sure signs that an indictment was imminent.
In terms of substance, all we know about the indictment is that it is believed to consist of seven charges, all relating to the classified documents investigation arising out of Mar-a-Lago, not the Jan. 6 investigation or any other matters within the Special Counsel's purview. They're reported to include "willful retention of national defense information, corruptly concealing doc[ument]s, conspiracy to obstruct justice, [and] false statements." Nor is it hard to imagine how the Justice Department could arrive at seven counts, given the recent reporting on the investigation and the underlying conduct. The original search warrant filed by the FBI identified three criminal provisions that had potentially been violated, all of which still seem to be in play: 18 U.S.C. § 793, a part of the Espionage Act that covers the unlawful retention of "national defense information"; 18 U.S.C. § 1519, which makes it a crime to "knowingly…conceal[]" any record with the intent to obstruct or impede a federal investigation; and 18 U.S.C. § 2071, which covers the willful and unlawful concealment of federal records. One or more counts of conspiracy (18 U.S.C. § 371) relating to these offenses and for making false statements to federal law enforcement (18 U.S.C. § 1001) would bring the count to seven handily.
Of course, a conspiracy charge would imply that President Trump did not act alone. And the criminal docket in the Southern District of Florida, actually shows five sealed cases handed up today, two of them with successive case numbers. This may, or may not, suggest that there might be other defendants in the case: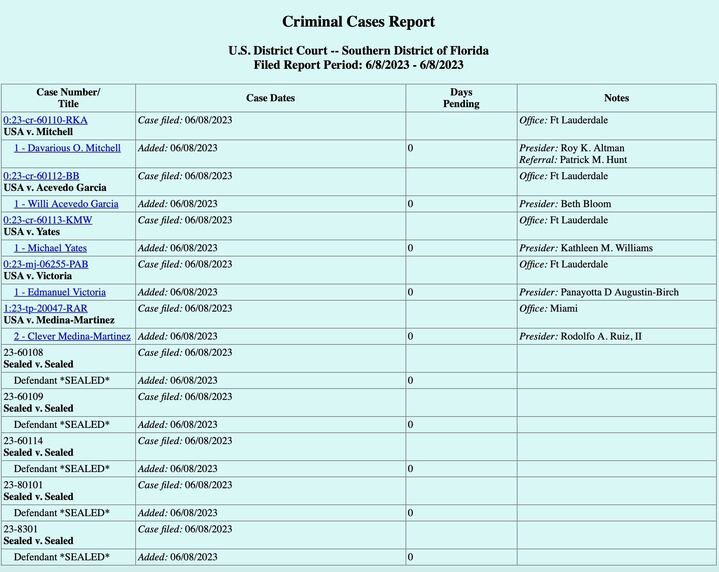 This being Lawfare, and not cable news, we are going to wait until there is an actual indictment before commenting on its strength or substance. We have scheduled an emergency podcast taping for tomorrow afternoon, on the assumption that additional information will become available by then. An arraignment hearing is scheduled for Tuesday, and we will cover that, of course.
In the meantime, we urge caution about commentary in the absence of knowledge or documents. A great deal will be said with great confidence before anyone even knows how many pages the indictment contains. Be careful of all of it. The serious discussion will wait until anyone knows what the Justice Department has alleged and said it will prove.
---
Scott R. Anderson is a fellow in Governance Studies at the Brookings Institution and a Senior Fellow in the National Security Law Program at Columbia Law School. He previously served as an Attorney-Adviser in the Office of the Legal Adviser at the U.S. Department of State and as the legal advisor for the U.S. Embassy in Baghdad, Iraq.
Benjamin Wittes is editor in chief of Lawfare and a Senior Fellow in Governance Studies at the Brookings Institution. He is the author of several books.