U.S. Shifts Support for Saudi Intervention in Yemen, Gaza Clashes Spark Political Crisis in Israel, Trump Administration Eases Pressure over Khashoggi Murder
Fighting in Hodeidah Closes in on Strategic Port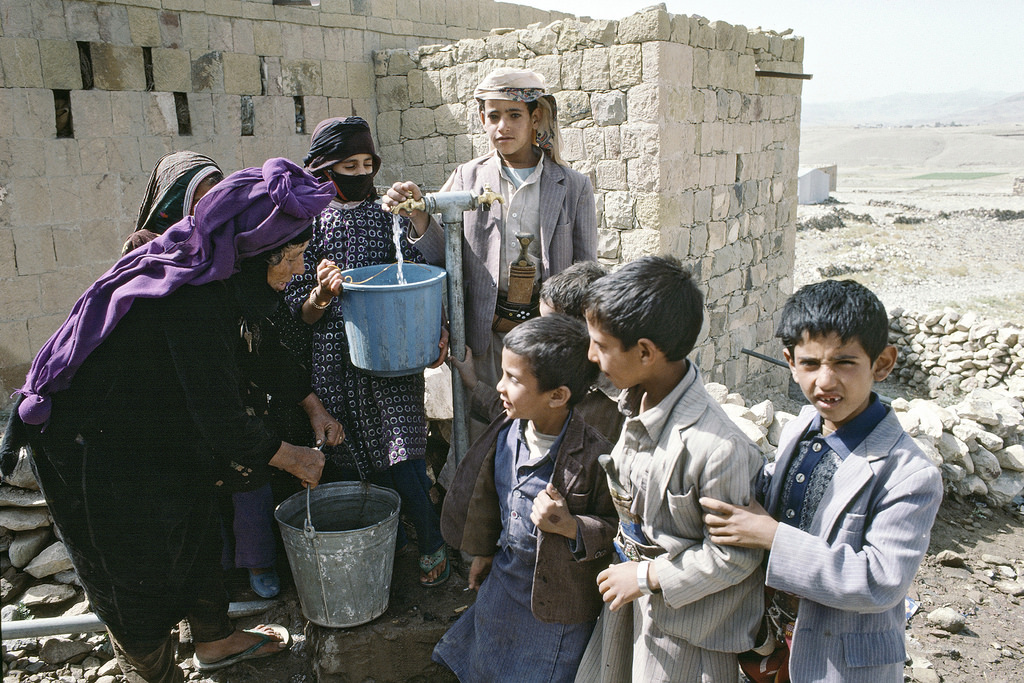 Published by The Lawfare Institute
in Cooperation With


Fighting in Hodeidah Closes in on Strategic Port
Deadly clashes between Saudi- and Emirati-backed pro-government forces and Houthi militants continued over the weekend in the strategic port city of Hodeidah, Yemen. Medics in the city reported that at least 150 people, including seven civilians, were killed on Sunday alone, as Saudi airstrikes continued to batter the area, pro-government fighters advanced into the city, and Houthis counterattacked and deployed snipers in civilian neighborhoods. Witnesses told Amnesty International that hundreds of people, "including a malnourished woman carrying her daughter in a surgical robe and a man still hooked up to a catheter," were forced to flee a series of explosions near a hospital. Clashes eased somewhat on Monday, but reports of a de-escalation now appear premature; Saudi airstrikes resumed Monday evening after an approximately 12-hour pause, targeting the entry to the city's port, a critical conduit for 80 percent of the humanitarian aid entering the country.
There are some preliminary signs of progress toward renewed diplomacy, though. British Foreign Secretary Jeremy Hunt said Tuesday that, in meetings in Riyadh and Abu Dhabi on Monday, officials from the Saudi-led coalition had agreed to allow Houthi forces to safely evacuate some of their wounded fighters out of the country for medical treatment in Oman. "In my meetings we have made progress in removing the largest stumbling block to previous proposed rounds of peace talks, and set out a credible path to a de-escalation of military activity," Hunt said. "I leave the region encouraged by these signs of progress, and I am determined to do what it takes to convert this into a lasting peace for the people of Yemen."
Even the Trump administration, which has previously resisted calls for the United States to wind down its support for the Saudi intervention in Yemen, is pressuring Riyadh to halt the fighting. Last month, the State Department and Department of Defense called for a resumption of peace talks, and on Saturday, the Washington Post reported that the United States would no longer participate in sorties to refuel Saudi aircraft. "This marks the first time that the United States has taken a concrete measure to rein in the Saudi war effort," Brookings Senior Fellow Bruce Riedel told the Post. "Two administrations have basically given the Saudis a blank check to do whatever they wanted. Now it will be harder for the Saudis to carry out airstrikes deep into Yemeni territory, going after the capital, for instance."
The administration's decision is a striking shift in policy that suggests that it is running out of patience with Saudi Arabia's war. It is now unclear what involvement the United States still has in the coalition's operations. The United States has also provided targeting support for Saudi airstrikes at times, and Yahoo News reports that the Pentagon recently disclosed a new classified program in Yemen, Operation Yukon Journey, which involves work with the "Kingdom of Saudi Arabia and Partner Nations in Yemen." Experts have speculated that the operation could be focused on targeting al-Qaeda in the Arabian Peninsula or Houthi ballistic missile sites. Republicans in Congress are trying to protect U.S. involvement in the Saudi intervention, and on Tuesday moved to scuttle legislation in the House of Representatives that would require the United States to cease its support operations to the Saudi coalition, HuffPost reports.
Despite the ambivalent U.S. pressure on Riyadh and the confidence-building measures brokered by Britain, negotiations seem unlikely in the near term. In statements, U.S. officials have called for a resumption of talks by the end of November, but the tentative date for convening the parties has now been postponed a month. And as fighting closes in on the port in Hodeidah, the situation could decline rapidly if aid supplies are disrupted. The United Nations has warned that continued fighting could put 12 to 13 million people at risk of starvation, and rates of malnutrition have already doubled just in the past month in the area around the city, according to Mercy Corps.
Two Days of Clashes along Gaza Border Prompt Political Crisis in Israel
After a steady, months-long drumbeat of weekly border demonstrations that have resulted in the deaths of protesters, Israel and Hamas have in recent weeks tried to cool tensions with efforts to establish a long-term ceasefire. Israel has been allowing Qatari shipments of diesel to enter the Gaza Strip to fuel the territory's power plant and last week let the Qatari envoy to Gaza deliver $15 million in cash to be distributed for humanitarian purposes and to pay Gazan civil servants who have not received salaries for months. Israeli cabinet officials have been critical of the arrangement, but several of the critics were reportedly involved in negotiating its terms with Qatar before it was approved by the Israeli security cabinet in August. Israeli Prime Minister Benjamin Netanyahu defended the deal this past weekend as part of a broader policy aimed at de-escalating tensions in Israel's south. "I'm doing everything I can in coordination with security experts to return calm to [Israeli] villages of the south, but also to prevent a humanitarian disaster [in Gaza]," he said on Saturday, shortly before departing for France to attend ceremonies commemorating the end of World War I. "It's a process. I think at this time, this is the right step."
But the developing ceasefire fell apart on Sunday when a covert Israeli operation in Gaza was detected, prompting a deadly firefight and touching off a new round of hostilities. Israeli commandos reportedly entered Gaza wearing disguises and driving a civilian car and drove to the home of Noor Baraka, a Hamas military commander involved in the militant group's rocket and tunneling operations, who was previously targeted in an Israeli missile strike in 2009. Israeli officials have said that the operation was an intelligence mission, and it is unclear who fired first, but the Israeli forces engaged in a firefight with Hamas militants and then engaged in running battle with as they withdrew back across the Israeli border, calling in approximately 40 airstrikes to cover their egress. Baraka and six other Palestinians were killed, as was an Israeli lieutenant colonel; another Israeli officer was also wounded.
The raid has been followed by a surge in attacks by both sides. As Neri Zilber wrote for The Daily Beast, Hamas' retaliation began when Hamas militants launched an anti-tank missile across the border at a bus that was dropping of IDF personnel, one of whom was seriously injured by the blast. Afterwards, "Gaza's militant factions immediately began firing rockets and mortars into southern Israel," Zilber reports. By Tuesday evening, around 460 projectiles had been fired into Israel from Gaza, according to the IDF. Israel has responded with more than 160 airstrikes, including attacks that destroyed the studios of Hamas' television station, its military intelligence offices, and multiple weapons caches.
Netanyahu cut short his trip to France and returned to Israel on Monday, and on Tuesday convened his security cabinet, which agreed to "continue operations as needed." By Tuesday evening, Hamas officials were telling reporters that they would abide by a tenuous ceasefire brokered by Egypt but would respond to additional Israeli strikes. Zilber and Haaretz's Amos Harel have both noted that both sides are eager to avoid another war, and there are indications that, even as the two sides exchanged fire over the past couple days, there has been an effort to contain the conflict. Hamas only mobilized its short-range rockets and did not target the biggest cities in southern Israel, and Israeli border forces allowed the Kerem Shalom crossing to remain open to food and humanitarian supplies.
Those limits on the conflict might make the ceasefire easier to maintain, but were not necessarily apparent to civilians caught in the fighting. On Tuesday evening, after the ceasefire seemed to take hold, "dozens of protesters in the rocket-battered town of Sderot chanted 'Disgrace!' at what they saw as the government's capitulation to militant violence," the Associated Press reports. Israeli politicians have been traveling to southern cities over the past couple days to leverage the flare-up for their political purposes, and on Wednesday, Netanyahu's defense minister and right-flank political rival, Avigdor Lieberman, announced he was resigning from his post and withdrawing his party from Netanyahu's coalition. Without Lieberman's Israel Beitenu party, Netanyahu's coalition will hold just a one-seat majority in the Knesset. "What happened yesterday—the truce combined with the process with Hamas—is capitulating to terror," Lieberman said, before calling for early elections.
Trump Administration Eases Pressure on Saudi Arabia over Khashoggi's Murder
More evidence regarding the Saudi government's murder of journalist and Washington Post columnist Jamal Khashoggi has emerged over the past two weeks, but as the apparent responsibility for the operation has crept closer to Crown Prince Mohammed bin Salman (MBS), Trump administration officials have backed away from some of the stronger comments they have made about holding the Saudi government to account.
Turkish intelligence officials have shared audio of Khashoggi's death obtained from the Saudi consulate with the United States, Saudi Arabia, Britain, France, and Germany, Turkish President Recep Tayyip Erdogan said on Saturday. The recording had previously been heard by intelligence officials, including CIA Director Gina Haspel, but not given to other countries. Turkish officials have told the Washington Post that Khashoggi can be heard being choked violently for more than seven minutes on the tape, and the New York Times has reported that after his death, Maher Abdulaziz Mutreb, a member of the 15-man team sent to Istanbul, placed a call in which he told someone to "tell your boss" that the operation had been completed. That call may have been to Saud al-Qahtani, a senior official widely seen as MBS' enforcer who was recently removed from his role as a royal advisor for his involvement in Khashoggi's death. Reuters has reported previously that Qahtani at one point skyped into the Saudi consulate to berate Khashoggi before telling the team there to kill him. If the call was to Qahtani, there is little doubt that the boss he was supposed to tell was MBS. "A phone call like that is about as close to a smoking gun as you are going to get," Bruce Riedel told the Times.
U.S. officials have tried to avoid that conclusion. When asked whether the audio implicated MBS last week, national security adviser John Bolton said he had not listened to it and claimed that intelligence officials who had did not think it pointed responsibility toward the crown prince. State Department spokesperson Heather Nauert said last week that Secretary of State Mike Pompeo has also declined to listen to the audio, arguing that "it wouldn't be appropriate" for him to do so in his diplomatic role. The Trump administration has been ambivalent in its response to Khashoggi's murder, but the president has at times threatened to follow through with "severe punishment." Two weeks ago, the United States canceled the visas of 21 Saudi citizens believed to have been involved in the plot, but the administration now appears unwilling to press the issue further. That may fall to Congress. Sen. Bob Corker, the retiring chairman of the Senate Foreign Relations Committee, has said that he has found the evidence of MBS' involvement in Khashoggi's death compelling. "[W]e've got to figure out a way to cause (the Saudis) to pay a price," he told reporters last week.
---
J. Dana Stuster is the deputy foreign policy editor for Lawfare and a PhD candidate at Yale University. He worked previously as a policy analyst at the National Security Network and an assistant editor at Foreign Policy magazine.