Water Wars: Trump Exports 'America First' to Asia
On Tuesday, U.S. President Donald J. Trump concluded his marathon 12-day Asia tour, which raised new questions about the United States' role in the region—specifically, what does "America First" mean for a region caught between an intimidating neighbor growing quickly in power and influence and a distant friend seeking to collect on old debts? And what does the answer mean for the South China Sea?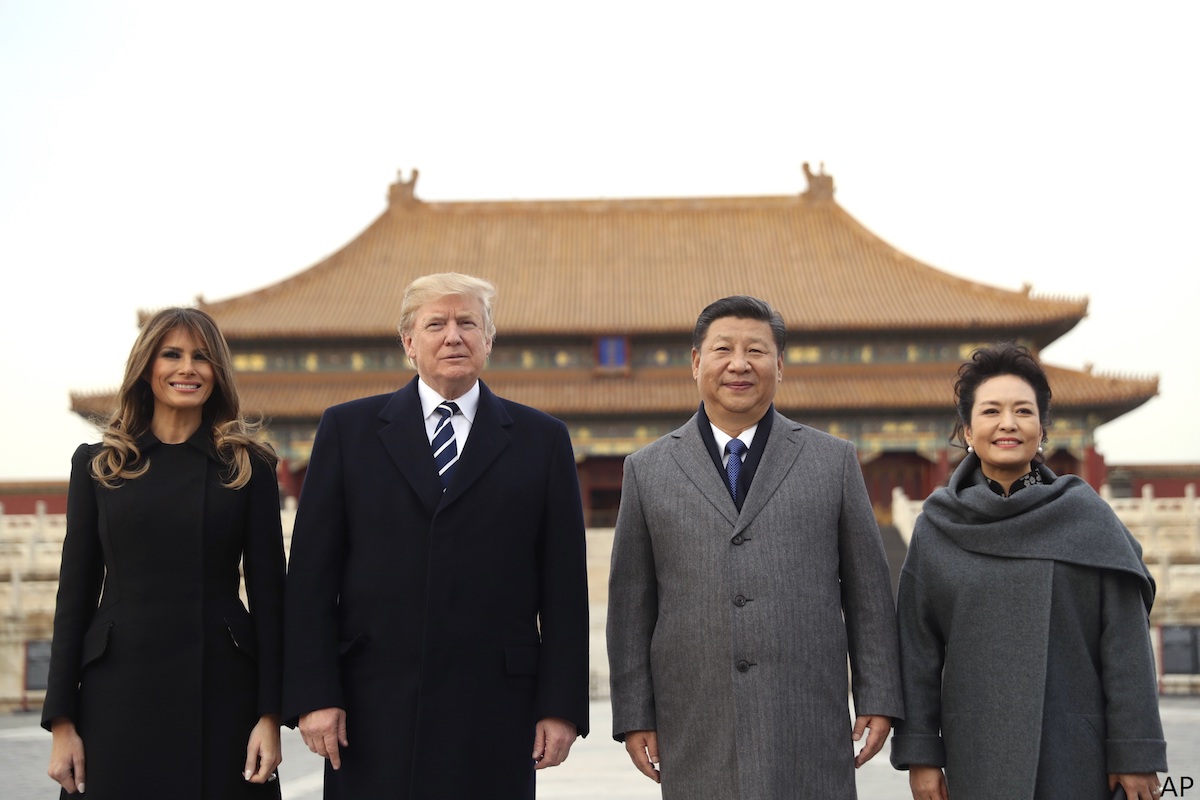 Published by The Lawfare Institute
in Cooperation With


On Tuesday, U.S. President Donald J. Trump concluded his marathon 12-day Asia tour, which raised new questions about the United States' role in the region—specifically, what does "America First" mean for a region caught between an intimidating neighbor growing quickly in power and influence and a distant friend seeking to collect on old debts? And what does the answer mean for the South China Sea?
In the run-up to Trump's trip, satellite photos showed that China had continued to pursue its construction efforts in the South China Sea at a swift pace, and commentators insisted that the South China Sea must be among the primary issues Trump raised on the trip. Following these reports, the administration unveiled a theme for the tour: "a free and open Indo-Pacific," a vision quite compatible with that of previous administrations. National security adviser Lt. Gen. H.R. McMaster explained, "[Trump's] trip is a great opportunity to demonstrate America's and the Trump administration's commitment to the Indo-Pacific and our efforts to strengthen longstanding American alliances and expand new partnerships." But as became clear during Trump's first stops in Japan and South Korea, that commitment to freedom and openness may come with strings attached: significant trade concessions.
After conferring with the U.S.' closest regional allies (and pushing military gear to help narrow trade deficits), Trump arrived in Beijing to a lavish reception. There he had a "frank" exchange with Chinese President Xi Jinping over the South China Sea; Chinese state media reported that both parties expressed support for freedom of navigation and overflight. After the visit, the administration unveiled a $300 billion bundle of deal memoranda of understanding, which, if realized, would ever-so-slightly narrow the U.S.-China trade deficit, which Trump called "very one-sided and unfair." He quickly qualified that remark, though, saying, "I don't blame China. Who can blame a country that is able to take advantage of another country for the benefit of its citizens? I give China great credit."
The tour's next stop was the Asia-Pacific Economic Cooperation (APEC) meetings on the shore of the South China Sea in Da Nang, Vietnam, where Trump hammered home his economic message: "[W]e seek robust trading relationships rooted in the principles of fairness and reciprocity ... We expect that markets will be open to an equal degree on both sides." He also briefly alluded to the South China Sea dispute, saying, "we must uphold principles that have benefitted all of us, like respect for the rule of law, individual rights, and freedom of navigation and overflight, including open shipping lanes." Later, in Hanoi, Trump offered to "mediate" the dispute over the South China Sea, telling Vietnamese President Tran Dai Quang, "I am a very good mediator and arbitrator." Philippine Foreign Affairs Secretary Alan Cayetano "welcomed" the offer, after Philippine President Rodrigo Duterte promised constituents he would confront Xi on the sidelines of the APEC conference, but returned to Manila suggesting the dispute was "better left untouched" as Xi had informed him that China's military build-up in the region was "nothing." Also in that conversation, Xi, in keeping with China's aspirations to regional leadership, appeared to suggest it was open to assuming a role similar to that of the United States in "safeguard[ing] peace, stability, and prosperity of the South China Sea region." Xi later engaged in bilateral meetings with Vietnam, during which the topic of their South China Sea conflict was carefully navigated to avoid boiling over into subsequent multilateral meetings. Reports from Japan indicated that China had sought to minimize discussion of the South China Sea during bilateral meetings.
Duterte, who chairs the Association of the Southeast Asian Nations (ASEAN), played host to both the 50th ASEAN Forum and the East Asia Forum in Manila after the conclusion of the APEC meetings. There he reiterated his earlier statements in a speech: "The South China Sea is better left untouched. It can ill afford a violent confrontation. We don't have the luxury of war and violence." He also met with Australian Prime Minister Malcolm Turnbull, and discussed a code of conduct for the South China Sea, among other things. Soon after, ASEAN and China agreed to begin code of conduct talks—which Chinese Premier Li Keqiang said would "stabilize" the region. The parties also agreed to a regional marine environmental pact.
Though Trump left the East Asia Summit before its conclusion due to a program delay, he was reported to have told leaders there, "I remain concerned about China's efforts to build and militarize outposts in the South China Sea." Just before returning to Washington, an on-message Trump offered a summary of the trip's message: "[W]e want fair trade. We want reciprocal trade. And we'll see a lot of great things happen. We're also very open—we're open for trade. But we have to be treated fairly. We have to be treated in a reciprocal fashion." He appears to have made no mention of the South China Sea dispute.
In Other News...
India/Japan/Australia/US
Japan, India, Australia and the United States engaged in quadrilateral talks in Manila this week over regional cooperation, recalling similar discussions in the early- and mid-2000s. Kevin Rudd, the prime minister of Australia at the time, had withdrawn from the group, known as the "Quad" to secure better relations with China. This week, the meeting consisted of "working officials" discussing seven key themes: "the rules-based order in Asia, freedom of navigation and overflight in the maritime commons, respect for international law, enhancing connectivity, maritime security, the North Korean threat and nonproliferation, and terrorism." Commentators contemplated the significance of the Quad's resurrection.
United States
Australia, South Korea and the United States conducted joint military drills in the East China Sea, with Japan joining later upon South Korea's departure. In a rare move, the United States' contingent consisted of three carrier groups: the USS Nimitz, USS Ronald Reagan, and USS Theodore Roosevelt groups.
The U.S. is also considering sending a permanent Coast Guard contingent to the South China Sea.
United States-Philippines
After their meeting in Manila, Trump and Duterte issued a joint statement, which Julian Ku noted contained no mention of human rights or of the South China Sea arbitral award. Trump discussed the Philippines in his remarks to the press gaggle at the conclusion of the trip, saying, "we have a very, very strong relationship with the Philippines, which is really important—less so for trade, in this case, than for military purposes. It is a strategic location—the most strategic location. And, if you look at it, it's called the most prime piece of real estate from a military standpoint."
China
Over the past two weeks, China appears to have made a concerted effort to display its technical prowess in the maritime, energy and military fields, all geared toward reinforcing and making permanent their presence in the South China Sea. They announced a "stable power supply" on the Paracels' Woody Island, a large drone to support island transport missions, a wind turbine installation vessel, upgrades to its carrier jet-launch system, an offshore nuclear reactor, plans to launch a commercial rocket from a platform in the South China Sea, and, last but not least, a massive island-building vessel to go into service "in early 2018."
United States-China
China's aspirations for exclusive regional leadership are clear, as it insisted the U.S. stay out of South China Sea talks, saying, "The South China Sea isn't an issue between China and the United States" and that the U.S. should "plant more flowers and fewer thorns, help and not cause problems." Meanwhile, Chinese aircraft continue to practice bombing runs near Guam, in an attempt to test U.S. air defense capabilities. Military officials called China "very much the long-term challenge in the region," as it begins contesting airspace over the South China Sea "on a daily basis."
China-Philippines
Duterte is holding on to Chinese promises not to occupy the Scarborough Shoal and Pag-Asa Islands off the coast of the Philippines and is said to be "hopeful" China will stop its expansion. Meanwhile, Philippine attempts to expand their own presence within their exclusive economic zone were halted after Beijing complained. China and the Philippines have set up a "hotline" for communication regarding maritime conflicts in the South China Sea. Finally, experts analyzed the proposed joint oil exploration deal between China and the Philippines to determine whether it comports with Philippine law.
Taiwan
As China's military grows, Taiwan is increasing its own military expenditures, and continuing construction efforts on an island it claims in the South China Sea. The country's president visited the U.S. this week, and Taiwan made efforts to build inroads with both the U.S. and China during the meetings in the Southeast Asia.
Analysis and Commentary
Important commentary and analysis this week includes discussion of Trump's "America First" vision in Asia, which critics say "actually increases anxiety" in the region, by "failing to reassure allies." Former national security adviser Susan Rice said Trump was "Making China Great Again" by leaving the United States more isolated and in retreat, handing leadership of the newly christened "Indo-Pacific" to China on a silver platter. Others puzzled over how the U.S. expects to get things done in the region without sufficiently engaging economically. Some were concerned by the U.S.'s failure to communicate the gravity of the South China Sea issue.
Other commentators celebrated the resurrection of the Trans-Pacific Partnership (minus the U.S.), which "offers a liberal alternative to the Chinese economic model of protected markets and policies favoring state "champions" while also advancing the vision of multilateralism as the Trump administration pushes for one-on-one deals."
Perhaps most poignantly, The Diplomat's Charlotte Gao recalled Xi's recent quotation of American founding father Benjamin Franklin, "He who can have patience, [sic] can have what he will," and concludes her piece with the following: "Trump's trip in Beijing seems to have fully demonstrated the saying to the world: China can have what it will, using patience as well as money."
Water Wars is our biweekly roundup of the latest news, analysis, and opinions related to ongoing tensions in the South and East China Seas. Please email Sarah Grant with breaking news, relevant documents, or corrections.
---
Jimmy Chalk is a JD candidate at Harvard Law School. Before law school, he worked for five years as a multimedia journalist in Latin America, primarily for The New York Times. He graduated cum laude from New York University.