Water Wars: U.S. and China Tug-of-War for Influence in Pacific Islands
A historic summit between U.S., Japan, and South Korea; China's minister of defense reportedly relieved of command for corruption; and more.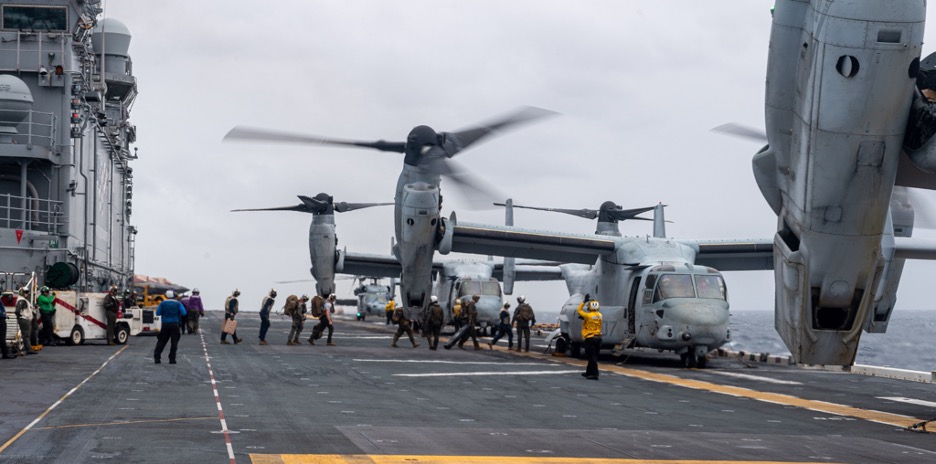 Published by The Lawfare Institute
in Cooperation With


China's Military Presses Forward Despite Top-Level Leadership Shakeup

China's Minister of Defense Reportedly Ousted for Corruption

U.S. officials reportedly believe that Li Shangfu, China's defense minister who was appointed only this past March, has been relieved of his command and is under investigation for corruption. According to Japan Times, Li has not been seen or heard from since Aug. 29. One Chinese official claimed that his absence was due to "health issues," but U.S. sources report that Li was "taken away" by Chinese authorities for questioning.
Li is not the first high-level official in the Chinese government to be removed in recent months. In July, for example, President Xi Jinping removed then-Foreign Minister Qin Gang and abruptly fired two generals who formerly led the People's Liberation Army (PLA) Rocket Force in August. In October 2022, Xi decisively consolidated power and solidified a third five-year term as president, stacking the government with loyal allies in the process. The recent series of high-level purges over a relatively short time frame may indicate growing turmoil in Xi's government.

U.S. ambassador to Japan Rahm Emanuel suggested that Li had likely been placed under house arrest, quipping, "As Shakespeare wrote in Hamlet, 'Something is rotten in the state of Denmark.'" Former CIA China Analyst Dennis Wilder told the Washington Post that the PLA is often judged by the equipment they've been procuring as they rapidly build a military meant to compete with the United States; however, the allegations of corruption lead to doubts about the "quality and reliability" of the PLA's officer corps.

The Chinese Embassy in Washington, D.C., declined to comment on Li's disappearance. China's foreign ministry spokesperson Mao Ning claimed she was unaware of the situation.
New Guided Missile Frigate Launches from Hudong Shipyard

Following rumors on Chinese social media about the launch of the first of a new class of warship, the Chinese defense ministry confirmed the development of a new guided missile frigate. The new Type 054B frigate is slated to replace the Type 054A frigate, which has been in service since 2008. Since late 2022, observers have noted the construction of the first two hulls of the Type 054B at Hudong shipyard and Huangpu shipyard. The first of these was launched from Hudong shipyard in late August and—after a period of sea trials—is expected to enter service in 2025. Photos posted online suggest that the Type 054B is significantly larger than the Type 054A, with an added length of at least 10 meters and estimated added displacement of 2,000 tons (a 50 percent increase in comparison to the Type 054A).
PLAN Tests Powerful Electromagnetic Coil Gun

In August, the Chinese Navy tested a new electromagnetically powered coil gun, which the Beijing Times described as "the most potent coil gun on earth." The 124-kilogram (273-pound) projectile launched during the test was reportedly the heaviest known projectile to have been used in a coil gun experiment. Test data revealed to the public indicates that the launcher accelerated the projectile to a speed of 700 kilometers per hour (435 miles per hour) in less than 0.05 seconds.

By contrast, an "electromagnetic coil mortar test device" at Sandia National Laboratories in the United States can launch a projectile weighing 18 kilograms (approximately 40 pounds). After 10 years and $500 million in research and development on electromagnetic rail guns, the U.S. canceled its rail gun project in 2021 to dedicate more resources to hypersonic missiles, directed-energy systems, and electronic warfare systems. The abandonment of the U.S. rail gun project was largely due to the Navy's inability to get the weapon to fire a maximum range that would permit a Navy warship to use the weapon without coming within range of enemy missiles. Details on the Chinese coil gun's maximum range are classified, but based on its reported speed, the projectile could likely travel several kilometers.

Speculation About Construction of New Airstrip on Disputed Island

Satellite imagery indicates that China may be constructing another airstrip on Triton Island (known in China as Zhongjian Dao; Taiwan: Zhongjian Island; Vietnam: Đảo Tri Tôn), a disputed South China Sea feature located in the Paracel Islands (China: Xisha Qundao; Vietnam: Quần đảo Hoàng Sa). The disputed island is located south of China's Hainan Island and east of Vietnam, and claimed by China, Vietnam, and Taiwan. The Associated Press reported visible airstrip construction on Triton in August. The modest 600-meter runway is shorter than those China has previously constructed on other contested South China Sea features and thus limits the type and size of aircraft that are able to use it. In contrast, the runway constructed on Fiery Cross Reef (China: Yongshu Jiao; Philippines: Kagitingan Reef; Taiwan: Yongshu Reef; Vietnam: Đá Chữ Thập) in the Spratly Islands (China: Nánshā Qúndǎo; Philippines: Kalayaan Islands; Vietnam: Quần đảo Trường Sa) is approximately 3 kilometers long. Scholars from the Asia Maritime Transparency Initiative (AMTI) doubt that construction of the alleged airstrip indicates the beginnings of any Chinese power projection toward Vietnam, citing the small size of the possible runway and absence of taxiways. The AMTI scholars argue that the construction is more plausibly an elevated roadway connecting existing facilities to planned new construction, and an airstrip is "neither the most likely nor most useful option."

Vietnam reportedly plans to fortify its own military foothold on South China Sea features currently controlled by Hanoi in the disputed Spratly Islands. The Vietnamese defense ministry's plan includes expanding existing facilities on Pearson Reef (China: Bisheng Jiao; Philippines: Hizon Reef; Taiwan: Bisheng Dao; Vietnam: Đảo Phan Vinh) and Pigeon Reef (also known as Tennent Reef) (China: Wumie Jiao; Philippines: Lopez-Jaena Reef; Vietnam: Đá Tiên Nữ). The $270 million plan involves land reclamation for a large dock; upgrades to missile and anti-aircraft installations; housing for military personnel and civilians; and transportation, energy, wastewater treatment, and waste disposal systems.
Chinese Military Holds Joint Training Exercise with Thailand

In early September, China and Thailand conducted joint naval training exercise "Blue Strike-2023" in the Gulf of Thailand. According to China's defense ministry, the joint exercise involved training on "joint command, joint anti-submarine operations, helicopter cross-deck landing, mutual presence aboard each other's ships, jungle survival, urban combat, and helicopter fast-roping" with the goal of highlighting unity, practicality, and combat readiness. Rear Admiral Chen Weidong, commander of China's participating troops, claimed that the exercise positively impacted combat readiness of the participants and enhanced their ability to respond jointly to regional security threats.

The Philippines Deepens Its Partnership with Australia

Australia and the Philippines upgraded their bilateral relationship to a strategic partnership during Australian Prime Minister Anthony Albanese's visit to Manila on Sept. 8. Albanese and Philippine President Ferdinand Marcos Jr. signed a joint statement formalizing the agreement, which pledged cooperation across multiple areas including defense and security, economic relations, and climate change. Notably, the agreement reaffirmed the two countries' commitment to preserving peace in the Indo-Pacific, recognizing that "stability in the region is anchored on respect for national sovereignty and shaped by long-standing agreed rules and norms, based on international law." They agreed to hold regular high-level bilateral talks and committed to an annual meeting between the Philippine and Australian defense ministers. Additionally, the two countries reaffirmed their shared commitment to a rules-based international order, highlighting the importance of freedom of navigation and overflight in accordance with international law. They affirmed that disputes should be settled in accordance with the UN Convention on the Law of the Sea (UNCLOS) and asserted that the 2016 South China Sea Arbitration (which upheld the Philippines' maritime claims against China's historic rights claim) was final and binding.
In addition to formally upgrading their partnership, Australia and the Philippines recently committed to joint South China Sea patrols and conducted their first joint amphibious exercises, in which Australian, Philippine, and U.S. forces practiced retaking an island in the South China Sea. Like the U.S., Australia has a Visiting Forces Agreement with the Philippines, which allows for larger-scale joint exercises.

The Philippines' newly expanded relationship with Australia comes during a period of heightened tensions over its conflicting maritime claims with China. In early August, Chinese Coast Guard and maritime militia vessels fired water cannons at and attempted to block a Philippine ship on a routine mission to resupply the garrison aboard the BRP Sierra Madre, which the Philippines intentionally grounded in 1999 on Second Thomas Shoal (Philippines: Ayungin Shoal; China: Ren'ai Jiao; Taiwan: Ren'ai Ansha; Vietnam: Bãi Cỏ Mây) in order to reinforce its territorial claim to the feature. The Philippines has refused Beijing's requests to remove the grounded ship. Shortly following the Sierra Madre incident, China's foreign minister encouraged the Philippines to work with China to defuse tensions via a bilateral dialogue.

Pacific Islands Caught in the Center of U.S.-China Tug-of-War

Vanuatu in Political Turmoil Over Pact with Australia
On Aug. 25, Vanuatu's Supreme Court ruled that the country's prime minister, Ishmael Kalsakau, had lost a no-confidence vote in parliament after opposition leader Bob Loughman launched a petition criticizing Kalsakau for signing a security agreement with Australia. Political turmoil following the court's ruling resulted in the deployment of Chinese police experts to assist Vanuatu police in "maintain[ing] social order." Loughman, who served as the previous prime minister and is known for drawing Vanuatu closer to China, alleged that Kalsakau's pact with Australia "compromised Vanuatu's 'neutral' status" and could jeopardize the country's relationship with China. On Sept. 4, Vanuatu's parliament elected former Prime Minister Sato Kilman to replace Kalsakau.

Only days before the Supreme Court's ruling on the no-confidence vote, the leaders of four other Pacific Island nations (Papua New Guinea, Solomon Islands, Fiji, and New Caledonia) traveled to Vanuatu to consider making a declaration of "peace and neutrality" in light of geopolitical competition between the U.S. and China. The Pacific Island nations have found themselves in the center of a struggle for influence between China and the U.S. over the past year and a half. After China signed a security pact with the Solomon Islands in May 2022, the Biden administration committed to reengagement with the Pacific Islands. Papua New Guinea signed a defense cooperation pact with the U.S. this past May.

U.S. Escalates Humanitarian Efforts in Papua New Guinea

The U.S. has been beefing up its humanitarian presence in Papua New Guinea. On Aug. 14, the U.S. Agency for International Development (USAID) elevated its presence in Papua New Guinea from a regional satellite office to a Country Representative Office, fulfilling part of the Biden administration's 2022 pledge to strengthen partnerships with the Pacific Islands. According to the administration, the new USAID Country Representative Office in Papua New Guinea will also provide services to the Solomon Islands and Vanuatu, and has pledged to expand its staff by hiring more Pacific Islanders to make USAID support more "impactful" and deliver "sustainable results in line with countries' economic and social development priorities."

In addition to USAID's expanded focus on Papua New Guinea, in July, elements of the 31st Marine Expeditionary Unit (MEU) embarked on the USS America (LHA-6) arrived in the Bougainville region of Papua New Guinea to augment USAID's provision of humanitarian assistance and disaster relief to communities impacted by volcanic eruptions.
Solomon Islands Prime Minister Rebuffs Visit from House Delegation Focused on China

Solomon Islands Prime Minister Manasseh Sogavare declined a request to meet with members of a U.S. delegation who serve on a House select committee focused on China. The delegation visited the Solomon Islands in August but were reportedly told that Sogavare was "too busy" to meet with them. The rebuffed meeting occurred only one month after Sogavare met with Chinese President Xi and pledged to establish a "comprehensive strategic partnership."

The Solomon Islands has steadily drawn closer to Beijing even before signing the May 2022 security agreement. In 2019, the Solomon Islands government switched diplomatic recognition from Taipei to Beijing. This past February, a provincial leader of Malaita Province—known for criticizing the central government's relationship with China—was ousted in a vote of no confidence. In July, the Solomon Star newspaper was accused of accepting funds from the Chinese government in exchange for positive media coverage. In August, the Chinese hospital ship Peace Ark docked in the Solomon Islands for a week to provide free medical care to citizens, and only days prior, Beijing turned over a completed sports stadium complex to the Solomon Islands as a "gift" ahead of the 17th Pacific Games, which will take place in Honiara later this year. The stadium project spanned two years of construction, during which time the Chinese construction enterprises hired and trained nearly a thousand Solomon Islands employees.

U.S., Japan, and South Korea Institutionalize Ties During Historic Summit
On Aug. 18, U.S. President Joe Biden hosted Japanese Prime Minister Fumio Kishida and South Korean President Yoon Suk Yeol at Camp David for a historic summit between the three leaders. This was Biden's first summit hosted at Camp David and the "first-ever standalone summit between the leaders of Japan, the Republic of Korea, and the United States."

Following the summit, the three leaders announced agreements to strengthen trilateral security cooperation, which includes improving coordination on ballistic missile defense and information sharing, coordinating national security and defense strategies, and sharing economic data to mitigate supply chain disruptions. As part of the agreements, the United States, Japan, and South Korea also committed to annual meetings and military exercises. Additionally, statements by all three countries indicated a commitment to bolster trilateral security cooperation aimed to counter increasing threats imposed by both North Korea and China.

The summit at Camp David comes at a time when South Korea and Japan have taken strides to improve bilateral relations, especially as both countries share security concerns in the Asia-Pacific region. Japan-South Korea relations have historically been tense since the Japanese occupation of the Korean Peninsula from 1910 to 1945. However, under Kishida and Yoon, diplomatic relations between the two countries have warmed. In May, for example, Yoon became the first South Korean leader to visit Japan in 12 years. Further, since March, the two leaders have been reportedly meeting on a "nearly monthly basis."
Biden characterized the summit as a "new era," stating that the three leaders "have laid in place a long-term structure for a relationship that will last and will have a phenomenal impact not just in Asia but around the world." Kishida similarly called the summit a "historic turning point" and "a new compass for trilateral cooperation."

Research scholars largely agreed. For example, Yuki Tatsumi, co-director of the East Asia Program at the Stimson Center, stated that the summit and the joint statement were "truly historic" because it signified "the three leaders' determination to elevate this relationship to be an anchor of a free and open Indo-Pacific."

China was critical of the summit, claiming that it was a multilateral initiative aimed at creating a "mini NATO." Following the summit, Chinese foreign ministry spokesman Wang Wenbin asserted that the Asia-Pacific region should not be "turned into a wrestling ground for geopolitical competition." In response to China's allegations, National Security Adviser Jake Sullivan stated that the partnership is "explicitly not a NATO for the Pacific" and stressed the goal of a free and open Indo-Pacific.
Other U.S. Military and Diplomatic Developments in the Indo-Pacific
In late August, military leaders in the United States met with military leaders from Australia, Japan, and the Philippines in Manila to strengthen cooperation among the four nations. During the meeting, the leaders from the four militaries embarked on a U.S. Navy P-8A maritime patrol aircraft for a flight over the South China Sea to "observe the maritime environment and discuss ways to increase interoperability, preserve regional stability, and maintain a free and open Indo-Pacific."
Also in late August, U.S. Secretary of Defense Lloyd Austin and Indonesian Minister of Defense Prabowo Subianto reaffirmed the strength of defense relations between the U.S. and the Philippines. The two military leaders agreed to "preserve international laws and norms, enhance [their] mutual security and defense capabilities, and remain guided by ... shared democratic principles." Austin and Prabowo reaffirmed the strength of their defense partnership and highlighted the sheer number of defense engagements shared between the two nations.
In September, a U.S. delegation participated in the fifth round of negotiations for the Indo-Pacific Economic Framework in Bangkok, Thailand. The negotiations focused on Pillars I (Trade), III (Clean Economy), and IV (Fair Economy). The U.S. delegation, which includes representatives from the U.S. Department of Commerce and the U.S. Trade Representative, was co-led by Sharon H. Yuan from the Department of Commerce and Sarah Ellerman from the U.S. Trade Representative.

Taiwan Publishes First National Defense Report Since Russia's Invasion of Ukraine

On Sept. 12, Taiwan's military published the 17th edition of its National Defense Report, its first report since Russia invaded Ukraine in February 2022. The report aims to detail Taiwan's current security environment and explains Taiwan's defense policies.
The 188-page report methodically explains the strategic environment of the Indo-Pacific region and the scope of Taiwan's security challenges, outlines the island's current and developing national defense capabilities, and identifies areas of policy reform to strengthen Taiwan's national security. Most notably, the report incorporates many lessons that Taiwan has learned from watching Russia's invasion of Ukraine, an event that many have paralleled to Taiwan's relationship with the People's Republic of China. For example, Taiwan's Ministry of National Defense observed that China has been using hybrid warfare tactics against the island, including through military coercion, cyber, and cognitive warfare, just as Russia has against Ukraine. In response to such tactics, Taiwan asserted that it was developing its asymmetrical warfare capabilities and adopting a "whole-of-society approach" to defend against escalating aggression from the Chinese military and a potential cross-strait war. In addition, the report dedicated a chapter to explaining Taiwan's conscription system reform and how such reform will strengthen Taiwan's defense if China launches an attack. In December 2022, President Tsai Ing-wen announced that compulsory military service in Taiwan would be extended from four months to one year, starting Jan. 1, 2024, sparking debate among Taiwan's population.
Taiwan Expelled from Central America's Parliament, Expands Security Ties with Japan

On Aug.21, PARLACEN—the Central American Parliament—voted to expel Taiwan as a permanent observer and replace it with China. The vote comes amid China's growing economic influence in Latin America. A statement issued by PARLACEN explained its decision by citing to the UN's 1971 expulsion of Taiwan in favor of China, and interpreting that to mean that Taiwan is a "province of mainland China, which disqualifie[d] it from participating as an independent country." Of the countries represented in PARLACEN, only Guatemala continues to recognize Taiwan in bilateral relations; Nicaragua, El Salvador, Honduras, Panama, and the Dominican Republic have severed diplomatic relations with the island in recent years.

Though China's Taiwan Affairs Office expressed its approval of PARLACEN's vote, the decision was condemned by leaders of the U.S. House Foreign Affairs Committee and the Senate Foreign Relations Committee. A statement released by Rep. Michael McCaul (R-Texas), Sen. Bob Menendez (D-N.J.), and Sen. Jim Risch (R-Idaho) asserted that the "presence of the People's Republic of China and the influence of the Chinese Communist Party in PARLACEN is an affront to our shared democratic values in the Americas, and undermines the security and stability of our hemisphere."
Despite the downgrade of diplomatic relations between Taiwan and Central America, in mid-September, Japan elevated security ties with Taiwan by appointing a government official to serve as its "de facto defense attache" in Taiwan. Prior to this appointment, the role had historically been held by a retired Japan Self Defence Force officer, as Japan does not have formal diplomatic representation on the island. Japan-Taiwan relations are mostly handled through the Japan-Taiwan Exchange Association in Taipei, which is staffed with foreign and trade ministry officials from Japan. According to the association, the appointment is hoped to "enhance information gathering and [communication] with Taiwan's military" and has been labeled a "symbolic" move of Japan's support for Taiwan. China, however, was critical of the appointment. During a weekly news conference, China's Taiwan Affairs spokesperson Chen Binhua urged "the Japanese side to ... abide by the one-China principle ... and be prudent in its words and actions on the Taiwan issue."

Analysis

At War on the Rocks, Blake Herzinger argues that the Philippines should remove the BRP Sierra Madre, a ship that was intentionally grounded on Second Thomas Shoal in 1999 to assert Philippine maritime sovereignty, and replace it with "a permanent structure manned by combined rotational forces from both the Philippines and the U.S. Marine Corps." Citing China's considerable force presence in the area, its pattern of coercion against other South China Sea claimants, and an August incident in which Chinese ships fired water cannons at a Philippine resupply mission to the shoal, Herzinger argues that replacement of the deteriorating ship with a permanent structure (similar to an oil platform) would be a short-term escalation that would provide long-term stability. A combined outpost with a U.S. military presence might deter future attempts to interdict Philippine resupply missions by raising the cost of interference.
At VOA, analysts expressed concern that recent trilateral exercises involving Australian, U.S., and Philippine armed forces, while intended to uphold the rules-based order and deter China's aggressive behaviors in the South China Sea, may instead cause China to become more confrontational and aggressive. Furthermore, China may elect to adopt a "policy of externalization" to distract its own public from current "unprecedented" domestic economic and political challenges, causing it to react more aggressively to flashpoints like the South China Sea and Taiwan.

At the International Institute for Strategic Studies, Evan Laksmana writes that the "glacial pace" of development of the South China Sea Code of Conduct has worked in China's favor by allowing it time over the past two decades of negotiations to build up military capabilities and consolidate operational control over waters and features of the South China Sea at the expense of nearly all other claimants. He writes that the South China Sea situation is "fundamentally different" from 2002 when the Code of Conduct process began and requires "serious reassessment by [the Association of Southeast Nations (ASEAN).]" He argues that the rationale behind the Code of Conduct has now "evaporated," and even if the Code were finalized, it would fail to resolve any underlying issues. ASEAN member states should thus not delay pursuing UNCLOS-based resolution efforts until such time as a Code of Conduct may be finalized.

At the Council on Foreign Relations, Manjari Chatterjee Miller writes that ASEAN's strict principle of nonintervention in the affairs of its member states has "played an important role in economically integrating the region." However, because some member states maintain closer relationships with China than others, ASEAN has been hesitant to explicitly address containment of China. She writes that because of this constraint, ASEAN must forge a solid relationship with the Quad. The Quad, she argues, exists to ensure an Indo-Pacific region in which China cannot reinterpret international norms and thus offsets the burden on ASEAN.
At Australia's Lowy Institute, Saba Sattar makes the case for a more "unified" U.S. Indo-Pacific strategy, as the present approach is too "piecemeal" to manage the intensifying conflict between the U.S. and China. Referencing local backlash over "imperial expansion" resulting from the United States' recent 15-year defense cooperation agreement with Papua New Guinea, Sattar argues that a balanced, comprehensive approach (rather than a defense-centric approach) would better serve the U.S. in current engagement efforts with Vietnam. She also argues that the United States and Australia should deconflict their various initiatives; Australia has "unparallelled and vigorous grassroots-level defensive initiatives with the Pacific Islands" and was in the process of securing a defense agreement with Papua New Guinea when the U.S. moved to secure its own. More U.S. coordination with Australia could have spun a more favorable narrative surrounding the U.S.-Papua New Guinea agreement.

The Heritage Foundation's Brent Sadler argues that, in light of the recent indictments of two U.S. Navy sailors for sending national security information to Chinese intelligence officers, the U.S. government must do more to protect Chinese Americans from the well-known threat of their active targeting and entrapment by Chinese espionage. He argues that China is taking advantage of an enlistment regulation that allows noncitizens to enter the U.S. military (so long as they have a green card and speak English) in order to gain intelligence on U.S. military capabilities "at a discount." In spite of the military's current challenges with recruiting, Sadler recommends that people from threat nations (such as Iran, Russia, and China) who wish to join the U.S. military should be scrutinized and extra care taken before they are posted in sensitive positions. He also recommends reviving the China Initiative, a Trump-era Justice Department program that investigated espionage activities that endanger national security but was dismantled over concerns of racial profiling.

And last, several authors at War on the Rocks argue that the ability to move troops and supplies in a contested environment would be critical to Beijing's success in an attack on Taiwan. Logistics capabilities would likely prove a key weakness in any of three campaign scenarios the authors posit: a joint firepower strike campaign, a joint blockade campaign, or a joint island landing campaign. The authors explore the possibilities for logistics interdiction to disrupt these potential operations.
---
Teresa Chen is a J.D. student at Harvard Law School. She holds a bachelor's degree in Global Affairs from Yale University.
Alana Nance is a J.D. student at Harvard Law School. She holds a bachelor's degree in Chinese from the U.S. Naval Academy and served as an officer in the U.S. Marine Corps.