The Week That Was: All of Lawfare In One Post
Your weekly summary of everything on the site.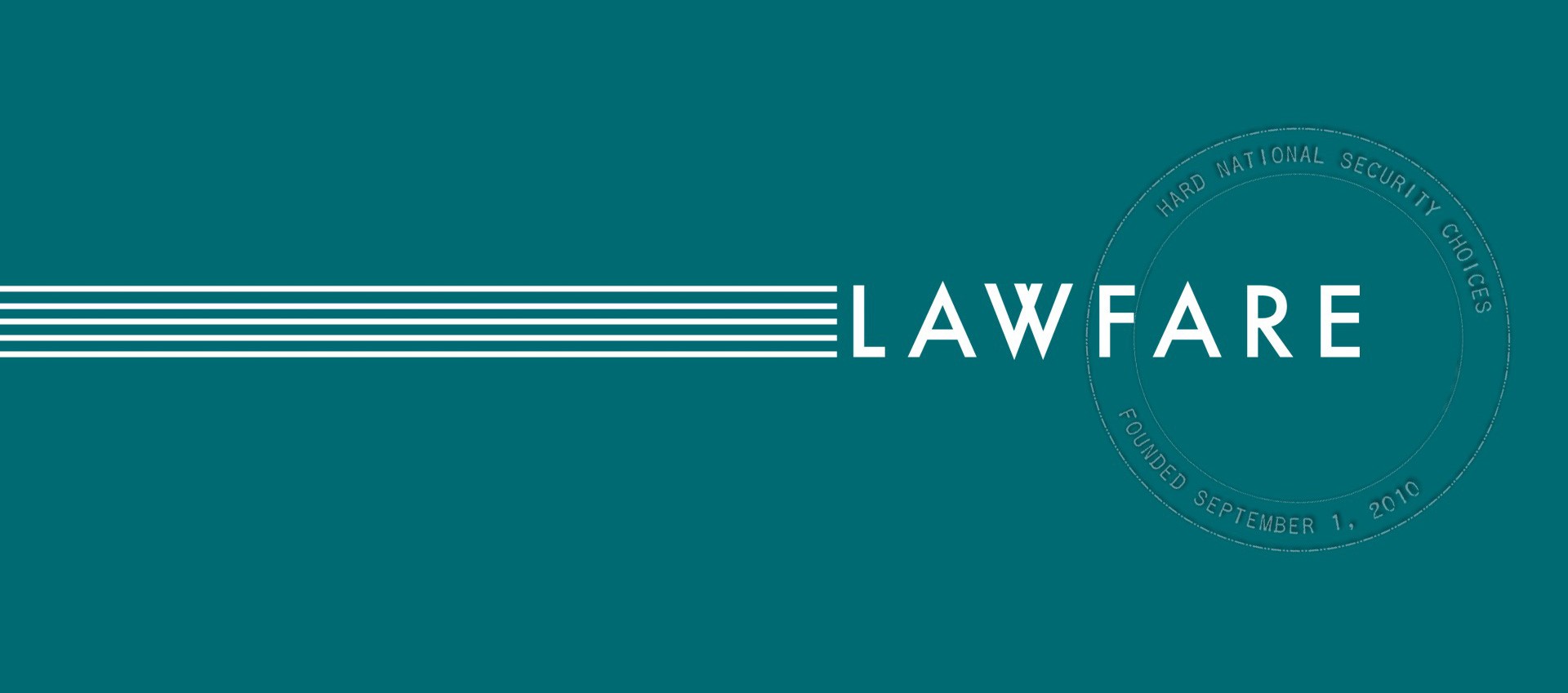 Published by The Lawfare Institute
in Cooperation With


Curtis Bradley and Jack Goldsmith concluded their three-part analysis of Turkiye Halk Bankasi A.S. v. United States. In the third installment, they focused on the government's curious reliance on the argument that an executive branch agreement with a foreign state preempts relevant statute.
Scott R. Anderson sat down with professors Chimène Keitner and Ingrid Wuerth to discuss oral arguments in United States v. Turkiye Halk Bankasi S.A. (Halkbank), a challenge to the Foreign Sovereign Immunities Act currently before the Supreme Court.
Emma Svoboda outlined the issues at hand in Turkiye Halk Bankasi A.S. v. United States (Halkbank), a criminal case presenting issues regarding the implications of the Foreign Sovereign Immunities Act (FSIA). Oral arguments for Halkbank were heard before the Supreme Court on Jan. 17.
Saraphin Dhanani weighed the value of designating Russia as a state sponsor of terrorism (SST) with instances when the U.S. had applied the designation to Iran and Cuba. After presenting two case studies, in which victims' families attempted to leverage the SST to claim reparations, Dhanani considered the possible value added by applying the SST in response to atrocities committed by the Russian government.
James Petrila and Phil Wasielewski advocated for applying the Foreign Terrorist Organization (FTO) designation to the Wagner Group, as recently proposed by the Holding Accountable Russian Mercenaries (HARM) Act. After contextualizing the nefarious activities of this paramilitary group, the authors delineated which additional tools the FTO designation could provide to U.S. government watchdogs.
Roger Parloff continued live-blogging the seditious conspiracy trial of five top members of the Proud Boys organization in his Proud Boys Trial Diary, available on Lawfare. The live-blog will run each day that the trial is in session.
Naman Karl-Thomas Habtom analyzed Sweden's challenges and delays as the country moves towards NATO membership, including opposition and foot-dragging from member states Turkey and Hungary.
Dhanani sat down with Michael German and Michael Warrick to discuss the Brennan Center's new report, "Ending Fusion Center Abuses." They discussed the origins of fusion centers in the wake of 9/11, their success as intelligence centers, and abuse of their power.
Daniel Woods argued that a federal cyber insurance backstop would be counterproductive, contributing to an already oversupplied market and diminishing insurers' ability to demand due diligence from policyholders.
Eugenia Lostri sat down with Laurent Richard and Sandrine Rigaud to discuss their new book, "Pegasus: How a Spy in Your Pocket Threatens the End of Privacy, Dignity, and Democracy," to discuss how Pegasus spyware has been used by some governments against journalists, activists, political dissidents, and others.
J. Dana Stuster deconstructed the term "great power" amid its rapid proliferation in foreign policy and national security discourses, including the inherent generalizations accompanying its use.
Jordan Schneider sat down with Sam Hammond and Zohar Atkins to discuss the implications of AI for creativity, employment, and more.
Jason Healy discussed the merits and implications of cyber brandishing as a means for deterrence or coercion, and considered the depreciating nature of cyber brandishing measures.
Bobby Chesney and Steve Vladeck sat down to compare Biden and Trump's classified document scenarios, presidential and congressional authority under Arms Export Control Act, a harassment indictment at the Berklee School of Music, and more.
Justin Sherman—as part of Lawfare and the Hoover Institution's "AEGIS: Security Policy in Depth" series—illuminated the vulnerabilities of undersea cable systems as critical infrastructure components, and considered how the networks may be protected under international law.
Brian Fleming sat down with Michael Ellis and David Kris to discuss the likelihood of reauthorizing FISA section 702, a recent court case filed by the Securities and Exchange Commission over enforcement of a subpoena investigating a 2020 cyber attack by a state-sponsored Chinese cyber espionage group, and more.
Hyemin Han shared the Supreme Court Marshal's report on the 2022 leak of a draft majority opinion in Dobbs v. Jackson Women's Health Organization. The Marshal's team was not able to identify a person responsible for the leak by a preponderance of the evidence and determined that no further investigation was warranted regarding the "82 employees [who] had access to electronic or hard copies of the draft opinion."
Anderson, Quinta Jurecic, and Alan Rozenshtein discussed the week's biggest national security stories, including the Washington Post's publication of a Jan. 6 committee draft report on far-right groups' coordination on social media prior to the attack on the capitol, the implications of China's now-declining population for the U.S.-China relationship, the Federal Reserve's "extraordinary measures" to avoid default as the debt ceiling approaches, and more.
Nikolas Guggenberger and Peter Salib considered the likelihood of generative artificial intelligence—like ChatGPT—to amplify harmful content online, and introduced avenues to mitigate this risk. Guggenberger and Salib also discussed the inherent limitations of neural networks, distinguishing human- from machine-generated content, the role of social media platforms and more.
David Priess sat down with Jean Becker, chief of staff to former president George H. W. Bush for almost 25 years. They discussed the president's life after office, his interactions with classified materials, his relationship with other former presidents, and more.
Darrell West and Nicol Turner Lee discussed the future of American tech policy under the 118th Congress, touching on issues including antitrust, broadband expansion, China, and more.
Schneider sat down with Jacob Feldgoise and Vishnu Kannan to discuss the tensions and tradeoffs of the CHIPS Act and its $52 billion for reshoring semiconductor manufacturing in America.
Priess sat down with Chris Whipple to discuss his recently-published book, "The Fight of His Life: Inside Joe Biden's White House," which offers a glimpse into Biden's first two years as President. Priess and Whipple discussed foreign policy challenges the Biden Administration has faced since January 2021, and more.
And Stewart Baker sat down with Andy Greenberg to discuss his book "Tracers in the Dark: The Global Hunt for the Crime Lords of Cryptocurrency." Baker and Greenberg delved into how cryptocurrencies are used in the informal economy, and the future of digital currencies.
And that was the week that was.
---
John A. Emmons is an intern at Lawfare and Chinese and political science undergraduate at St. Olaf College, where he is managing editor of the Olaf Messenger.