What Authorities Is President Trump Using to Build a Border Wall?
The president signed spending legislation appropriating over a billion dollars for constructing a wall, along with a declaration of emergency to authorize an additional $6.5 billion.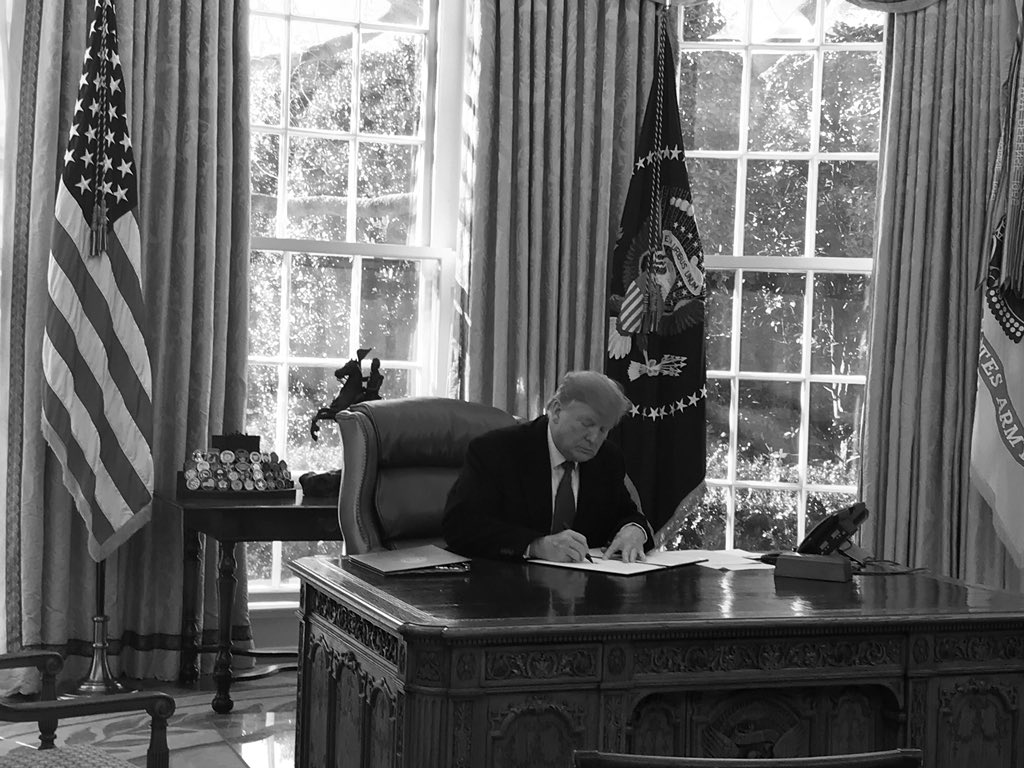 Published by The Lawfare Institute
in Cooperation With


On Feb. 15, President Trump announced his intention to sign spending legislation that includes a $1.375 billion appropriation for construction of a wall on the southern border. He also stated that he would declare a national emergency that would serve, in part, as the basis for authorizing an additional $6.5 billion for wall construction. According to the proclamation, the administration will rely on 10 U.S.C. § 2808(a), which allows the executive to redirect Defense Department construction funds that have not yet been obligated in a situation of national emergency.
In the absence of an appropriate statutory authority on which to rely to build the wall, an action to use funds appropriated for other purposes for this purpose would be unconstitutional: Article I, Section 1 of the Constitution assigns the role of making laws to Congress, and Article I, Section 9 specifies that "[n]o Money shall be drawn from the Treasury, but in Consequence of Appropriations made by Law." In addition, the General Accounting Office (GAO) has interpreted 41 U.S.C. § 12 to require specific congressional authorization for military construction projects and to prohibit the use of other, more general appropriations for such projects.
In light of these restrictions, a fact sheet issued by the White House identifies three distinct statutory bases for making available the additional $6.5 billion. The fact sheet specifies that "[t]hese funding sources will be used sequentially and as needed."
First, according to the fact sheet, $601 million would come from the Department of the Treasury Forfeiture Fund, an account that is fed by money seized by the U.S. government in connection with law enforcement actions or generated by the sale of seized assets. No national emergency declaration is needed to tap these funds. 31 U.S.C. § 9705(g)(4)(B) authorizes the Forfeiture Fund to use the funds for specific purposes outlined in that section:
After reserving any amount authorized by paragraph (3)(C) and after transferring any amount authorized by paragraph (3)(A), any unobligated balances remaining in the Fund on September 30, 1994, and on September 30 of each fiscal year thereafter, shall be available to the Secretary, without fiscal year limitation, for transfers pursuant to subparagraph (A)(ii) and for obligation or expenditure in connection with the law enforcement activities of any Federal agency or of a Department of the Treasury law enforcement organization. (Emphasis added.)
In other words, after reserving funds to provide for the next year's fiscal operations, remaining funds ("unobligated balances") are available in connection with the law enforcement activities of any federal agency—including the Department of Homeland Security or any other agency that may be involved with building the wall. While Congress must periodically reauthorize the fund, the money in the fund does not "expire" like normal appropriated funds do. Rather, the funds are what's called a "permanent indefinite appropriation" provided by Congress.
Second, the fact sheet indicates that $2.5 billion would come from funds authorized pursuant to 10 U.S.C. § 284, which likewise does not depend on a declaration of emergency. This statute authorizes the secretary of defense to "provide support for the counterdrug activities or activities to counter transnational organized crime of any other department or agency of the Federal Government or of any State, local, tribal, or foreign law enforcement agency" for the purposes set forth in the section if requested by another federal agency or state, local or tribal government in support of law enforcement efforts. Those purposes include, among other things, "[c]onstruction of roads and fences and installation of lighting to block drug smuggling corridors across international boundaries of the United States" (emphasis added). Presumably the administration has decided the wall, or at least parts of it, is really a "fence"—and as such that these funds will be available for the project. Regarding the limitation applying the authority to drug smuggling corridors, recall that Trump specifically said in a speech on Jan. 4, in support of building the wall: "Remember drugs. The drugs are pouring into this country. They don't go through the ports of entry." This may have had the effect of laying the predicate for meeting the "drug smuggling corridors" language, which otherwise would seem to limit the use of this authority.
Section 284 also authorizes the "[t]he establishment (including an unspecified minor military construction project) and operation of bases of operations or training facilities for the purpose of facilitating counterdrug activities or activities to counter transnational organized crime of the Department of Defense or any Federal, State, local, or tribal law enforcement agency within or outside the United States" (emphasis added). It is unclear whether or how the administration would also rely on the authorization for "unspecified minor military construction project," because the statutory dollar limit on such a project is very low compared to the projected cost of the wall.
Regarding the amount of funds available pursuant to 10 U.S.C. § 284, the fiscal 2019 Department of Defense appropriations bill provides for only $881,525,000. It is not clear where the balance of the $2.5 billion would come from. Funds would presumably need to be transferred or reprogrammed from other sources pursuant to other authorities. Congressional staff were told on Feb. 15 that the administration is currently working on exactly how that would be done.
Third, $3.6 billion would be drawn from the Department of Defense military construction budget. 10 U.S.C. § 2808(a) provides:
"[i]n the event of a declaration of war or the declaration by the President of a national emergency in accordance with the National Emergencies Act (50 U.S.C. 1601 et seq.) that requires use of the armed forces, the Secretary of Defense, without regard to any other provision of law, may undertake military construction projects, and may authorize the Secretaries of the military departments to undertake military construction projects, not otherwise authorized by law that are necessary to support such use of the armed forces. Such projects may be undertaken only within the total amount of funds that have been appropriated for military construction, including funds appropriated for family housing, that have not been obligated." (Emphasis added.)
This is the only portion of the funds that requires the declaration of a national emergency. One of us (Taylor) evaluated this authority in detail on Lawfare last month.
Congress estimates the Pentagon has $21 billion in already-appropriated funds for military constructions projects as of November 2018, appropriated since fiscal 2015. While a large portion of these projects are awarded and in progress, the administration would presumably seek to avoid disrupting ongoing projects—though they could delay some projects to make money available for the wall. The Department of Defense has indicated to congressional staff that it does not intend to include family housing projects in the evaluation of projects that could be delayed.
Potential Congressional Responses
The National Emergencies Act (NEA) establishes certain expedited procedures that Congress may use to terminate a declaration of national emergency, which are set forth at 50 U.S.C. § 1622(c). When a joint resolution terminating a national emergency is introduced in either chamber, it is referred to an appropriate committee, which is obligated to report it out with any recommendations within 15 calendar days. The House or Senate is then obligated to vote on the proposal within three calendar days. If one chamber passes a resolution, it is then passed to the other chamber, where the same basic procedures apply. If the two chambers pass different versions of a joint resolution, then a conference committee is obligated to file a compromise report within six days, which then must be voted on within an additional six days. If they cannot come to agreement, they must report that back within 48 hours. The net effect of these procedures is to ensure that joint resolutions to terminate national emergencies will receive at least some manner of vote (procedural or substantive) in both chambers, regardless of the preferences of House or Senate leadership or any filibusters by Senate members.
That said, a joint resolution ending a national emergency is still subject to a veto by the president. This wasn't always the case: The original NEA provided the same procedures for concurrent resolutions, which are not subject to presidential veto. In 1983, however, the Supreme Court's decision in INS v. Chadha strongly suggested that these procedures were unconstitutional. Congress responded in 1985 by amending the NEA to substitute "joint resolution" for "concurrent resolution."
Regardless, under current procedures, a presidential veto of a joint resolution can be overridden only by two-thirds of both chambers of Congress. For this reason, it's unlikely Congress will be able to enact a joint resolution into law capable of revoking the president's national emergency declaration.
This doesn't mean Congress's hands are entirely tied. With enough support, it could enact legislation that sets limits on or revokes any of the statutory authorizations on which Trump is relying. Or it could put limits on the funds that it has appropriated (or appropriates in the future) that the Trump administration is now channeling toward wall funding. The problem is that any such measure will still need to overcome a presidential veto. Congress's strongest tool in this regard is incorporating such measures into omnibus legislation that also contains measures important to the president, making them difficult to veto. The clearest example of this is the annual National Defense Authorization Act (NDAA), which will most likely come up for a vote in the fall of 2019 and could well incorporate anti-wall measures. But until Congress is able to find a package that is impossible for Trump to veto—or secures enough support in both chambers to override a veto—such legislative solutions are unlikely. Instead, Congress will have to rely on its array of oversight tools to bring scrutiny on the Trump administration's actions, through hearings, inquiries, document requests and similar measures.
Absent a legislative fix of some sort, the clearest threat to the Trump administration's wall plan is likely to come from the federal courts. There is no shortage of potential plaintiffs who are likely to have standing to challenge the Trump administration's actions, including individuals whose property is taken through eminent domain to build the wall, entities who would otherwise have benefited from the original intended purposes of the funds the Trump administration is redirecting, and potentially Congress itself if either chamber is able to muster the votes to authorize such action. And several groups have already made clear their intent to pursue legal action.
Much of the discussion surrounding possible legal vulnerabilities has focused on the president's declaration of emergency. But that may be an area of less vulnerability than many believe. The NEA does not actually impose any substantive requirements for what constitutes a "national emergency"; instead, it focuses on procedural and similar requirements, which the Trump administration so far appears to be following. While Trump's declaration no doubt stretches the limit regarding what many think of as a national emergency, Congress's failure to incorporate many of these requirements into law gives the federal courts remarkably little to work with in limiting the president's actions. Combined with the fact that courts tend to be deferential to the executive branch in such circumstances, this makes a direct challenge to the national emergency declaration itself a slimmer prospect than many hope.
More vulnerable, however, are the other statutory authorities that Trump is relying on. Can § 284's authorization to build a "fence" to "block drug smuggling corridors" really be used to build a wall across the entire southern border? Is the wall really a "military construction project" of the sort authorized by § 2808? Does the president's declaration of national emergency really "require[] use of the armed forces" as required by § 2808? The patchwork of legal authorities on which the Trump administration is relying exposes the administration to a wide array of these challenges. One possible outcome may be a partial victory and a partial defeat, in which the Trump administration is able to rely on some authorities and associated funding but not others. Regardless, plaintiffs are likely to seek—and federal courts seem likely to grant—injunctions that stop the federal government from taking any irrevocable steps toward building the wall while these legal challenges are resolved. In this sense, the primary function of these challenges may be to buy time until Congress is able to impose new limitations on the use of these funds and authorities, or even until a new Congress or a new president is elected in 2020 who no longer wishes to pursue this agenda.
---
Scott R. Anderson is a fellow in Governance Studies at the Brookings Institution and a Senior Fellow in the National Security Law Program at Columbia Law School. He previously served as an Attorney-Adviser in the Office of the Legal Adviser at the U.S. Department of State and as the legal advisor for the U.S. Embassy in Baghdad, Iraq.
Margaret L. Taylor was a senior editor and counsel at Lawfare and a fellow in Governance Studies at the Brookings Institution. Previously, she was the Democratic Chief Counsel and Deputy Staff Director for the Senate Foreign Relations Committee from 2015 through July 2018.