Flynn, FISA, and FARA: On Foreign Principals and Agents of Foreign Powers
Yesterday, news broke that former National Security Advisor Michael Flynn had been paid $530,000 for his work lobbying for a Turkish firm with connections to that country's government during the presidential campaign, as revealed by documents Flynn filed with the Department of Justice to register retroactively as a foreign agent under the Foreign Agents Registration Ac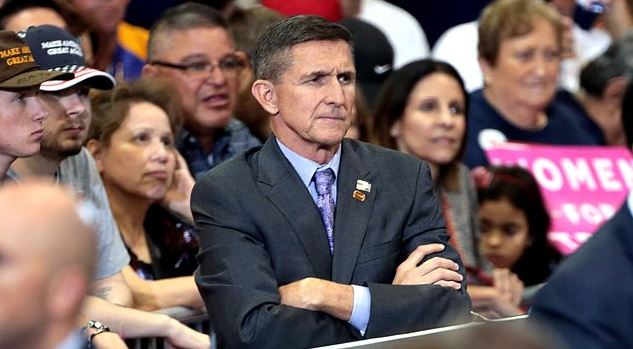 Published by The Lawfare Institute
in Cooperation With


Yesterday, news broke that former National Security Advisor Michael Flynn had been paid $530,000 for his work lobbying for a Turkish firm with connections to that country's government during the presidential campaign, as revealed by documents Flynn filed with the Department of Justice to register retroactively as a foreign agent under the Foreign Agents Registration Act. Knowledge of Flynn's connections to Turkey is not new; the Daily Caller first reported on his consulting work and links to President Recep Tayyip Erdogan's government in November, days after the election. The registration under FARA, however, is new.
What's more, despite earlier denials by press secretary Sean Spicer that the White House was aware of Flynn's lobbying, the AP is now reporting that the transition team was aware that Flynn might need to register as a foreign agent. Flynn's personal lawyer contacted transition officials, including soon-to-be White House Counsel Don McGahn, to inform them of Flynn's activities and possible registration with the Justice Department, the AP reports. The story says the transition team was not told about the specific details of the filing and informed Flynn's lawyer that the White House did not need to be involved. Sean Spicer appears to have confirmed the AP story at a press conference this afternoon, saying that Flynn's lawyer contacted the transition team for guidance and was "instructed that this wasn't the role of the transition team … this was a personal matter."
As Lawfare readers are well aware, Flynn resigned as National Security Advisor following revelations that he and the Trump Administration had lied about the substance of his conversations with Russian Ambassador to the United States Sergey Kislyak. Intercepted communications revealed that despite multiple denials, Flynn had, in fact, discussed sanctions in a series of calls. At the time, there was some confusion—including among members of Congress who should know better—as to whether Flynn had been the target of FISA collection. While the surveillance authority at issue was almost certainly FISA, reports indicate that the target of that collection was likely the Russian ambassador with whom Flynn was communicating, rather than Flynn himself.
In the meantime, talk of FISA standards have reemerged in the headlines since President Trump took to Twitter to accuse predecessor Barack Obama of "tapping my phones" at Trump Tower.
The fact that Flynn has now registered as a "foreign agent" under FARA has created some confusion with whether that also makes him a "foreign agent" under FISA. Below is a quick review of the two distinct legal definitions.
Generally speaking, under Title I of FISA a person can be targeted if the government establishes probable cause that he or she is the "agent of a foreign power." The definition of "agent of a foreign power" is slightly different for U.S. persons versus non-U.S. persons. Michael Flynn, of course, is a U.S. person (as is Donald Trump for the purposes of assessing his allegations regarding President Obama against FISA standards). A U.S. person can be deemed the agent of a foreign power under FISA if the government shows probable cause that he or she:
(A) knowingly engages in clandestine intelligence gathering activities for or on behalf of a foreign power, which activities involve or may involve a violation of the criminal statutes of the United States;




(B) pursuant to the direction of an intelligence service or network of a foreign power, knowingly engages in any other clandestine intelligence activities for or on behalf of such foreign power, which activities involve or are about to involve a violation of the criminal statutes of the United States;




(C) knowingly engages in sabotage or international terrorism, or activities that are in preparation therefor, for or on behalf of a foreign power;




(D) knowingly enters the United States under a false or fraudulent identity for or on behalf of a foreign power or, while in the United States, knowingly assumes a false or fraudulent identity for or on behalf of a foreign power; or




(E) knowingly aids or abets any person in the conduct of activities described in subparagraph (A), (B), or (C) or knowingly conspires with any person to engage in activities described in subparagraph (A), (B), or (C).
As the cumulative definitions shows, typically, for a U.S. person to qualify as the agent of a foreign power under FISA, there needs to be some indication of criminal conduct. That is not quite the same as the ordinary warrant requirement of a showing of probable cause that a crime has or will be committed—a distinction that can sometimes trip people up.
The Foreign Agents Registration Act (FARA) is quite different. Under FARA, every non-exempt "agent of a foreign principal" is required to register with the Department of Justice. FARA registration does not at all imply criminal conduct, though failing to register is a crime. (The inconsistent enforcement of FARA was the subject of a recent DOJ Inspector General report.)
Under FARA, the agent of a foreign principal is defined as:
any person who acts as an agent, representative, employee, or servant, or any person who acts in any other capacity at the order, request, or under the direction or control, of a foreign principal or of a person any of whose activities are directly or indirectly supervised, directed, controlled, financed, or subsidized in whole or in major part by a foreign principal, and who directly or through any other person—




(i) engages within the United States in political activities for or in the interests of such foreign principal;




(ii) acts within the United States as a public relations counsel, publicity agent, information-service employee or political consultant for or in the interests of such foreign principal;




(iii) within the United States solicits, collects, disburses, or dispenses contributions, loans, money, or other things of value for or in the interest of such foreign principal; or




(iv) within the United States represents the interests of such foreign principal before any agency or official of the Government of the United States; and




(2) any person who agrees, consents, assumes or purports to act as, or who is or holds himself out to be, whether or not pursuant to contractual relationship, an agent of a foreign principal as defined in clause (1) of this subsection.
However, an "agent of a foreign principal" expressly does not include any kind of news or press service.
In theory, a person could engage in conduct that might qualify him or her as both the agent of a foreign power under FISA and a foreign principal under FARA. But on its face, there is nothing about Flynn's reported relationship with Turkey that would have qualified for FISA purposes. And the two laws relate to entirely different functions: registration requirements versus court-ordered surveillance.
While qualifying as a foreign agent under FARA does not imply anything untoward—indeed hundreds of people and organizations engaged in legitimate business are currently registered—that does not mean the fact of Flynn's registration is irrelevant. Flynn's registration raises the following issues:
He failed to register, in violation of FARA.
He authored an op-ed published on Election Day while serving as a prominent national security advisor to the Republican nominee, calling for the extradition of Turkish cleric and dissident Fethullah Gülen without disclosing he was being paid by an organization linked to the Turkish government, which has pushed for Gülen's extradition.
He was Donald Trump's principal national security advisor while accepting money from a foreign government with a tense relationship with the United States. During this period Flynn accompanied Trump into classified intelligence briefings offered to both candidates.
The Trump Administration hired Flynn despite the fact it was aware both of his financial relationship with Turkey and that he had not registered under FARA. Two days prior to the inauguration, Flynn reportedly met with the Turkish foreign minister at the Trump Hotel.
The Trump administration apparently lied in claiming it was not aware of the relationship before now (or, in Spicer's words, "I don't believe that was known"). The AP report notes that White House Counsel Don McGahn was specifically aware of the matter (though he may not have known the particular details of Flynn's lobbying), there were multiple media reports about the relationship, and Flynn almost certainly would have had to disclose the relationship in security clearance processing. Vice President Pence claimed he (once again) was caught unaware of Flynn's contacts but Representative Elijah Cummings had sent a letter to then Vice President-elect Pence on the matter on November 18. Yesterday, Pence said that the disclosure was an "affirmation" of Trump's decision to ask for Flynn's resignation. But the Vice President did not explain why conduct that he apparently views as supporting resignation did not prevent the Administration from hiring Flynn to one of the nation's most sensitive national security posts.
Finally, as a retired military officer, Flynn is barred by the Emoluments Clause of the Constitution from receiving payment from a foreign government without express congressional approval. Congress passed 37 § U.S.C. 908 to allow such payment with permission of the Secretary of State and the Secretary of the officer's service. The Secretary of the Army reportedly has no records of Flynn having requested or obtained such permission for his acceptance of payments from Russian propaganda arm RT, though the Secretary has not yet issued any statement about Flynn's requesting permission for his lobbying work. If Flynn is determined to have violated the law with respect to his Turkish employment or payments from Russia, he may have to forfeit his military pay for the period in question.
---
Susan Hennessey was the Executive Editor of Lawfare and General Counsel of the Lawfare Institute. She was a Brookings Fellow in National Security Law. Prior to joining Brookings, Ms. Hennessey was an attorney in the Office of General Counsel of the National Security Agency. She is a graduate of Harvard Law School and the University of California, Los Angeles.
Quinta Jurecic is a fellow in Governance Studies at the Brookings Institution and a senior editor at Lawfare. She previously served as Lawfare's managing editor and as an editorial writer for the Washington Post.