One Year Into Trump's Iran Strategy: Where Do Things Stand?
In May 2018, President Trump withdrew the United States from the Iran nuclear deal—also known as the Joint Comprehensive Plan of Action (JCPOA). Shortly thereafter, Secretary of State Mike Pompeo announced a new U.S.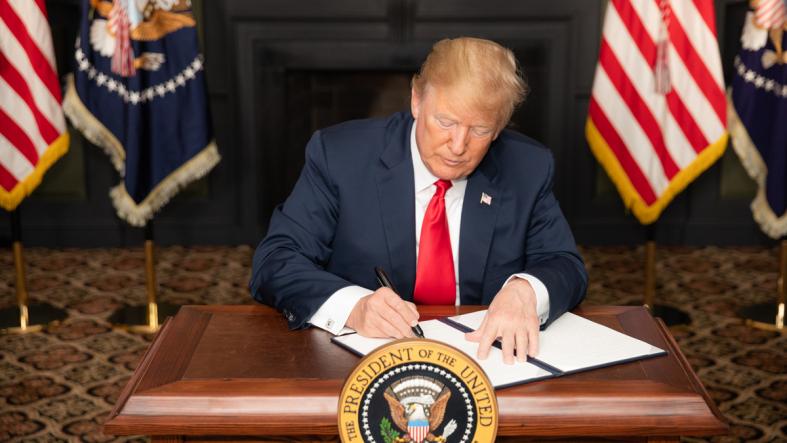 Published by The Lawfare Institute
in Cooperation With


In May 2018, President Trump withdrew the United States from the Iran nuclear deal—also known as the Joint Comprehensive Plan of Action (JCPOA). Shortly thereafter, Secretary of State Mike Pompeo announced a new U.S. strategy toward Iran: the "maximum pressure" campaign. Going far beyond the scope of the JCPOA, Pompeo articulated 12 demands, including that Iran end its nuclear weapons and advanced ballistic missile programs, release hostages, stop supporting terrorism and put a stop to its destabilizing activities across the Middle East.
A year later, it is still unclear whether maximum pressure should be understood as a means of getting Iran back to the negotiating table. During a recent news conference in Japan, Trump indicated a willingness to return to negotiations, saying, "I really believe that Iran would like to make a deal." Meanwhile, Pompeo routinely states that the ultimate goal is to get Iran to behave "like a normal nation," making the 12 demands seem more like an end in and of themselves. Speaking at a press conference in Switzerland on June 2, Pompeo said the U.S. was open to talks even though "the American effort to fundamentally reverse the malign activity of this Islamic Republic, this revolutionary force, is going to continue." As tensions between the U.S. and Iran continue to mount, a looming question remains: How far is the administration willing to go to make Iran change its behavior?
This post examines U.S. policy toward Iran over the past year. We first focus on the four categories of actions the U.S. has pursued against Iran. Recognizing that it is likely too soon to assess Pompeo's 12 demands in full, we then examine the administration's relative progress toward achieving them to date.
Four Types of Pressure
The Trump administration has mainly used four types of pressure to put its maximum pressure campaign into action: economic sanctions; designating the Iranian Revolutionary Guard Corps (IRGC) as a foreign terrorist organization (FTO); diplomatic efforts; and, more recently, the deployment of military assets. While none of the tools is novel, the Trump administration is the first to designate an agency of a foreign government as an FTO. Likewise, its reliance on sanctions far exceeds the pre-JCPOA levels, and—perhaps more notably—it has largely acted without European coordination or support.
Economic Sanctions
Trump's chief instrument to achieve maximum pressure on Iran has been through targeted sanctions aimed at decreasing Iran's oil exports to zero. Despite initially granting waivers allowing eight countries in November 2018 to continue Iranian oil purchases, Pompeo announced on April 22 that the U.S. would deny all eight waiver extensions. Pompeo, backed by Treasury Secretary Steven Mnuchin, reportedly harbored concerns that denying waivers would lead to a spike in global oil prices—but he faced pressure from National Security Adviser John Bolton and his own ambassadors to deny their extension. Congressional Republicans have also been highly vocal about the need to get to "zero" exports as soon as possible. In a signed letter from early April, 23 Republican senators argued that the U.S. cannot successfully force Iran to "choose between economic collapse or abandoning its illicit activities," if waivers remain in place.
To date, the administration estimates that sanctions have led to a $10 billion loss in Iranian oil sales. Some observers estimate that Iranian oil exports could drop to 300,000 barrels/day this summer—down from 2.5 million barrels/day in May 2018.
Meanwhile, the U.S. has imposed additional sanctions on a vast network of individuals and companies in Iran. In late March, the Treasury Department imposed sanctions on 25 individuals and entities, including a network of front companies from Iran, the United Arab Emirates (UAE), and Turkey; Iran's Ministry of Defense and Armed Forces Logistics (MODAF); and the Iran-based Ansar Bank. The central allegation is that through its control of the Ansar Bank, the IRGC established a network of front companies in other countries to bypass U.S. sanctions, gain access to the international financial system, and exchange devalued Iranian rial for dollars and euros—resulting in an estimated $1 billion transfer of funds to the IRGC. Under Executive Order (E.O.) 13382, which targets proliferators of weapons of mass destruction and their supporters, the U.S. also designated 31 Iranian entities and individuals for their connection to Iran's Organization of Defensive Innovation and Research (SPND), a nuclear research center founded by senior IRGC officers and nuclear scientist Mohsen Fakhrizadeh in 2011. While the U.S. had already sanctioned the SPND in 2014 for its work on proliferation issues, the Treasury Department said that it believed individuals associated with the organization still worked in prominent positions within Iran's defense industry and could support the country's nuclear ambitions at some future point. Shortly after President Hassan Rouhani's announcement in May that Iran would no longer abide by certain aspects of the JCPOA, the U.S. announced additional sanctions on Iran's steel, aluminum, iron and copper sectors—which account for an estimated 10 percent of Iran's exports—making them the largest source of state revenue after oil. It's unclear when those new sanctions will take effect.
Foreign Terrorist Organization Designation
On April 8, the Trump administration formally designated the IRGC, including its external special operations arm the Quds Force, as an FTO. The designation marked the first time the U.S. has named part of another nation's government in this way. (Obama had considered, but decided against, taking the same action). The move was largely symbolic, as Lawfare's Scott Anderson has explained. Both the IRGC and Quds Force had previously been named Specially Designated Global Terrorists under E.O. 13224, a designation that carries restrictions and penalties similar to the FTO designation. To the extent that the FTO did anything new, it expanded the criminal liability of any foreign person providing "material support" to Iran under U.S. material support statutes, as Elena Chachko wrote for Lawfare. Bolton and Pompeo were reportedly strong proponents of the FTO designation, while top Pentagon officials, including Chairman of the Joint Chiefs of Staff Gen. Joseph Dunford, reportedly cautioned that it could spark greater backlash against U.S. forces in the region. The New York Times reported that State Department officials asked Pompeo to delay the designation on the theory that it would have unintended consequences on other foreign partners.
To date, the Justice Department has not announced any extraterritorial material support prosecutions. In response to the designation, however, Iran designated the U.S. Central Command as a terrorist organization under its own domestic laws. Decrying the U.S. move as an "unprecedented, unlawful and dangerous designation" in a letter to U.N. Secretary-General Antonio Guterres, Iranian Foreign Minister Javad Zarif said the designation of Central Command was a retaliatory decision and "shall not be construed as a shift in Iran's legal position with regard to the principle of sovereign equality of states, and the definition of terrorism."
Diplomatic Efforts
The U.S. has faced resistance from Europe in building a global coalition to counter Iran. In particular, Europe has been highly critical of the U.S. decision to reimpose sanctions lifted as part of the JCPOA. As Stephanie Zable explored on Lawfare, Germany, the U.K. and France (known as the EU-3 or the E3) announced the creation of a special purpose vehicle (SPV) in late January to circumvent U.S. sanctions on Iran, but many core details have yet to be established. Furthermore, the SPV's establishment formally hinges on Iran's continued compliance with the JCPOA and Iran's full implementation of an intergovernmental plan to fight money laundering and financing of terrorism, both of which may be in jeopardy. Frustrated by Europe's delay in establishing the SPV, Iran's Deputy Foreign Minister Abbas Araghchi recently announced that Iran was contemplating a financial channel with Russia and China, which would bypass U.S. sanctions. In the meantime, Iran has been trying to expand its private clearinghouse for the sale of oil, through which local buyers purchase oil on behalf of foreign clients. The Wall Street Journal reports that the exchange sold one million barrels in the past month. Nonetheless, foreign buyers remain skeptical that the exchange will be able to ensure that payments, which will go through Iranian banks, will not be blocked.
The EU also passed an anti-sanctions law, which allows EU states to punish companies for complying with American prohibitions. Nonetheless, there's little evidence to suggest that this "blocking statute" has had much of an impact in encouraging trade with Iran so far. The volume of German-Iranian trade, for example, fell by 7 percent in 2018 to 3.15 billion euros, while German exports to Iran decreased by 9 percent. Meanwhile, German State Secretary Ulrich Nussbaum reported that the anti-sanctions law has not yet been applied in Germany, even though many German companies have withdrawn from Iran.
Partially in response to European efforts to keep the JCPOA alive, the U.S. hosted a February 2019 summit in Poland aimed at building a global coalition against Iran. But the conference was widely panned when many European countries failed to send senior representation to the conference or to show up at all. Meanwhile, Israeli Prime Minister Benjamin Netanyahu attended along with Arab leaders from Saudi Arabia, the UAE and Bahrain. Attendees reportedly focused on Iran as the central culprit for instability in the Middle East to the extent that Netanyahu reportedly joked that he had been "dethroned" as the world's chief "Iran hawk."
Shortly thereafter, at the annual Munich Security Conference, Vice President Mike Pence called on the Europeans to withdraw from the agreement. Responding to Pence, German Chancellor Angela Merkel criticized U.S. thinking on Iran, arguing that the Iran deal could have helped pressure Iran on other issues. She went on to say that the U.S. withdrawal from Syria had emboldened Russia and Iran in the region. Also at the event, Zarif said that Iranians were losing faith in the Iran deal and that Europe needed to be ready to "get wet if it wants to swim against the dangerous tide of U.S. unilateralism."
Iran's May announcement that it will reduce compliance with the JCPOA will certainly put European efforts to save the deal to the test. Rather than abandon the deal entirely, President Rouhani said that Iran gave European signatories a 60-day timeline to assure Iran could regain benefits lost due to U.S. pressure before following through on his warnings. In response, the remaining European signatories released a statement "reject[ing] any ultimatums" and said that Iran's compliance would be assessed "on the basis of Iran's performance regarding its nuclear-related commitments under the JCPOA." While both Iran and the remaining signatories want to keep the deal alive, a European Council on Foreign Relations report cautions that "there is real danger that in the course of the coming weeks the two sides will fundamentally miscalculate what actions the other side is willing and able to take." And a former top EU diplomat, Pierre Vimont, expressed skepticism that Europe could keep the Iranians in the deal.
Europe's continued support for the JCPOA notwithstanding, the U.S. and Europe have nonetheless found common ground on Iran's ballistic missile program. In early April, foreign ministers from leading industrial nations—Canada, France, Germany, Italy, Japan, the U.K., and the U.S.—issued a joint communique that acknowledges their concern about Iran's destabilizing activities in the region, drawing particular attention to Iran's ballistic missiles. The communique calls on Iran to "implement all relevant UNSCRs [U.N. Security Council resolutions], and to prevent all forms of direct or indirect proliferation of ballistic expertise, drones and missile capabilities." At the U.N. Security Council meeting in December 2018, Britain's ambassador, Karen Pierce, said that Iran cannot "expect to improve its relations with the rest of the world or ensure its economic prosperity and security while pursuing its current path."
Furthermore, Europe has recently introduced its own punitive measures against Iran related to Iran's terrorism activities. Catalyzed by alleged Iranian-backed assassination attempts in Paris and Copenhagen, Europe imposed new sanctions in January targeting an Iranian intelligence unit and two of its agents, including Deputy Minister and Director General of Intelligence Saeid Hashemi Moghadam. Shortly thereafter, the Netherlands recalled its Iranian ambassador, alleging that Iran also orchestrated the political assassination of two Dutch nationals, which Iran has denied. More recently, Britain designated Iranian-backed Hezbollah as a terrorist organization—having previously designated only its military, but not political wing, in 2008. Speaking at the U.N. Security Council on March 12, Europe's High Representative Federica Mogherini reaffirmed Europe's commitment to honor the JCPOA but said that Europe has "serious issues with Iran's behavior on other matters, starting with ballistic missiles, with human rights and with regional dynamics." France similarly told Iran that European efforts to preserve the JCPOA did not give Iran a "blank check" to violate the human rights of its citizens."
Deployment of Military Assets
In May 2019, Bolton announced that in "response to a number of troubling and escalatory indications and warnings," the U.S. would deploy "USS Abraham Lincoln Carrier Strike Group and a bomber task force to the U.S. Central Command region." While the U.S. is "not seeking war with the Iranian regime," he said, it is "fully prepared to respond to any attack, whether by proxy, the Islamic Revolutionary Guard Corps, or regular Iranian forces."
Commander of U.S. Central Command Marine Gen. Kenneth F. McKenzie Jr. reportedly requested the USS Abraham Lincoln be relocated upon receiving new intelligence of Iran's "escalatory indications." It's not entirely clear what McKenzie was referring to, but the New York Times reported on May 6 that Pentagon officials had intelligence that Iran or Iranian proxies were preparing to attack American troops in Iraq and Syria. The Wall Street Journal also reported that officials believed Iran had developed plans to target U.S. forces in Iraq and possibly Syria, to launch an attack in the Bab el-Mandeb strait near Yemen, and to launch an attack in the Persian Gulf with its own armed drones. News reports also refer to intelligence that Iran could potentially be seeking to target U.S. forces in Kuwait, though a U.S. official said it was unclear to what extent the intelligence suggested an imminent threat.
When the Trump administration presented evidence of the purported Iranian threat to Congress, the reactions split largely along partisan lines, with Republicans agreeing that it demonstrates a credible threat and Democrats, as the Washington Post reported, insisting that "none of the information showed Iran was appreciably more of a threat now than in the past." Meanwhile, European leaders have expressed doubt about an increased threat from Iran. British Maj. Gen. Christopher Ghika, the number-two officer in the anti-Islamic State coalition, has stated that there is "no increased threat from Iranian-backed forces" in the region.
More recently, on May 15, the U.S. withdrew all nonemergency government staff from Iraq in response to the alleged increased threat. About a week later, Trump announced that he had ordered an additional 1,500 troops to the Gulf region for a "mostly protective" purpose, though the Pentagon added later that day that the troops would not be deployed to Iraq or Syria. Bloomberg recently reported that 600 of the 1,500 troops referenced in Trump's announcement were already in the region at the time of the announcement.
Is the 12-Point Plan Working?
Undoubtedly, the Iranian economy is suffering as a result of maximum pressure: The Financial Times reports that in 2018, the economy shrank by 4 percent; the rial, Iran's national currency, has lost more than 60 percent of its value; inflation has soared from single digits to just below 50 percent; and food prices have jumped 85 percent. Official state-run outlets report that bread is selling for three times the official price. And although the Treasury Department explains that "the sale and export of nearly all types of food and medicine to Iran are broadly authorized, and require no specific license," the International Crisis Group's Ali Vaez wrote recently that "lack of access to the global financial system is giving rise to a humanitarian crisis." But more specifically, on Pompeo's 12 points, the evidence is mixed.
IAEA Inspections
Two of Pompeo's demands relate to International Atomic Energy Agency (IAEA) inspections, calling on Iran to provide "a full account of the prior military dimensions of its nuclear program, and permanently and verifiably abandon such work in perpetuity" and to "provide the IAEA with unqualified access to all sites throughout the entire country." In accordance with the JCPOA, the IAEA has so far conducted 14 assessments of Iran's compliance with the agreement, finding full compliance in each case. Furthermore, IAEA chief Yukiya Amano has repeatedly emphasized that inspectors have had appropriate access to all places they need to visit. In this sense, Pompeo's demands have been satisfied.
Nonetheless, the U.S. has voiced ongoing concerns that Iran has not been fully transparent about its past nuclear ambitions. For example, when the State Department designated additional individuals linked to the SPND in March, the press release referred to Iran's "undisclosed past nuclear-related activities." The press release furthermore demanded "a full and honest accounting from Iran of its past nuclear weapons related activities." The same month, the U.S. ambassador to the IAEA Board of Governors, Jackie Wolcott, emphasized U.S. concerns related to Iran's preservation of nuclear expertise, arguing that "[t]he facts of Iran's past nuclear weapons activities continue to have bearing on current questions about the possibility of undeclared nuclear material and activities in Iran." Recently, the IAEA inspected a secret warehouse outside Tehran, which Iran insists is a carpet-making facility and the U.S. believes is a storehouse for Iran's pre-JCPOA nuclear research. This inspection is significant insofar as Obama officials reportedly believed there was no need for the IAEA to continue to investigate because the U.S. was already largely aware of Iran's past nuclear program. No details have been released.
Enrichment and Plutonium Reprocessing
The U.S. has called on Iran to "stop enrichment and never pursue plutonium reprocessing. This includes closing its heavy water reactor." This goal facially conflicts with the JCPOA, which formally allowed enrichment below 3.67 percent, and two U.S. waivers—revoked last month—that allowed Iran to ship surplus heavy water to Oman and to ship out any enriched uranium that exceeds a 300 kilogram limit in exchange for natural uranium. Nonetheless, to the extent this goal should be interpreted in context of JCPOA restrictions, it is satisfied for now.
In late January, Director of National Intelligence Dan Coats, along with five other intelligence leaders, told Congress that Iran was in compliance with the JCPOA." CIA Director Gina Haspel echoed Coats's assessment, while emphasizing that Iran is "making some preparations that would increase their ability to take a step back if they make that decision." As previously mentioned, President Rouhani announced in early May that Iran would soon no longer abide by JCPOA restrictions.
Ballistic Missiles
Iran has not ended "its proliferation of ballistic missiles." Indeed, as one of us (Hurd) explored on Lawfare, it continues to be a significant sticking point for the U.S. and Europe alike—even though not formally encompassed within the JCPOA. In celebration of the 40th anniversary of the Iranian revolution in February 2019, Tehran revealed a new cruise missile. With pressure mounting from the U.S. and Europe to curb the Iranian missile program, a senior IRGC commander suggested that more pressure might lead Iran to expand its ballistic missile program beyond current limits. In a letter to the U.N. Security Council in early March, Jonathan Cohen, acting U.S. ambassador to the United Nations, said Iran tested a medium-range ballistic missile on Dec. 1, 2018, and attempted to place satellites in orbit on January 15 and February 5. The U.S. installed a Terminal High Altitude Area Defense (THAAD) system in Israel in March to counter Iranian missile forces.
Detainees
Pompeo has also called on Iran to "release all U.S. citizens, as well as citizens of our partners and allies, each of them detained on spurious charges." At the moment, at least five Americans are believed to be detained in Iran, including Navy veteran Michael White; Baquer and Siamak Namazi, an Iranian American father and his son; Xiyue Wang, a Chinese American graduate student at Princeton University; and former FBI agent Robert Levinson. Of the five hostages, Robert Levinson is believed to have been held in Iran for longest period of time—more than 12 years. In addition, Iran has detained citizens of our partners and allies—including, most prominently, the British Reuters journalist Nazanin Zaghari-Ratcliffe, who was jailed in 2016 for espionage.
On April 24, just after the U.S. announced it would not extend oil waivers, Zarif formally offered Trump the opportunity to exchange prisoners. According to the New York Times, this was the first time the foreign minister had openly made the proposal, though he had hinted in 2018 that an exchange might be possible. The offer presumably extended to American allies, suggesting that the release of Zaghari-Ratcliffe may also be possible. (Britain granted Zaghari-Ratcliffe diplomatic protection in March—thus escalating her case beyond a mere consular dispute—and is still trying to pressure Tehran into releasing her.)
In response to Zarif's offer, the State Department said that Iran "can demonstrate its seriousness regarding consular issues, including Iranians who have been indicted or convicted of criminal violations of U.S. sanctions laws, by releasing innocent U.S. persons immediately." No detainees have yet been released.
Financial Support to Terrorist Groups
It is difficult to quantify financial strain experienced by terrorist groups owing to a decline in Iranian support. Nonetheless, there is some evidence that U.S. sanctions have undermined Iran's support for proxy groups in the region. In April, the New York Times surveyed how U.S. sanctions are depriving proxy groups reliant on Iran—from Syrian militiamen to Hezbollah employees—of funds. Acknowledging that some of the financial strain is a result of prolonged conflict in the region, the Times quotes Hezbollah fighters who cite U.S. sanctions as the chief cause of declining resources. A more recent Washington Post report likewise quoted a Hezbollah official as saying: "There is no doubt these sanctions have had a negative impact."
In the Gaza Strip, Iran continues to maintain links with Hamas and Islamic Jihad. A Washington Institute analysis noted that Hamas and Islamic Jihad fired Iranian-made rockets into Israel in the most recent round of violence in May. And during the violence between Israel and Gaza militants earlier that month, Israel carried out its first targeted killing since 2014 of a Hamas leader who Israel claimed had been responsible for the transfer of Iranian funding to Hamas and Islamic Jihad.
Iran has yet to adopt standards set by the Financial Action Task Force (FATF)—an intergovernmental organization established to create standards for money laundering—which would increase transparency around funds to proxy groups. Originally, Iran had until February to comply with these two standards, but FATF announced on Feb. 22 that Iran would have until June to implement the necessary reforms.
Political Interference
Pompeo called on Iran to end, to varying degrees, its interventions in Yemen, Iraq, Syria and Afghanistan. The Trump administration has argued that the JCPOA made the Middle East more volatile by providing cover for Iran to pursue malign activity across the region. As Brian Hook, U.S. special representative for Iran, said recently: "Too many nations have become resigned to Iran's destabilizing role in these and other conflicts. And too few have been willing to challenge it. The nuclear deal fed this dangerous cycle. Low expectation [sic] begot bolder Iranian expansionism." While the administration cites the progress it has made, mainly through sanctions, in "raising the costs of Iran's expansionism," a recent report by the Center for Strategic and International Studies concluded that "[t]here is growing Iranian activism in the Middle East despite U.S. and allied efforts to weaken Iran's economy and politically isolate Tehran." In particular, the report found evidence suggesting the growth of Iranian proxy groups in recent years, satellite evidence showing the expansion of IRGC-Quds Force bases across the region, and Israeli air attacks in Syria as a proxy for Iranian activity.
In Iraq, the recent intelligence suggesting a threat from Iran demonstrates the deep links between Iran and militias in Iraq. Indeed, upon receiving the information, Pompeo first flew directly to Baghdad. Later on, reporting revealed that the intelligence had showed that Iran-backed Shiite militias had positioned rockets near bases housing U.S. forces. Among the roughly 30 militias known as the Popular Mobilization Forces, many have strong ties to Iran. While the war against the Islamic State created a de facto alliance between the U.S. military and Iraq's Shiite militia, it remains unclear what will happen next, as the Islamic State has largely been defeated. As previously mentioned, the U.S. withdrew all nonemergency government staff from Iraq in response to the alleged increased threat.
Pompeo also called on Iran to "end its military support for the Houthi militia and work towards a peaceful political settlement in Yemen." This, too, has not happened. On May 14, Yemen's Iran-backed Houthi rebels claimed responsibility for multiple drone attacks on Saudi oil facilities. A senior Defense Department official said "Iran is likely behind" the attacks. And a report conducted by an insurance company concluded that the IRGC facilitated the attacks. In Yemen itself, there have been stops and starts in implementing the U.N.-brokered Stockholm Agreement reached in December 2018. While reports indicate that Houthi rebels have withdrawn from three key ports in Yemen, renewed fighting in recent weeks threatens to upend the agreement and broader hopes for a lasting settlement.
In Syria, Iran continues to exert its influence. The New York Times reported in February that "the number of Iranian military personnel in Syria today range from the high hundreds to the low thousands." After announcing the withdrawal of an estimated 2,200 U.S. troops serving in the eastern part of Syria, Trump officially decided in February to leave 400 troops in Syria to counter Iranian influence. After that, Syrian President Bashar Al-Assad traveled to Tehran to meet with Iranian Supreme Leader Ayatollah Ali Khamenei and other top officials to discuss the U.S. withdrawal. According to Iran's Fars News Agency, Khamenei told Assad that "the buffer zone that Americans are after in Syria is among dangerous plots that should be rejected."
Finally, Iran has a long history in Afghanistan. Last year, the Pentagon accused Iran of providing weapons to the Taliban, displaying a number of markings that reportedly showed they were from Iran. A few months later, Iran confirmed that it was holding talks with the Taliban. Since October 2018, officials from the U.S. and the Taliban have held six rounds of direct talks to end the long-running conflict in Afghanistan. The Trump administration has also called attention to purported links between Iran and al-Qaeda. Former U.S. officials have questioned the strength of those ties. Notably, the State Department's most recent report on Iran's support for terrorism found that "Iran remained unwilling to bring to justice senior al-Qa'ida (AQ) members residing in Iran and has refused to publicly identify the members in its custody. Iran has allowed AQ facilitators to operate a core facilitation pipeline through Iran since at least 2009, enabling AQ to move funds and fighters to South Asia and Syria."
Cyber Attacks
Cyber attacks from Iran have increased over the past year. Comparing U.S. reports from the director of national intelligence (DNI) from 2019 and 2018, notable differences emerge regarding Iran's cyber activities. The 2019 DNI report concluded that Iran was "conducting espionage; attempting to deploy cyber capabilities that would enable attacks against critical US infrastructure; and using social media platforms to target US and allied audiences." In 2018, by contrast, the report acknowledged Iran's efforts to engage in espionage but said that Iran's intelligence services were focused primarily on Middle Eastern adversaries, not the U.S. Indeed, it explicitly acknowledged "restraint" on the part of Iran. The 2017, 2016 and 2015 DNI reports meanwhile provide less detail on Iran's cyber activities, aside from acknowledging the country's efforts to develop a sophisticated cyber program.
Microsoft's Threat Intelligence Center reported that, over the course of 2018, cyberattacks linked to Iran targeted more than 200 companies—stealing assets and wiping data from computers—when individual users clicked phishing emails that looked like legitimate job advertisements. While Iran's spokesman for the mission to the U.N. "denies any involvement in cyber-crimes against any nation," security researchers say activities from Iran-backed groups such as "APT33" and "Holmium" have become more sophisticated and more frequent.
Interestingly, the EU Agency for Network and Information Security (ENISA) released a report in January predicting an uptick in Iranian cyber operations, as a consequence of new U.S. sanctions, citing how "newly imposed sanctions on Iran are likely to push the country to intensify state-sponsored cyber threat activities in pursuit of its geopolitical and strategic objectives at a regional level."
Is It Even a Strategy?
Many commentators doubt whether Trump's "maximum pressure" campaign has a clear endgame. David Ignatius, for example, dubbed it little more than "a tactical campaign that's in search of a strategy." After European diplomats met bilaterally with Pompeo in Brussels, CNN quoted one European official who said that Pompeo "failed to identify the rationale and the objectives of the maximal pressure." Mogherini added that rather than pursue an approach of maximum pressure, "the most responsible attitude to take should be that of maximum restraint and avoiding any escalation on the military side."
Other commentators insist maximum pressure is a strategy designed to reach a deal better than the JCPOA. After all, State Department envoy Brian Hook has said repeatedly in recent weeks that the U.S. would consider nuclear negotiations with Iran, provided that the talks were broadened to include limits on missile launches and the country's support for armed militias and terrorist groups. But if a new deal is the chief underlying strategy, it doesn't appear to be working. Iran has repeatedly said negotiations can't begin until the U.S. returns to the JCPOA. In an April interview with the Wall Street Journal during a visit to New York, Iran's Foreign Minister Javad Zarif rebuffed the suggestion that Iranian leaders would sit down with Trump. Speaking during a visit to Iran's Gilan Province in the Caspian region in early March, Rouhani similarly said that world leaders have contacted him "13 times" since March 2017 to encourage him to meet with Trump to discuss the JCPOA but that the U.S. must return to the nuclear deal before a negotiation is possible. Meanwhile, some observers believe the pursuit of a so-called "mega-deal" has undermined progress on all fronts. Former EU Ambassador David Sullivan argues that the American withdrawal from the JCPOA has set back efforts to address the issues the original deal didn't encompass.
A third theory is that maximum pressure is really just a pretext for affecting regime change or, more immediately, military action. Writing for War on the Rocks, Aaron Stein believes that the Trump administration has emphasized Iran's support for al-Qaeda operations to create a legal basis for a future strike on Iranian forces under the 2001 Authorization for Use of Military Force (AUMF). While the designation doesn't necessarily establish that the AUMF encompasses Iran, some critics believe that the designation will help further that argument—especially given that the U.S. has been emphasizing a closer line between Iran and al-Qaeda. Reflecting on Trump's recent designation of Iran as an FTO, former State Department official Jason Blazakis said: "One of the reasons why this action occurred could be because there's an actual interest to do things directly against the IRGC." Tess Bridgeman, who served as deputy legal adviser to President Obama's National Security Council, similarly said: "What the Trump administration is doing here though is that this seems to be part of a continued drum beat trying to create a narrative of a nexus between Iran and al Qaeda that started well before this FTO designation …. The Trump administration seems to be priming the public for an argument that the 2001 AUMF covers Iran."
During an April foreign relations committee hearing, Pompeo was asked whether whether the 2001 AUMF provided authorization for military action against Iran. He declined to answer, saying that he would defer to the administration's lawyers but emphasized the connection between the Iranian government and al-Qaeda.
***
One year out, America's maximum pressure campaign has certainly succeeded in straining Iran's economy and undercutting European efforts to preserve the JCPOA. Still, it has failed to curb Iran's ballistic program, spur the release of American detainees or end Iran's support for proxy groups in the region. Meanwhile, tensions between the U.S. and Iran are running hot, amplifying the risk of miscalculation by both sides. With Iran now on the brink of abandoning the JCPOA, it's unclear where maximum pressure will lead. Though the Trump administration has been quick to downplay the risk of conflict, the lack of an overarching strategy leaves cause for real concern.
---
Hilary Hurd holds a J.D. from Harvard Law School. She previously worked for Transparency International as their U.S.-defense lead and global advocacy manager. She has an M.Phil. in International Relations from Cambridge University, an M.A. in Conflict, Security, and Development from King's College London, and a B.A. in Politics and Russian Studies from the University of Virginia. She was a 2013 Marshall Scholar.
Nathaniel Sobel is a graduate of Harvard Law School, where he was a Lawfare student contributor.