The Role of OMB in Withholding Ukrainian Aid
One of the most damning allegations in the whistleblower complaint is that President Trump pressured Ukrainian President Volodymyr Zelensky to investigate former Vice President Joe Biden and his son by withholding congressionally approved military aid.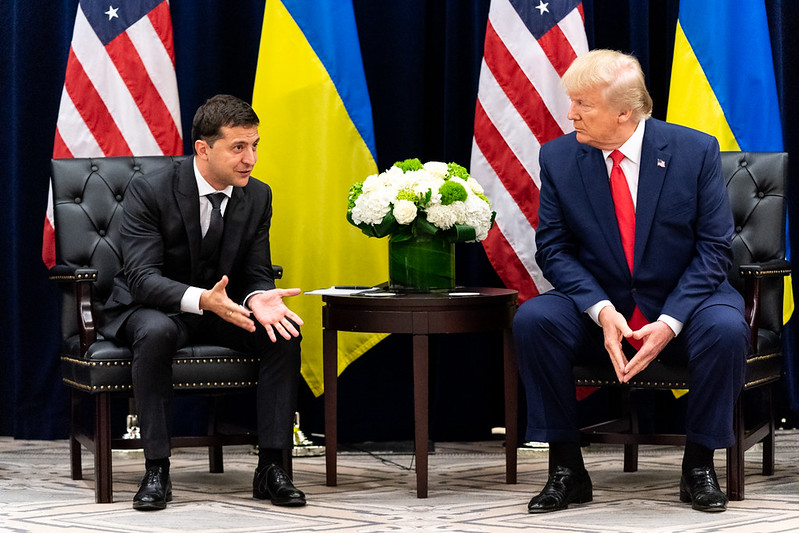 Published by The Lawfare Institute
in Cooperation With


One of the most damning allegations in the whistleblower complaint is that President Trump pressured Ukrainian President Volodymyr Zelensky to investigate former Vice President Joe Biden and his son by withholding congressionally approved military aid. The amounts include $250 million from the Defense Department and $141 million from the State Department.
As debates swirl over the existence and significance of a presidential quid pro quo, it is worth examining the underlying mechanics of how the White House might have withheld the money. The answer lies in the Office of Management and Budget (OMB), which is responsible for overseeing all executive agency spending. That is why on Oct. 7 the chairmen of three House Committees—Oversight and Reform, Intelligence and Foreign Affairs—sent letters to subpoena documents from the acting director of OMB, Russell Vought, in addition to Secretary of Defense Mark Esper. The subpoena to Vought ordered him to produce "all documents and communications in your custody, possession, or control referring or relating to" various matters linked to the withholding or deferral of congressionally appropriated funds to Ukraine. The deadline to respond to the subpoena was Oct. 15, yesterday, and Vought made clear that he would not comply.
At present, it is unclear whether OMB withheld the money in a manner consistent with its legal obligations. Without drawing any definitive conclusions, this post explains the complex legal underpinnings of the issue about which Congress seeks information.
Origins of the Withheld Funds
The withheld funding was allocated by two laws. First, $250 million in Defense Department aid was provided by the National Defense Authorization Act, which Congress passes every year to allocate federal money to various defense initiatives. Second, $141 million in State Department aid comes from the Consolidated Appropriations Act, which Congress often passes to provide federal money to a number of other government programs (including foreign aid).
The $250 million in military aid was authorized in the 2019 John S. McCain National Defense Authorization Act (or the 2019 NDAA). However, in order for all the funds to be released to Ukraine, §1237(c) of the 2017 NDAA (which 2019 NDAA adopted) requires that "the Secretary of Defense, in coordination with the Secretary of State," certify:
[T]he Government of Ukraine has taken substantial actions to make defense institutional reforms, in such areas as civilian control of the military, cooperation and coordination with [the Ukrainian legislature's] efforts to exercise oversight of the Ministry of Defense and military forces, increased transparency and accountability in defense procurement, and improvement in transparency, accountability, and potential opportunities for privatization in the defense industrial sector, for purposes of decreasing corruption, increasing accountability, and sustaining improvements of combat capability.
The under secretary of defense for policy, John C. Rood, provided this certification in a letter to Congress in May 2019 and stated that "[n]ow that this defense institutional reform has occurred, we will use the authority provided ... to support programs in Ukraine further." On June 18, the Pentagon also publicly announced that it was going to release this funding to Ukraine.
Authorization is only half of the process; funds also need to be appropriated. On Sept. 28, 2018, Congress appropriated the $250 million in military aid for Ukraine (see here, § 9013). Once this had occurred, the Defense Department only needed OMB's approval to release the aid. However, OMB delayed, to the frustration of some members of Congress. In late September, Senate Minority Whip Dick Durbin said:
We'd been given signals twice by the administration that they were going to release the funds then nothing happened. In August we were told the OMB is holding it. They were withholding these funds that had been appropriated and signed into law by the President until the last two weeks of the fiscal year. That's crazy. It hardly ever happens.
On Feb. 15, Congress appropriated $445.7 million to the State Department to assist Ukraine (see here, § 7046(a)(2)), which included the $141 million at issue here. In a joint explanatory statement (page 65 of Division F, for interested readers), Congress broke down the $445.7 million in funding, which included (among other initiatives) $115 million in foreign military financing; $2.9 million in military training; and $45 million in international narcotics control, law enforcement and anti-terrorism funding.
That $141 million State Department aid was earmarked by Congress and approved by the secretary of state to be sent to Ukraine. As a last step, the funding required final approval from OMB. And as with the Defense Department aid, OMB withheld these funds. CNN reported that on June 21 the State Department notified OMB of its plan to spend the $141 million. According to a Democratic aide, OMB would have normally spent five days asking questions about this package, but, instead, it took two months before the White House disbursed the money.
OMB's Authority Over Congressionally Allocated Aid
How can OMB grant final approval to release the funds discussed above?
Once Congress designates money for a program, the executive is typically bound to spend those funds on that program. If the president wants to significantly alter a program's budget, he is required to obtain congressional approval.
Within these bounds, the White House OMB has some discretion to determine when congressional money can be released to an agency and spent. But this discretion is limited to ensuring that congressional funding lasts for the allotted time and that the money is spent appropriately.
The White House's discretion is granted and limited through the president's "apportionment power" and "deferral power," or the ability to limit spending for brief periods if the budget is at risk of not lasting the fiscal year. The president subsequently delegates both these responsibilities to OMB. Usually, plans or instructions for an agency's budget are detailed by OMB Circular A-11, a standard White House document. (An example of one is here.) Once Congress has allocated this money, career OMB employees, and not political appointees, normally review and approve each agency's planned post-appropriation spending.
OMB is prohibited from using its "apportionment power" to determine or set an executive agency's policy. OMB can only use its authority to ensure a congressional law is appropriately executed, and the money allocated for that law typically lasts through the fiscal year unless the money is made available for obligation over a longer period. In particular, 31 U.S.C § 1512(c)(1) states that OMB can use its apportionment or reapportionment power only:
(A) to provide for contingencies;

(B) to achieve savings made possible by or through changes in requirements or greater efficiency of operations; or

(C) as specifically provided by law.
Thus, OMB is limited to requiring an agency to provide details on how it plans to spend its apportioned funds. This could entail asking an agency to write a specific timeline; detail activities, projects or objectives; or require the agency to reserve money as contingency funds for other operations linked to that overall initiative.
The 1974 Congressional Budget and Impoundment Control Act (ICA)—written in the wake of President Nixon's attempt to exert greater control over the budget—extends this reasoning to OMB's deferral power, or the ability to withhold congressionally mandated money from an executive agency for a period of time. As a routine matter, these types of deferrals do not last longer than 45 days. 2 U.S.C § 682(1), defines a "deferral" as:
(A) withholding or delaying the obligation or expenditure of budget authority (whether by establishing reserves or otherwise) provided for projects or activities; or

(B) any other type of Executive action or inaction which effectively precludes the obligation or expenditure of budget authority, including authority to obligate by contract in advance of appropriations as specifically authorized by law
Part of the ICA (2 U.S.C § 684) mirrors 31 U.S.C § 1512 and states that, like apportionments, "deferrals shall be permissible only:"
(1) to provide for contingencies;

(2) to achieve savings made possible by or through changes in requirements or greater efficiency of operations; or

(3) as specifically provided by law.
This section also clearly states that "[n]o officer or employee of the United States may defer any budget authority for any other purpose."
If OMB believes that all or part of a budget is not required to resource a program or if the president decides that a program is no longer in the best interests of the United States, the ICA requires the White House to write a message to Congress (2 U.S.C. § 683(a)) stating:
(1) the amount of budget authority which he proposes to be rescinded or which is to be so reserved;

(2) any account, department, or establishment of the Government to which such budget authority is available for obligation, and the specific project or governmental functions involved;

(3) the reasons why the budget authority should be rescinded or is to be so reserved;

(4) to the maximum extent practicable, the estimated fiscal, economic, and budgetary effect of the proposed rescission or of the reservation; and

(5) all facts, circumstances, and considerations relating to or bearing upon the proposed rescission or the reservation and the decision to effect the proposed rescission or the reservation, and to the maximum extent practicable, the estimated effect of the proposed rescission or the reservation upon the objects, purposes, and programs for which the budget authority is provided.
Additionally, § 683(b) requires that the allocated money be spent for its originally designated purpose unless Congress passes a bill rescinding the funding within 45 days after the president's message.
OMB's Decision to Conduct a Prolonged Review of Ukrainian Aid
When the Department of Defense and the State Department first requested 2019 foreign aid for Ukraine (here and here, respectively), OMB presumably approved these requests. Congress then gave both these agencies the requisite funding through two appropriations bills. In June, both agencies informed OMB that they intended to spend this congressionally allotted money, but OMB put the money on hold until the White House approved the funds months later, on Sept. 11.
Before the whistleblower complaint and the notes from Trump's call with Zelensky were released, this timing perplexed Congress. Politico's coverage of OMB's delay suggests the Ukrainian funds were upheld as part of a larger White House initiative to review and cut "unnecessary" foreign assistance. This policy placed Trump in direct conflict with Senate Republicans, who saw the Ukrainian aid as vital to national security and thought the president was trying to circumvent Congress's spending power.
OMB might have had the ability to withhold this aid if the White House had provided Congress with a message meeting the ICA's requirements. But no message appears to have been sent. Furthermore, the aid from both Defense and State was held long past the mandated 45-day period and in apparent contravention of his powers defined by 31 U.S.C § 1512. The president and OMB did ultimately release the $250 million in aid from the Defense Department (on Sept. 11) and the $141 million from the State Department (around the same date). Whether there is some good legal or other explanation for the long delay in releasing the money is a question that lacks a clear answer, and that might remain unanswered indefinitely if Congress cannot get its hands on the requested documents.
---
Jacques Singer-Emery is a graduate of Harvard Law School and previously spent four years in the New York Police Department (NYPD), first as a policy advisor to Police Commissioner Bratton and then as a Case Analyst for the NYPD Intelligence Bureau. He is the Editor-in-Chief of the National Security Law Journal and a researcher for Professor Philip Heymann and Professor Blum. Jacques graduated Magna Cum Laude from Princeton University in 2013.
Jack Goldsmith is the Learned Hand Professor at Harvard Law School, co-founder of Lawfare, and a Senior Fellow at the Hoover Institution. Before coming to Harvard, Professor Goldsmith served as Assistant Attorney General, Office of Legal Counsel from 2003-2004, and Special Counsel to the Department of Defense from 2002-2003.