The Arraignment That Wasn't
The former president's "body man" wasn't arraigned—for a second time. Why?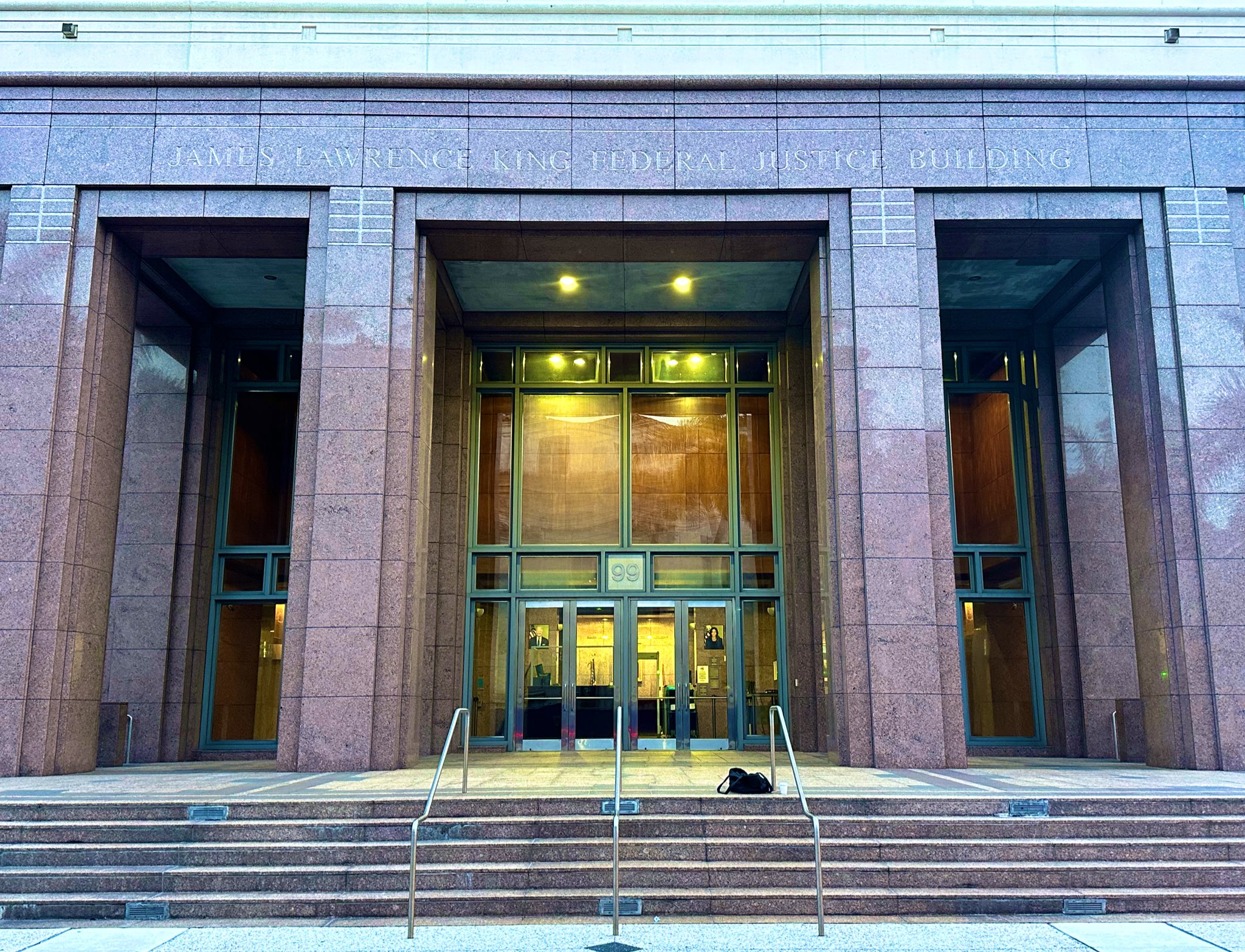 Published by The Lawfare Institute
in Cooperation With


It is a Tuesday morning in Miami, and once again, I find myself arriving at the federal courthouse at an ungodly hour. I should acknowledge an improvement; this time, I have at least arrived on the right day, rather than a full rotation of the Earth before the hearing is scheduled to begin. That said, it is just after 5:00 a.m. ET on the right day. I am, once again, first in The Line.
Just under five hours later, I am seated on a wooden pew in courtroom 10-5 at the James Lawrence King federal office building. Along with the clutch of press seated in the rows behind me, I am here for the arraignment of Waltine Nauta, the "body man" turned co-defendant of Donald J. Trump. Nauta is set to be arraigned today on criminal charges related to false statements and conspiracy to obstruct justice.
If, that is, he ever shows up.
As we await the magistrate judge who will preside over the hearing, a bearded man clad in a gray, slightly wrinkled suit makes his way up the aisle. This is Stanley Woodward, Nauta's Washington, D.C.-based counsel. Yet, as the clock ticks toward the scheduled 9:45 a.m. ET starting time, Woodward's client is nowhere in sight.
Woodward last appeared alongside his client at an initial hearing two weeks prior, when he told Magistrate Judge Jonathan Goodman that Nauta could not be arraigned because he had been unable to secure local counsel prior to the hearing. Under court rules, a defendant must be represented by local counsel admitted to practice in the Southern District of Florida—or at least be sponsored by one to appear pro hac vice.
The court security officer, however, does not know that Woodward is the defendant's attorney. As Woodward approaches the front of the gallery, she eyes him with suspicion.
"Are you counsel of record?" she asks.
"Well, it's complex," Woodward replies, a hint of frustration in his voice.
The court officer, who still appears dubious, nonetheless allows Woodward to take a seat at the table reserved for defense attorneys on the right side of the room. (Note to self: In the future, always say, "Well, it's complicated" when challenged about whether I'm allowed to be where I am going.)
The prosecutors arrive. To my left, a pack of attorneys dressed in hues of gray and navy blue march toward their designated table. Leading the group are Jay Bratt and David Harbach of the special counsel's office. They are trailed by their Justice Department colleagues, Karen Gilbert and Michael Thakur.
Before taking a seat, Harbach approaches the defense table, where Woodward has been quietly scrolling the docket on his computer for several minutes. After exchanging pleasantries and a brief handshake, the men tilt their faces away from the gallery. Woodward whispers animatedly into Harbach's ear, punctuating his speech with shrugs and vigorous nods—explaining, presumably, why his client, who was scheduled to be arraigned today, is not yet in the room. Bratt, his interest piqued by the impromptu conference, floats over to listen in.
When Woodward finally finishes his monologue, the looks on Harbach's and Bratt's faces suggest they are displeased.
Well, "let's see" what the court says, Bratt tells Woodward. The prosecutors hurry back to the left side of the courtroom, where they whisper in a huddle with Gilbert and Thakur.
The whispering ends abruptly when Magistrate Judge Edwin Torres enters the room and the bailiff booms, "All rise!" Torres will preside over today's hearing, though U.S. District Judge Aileen Cannon has been assigned to the case.
"I see that Mr. Nauta is not present," Torres observes after the parties make their appearances for the record, eyeing the empty seat next to Woodward. He shifts his gaze to Woodward: Is there good cause for the defendant's absence?
Woodward jumps in to explain. Nauta was scheduled to fly to Miami from the airport in Newark, New Jersey, he says. But Nauta's flight was among the 500 or so that were grounded as the result of weather delays. Woodward claims that Nauta spent eight hours at the airport and three hours stuck on the tarmac. Despite these "best efforts," he "simply" could not get a flight to Miami in time for the arraignment.
Torres, in response, does not seem inclined to further interrogate the circumstances of Nauta's absence. He finds that Nauta's failure to appear in court today will be excused for "good cause." But he wants to know if Woodward can "proceed with the arraignment" despite Nauta's absence.
"No," Woodward replies, the arraignment cannot proceed—though the reason why has nothing to do with Nauta's absence. Instead, Woodward explains, Nauta has "not been able to retain local counsel" who could either represent Nauta during the arraignment or sponsor a pro hac vice application for Woodward. As a result, Woodward asks the court to allow a brief continuance of the arraignment so that Nauta can finally find counsel admitted to the bar in the Southern District of Florida.
Torres, mulling the suggestion, turns to the Justice Department for its view on the continuance. Harbach, rising to his feet, says that the government would like to keep the delay "as brief as possible." He notes that Judge Cannon has scheduled a pretrial conference for July 14. The prosecutors would like to avoid pushing that date back as a result of Nauta's delayed arraignment.
Woodward, responding to the prosecution's request, says that he has a trial in another case set for the week of July 14, which means that he will move to delay the pretrial conference anyway. He hasn't been able to do so yet, he says, because court rules prohibit him from filing any motions on the docket unless he has sponsorship from local counsel, which he does not.
At this, Torres interjects to emphasize that the date of the July 14 conference is not his decision; that falls under the purview of Cannon, the presiding judge in the case. With that in mind, Torres asks about a date that could work for Woodward and Nauta.
Woodward suggests July 6. That should be enough time, he says, to retain local counsel and to get the necessary paperwork filed. In reply, Torres reminds Woodward that the court can appoint an attorney for Nauta if he cannot afford one.
Now, with the date of Nauta's arraignment nailed down, Torres turns to location. Noting that the court has previously set arraignment proceedings in this case in Miami for "security reasons," he suggests that the arraignment could be held in West Palm Beach if Woodward intends to request a waiver of Nauta's appearance at that hearing.
Woodward indicates that he expects that he will file such a motion to waive Nauta's appearance. And he expects that he will not be present for the July 6 hearing—instead, the local counsel that Nauta must inevitably hire will deal with that. "Sir, as much as I love your city, I really don't want to be here on the sixth," Woodward declares. Still, he continues, it would be preferable to schedule the hearing for the Miami courthouse. Miami is easier to get to in case he or his client need to show up in person, he says.
Torres, sounding stern for the first time all morning, cautions Woodward that July 6 is the "drop-dead deadline to get somebody on board." Then he finally announces an order: "I'll set the arraignment for next Thursday, the sixth."
And the hearing is over. The ratio of minutes standing in line to minutes of hearing time today clocked in at 30:1.
---
Anna Bower is Lawfare's Legal Fellow and Courts Correspondent. Anna holds a Bachelor of Laws from the University of Cambridge and a Juris Doctorate from Harvard Law School. She joined Lawfare as a recipient of Harvard's Sumner M. Redstone Fellowship in Public Service. Prior to law school, Anna worked as a judicial assistant for a Superior Court judge in the Northeastern Judicial Circuit of Georgia. She also previously worked as a Fulbright Fellow at Anadolu University in Eskişehir, Turkey. A native of Georgia, Anna is based in Atlanta and Washington, D.C.