Trump Encourages China to Investigate Biden Family, Clouding Trade Talks
Trump Clouds Trade Talks With Comments to Media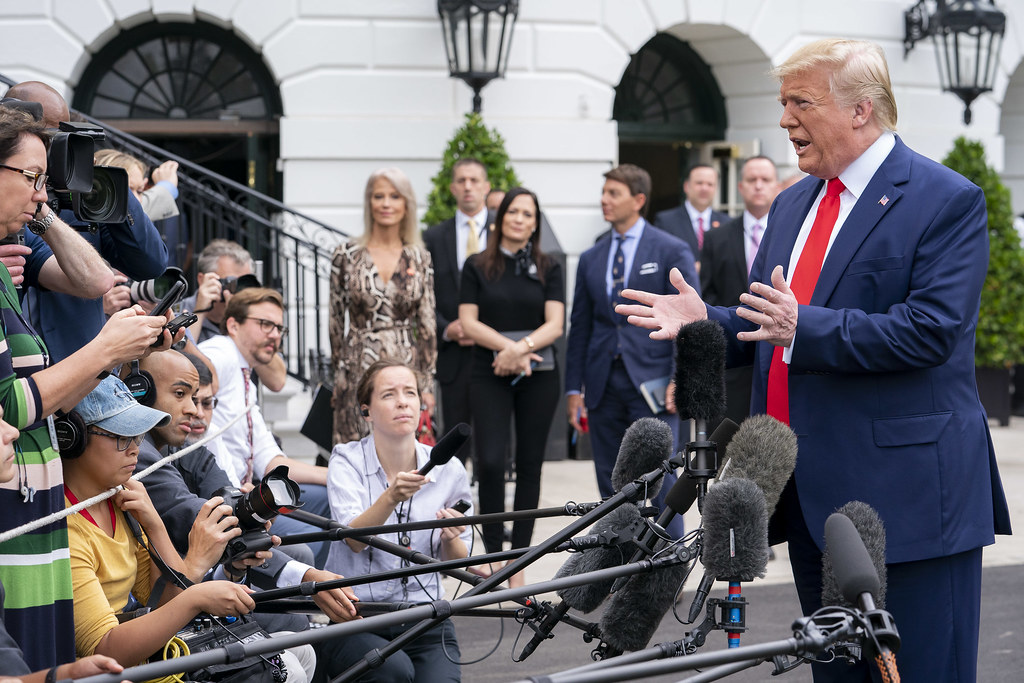 Published by The Lawfare Institute
in Cooperation With


Trump Clouds Trade Talks With Comments to Media
Speaking to reporters on the White House lawn on Oct. 3, President Trump called on China to investigate former vice president and current presidential candidate Joe Biden and his son, Hunter Biden: "China should start an investigation into the Bidens, because what happened in China is just about as bad as what happened with Ukraine." These comments add a new dimension to a rapidly expanding impeachment inquiry, which concerns the Trump administration's alleged attempts to encourage Ukraine and other countries to investigate domestic political rivals.
In remarks over the past few weeks, Trump has suggested that Hunter Biden used his connections to the Obama administration to secure Chinese capital for investments by a private-equity fund with which he was involved. The fund in question, Shanghai-based firm Bohai Harvest RST (BHR), has ties to the Chinese government. In exchange for helping to provide capital, Trump alleged, the Chinese government may have received political favors from the Obama administration: "China, for so many years, has had a sweetheart deal where China rips off the USA—because they deal [with people like] Biden, where they give their son a billion and a half dollars…. You know what they call that? They call that a payoff."
Today, Hunter Biden owns 10 percent of BHR and is one of its nine directors. However, to date, no evidence has emerged suggesting that the company made significant investments at Hunter Biden's bidding, and his lawyer has stated that he owned no stake in the company until October 2017. Neither has any evidence emerged that Hunter Biden influenced the Obama administration's foreign policy. Still, analysts have argued that Hunter Biden's investments in China are just one more example of a troubling pattern whereby political officials and their family members maintain complex foreign business relationships that create the potential for conflicts of interest, or the appearance thereof. A number of high-ranking American officials and their families—including, notably, Trump—maintain significant financial interests in foreign countries while serving in public office.
After his initial comments, Trump said he had not spoken with Chinese government leadership about pursuing an investigation. "But it's certainly something we can start thinking about," he added, "because I'm sure that President Xi does not like being under that kind of scrutiny."
Although no evidence suggests that the Trump administration has pressed Beijing for an investigation, Trump's latest remarks come amid controversy about how he has handled other sensitive topics in conversations with Xi. CNN reported that Trump discussed the political chances of both Vice President Biden and Senator Elizabeth Warren in a June conversation with Xi. During the same call, according to diplomats familiar with the conversation, Trump told Xi he would remain quiet on protests in Hong Kong while trade negotiations continued.
Trump's call for China to investigate also comes ahead of trade talks scheduled for Thursday and Friday, when Vice Premier Liu He will meet with Treasury Secretary Steven Mnuchin and United States Trade Representative Robert Lighthizer. Trump said on Friday that the two sides stand a "very good chance" of reaching a deal, insisting there was no connection between the talks and his call on Beijing to investigate the Bidens. Chinese Foreign Minister Wang Yi responded to the call to investigate by insisting that "China will not interfere in the internal affairs of the U.S., and we trust that the American people will be able to sort out their own problems."
Some experts have assessed that China may interpret the calls to investigate the Bidens, as well as the impeachment inquiry, as signs of weakness. In recent conversations with U.S. counterparts, Liu indicated that China would come to the table with an offer that does not include commitments on government subsidies or industrial policy—perhaps an indication that the Chinese side believes it has the upper hand. Still, others argue that the request to investigate Hunter Biden may not substantively change the upcoming negotiations, since deeper differences—including disputes over industrial policy, intellectual property and government subsidies—were likely to separate the two sides regardless of Trump's recent comments. If no deal is reached, U.S. tariffs on $250 billion of Chinese goods will rise to 30 percent from 25 percent on Oct. 15.
In Crackdown Following National Day Protests, Hong Kong Authorities Invoke Colonial-Era Emergency Law
On Oct. 4, as pro-democracy protests raged, Hong Kong's chief executive, Carrie Lam, invoked the city's Emergency Ordinance Regulation: a colonial-era law that gives the chief executive sweeping powers during an emergency or public danger. The law's text empowers Lam to enact "any regulations whatsoever which [she] may consider desirable in the public interest." With Beijing's support, Lam used the emergency law to ban citizens from wearing face masks at public assemblies—an effort to help police identify and track protestors. The new law comes amid an uptick in protest violence around the time of China's Oct. 1 National Day.
Although Lam emphasized on Oct. 4 that Hong Kong is "not in a state of emergency," she said the face mask ban and emergency-law invocation were necessary, because the city is "in serious danger." Political allies increased pressure on Lam to take such decisive action after unprecedented police-protestor clashes in recent days. On Oct. 1, police shot and critically wounded an 11th-grade student—marking the first civilian shooting in this year's protests. Days later, on Oct. 4, protestors attacked a police officer with petrol bombs after he accidentally shot a 14-year-old student. Hong Kong police leaders have publicly urged Lam to adopt stricter anti-protest measures under the emergency law.
Lam's use of the emergency law is significant because no leader has invoked it since 1967. Analysts believe, therefore, she might eventually use it to enforce new censorship or technology controls—such as orders to telecommunication companies to cut internet services or to disable certain websites, platforms and networks. Legal experts disagree on whether such use of the ordinance would be lawful. Some Chinese academics have contended that Lam can, and should, use the emergency law for internet censorship; other experts argue, however, that Lam's actions contradict freedoms enshrined in Hong Kong's Basic Law. For her part, Lam stated on Oct. 4 that she "would not rule out any measures that we can reasonably implement under the current law" if "the violence escalates."
Should Lam implement technology restrictions under the emergency law, she could seriously hinder the protestors' ability to coordinate. Hong Kong activists rely on anonymous chat functionalities of mobile apps like Telegram to organize protests without government reprisal. Tighter regulations could also burden foreign tech companies operating in Hong Kong—such as Amazon and Alphabet, which host data centers in the city that power their Asia-Pacific cloud services. Chinese authorities, generally, have already proved willing to enlist the cooperation of private companies to further their Hong Kong policy goals. Documents leaked last month reveal that ByteDance, operator of TikTok, has worked with Beijing to censor content that the Chinese government found objectionable from its platform in Hong Kong.
As government responses to the protests grow more severe, they may also harm U.S.-China relations. Congress is now considering an amendment, which China has harshly condemned, to the U.S. legislation that grants Hong Kong special trade status. The amendment would require the president to sanction actors who abduct or torture Hong Kong human rights activists, and to devise plans for protecting U.S. citizens from extradition to China. President Trump, however, reportedly promised President Xi in June not to speak about the Hong Kong protests while trade negotiations continued. Trump's pledge has already led the State Department to cancel an official's planned remarks on the protests and may limit how forcefully the U.S. condemns China's actions in Hong Kong going forward.
In Other News
On Oct. 7, the Trump administration blacklisted 28 Chinese companies, requiring that U.S. suppliers obtain a special license before trading with the Chinese firms in question. The license application procedure comes with a presumption of denial, meaning the government will issue licenses only in highly exceptional circumstances. The Commerce Department said that the companies—which include surveillance equipment manufacturers like Hikvision and Dahua, as well as facial and speech recognition technology firms like Megvii and IFlytek—had been targeted for their ties to "human rights violations" in China's Xinjiang region. A Commerce Department spokesman said the action was not related to the trade talks, but the move is likely to cloud negotiations later this week.
On Oct. 3, Russian President Vladimir Putin announced that Russia was helping China to build a state-of-the-art missile defense system. Putin said the system would "radically increase" China's defense capabilities, since only the United States and Russia currently have such a system in place. He did not reveal details about the system's scale, cost or technology. The announcement is the latest example of increasing technological and military cooperation between Russia and China. The two sides have announced increased data-sharing plans, jointly developed industrial science and technology parks, and even formed a joint incubator aimed at supporting young tech entrepreneurs.
During its annual National Day military parade, China unveiled new military equipment, with a special emphasis on airborne and naval drones. The parade featured the DR-8, an unmanned aerial vehicle (UAV) that experts say travels more quickly than previous Chinese UAVs. The parade also included the DF-17, a missle that consists of a rocket-launched glider that may travel up to five times the speed of sound. Experts have noted that while the military upgrades on display are formidable, the weapons likely do not present significant new threats to U.S. interests in the immediate term, given that the Chinese military already possessed similar capabilities.
Commentary
In Foreign Affairs, Jiwei Ci argues that, without democratic reforms, the Chinese Communist Party cannot retain political legitimacy or challenge U.S. global leadership. Bret Stephens writes in the New York Times that the Chinese government faces looming risks, including "international isolation, economic decline, and domestic revolt." For Project Syndicate, Chris Patten analyzes the Hong Kong protestors' sources of discontent and the Chinese government's response. Jude Blanchette at the Center for Strategic and International Studies comments on Xi's leadership and China's global standing as the People's Republic turns 70.
Writing for The Hill, Patrick Quirk and David Shullman argue that the U.S. should increase financial programs aimed at strengthening democracy abroad in response to China's foreign policy. Clayton Cheney explores for the Council on Foreign Relations how the U.S. should respond to China's Digital Silk Road. For the Mercator Institute for China Studies, Alexandra-Andreea Pop and Anne-Sophie Deman discuss how European companies can stay competitive as the Belt and Road Initiative progresses, while Hanns W. Maull contends that neither U.S. nor Chinese leaders are committed to the ideals of multilateralism.
On Lawfare, Scott R. Anderson and Aaron Klein discuss a proposal for the federal government to provide insurance against cyberattacks. Nele Achten analyzes developments in the United Nations's debates about cybersecurity and international law. Sean Quirk examines flaring tensions between China and Vietnam in the South China Sea.
---
Richard (Ricky) Altieri is a third-year student at Yale Law School. He holds a Bachelor's degree in Philosophy from Amherst College and a Master's in Global Affairs from Tsinghua University, where he studied as a Schwarzman Scholar. From 2015-2016, as part of a Watson Fellowship, Richard performed stand-up comedy in English, Spanish and Chinese in various countries. From 2017 to 2019, Richard served as a Business Advisory Services Manager at the US-China Business Council in Beijing, where his work focused principally on Chinese technology policy and intellectual property law.
Benjamin Della Rocca is a third-year student at Yale Law School. Before law school, he researched global macroeconomics at the Council on Foreign Relations and at Bridgewater Associates. He holds a bachelor's degree from Yale in Ethics, Politics and Economics. His writing has appeared in Foreign Affairs, the Wall Street Journal and the Washington Post.