Water Wars: China Makes Waves with Missile Deployment After Uneventful U.S.-ASEAN Summit
Although the U.S.-ASEAN summit was originally billed as the main story of the week, China stole the show after news broke that the PLA recently deployed anti-aircraft missiles to a contested island in the South China Sea.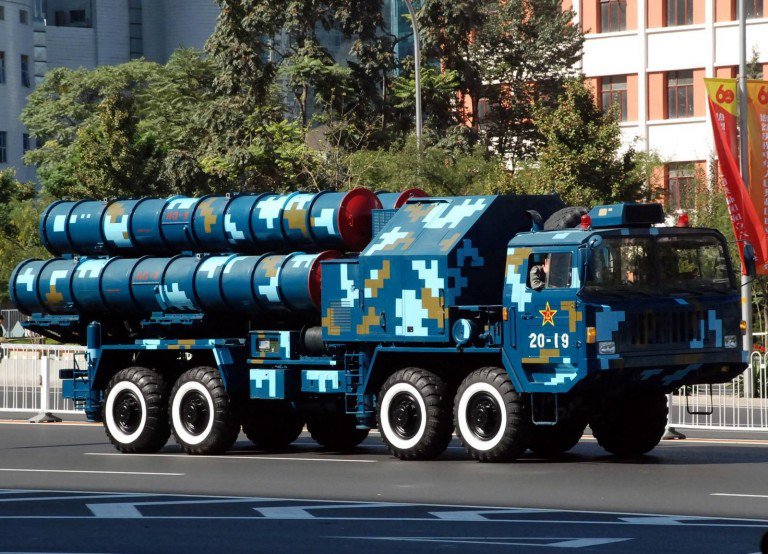 Published by The Lawfare Institute
in Cooperation With


Although the U.S.-ASEAN summit was originally billed as the main story of the week, China stole the show after news broke that the PLA recently deployed anti-aircraft missiles to a contested island in the South China Sea.
On Tuesday, Fox News reported that the PRC had positioned two HQ-9 surface-to-air missile batteries and a radar system on Woody Island in the Paracel chain. Perhaps not coincidentally, this is where the USS Curtis Wilbur conducted a freedom of navigation (FON) patrol late last month. Based on satellite imagery obtained from ImageSat International, Fox pinpointed the date of arrival to sometime between February 3 and last Saturday. Both the Pentagon and Taiwan's Ministry of Defense independently confirmed the accuracy of this assessment.
U.S. Secretary of State John Kerry expressed concern on Wednesday about the increasing militarization of the South China Sea, and he promised to have a "very serious conversation" with Beijing over the missile deployment. Senate Armed Service Committee (SASC) Chairman John McCain reacted more forcefully, suggesting that the United States should consider "raising the costs for Beijing" and criticizing PRC President Xi Jinping's "cavalier disregard for his public commitments" to not further militarize the South China Sea. The Chairman also promised to raise the issue with U.S. Pacific Commander Harry Harris during a hearing before the SASC next week. Admiral Harris independently indicated that the deployment "calls into question the seriousness of President Xi's statement at the end of last year."
PRC officials neither confirmed nor denied the accuracy of the Fox News report, but Beijing nonetheless defended its right to "deploy necessary national defense facilities on the islands [as] an exercise of self-preservation and defense." Foreign Minister Wang Yi told reporters that such defensive posturing has nothing to do with "militarization" and is "consistent with the right to self-protection that China is entitled to under international law." Some Chinese officials and regional experts also took issue with critiques of the PRC President, noting that Mr. Xi's non-militarization pledge only extended to the Spratlys and not the Paracels, which are much closer to the Mainland.
Reaction from elsewhere in the Asian Pacific was notably guarded and trickled in slowly throughout the week. After confirming the missile deployment, Taiwanese Defense Ministry spokesman Luo Shou-he suggested that all parties should work together for peace and stability in the region and avoid unilateral actions that could amplify tensions. Philippine Defense Secretary Voltaire Gazmin said the missile deployment "increases tensions in the South China Sea." Tokyo took the hardest line, with Japanese Chief Cabinet Secretary Yoshihide Suga expressing "serious concerns" over China's "unilateral move to change the status quo" in the region.
Reports of the missile deployment broke shortly after President Obama concluded the heavily anticipated U.S.-ASEAN summit at Sunnylands resort in California—the first such conference to be held on American soil. In his opening remarks on Monday, Mr. Obama urged ASEAN leaders to forge a common position on issues affecting regional security, specifically maritime disputes in the South China Sea. "Here at this summit, we can advance our shared vision of a regional order where international rules and norms, including freedom of navigation, are upheld and where disputes are resolved through peaceful, legal means," the President optimistically proclaimed.
After spending most of Monday focused on trade and economic issues, the United States and its ten ASEAN partners turned to security challenges. This dialogue specifically addressed "the need for tangible steps in the South China Sea to lower tensions including a halt to further reclamation, new construction and militarization of disputed areas," according to Mr. Obama. However, the joint statement issued at the end of the two-day summit failed to include the specific reference to China that Washington reportedly sought. Rather than turning a spotlight on the PRC, the statement reiterated broad principles, including "mutual respect for the sovereignty, territorial integrity, equality and political independence of all nations ... and a shared commitment to peaceful resolution of disputes." It also recognized the "increasingly close U.S-ASEAN strategic partnership" and reaffirmed "the rights of freedom of navigation and overflight" in the South China Sea.
On Wednesday, PRC Foreign Ministry spokesman Hong Lei said China welcomed the U.S.-ASEAN consensus but cautioned that "countries from outside the region should not flex their military muscles in the South China Sea and should not entice regional countries to carry out joint military exercises or patrol activities targeting a third party."
In other news…
United States
Seventh Fleet Commander Joseph Aucoin expressed concern over Beijing's increasing reliance on non-PLA-Navy vessels to assert its maritime claims. Because the United States has "all types of senior level engagements with the Chinese PLAN" and both navies abide by a code for unplanned encounters at sea, Admiral Aucoin has a "greater fear" about clashes with other actors, "whether it's coast guard or what we refer to as white shipping or cabbage ships, not sure about their professionalism." Admiral Aucoin also described the possibility of China operating military aircraft from its artificial islands in the Spratlys as "a destabilizing uncertainty" but pledged that PRC fighter patrols would not deter American operations in the region.
China
Satellite images published by The Diplomat show dredging and land-filling efforts newly underway at both North and Tree Islands in the Paracel chain, about fifteen kilometers northwest of the PLA installation on Woody Island. Also newly visible is a PRC helicopter base under construction at Duncan Island, which Beijing might use to host anti-submarine warfare helicopters, such as its ASW Z-18F.
Philippines
Last Friday, outgoing PH Foreign Secretary Alberto del Rosario suggested that his country should pursue bilateral talks with China over territorial disputes in the South China Sea, but only if Manila prevails in the Philippines v. PRC maritime arbitration case. The Permanent Court of Arbitration (PCA) is expected to hand down its merits decision by May 2016. During a news conference, Mr. del Rosario said that, so long as a favorable decision is reached, "I think we should initiate a bilateral talk because we already have a platform by which we can solidly approach the negotiating table." He added that "a bilateral approach per se is good."
Japan
Following on from a similar report last month, The Japan Times recaps a new State Department disclosure related to former Secretary of State Hilary Clinton's email scandal. The newly-released emails include an exchange between Ms. Clinton and then-Assistant Secretary of State Kurt Campbell regarding to America's "delicate diplomacy" following Japan's nationalization of some of the Senkaku/Diaoyu Islands in 2012. An email from Mr. Campbell on October 2 of that year assessed that "Chinese and Japanese positions are hardening due to a variety of factors despite a shared understanding that prolonged friction would be harmful to regional stability and the global economic recovery." In an effort to deescalate tensions "while not serving as a mediator," the United States ultimately sent Senator Daniel Inouye to meet with Japanese PM Yoshihiko Noda. The Diplomat's Mina Pollmann explains why the State Department was so keen to avoid playing the role of "mediator" in the context of Asian Pacific maritime disputes.
Australia
Australian Foreign Minister Julie Bishop visited both Japan and China this week for a healthy dose of meetings with officials from the "two north Asian giants." In Tokyo, Ms. Bishop huddled with Japanese Prime Minister Shinzo Abe and Foreign Minister Fumio Kishida to discuss how to address Chinese maritime activities in the South China Sea. On Wednesday, Ms. Bishop arrived in Beijing to a frosty reception, with PRC Foreign Ministry spokesman Hong Lei admonishing that Australia "should adopt an objective and unbiased attitude and refrain from doing anything that undermines regional peace and stability." After meeting with Foreign Minister Wang Yi for the third Sino-Australian Foreign and Strategic Dialogue, Ms. Bishop told reporters that the two diplomats had "a candid exchange of views" related to maritime security, suggesting that she had fulfilled her pledge to query Beijing over its land reclamation projects in the region.
Taiwan
Taiwan's Ministry of Foreign Affairs announced that it "cannot accept the ruling" in the Philippines v. PRC maritime case because Taipei was neither invited to take part in the arbitration process, nor solicited for its opinion during any of the hearings.
Former Taiwanese president Lee Teng-hui sparked controversy over comments made in his new memoir, Remaining Life: My Life Journey and the Road of Taiwan's Democracy. It the book, Mr. Lee argues that the Republic of China and the PRC are separate entities—an express repudiation of the One China principle—and also suggests that the "Diaoyu [Senkaku] Islands do not belong to Taiwan . . . this is an undisputed truth." The Taiwan Presidential Office hit back on the latter assertion, declaring that Mr. Lee had "humiliated the country and insulted its sovereignty." President-elect Tsai Ing-wen also pushed back against the former president and reaffirmed that "the Diaoyutai Islands belong to Taiwan."
Vietnam
During the U.S.-ASEAN Summit, Prime Minister Nguyen Tan Dung called for a larger American role in preventing "large-scale construction of artificial islands" and "militarization" in the South China Sea, according to a government news website.
On Wednesday, more than one hundred Vietnamese activists gathered in Hanoi to chant anti-China slogans in commemoration of the 37th anniversary of a border war with the PRC.
Indonesia
On Monday, Indonesian President Joko Widodo met with Vietnamese PM Dung to discuss a process for delimiting the exclusive economic zone (EEZ) between the two countries. Foreign Affairs Minister Retno Marsudi said that Vietnam had committed to resolve the issue as soon as possible and noted that setting maritime boundaries is among Indonesia's top foreign affairs priorities.
Analysis, Commentary, and Additional Information
Offering additional insight on the PRC's missile deployment, Foreign Policy and Deutsche Welle take a closer look at the capabilities of the HQ-9 missile batteries, while the BBC showcases several vistas from around Woody Island itself. AEI's Michael Auslin explains why China picked this disputed feature for its first South China Sea missile deployment, and Sydney Freedberg, Jr., examines next steps for both the U.S. and China at Breaking Defense. Lastly, three AMTI experts provide a good overview relevant strategy and tactics in their piece on "Seeing the Forest Through the SAMs on Woody Island."
This week, Stratfor released two great reports on the South China Sea—one assessing the economic cost of overlapping maritime claims and the other suggesting that fish outstrip other natural resources as a destabilizer in the region. Relatedly, ASEAN Up offers an overview of gas and oil resources in Southeast Asia.
Turning to maritime disputes, Xiaodon Liang argues that America needs a new maritime communications strategy to win the war of words on freedom of navigation in the South China Sea. Meanwhile, a recent Xinhua op-ed blames America's "self-serving Asia policy" as the root of regional tensions. And Eurasia Review's Stewart Taggart predicts that China's Asian Infrastructure Investment Bank might suffer collateral damage from fallout over the PCA's upcoming merits ruling in Philippines v. PRC.
Water Wars is our weekly roundup of the latest news, analysis, and opinions related to ongoing tensions in the South and East China Seas. Please feel free to email us with breaking news or relevant documents.
---