The Week That Was
Your weekly summary of everything on the site.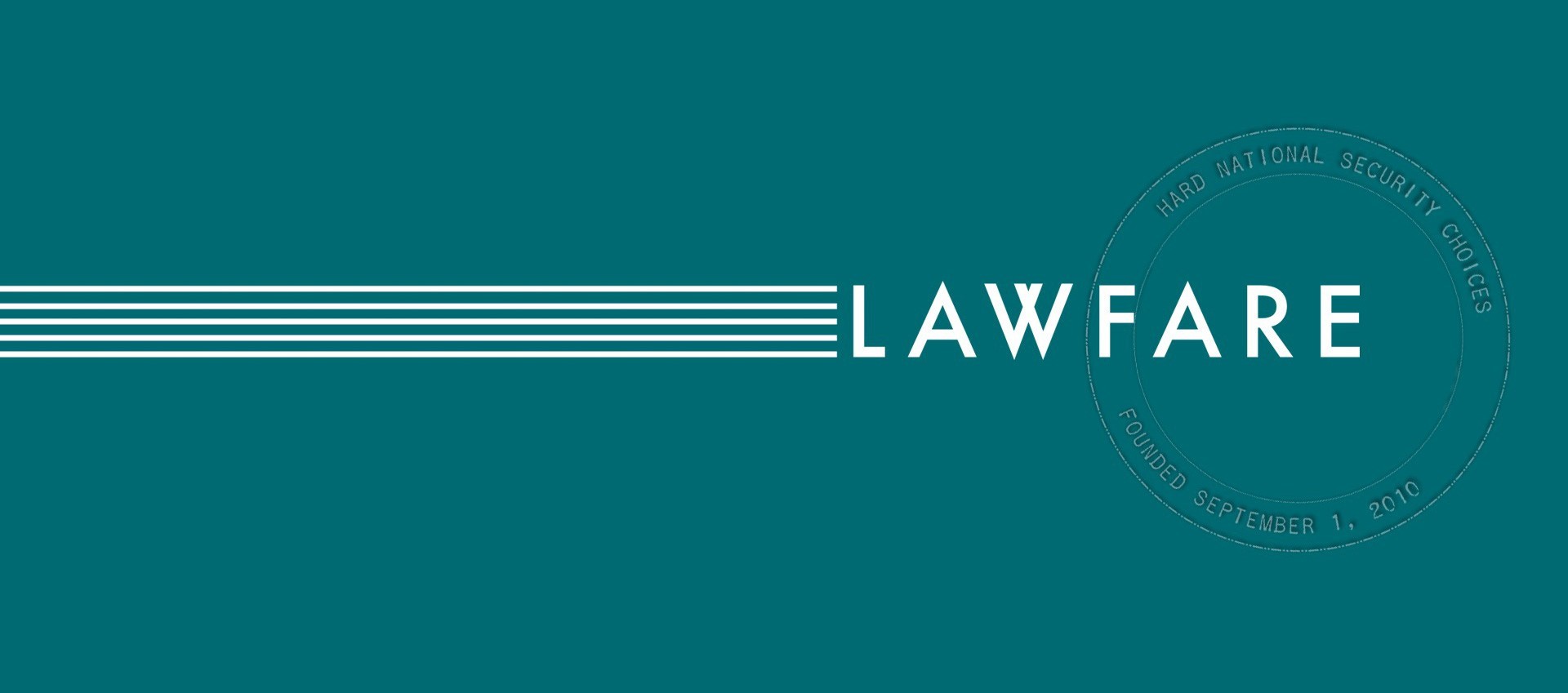 Published by The Lawfare Institute
in Cooperation With


Subscribe to receive this newsletter directly to your inbox.
Hadley Baker, Matt Gluck, Hyemin Han, Quinta Jurecic, Natalie K. Orpett, Benjamin Pollard, Katherine Pompilio, and Tia Sewell presented a guide to Lawfare's coverage of the aftermath of the Jan. 6 attack on the U.S. Capitol, telling its story as we currently know it in the process.
Mark A. Graber analyzed the meaning of insurrection and rebellion throughout history, starting from the antebellum period to present day, and considered how this applies to disqualifying elected officials who participated in the Jan. 6 attack on the Capitol.
John Rogan and Joseph J. Fins argued that the aftermath of the attack on the Capitol revealed the difficulties of invoking the 25th amendment, calling on the Jan. 6 committee to explain how the amendment works in its final report and propose legislative reforms to close gaps in its implementation.
Benjamin Wittes sat down with Roger Parloff to discuss the recent convictions and sentencing decisions related to acts committed on Jan. 6, including this week's seditious conspiracy trial for Stewart Rhodes, head of the Oath Keepers:
Scott R. Anderson sat down with the two authors of a recent statement to the Jan. 6 committee on reforming the Insurrection Act, Liza Goitein and Joseph Nunn, to discuss the history of the Insurrection Act, what they think makes it dangerous, and how Congress should try to fix it:
Paul Rosenzweig and Wittes argued that in the event the Democrats retain control of the House and the Jan. 6 committee's work is reauthorized, Speaker Nancy Pelosi should appoint Rep. Liz Cheney (R-Wyo.) to serve as chief investigative counsel for the committee.
Han shared U.S. District Judge Aileen Cannon's order on special master Judge Raymond J. Dearie's amended case management plan to oversee the review of documents seized during the FBI's Aug. 8 search of former President Donald Trump's Mar-a-Lago residence.
Gabriel Schoenfeld reviewed Ralph Engelman and Carey Shenkman's recent book, "A Century of Repression: the Espionage Act and Freedom of the Press" which explores the Espionage Act.
Susan Landau discussed the long-term implications of cyberwarfare during the Russian invasion of Ukraine.
Jason Healey and Olivia Grinberg argued that Ukraine's offensive cyber hacking against Russia, though perhaps for aims that the international community may agree with, is nonetheless a violation of cyber norms—which should be enforced without exceptions.
Stephanie Pell sat sat down with Brigadier General Shane Reeves, the dean of the Academic Board at West Point, and Robert Lawless, assistant professor in the Department of Law at West Point, to discuss his new piece "Data-Rich Battlefields and the Future LOAC," or law of armed conflict. They talked about the growing importance for militaries to be able to exploit data on the battlefield, the deception arms race that is emerging in the modern battlefield, and some key ways in which data-rich battlefields are putting pressure on the law of armed conflict:
Lindsay Gorman explained why the United States is, for the first time in years, running its own candidate for the U.N. International Telecommunication Union's next secretary-general. The United States's Doreen Bogdan-Martin will face Russia's Rashid Ismailov in a vote that occurred Sept. 29. (Bogdan-Martin won.)
Pompilio shared the Justice Department's unsealed indictment charging Russian oligarch Oleg Vladimirovich Deripaska and his associates, Natalia Mikhaylovna Bardakova and Olga Shriki, with conspiring to evade sanctions imposed on Deripaska and one of his business entities.
Pompilio also shared an unsealed indictment charging Anna Gabrielian—a Maryland doctor—and her husband, Jamie Lee Henry—a major in the U.S. Army—with conspiracy and for the disclosure of the confidential health information of Americans associated with the United States government and military to Russia in connection with its war against Ukraine.
Tyler McBrien sat down with Brian Winter, editor-in-chief of Americas Quarterly and a journalist with over a decade of experience living and reporting across Latin America, to discuss the upcoming presidential election in Brazil. They discussed the leading candidates, Jair Bolsonaro and Luiz Inácio Lula da Silva, the potential crisis that may ensue, and what's at stake as Brazilians head to the polls on Sunday:
Anderson sat down with Richard Gowen, the U.N. Director for the International Crisis Group, to discuss this year's U.N. General Assembly and how Russia's invasion of Ukraine shaped the meetings and how it will affect the U.N. going forward:
James Jeffrey and Bilal Saab analyzed the five recent talks between Saudi Arabia and Iran and how their contrasting goals have produced little progress between the two nations.
Wittes provided an update about his ongoing lawsuit against the Department of Homeland Security over its filing of two open source intelligence reports about him in 2020.
Stewart Baker sat down with Alan Rozenshtein and Adam Candeub for a deep dive of the NetChoice v. Moody opinion. They considered the perspectives of the opinion's critics and supporters, competing free expression interests of social media users and of the platforms themselves, and whether there is currently a basis for an injunction. They also talked about top news stories in cyberlaw, including the Defense Department's review of its military information operations and Meta's Oversight Board's criticism of Facebook's automated image takedowns:
Corbin Barthold analyzed the aftermath of the Eleventh Circuit's decision in NetChoice v. Moody, arguing that the Supreme Court will have to clarify the law surrounding compelled commercial speech and potentially revisit precedents set in Zauderer v. Office of Disciplinary Counsel.
Evan Greer and Lia Holland argued that the Office of Foreign Assets Control's sanction of the mixing service Tornado Cash's autonomous code threatens free speech and privacy online and how its sanctions should be clarified.
Anderson, Jurecic, and Rozenshtein were joined by McBrien to hash through the week's big national security news, including: Russian President Vladimir Putin's mobilization of thousands of civilian conscripts and desire to incorporate separatist parts of the country into Russia following disputed referendums (or, put differently, "Bad Vlad's Sad Grab Has Leningrad a Tad Mad"), protests in Iran following the apparent killing of 22-year-old Mahsa Amini, a rundown of the current state of Mar-a-Lago litigation, and more:
As Hurricane Ian made landfall in Florida on Wednesday, David Priess spoke with author Eric Jay Dolin about the history of hurricanes, the U.S. federal government response, and viewing hurricanes and climate change as national security threats:
And in the latest installment of Lawfare's Water Wars column, Teresa Chen, Alana Nance, and Han-ah Sumner outline this past month's maritime conflicts and disputes, including simmering U.S.-China tensions regarding Taiwan, a delayed general election in the Solomon Islands in what some call a power grab linked to China's influence, and North Korea's new nuclear weapons use law.
And that was the week that was.
---
Hyemin Han is an associate editor of Lawfare. Previously, she worked in eviction defense and has interned on Capitol Hill and with the U.S. Mission to the United Nations. She holds a BA from Dartmouth College, where she was editor-in-chief of The Dartmouth independent daily.