New Impeachment Poll: Quid Pro Quo Trouble Ahead
White House acting chief of staff Mick Mulvaney made a stunning admission of a quid pro quo by confirming that President Donald Trump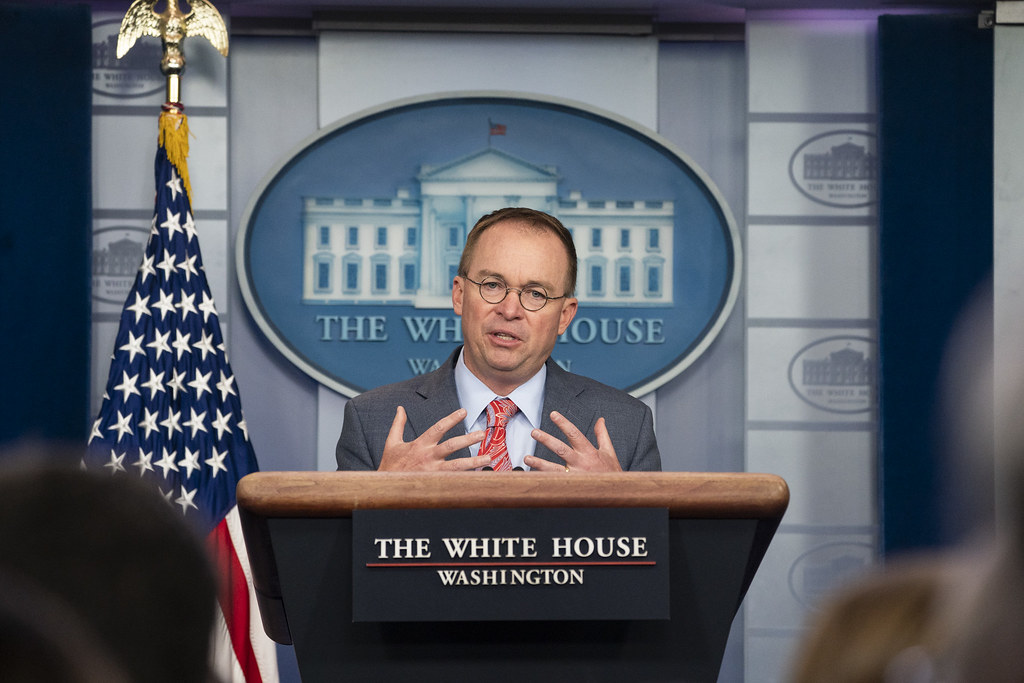 Published by The Lawfare Institute
in Cooperation With


White House acting chief of staff Mick Mulvaney made a stunning admission of a quid pro quo by confirming that President Donald Trump froze nearly $400 million in U.S. security aid to Ukraine in part to pressure that country into investigating Democrats. The latest University of Maryland Critical Issues Poll fielded by Nielsen Scarborough finds this could spell major trouble for the president's public standing ahead, including among Republicans: We asked: "In general, do you believe it is an impeachable offense if the president of the United States invites foreign leaders/entities to interfere in U.S. elections?" Two thirds of respondents, including 46 percent of Republicans and 58 percent of Independents said yes.
Before Mulvaney's statement this week, the president appeared to have succeeded in persuading many, including a majority of Republicans, that there was no such quid pro quo. In a follow up we asked: "Do you believe that President Trump has invited foreign interference into a U.S. election?" A slight majority, 52 percent, said yes, but 79 percent of Republicans said no.
So, while two thirds of respondents say the offense of asking foreign leaders to intervene in our election is impeachable, only 52 percent agree the president committed such an offense. But there is reason to believe this gap will continue to narrow, including among Republicans and Independents. In fact, Independents are more than four times as likely as partisans to express uncertainty about whether the president invited foreign interference into a U.S. election.
As multiple polls have shown since the revelation about Trump's conversation with Ukraine's president, there is a steady shift in opinion toward supporting impeachment. In our poll, we probed this shift directly, asking respondents how the revelations shifted their attitudes on impeachment. Overall, 16 percent of respondents said they changed their position from opposing impeachment or being unsure, to supporting it. Importantly, this includes 8 percent of Republicans, suggesting that the controversy over Ukraine is much more parsimonious and salient than other scandals that have embroiled President Trump and his administration during the past two years.
As more revelations unfold, there are indications in our poll that the public is sensitive to new information, even in such a polarized environment. Those more familiar with the content of the memo describing the conversation between President Trump and the Ukrainian president tended to be somewhat more likely to say there was a quid pro quo, and their opinion of President Trump was more likely to diminish.
Unsurprisingly, most Americans have not read the memo but have followed coverage of the scandal. Independents are most likely to be unfamiliar with the scandal.
Respondents who had either read the memo or extensively followed the coverage of it were more likely to say there was a quid pro quo than those who were less familiar with the details.
Importantly, this also applies to Republicans.
Overall, those who had either read the memo or extensively followed coverage of the scandal, were also more likely to have a worsening opinion of President Trump, whereas those with less familiarity were less likely to have a change in opinion.
This trend is true among Republicans as well, although to a lesser extent.
These findings not only confirm the shifts on impeachment that other polls have been showing, but also suggest that as more information is brought to light, there is potential for further shift in public opinion ahead.
Our University of Maryland Critical Issues Poll survey was carried out October 4-10, 2019 online from a nationally representative sample of Nielsen Scarborough's probability-based panel, originally recruited by mail and telephone using a random sample of adults provided by Survey Sampling International. The poll was conducted among a national sample of 1,260 respondents, with a margin of error of +/- 2.76%. Overall, the sample was adjusted to reflect population estimates (Scarborough USA+/Gallup) for Americans. The survey variables balanced through weighting were: age, gender, race/ethnicity, household income, level of education, census regional division, and political party affiliation.
---
Shibley Telhami is the Anwar Sadat professor for peace and development at the University of Maryland and director of the University of Maryland Critical Issues Poll. He is also a nonresident senior fellow at the Brookings Institution.
Stella M. Rouse is an Associate Professor in the Department of Government and Politics, Director of the Center for Democracy and Civic Engagement, and Associate Director of the University of Maryland Critical Issues Poll at the University of Maryland.