A Timeline of the Trump-Ukraine Scandal
As of Sept. 24, the House of Representatives has formally launched impeachment proceedings against President Trump.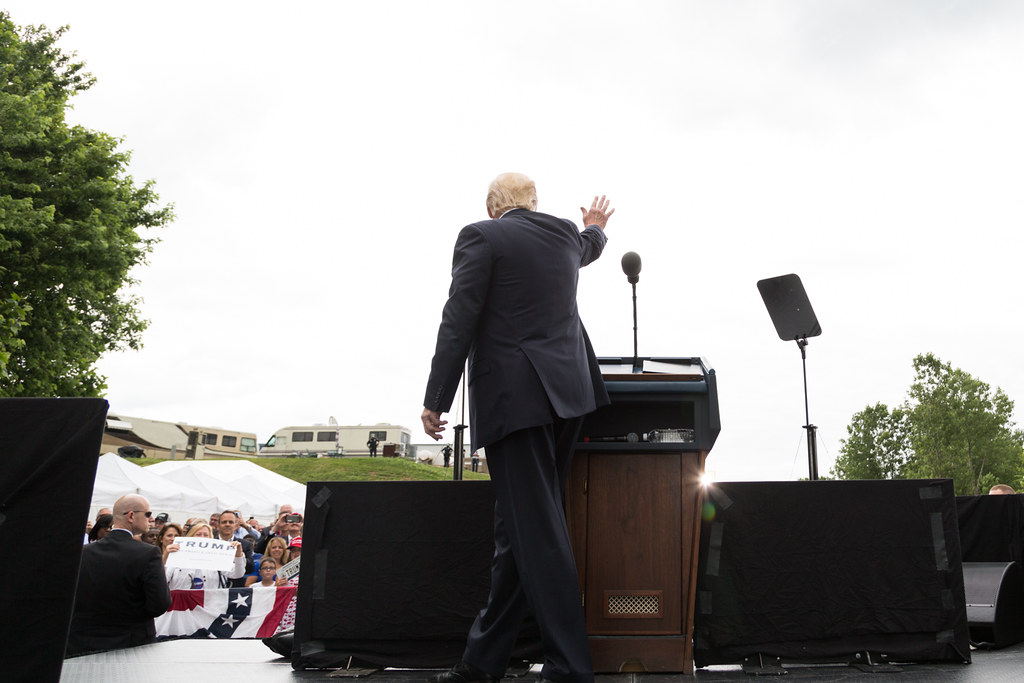 Published by The Lawfare Institute
in Cooperation With


As of Sept. 24, the House of Representatives has formally launched impeachment proceedings against President Trump. An announcement earlier this month from the head of the House Intelligence Committee regarding an anonymous intelligence community whistleblower complaint has snowballed into a scandal encompassing a reported effort by Trump to pressure the president of Ukraine into investigating Democratic presidential candidate Joe Biden and his son, Hunter Biden. Trump himself has publicly acknowledged elements of the news reports.
The chain of events leading up to the inquiry is complicated—and the Washington Post has provided a helpful timeline of its own. To help sort through the story, we have put together a timeline of how allegations of wrongdoing by the Bidens in Ukraine percolated up through right-wing news circles to the president's desk, what the president and his lawyer have said and done about it, what the Ukrainian government has said about the situation, and how Congress has reacted.
Before we launch into the events, it's important to understand the backdrop of the political situation in Ukraine over the past few years: The country has long struggled to combat corruption, and anti-graft efforts have scaled up in the wake of the 2014 Ukrainian revolution that toppled then-President Viktor Yanukovych. In 2014, then-Vice President Biden's son Hunter joined the board of Burisma Holdings, a large private Ukrainian gas firm. Also in 2014, the firm's owner, Mykola Zlochevsky (the former Ukrainian ecology minister and a political ally of Yanukovych), came under investigation for corrupt business dealings. In 2015, Viktor Shokin was appointed to the role of prosecutor general and thus assumed control over the investigation into Zlochevsky and his businesses.
Following cries from observers about Shokin's own ineptitude and corruption and pressure from Vice President Biden, among others, Shokin was fired in 2016. Shokin's firing drew praise from Western observers, including from the European Union's envoy to Ukraine, who noted that the firing of Shokin "creates an opportunity to make a fresh start in the prosecutor general's office" and expressed "hope that the new prosecutor general will ensure that [his] office ... becomes independent from political influence and pressure and enjoys public trust."
Notably, Ukraine's then-Prosecutor General Yuriy Lutsenko stated in May 2019 that he was aware of no evidence of criminal wrongdoing by Hunter Biden. The New York Times reports that "no evidence has surfaced to support" President Trump's allegations that the former vice president sought to dismiss Shokin in order to help his son.
March 20, 2018: Conservative investigative journalist Peter Schweizer publishes a book including allegations about corruption surrounding Hunter Biden's work in Ukraine.
August 13, 2018: Trump signs the Fiscal Year 2019 National Defense Authorization Act (NDAA), which includes $250 million to extend the Ukraine Security Assistance Initiative—a pot of Department of Defense funds intended to help Ukraine deter Russian and purchase weapons. One section of the bill bars funds from the NDAA going to "any activity that recognizes the sovereignty of the Russian Federation over Crimea." The president indicates in a signing statement that this section does not "dictate the position of the United States in external military and foreign affairs."
August 27, 2018: Conservative media outlet PJ Media writes that the allegations in Schweizer's book concerning Hunter Biden will be a "central issue" in the 2020 election.
March 20, 2019: John Solomon writes in The Hill that, according to Ukrainian Prosecutor General Yuriy Lutsenko, an ambassador to Ukraine appointed by President Barack Obama gave Lutsenko a so-called "do not prosecute list." The State Department calls Lutsenko's claim "an outright fabrication."
March 20, 2019: Donald Trump tweets:
"John Solomon: As Russia Collusion fades, Ukrainian plot to help Clinton emerges." @seanhannity @FoxNews

— Donald J. Trump (@realDonaldTrump) March 21, 2019
March 22, 2019: Trump's personal lawyer Rudy Giuliani tweets:
Pay attention to @dbongino for an analysis of some real collusion between Hillary, Kerry and Biden people colluding with Ukrainian operatives to make money and affect 2016 election.

— Rudy Giuliani (@RudyGiuliani) March 22, 2019
March 22, 2019: Fox News contributor Dan Bongino tweets:
Joe Biden is going to have A LOT of explaining to do regarding Ukraine. A LOT.

— Dan Bongino (@dbongino) March 22, 2019
Bongino later adds:
What was Joe Biden doing in Ukraine during the month his son Hunter was named to a key board position in an influential Ukrainian company?

— Dan Bongino (@dbongino) March 22, 2019
March 23, 2019: Peter Schweizer, author of the 2018 book, claims on Fox News that Hunter Biden had corrupt dealings in Ukraine.
March 25, 2019: The Kyiv Post, an English-language Ukrainian newspaper, details Schweizer's Fox News segment, writing, "If Joseph Biden enters the race for U.S. president in 2020, he'll face renewed questions about his son Hunter's association with Ukraine's Burisma energy company during his eight years as U.S. vice president."
April 1, 2019: Writing in The Hill, John Solomon calls for greater scrutiny into the Bidens' activity in Ukraine and declares that an investigation into Hunter Biden's Ukrainian dealings would be a "nightmare" for the elder Biden's 2020 candidacy.
April 7, 2019: Giuliani says on Fox News that he wants the Department of Justice to look into Biden's dealings in Ukraine.
April 18, 2019: Lutsenko, the Ukrainian prosecutor general, retracts his claim to the Hill and says he was not given a do-not-prosecute list.
April 25, 2019: Trump states in an interview with Fox News's Sean Hannity that Attorney General William Barr is dealing with "incredible" and "big" allegations that sources in Ukraine leaked information about Trump's then-campaign chairman Paul Manafort to the press to help candidate Hillary Clinton during the 2016 election. Trump's claim relates to the 2016 disclosure by Ukrainian officials of over $12 million in payments to Manafort from the party of former Ukrainian President Yanukovych, who was ousted in the 2014 Ukrainian revolution.
May 1, 2019: The New York Times reports that conservative media has "fanned" scrutiny of Hunter Biden's dealings in Ukraine. The Times also writes that Giuliani discussed the Bidens' involvement in a Ukrainian corruption investigation with then-Ukrainian Prosecutor General Shokin and met with Lutsenko, Shokin's successor, "multiple times in New York." The Times reports that Lutsenko "later told associates that, during one of the meetings, Mr. Giuliani called Mr. Trump excitedly to brief him on his findings."
May 9, 2019: The New York Times writes that Giuliani plans to go to Ukraine to talk with the Ukrainian administration about looking into "matters of intense interest to Trump," including Hunter Biden's business dealings in Ukraine. Giuliani claims that he and his team are "meddling in an investigation, which we have a right to do."
May 11, 2019: The Washington Post reports that Giuliani calls off his trip to Ukraine amid criticism of his plans.
May 14, 2019: Giuliani tells Sean Hannity that Hunter Biden's dealings in Ukraine are "a case that is crying out to be investigated. If it doesn't get investigated, we just don't have equal justice in this country."
May 16, 2019: In his capacity as Ukraine's prosecutor general, Lutsenko announces there is no evidence of wrongdoing by either Joe or Hunter Biden, reports Bloomberg.
May 19, 2019: Trump tells Fox News that Joe Biden pressured Ukraine to fire Shokin for looking into Hunter Biden.
June 21, 2019: Giuliani urges Zelensky to investigate "Ukrainian interference in 2016 election and alleged Biden bribery of Pres Poroshenko" on Twitter. (Petro Poroshenko is the predecessor of President Zelensky and was in office at the time of Shokin's dismissal.)
New Pres of Ukraine still silent on investigation of Ukrainian interference in 2016 election and alleged Biden bribery of Pres Poroshenko. Time for leadership and investigate both if you want to purge how Ukraine was abused by Hillary and Obama people.

— Rudy Giuliani (@RudyGiuliani) June 21, 2019
June 22, 2019: Ukrainian news outlet Hvylya writes that this is not the first time Giuliani has tried to put pressure on Zelensky's administration, and that Zelensky and his team prefer not to align themselves with either U.S. political party.
July 6, 2019: Zelensky says that he hopes for Trump's assistance in countering the construction of the Nord Stream 2 gas pipeline—a pipeline under construction from Russia to Germany through the Baltic Sea, which Zelensky has opposed—stating that Trump is the only person who would resolve the issue in Ukraine's favor.
July 9, 2019: Ukrainian Ambassador to the U.S. Valeriy Chaly says representatives of Ukraine will go to Washington to prepare for a meeting between Zelensky and Trump. The ambassador says the Ukrainian impression that the U.S. expected Zelensky would not go was wrong. He says Zelensky and Trump would find chemistry, and had achieved chemistry in their previous telephone conversations.
July 22, 2019: Buzzfeed News reports that Americans with connections to Giuliani lobbied the Ukrainian government to investigate allegations against Joe Biden. The story states, "In a whirlwind of private meetings [the two envoys] … gathered repeatedly with top officials in Ukraine and set up meetings for Trump's attorney Rudy Giuliani as they turned up information that could be weaponized in the 2020 presidential race."
July 22, 2019: Former Ukrainian Prosecutor General Viktor Shokin tells the Washington Post he was removed from his position because of efforts to investigate Burisma Holdings and Hunter Biden. Ukrainian anti-corruption experts disagreed, stating that Shokin was fired partly because of his refusal to investigate Burisma.
July 24, 2019: Former Special Counsel Robert Mueller testifies before Congress. President Trump says the testimony is a "great day for me."
July 25, 2019: The Ukrainian government releases a statement saying that President Trump called Zelensky to congratulate him on his electoral victory and on "successfully holding free and democratic parliamentary elections." The press release also reports that "Donald Trump is convinced that the new Ukrainian government will be able to quickly improve image of Ukraine, complete investigation of corruption cases, which inhibited the interaction between Ukraine and the USA."
July 29, 2019: U.S. Secretary of State Mike Pompeo states that the U.S. position is that Crimea must be returned to Ukraine.
July 30, 2019: In an interview, Ukrainian Minister of Foreign Affairs Pavel Klimkin says he believes that Trump and Zelensky will have "normal personal contact."
July 31, 2019: Kyiv Mayor Vitaliy Klitschko meets with Giuliani in New York. Klitschko writes on Facebook that the meeting was held at the invitation of his "old friend and one of the world's most respected mayors."
Aug. 12, 2019: The Office of the Inspector General of the Intelligence Community (ICIG) receives a whistleblower complaint, which ICIG Michael Atkinson judges to be "credible" and of "urgent concern" to congressional intelligence committees. This is memorialized in a letter sent to House Intelligence Chairman Adam Schiff and Ranking Member Devin Nunes.
Aug. 21, 2019: The New York Times details renewed efforts by Giuliani to urge the Ukrainian government to investigate the Bidens, including a meeting in Madrid with Andriy Yermak, a representative of the Ukrainian president, shortly after the July 2019 call between Trump and Zelensky. During that meeting, Giuliani reportedly urged that Ukraine investigate the connections between the Biden family and Burisma and whether Ukrainian officials tried to interfere with Trump's 2016 campaign. The Times reported that the president's lawyer was acting "as a private citizen, with the knowledge and assistance of the State Department."
Aug. 22, 2019: Rudy Giuliani confirms to NBC News that the State Department connected him with Yermak.
Aug. 28, 2019: Politico reports that Trump refused to dispense $250 million in funds for the Ukraine Security Assistance Initiative and that he had requested that his national security team review the funding "in order to ensure the money is being used in the best interest of the United States." Secretary of Defense Mark Esper and then-National Security Adviser John Bolton were among the officials asked to review the funding.
Aug. 28, 2019: Oleksandr Danyliuk, the head of Ukraine's National Defense and Security Council, meets with Bolton in Kyiv prior to the publication of the Politico story. Danyliuk later tells Time magazine that Bolton never mentioned the withholding of funds and, instead, talked about ways to expand cooperation between the U.S. and Ukraine.
Aug. 29, 2019: Ruslan Riaboshapka replaces Yuriy Lutsenko as Ukraine's prosecutor general. He is a former deputy chief of staff for Zelensky and also served at the National Agency for Preventing Corruption until 2017, when he resigned in protest of ex-President Petro Poroshenko's influence over the agency.
Sept. 1, 2019: The Ukrainian government releases a statement about meetings that day between Vice President Mike Pence and Ukrainian officials, including Zelensky. The statement notes, "Zelenskyy discussed military-technical assistance for Ukraine and cooperation in the energy sphere with the U.S. Vice President."
Sept. 2, 2019: In response to a question from the Associated Press, Pence denies discussing Biden during his meeting with Zelensky the previous day. Pence says the two talked about "the upcoming decision the President will make on the latest tranche of financial support in great detail."
Sept. 3, 2019: Members of the bipartisan Ukraine Caucus in the Senate express "deep concern" to Director of the Office of Management and Budget Mick Mulvaney over the reports that funds for the Ukraine Security Assistance Initiative were not obligated.
Sept 5, 2019: The Washington Post Editorial Board writes that President Trump is holding up military aid to Ukraine in order to compel Ukrainian President Zelensky to investigate leading Democratic presidential candidate Joe Biden.
Sept. 9, 2019: Three House committees launch investigations into Trump and Giuliani's efforts to pressure the Ukrainian government to assist with Trump's reelection campaign by investigating the Bidens. The chairmen of the House Foreign Relations Committee, House Intelligence Committee and House Oversight Committee send letters to the White House and State Department announcing their investigation.
Sept. 9, 2019: The ICIG sends a letter to Schiff and Nunes, alerting them to the existence of an "urgent" and "credible" whistleblower complaint. The letter discloses that, despite the ICIG's assessment, Acting Director of National Intelligence (DNI) Joseph Maguire does not believe he is required to transmit the complaint to Congress.
Sept. 10, 2019: Schiff requests the whistleblower complaint from the acting DNI.
Sept. 11, 2019: The Trump administration releases the previously withheld $250 in military assistance to Ukraine, reports Politico.
Sept. 13, 2019: Schiff issues a subpoena to Maguire to compel the production of the whistleblower complaint.
Sept. 13, 2019: Jason Klitenic, the general counsel for the ODNI, releases a response to Schiff, stating that Maguire does not have a statutory obligation to share information with the intelligence committees.
Sept. 17, 2019: The ICIG sends another letter to Schiff and Nunes indicating his disagreement with Maguire's determination that no disclosure to Congress was needed.
Sept. 17, 2019: Klitenic issues another letter expressing disappointment that the House subpoenaed documents and demanded Maguire's testimony.
Sept. 18, 2019: The Washington Post reports the whistleblower complaint concerns communications between Trump and a foreign leader, as well as a "promise" involved in those communications.
Sept. 18, 2019: Trump tweets:
All Polls, and some brand new Polls, show very little support for impeachment. Such a waste of time, especially with sooo much good that could be done, including prescription drug price reduction, healthcare, infrastructure etc.

— Donald J. Trump (@realDonaldTrump) September 19, 2019
Sept. 19, 2019: The House Intelligence Committee conducts a closed-door hearing with ICIG Atkinson, who does not provide specifics on the complaint. Schiff later tells reporters that the U.S. Department of Justice played a role in influencing the decision to withhold a whistleblower complaint from Congress.
Sept. 19, 2019: Trump tweets:
....Knowing all of this, is anybody dumb enough to believe that I would say something inappropriate with a foreign leader while on such a potentially "heavily populated" call. I would only do what is right anyway, and only do good for the USA!

— Donald J. Trump (@realDonaldTrump) September 19, 2019
Sept. 19, 2019: The Washington Post reports that the whistleblower complaint involves a conversation between Trump and the president of Ukraine. The Post notes that the only call on record between Trump and Zelensky occurred on July 25.
Sept. 20, 2019: Trump tweets:
....statement. Strange that with so many other people hearing or knowing of the perfectly fine and respectful conversation, that they would not have also come forward. Do you know the reason why they did not? Because there was nothing said wrong, it was pitch perfect!

— Donald J. Trump (@realDonaldTrump) September 20, 2019
Sept. 20, 2019: When questioned by CNN's Chris Cuomo if he asked Ukrainian government officials to investigate Biden, Giuliani says, "Of course I did."
Sept. 20, 2019: Ukrainian news outlet Hvylya writes that former U.S. Ambassador to Ukraine Steven Pifer says he gave Zelensky advice on how to negotiate with Trump, telling the new president to flatter Trump, to try to find an option where no one loses, not to ignore Congress and to be wary of Rudy Giuliani.
Sept. 21, 2019: In a twitter thread, Trump says:
....story about me and a perfectly fine and routine conversation I had with the new President of the Ukraine. Nothing was said that was in any way wrong, but Biden's demand, on the other hand, was a complete and total disaster. The Fake News knows this but doesn't want to report!

— Donald J. Trump (@realDonaldTrump) September 21, 2019
Trump also tweets a video about Vice President Biden's involvement in Ukraine:
This is the real and only story! pic.twitter.com/4z8eOcm6PA

— Donald J. Trump (@realDonaldTrump) September 21, 2019
Trump later says on Twitter:
Now that the Democrats and the Fake News Media have gone "bust" on every other of their Witch Hunt schemes, they are trying to start one just as ridiculous as the others, call it the Ukraine Witch Hunt, while at the same time trying to protect Sleepy Joe Biden. Will fail again!

— Donald J. Trump (@realDonaldTrump) September 21, 2019
On the same day, the Wall Street Journal reports that Trump urged Zelensky "about eight times" to work with Giuliani on the Biden investigation during their call on July 25. The Journal also notes that Trump, according to a source, did not discuss military assistance on the call.
Following publication of the Journal story, Trump shares a number of tweets over the course of the day:
September 21, 2019
September 21, 2019
September 21, 2019
September 21, 2019
"The pretend Ukraine scandal is an another malicious seditious effort to protect the Obama/Clinton gang. Criminal classified leaks and spying targeting Trump — again." @TomFitton

— Donald J. Trump (@realDonaldTrump) September 21, 2019
....with a foreign leader. Was this person officially asked to listen to the conversation or was he or she secretly listening in?" @GreggJarrett

— Donald J. Trump (@realDonaldTrump) September 21, 2019
"They're trying to turn what was a Biden scandal into a Trump scandal." @PeterSchweizer The problem is, "Trump" did nothing wrong!

— Donald J. Trump (@realDonaldTrump) September 21, 2019
...The Fake News Media nowadays not only doesn't check for the accuracy of the facts, they knowingly make up the facts. They even make up sources in order to protect their partners, the Democrats. It is so wrong, but they don't even care anymore. They have gone totally CRAZY!!!!

— Donald J. Trump (@realDonaldTrump) September 22, 2019
September 22, 2019
Sept. 22, 2019: Trump tweets:
"The real story involves Hunter Biden going around the world and collecting large payments from foreign governments and foreign oligarchs." Peter Schweizer Laura Ingraham Hunter made a fortune in Ukraine and in China. He knew nothing about Energy, or anything else.

— Donald J. Trump (@realDonaldTrump) September 22, 2019
Sept. 22, 2019: Ukrainian Foreign Minister Vadym Prystaiko, who claims to have heard two telephone conversations between the leaders of the United States and Ukraine, assured the Ukrainian press in an interview that Trump had not put pressure on Zelensky. "There was talk," he says, but "no pressure."
Sept. 22, 2019: In a Twitter thread, Trump says:
..Breaking News: The Ukrainian Government just said they weren't pressured at all during the "nice" call. Sleepy Joe Biden, on the other hand, forced a tough prosecutor out from investigating his son's company by threat of not giving big dollars to Ukraine. That's the real story!

— Donald J. Trump (@realDonaldTrump) September 23, 2019
Sept. 23, 2019: Alexei Yakubin, a Ukrainian political analyst, states that Trump will continue to "spin" Zelensky to investigate Biden, and stresses that Zelensky should be careful so as not to repeat the mistakes of his predecessor, Petro Poroshenko.
Sept. 23, 2019: In a Twitter thread, Trump says:
....know the correct facts. Is he on our Country's side. Where does he come from. Is this all about Schiff & the Democrats again after years of being wrong?

— Donald J. Trump (@realDonaldTrump) September 23, 2019
Sept. 23, 2019: The Washington Post reports that Trump ordered chief of staff Mulvaney to withhold roughly $400 million in aid to Ukraine, including the $250 million for the Ukraine Security Assistance Initiative managed by the Pentagon and $141 million given through the State Department to help with efforts to deter Russian aggression, at least a week before the July 25 call. The Departments of State and Defense were notified of the president's decision on July 18.
Sept. 23, 2019: Zelensky signs a bill into law that reforms the prosecutor's office, Ukrainian media reports. The law addresses complaints that the office was overly politicized and corrupt under Shokin and Lutsenko.
Sept. 23, 2019: Zelensky posts a video on Facebook urging Ukrainians to call a hotline number to report corruption to the National Anti-Corruption Bureau of Ukraine, a law enforcement body launched after the 2014 Ukrainian revolution to counter corruption.
Ukraine's Public Oversight Council, a division of the National Anti-Corruption Bureau, responds by calling for a universal hotline and recommending that Ukrainians report corruption to other state agencies as well, stating that Zelensky's message may overwhelm the bureau with calls.
Sept. 23, 2019: Trump retweets C-SPAN:
Q: "You can authorize to release the transcript. Will you do that?"

President Trump: "I can do it very easily, but I'd rather not do it from the standpoint of all of the other conversations I have. I may do it, 'cause it was a very innocent call." pic.twitter.com/PxrFbS3uqZ

— CSPAN (@cspan) September 23, 2019
Sept. 23, 2019: Trump tweets:
"@FoxNews bombshell information reports that the so-called Whistleblower did not have firsthand knowledge of that phone conversation with Ukraine's President." Wow! @HARRISFAULKNER It is all a Democrat/Adam Schiff Scam! Doing this for 3 years now, and found NOTHING!

— Donald J. Trump (@realDonaldTrump) September 23, 2019
Sept. 24, 2019: The heads of the House Committees on Foreign Affairs, Intelligence and Oversight give the White House until Sept. 26 to produce documents related to press reports that Giuliani urged the Ukrainian government to engage in investigations that "could benefit President Trump" politically.
Sept. 24, 2019: President Trump announces on Twitter that he would release the transcript of the July 25 call with Zelensky:
....You will see it was a very friendly and totally appropriate call. No pressure and, unlike Joe Biden and his son, NO quid pro quo! This is nothing more than a continuation of the Greatest and most Destructive Witch Hunt of all time!

— Donald J. Trump (@realDonaldTrump) September 24, 2019
Sept. 24, 2019: In response to reports of Trump's phone call with Zelensky and the administration's failure to provide Congress with the whistleblower complaint, Speaker of the House Nancy Pelosi announces a formal impeachment inquiry of Trump.
---