Water Wars: Stare Decisis in the South China Sea
Malaysia and Indonesia lawfare salvos against China, the first made-in-China aircraft carrier and a Japanese military strategy for the South China Sea.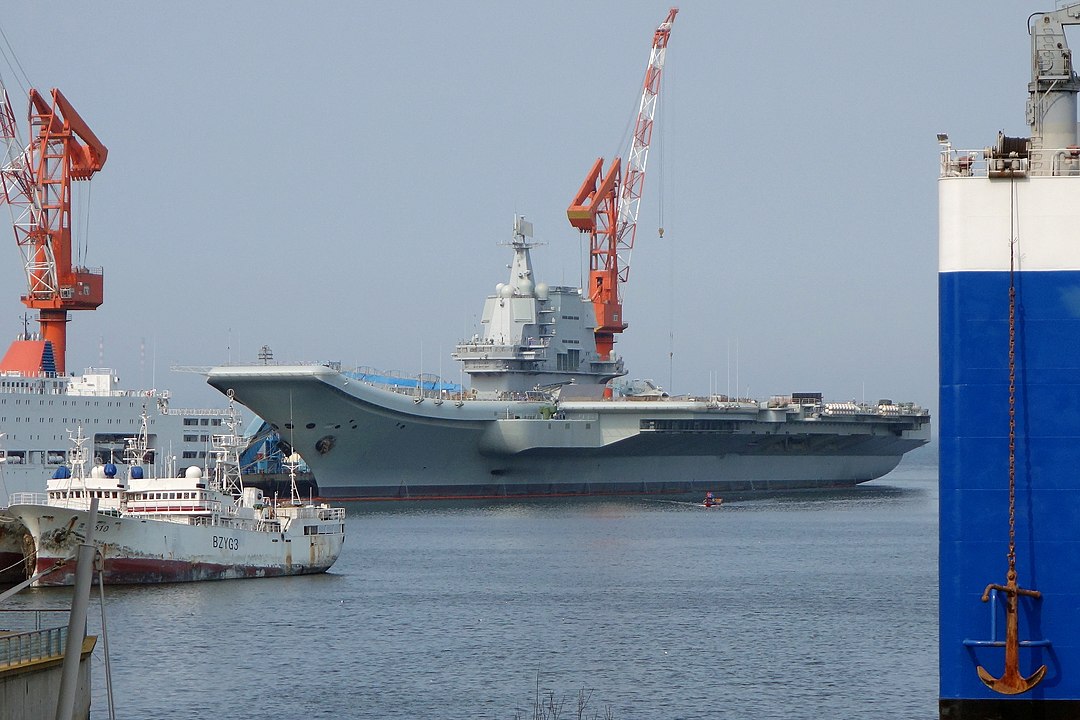 Published by The Lawfare Institute
in Cooperation With


On Dec. 12, 2019, Malaysia further delineated the limits of its extended continental shelf, directly challenging Chinese claims in the South China Sea. Malaysia submitted information to the UN Commission on the Limits of the Continental Shelf that expressed its rights to an extended continental shelf beyond 200 nautical miles. In accordance with the UN Convention on the Law of the Sea (UNCLOS), Malaysia first submitted information to the commission on an extended continental shelf in the South China Sea in 2009, when it jointly filed with Vietnam. Malaysia's new submission nearly doubles the range of the continental shelf northward from Malaysia's original 1979 government mapping.
Both of Malaysia's submissions dismiss that the Spratly or Paracel Islands create their own continental shelves in the center of the South China Sea. The People's Republic of China (PRC), however, claims a continental shelf based on these features, which the Permanent Court of Arbitration (PCA) rejected in its 2016 ruling in Philippines v. China (the "South China Sea Arbitration"). Malaysia's Dec. 12 submission thus builds on the South China Sea Arbitration by recognizing only the territorial seas of Spratly Island features and not any Exclusive Economic Zone (EEZ) around those features.
The PRC responded to Malaysia's Dec. 12 filing by saying that the submission "seriously infringed China's sovereignty, sovereign rights and jurisdiction in the South China Sea." China reiterated its claim of an EEZ based on islands in the South China Sea and China's "historic rights" in the area.
A separate diplomatic row between Indonesia and China began two weeks later. On Dec. 30, Indonesia said that Chinese vessels committed a maritime incursion into Indonesia's EEZ. A China coast guard vessel, along with Chinese fishing vessels, allegedly refused to leave Indonesia's EEZ off the Natuna Islands. Video surfaced on Indonesian television of the bridge-to-bridge radio exchange between Indonesian and Chinese vessels. The Indonesian government summoned the PRC ambassador to protest China's "trespass."
China does not assert sovereignty over the Indonesia-occupied Natunas, which lie just south of China's "nine-dash line" claims in the South China Sea. However, Chinese Foreign Ministry spokesman Geng Shuang said both China and Indonesia have "normal" fishing activities in the waters off the Natunas. In response, Indonesia's Foreign Ministry asserted that China's claims based on past fishing activities have "no legal basis" and that Indonesia would never recognize China's nine-dash line because it contravened UNCLOS. Indonesia is not a claimant over islands in the Spratly Islands, and Jakarta noted it has no overlapping jurisdiction with Beijing. The Foreign Ministry also cited the 2016 South China Sea Arbitration ruling that defeated PRC legal arguments based on historic fishing rights; China reiterated its stance that the PCA ruling was "illegal, null and void."
Together, Malaysia and Indonesia's reliance on the South China Sea Arbitration signals an increasing willingness for regional claimants to advocate for stare decisis—determining principles based on legal precedent—in response to PRC aggressiveness in the South China Sea. Using the South China Sea Arbitration to constrain Chinese behavior is something that the Philippines under President Rodrigo Duterte has been unable or unwilling to do.
In Other News...
From the United States
On Dec. 13, U.S. Navy Pacific Fleet Commander Admiral John Aquilino told reporters in Bangkok that China's territorial claims in the South China Sea were meant to intimidate neighboring nations. Aquilino said Chinese-occupied island features had a clear military purpose to "coerce and bully the nations in the region." He called on China to adhere to international law and respect other nations' rights in the South China Sea.
From China
On Dec. 17, China commissioned its first indigenous aircraft carrier, the Shandong, in Hainan. Chinese President Xi Jinping oversaw the ceremony at Sanya in Hainan Province on the South China Sea. The PRC government-run paper Global Times noted that China was "the first Asian country to build a self-designed aircraft carrier since World War II." The Shandong can carry 36 J-15 fighters, relative to the 24 fighters on the Liaoning—China's Soviet-built and only other aircraft carrier. Although possessing a similar ski-jump flight deck and conventional propulsion like the Liaoning, the Shandong has "more advanced electronic devices" and an improved command and control system, according to the Global Times.
China's aircraft carrier program has developed rapidly over the past decade: China commissioned the Liaoning in 2012 and began construction of the Shandong in 2013. Analysts expect China to finish construction on its third carrier later this year. The third carrier could be China's first to have a flat flight deck and catapult launching system, more analogous to U.S. carriers.
China immediately put the Shandong to use by sailing it through the Taiwan Strait on Dec. 26. The Shandong previously passed through the Strait en route to Hainan on Nov. 17, trailed by U.S. and Japanese warships. The Dec. 26 Taiwan Strait transit coincided with PRC founder Mao Zedong's birthday and occurred two weeks before Taiwan's presidential election on Jan. 11. The PRC refuses to accept Taiwan's (officially the Republic of China) sovereignty, stating that unification through military force remains an option. Taiwan's President Tsai Ing-wen is part of the pro-sovereignty Democratic Progressive Party and polling around 30 percentage points ahead of her Kuomintang rival Han Kuo-yu, who supports closer relations with Beijing. In response to the Dec. 26 Strait transit, President Tsai's office called on Beijing to "cherish peace and stability across the strait." President Tsai's subsequent speech on New Year's Day said that recent events in Hong Kong have showed that a PRC "one country, two systems" model for Taiwan is "definitely not feasible."
Analysis
At the Diplomat, Hu Bo proposes three conditions to help avoid a U.S.-China maritime clash. First, Washington and Beijing need to reach a consensus on the new distribution of power in the Western Pacific, where the PRC focuses the vast majority of its expanding naval and air assets but a globally dispersed U.S. military operates only a fraction of its forces. Second, the United States should manage its network of Asia-Pacific alliances with neutrality on sovereignty and maritime demarcation issues that antagonize allies against China. Third, the United States and China should build on UNCLOS to establish clearer rules that govern military exercises, reconnaissance and undersea activities.
Also at the Diplomat, Jay Tristan Tarriela writes that Philippine President Duterte is emphasizing "coast guard diplomacy" both to enhance Philippine maritime security and to improve diplomatic relations with foreign powers. Tarriela notes that the Duterte administration has a particular "fondness" for the Philippine Coast Guard (PCG), increasing the size of its budget and personnel; the PCG now has 23,000 personnel, compared to 14,000 active-duty sailors in the Philippine Navy. The PCG also serves as a vessel for security cooperation; Manila has sent PCG officers to study and train in the United States, China, Sweden and Japan. In 2019, the United States Coast Guard participated in two maritime exercises with the PCG, while Japan has delivered a dozen patrol vessels to the PCG over the past five years. Tarriela argues that these PCG investments are not to support Philippine "gray zone" tactics. Rather, Tarriela posits, Manila's reliance on the PCG mitigates the risk of armed conflict in the South China Sea by using white-hulled vessels to protect the Philippines' 7,000-some islands in a non-escaltory manner.
At Voice of America, Ralph Jennings reviewed 2019's multiple standoffs and few enduring solutions in the South China Sea. Jennings noted that Malaysia, the Philippines and Vietnam all responded to Chinese incursions into their respective waters. China used coast guard vessels, survey ships and fishing boat flotillas to enter foreign-controlled seas. Yet, China refrained from occupying new islets, and there were no direct "firefights" involving Chinese ships. Jennings called the Chinese energy survey ship off Vietnam's Vanguard Bank this summer the "most heated dispute of the year" in the South China Sea. The Chinese vessel's presence led to a diplomatic standoff with Vietnam and its eventual departure from disputed waters.
Former commander in chief of Japan's Maritime Self-Defense Force fleet Yoji Koda at the Japan Times argues that there remain viable strategies to counter China's militarized islands in the South China Sea. He notes that the Chinese-built airfields and missile launchers on Woody Island in the Paracels and Fiery Cross, Subi and Mischief Reefs in the Spratlys pose severe challenges to U.S. and Japanese forces operating in the South China Sea. However, referencing Imperial Japan's failure to defend a single island from U.S. amphibious assault during World War II, Koda writes that China would be at significant pains to defend these islands in wartime. Koda says that littoral states like Vietnam and the Philippines could also play a significant role in holding China's islands at risk if they were to install land-attack missiles within strike range of the Paracel and Spratly bases. Koda argues that such asymmetric measures by littoral states—in conjunction with U.S. and Japanese forces—could successfully counter China's "overwhelming military capabilities in the South China Sea."
---
Sean Quirk is a graduate of Harvard Law School and Harvard Kennedy School. He holds a BA in Political Science from Columbia University and served as a surface warfare officer in the U.S. Navy for five years. The views expressed here are his own and do not reflect those of the Department of Defense, the U.S. Navy, or any other agency of the United States Government.