The Week That Was: All of Lawfare in One Post
Your weekly summary of everything on the site.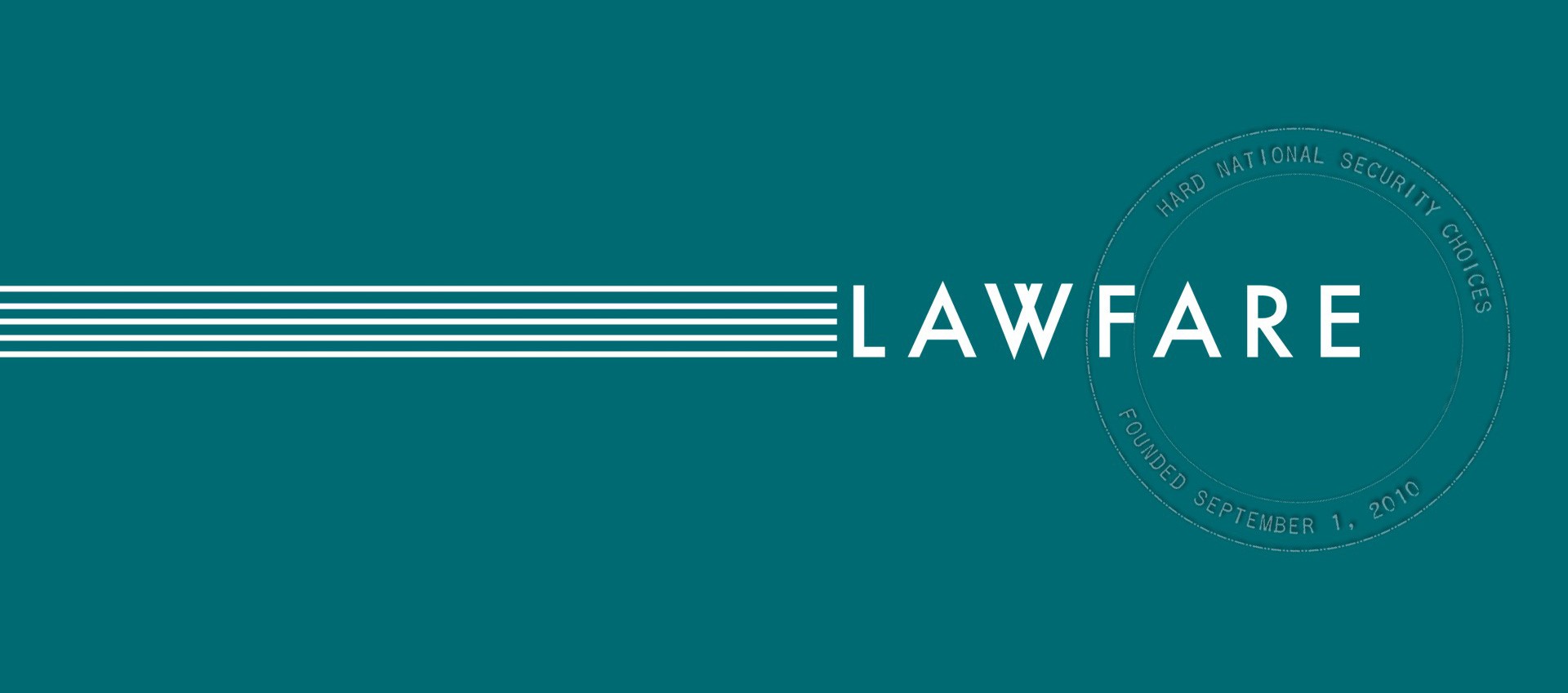 Published by The Lawfare Institute
in Cooperation With


Michael Stern explored some of the complexities of the House select committee's Oct. 21 subpoena of former President Donald Trump, including the issue of "absolutely testimonial immunity," why the Justice Department might decline to prosecute if the former president refuses to testify, and how the upcoming midterm elections could impact the enforcement of the subpoena.
Natalie Orpett sat down with Alan Rozenshtein and Jed Shugerman to discuss former President Donald Trump's speech on the ellipse on Jan. 6, the complicated First Amendment jurisprudence that protects political speech, and why Rozenshtein and Shugerman believe Trump may be criminally liable:
Katherine Pompilio shared an Oct. 22 order by the Ninth Circuit Court of Appeals denying a request for an injunction by former Arizona Republican State Senator Kelli Ward who sought to block the release of her phone records to the House select committee investigating the Jan. 6 attack on the U.S. Capitol.
Anna Bower covered a hearing in a South Carolina court which determined that Mark Meadows must testify before the Fulton County special purpose grand jury. She provided background on the state law used to compel Meadows's testimony in Georgia, covered the Meadows's argument against testifying, and the testimony of a Fulton County district attorney testifying in the case.
Pompilio also shared an Oct. 24 order by U.S. Supreme Court Justice Clarence Thomas granting an administrative stay of the 11th Circuit's Oct. 20 order forcing Sen. Lindsey Graham (R-S.C.) to testify before the Fulton County Special Grand Jury.
Tyler McBrien sat down with Rachel Orey, associate director of the Bipartisan Policy Center Elections Project, and Grace Gordon, a policy analyst on the project, to discuss the importance of poll workers, how elections are fundamentally a human enterprise, and to talk through the project's latest report, "Fortifying Election Security Through Poll Worker Policy":
Brandon L. Van Grack and Jacqueline Chervak provided a brief background of the numerous attempts to recover presidential records stored at Mar-a-Lago, a legal analysis to determine if the Justice Department can prove venue of the Mar-a-Lago case in D.C., and evaluated the risks to any potential case the Justice Department might bring if it fails to establish proper venue.
Brandon L. Van Grack and Jacqueline Chervak provided a brief background of the numerous attempts to recover presidential records stored at Mar-a-Lago, a legal analysis to determine if the Justice Department can prove venue of the Mar-a-Lago case in D.C., and evaluated the risks to any potential case the Justice Department might bring if it fails to establish proper venue.
McBrien shared the Justice Department's Oct. 26 premotion letter which identifies "global issues" that both parties have agreed should be considered prior to Special Master Judge Raymond J. Dearie's review of materials recovered from Mar-a-Lago.
Saraphin Dhanani presented the case for designating the Donetsk and Luhansk People's Militias as foreign terrorist organizations (FTOs), discussed the legal authority for such a designation, and assessed what a FTO designation would and wouldn't accomplish.
David Bosco assessed the state of the International Criminal Court's (ICC) investigation into alleged war crimes, crimes against humanity, and genocide in Ukraine. Bosco provided insight into the level of cooperation between ICC investigators and the Ukrainian government, possible points of tension if the ICC begins to investigate possible Ukrainian crimes, and argued that the court's senior leadership should clarify its vision of a successful, yet unprecedented, investigation.
William Byrd discussed international efforts to press for a more inclusive Taliban government in Afghanistan. Byrd argued that this approach is flawed, and provided a history of successful insurgent movements, analyzed a series of decisions that appear to depart from the authoritarian playbook, and concluded that the United States and its international partners have few options to influence or change the behavior of the Taliban.
McBrien sat down with Ilana Krill and Seamus Hughes to discuss a recent report by the George Washington University Program on Extremism and Lawfare article entitled "The Evolution of Critical Infrastructure Targeting by Violent Extremists.". They discussed the subjects of the report—white supremacists and Salfi-jihadists—, the encrypted channels which they employ to spread propaganda and plans, and what needs to be done to protect critical infrastructure in the United States:
Hughes, Moshe Klein, and Alexis Jori Shanes provided an overview of the Federal Buraeu of Investigation's (FBI) and the Department of Homeland Security's Strategic Intelligence Assessment and Data on Domestic Terrorism. They highlighted noteworthy changes in this second iteration of the report including specific legislative initiatives, the considerable increase in the number of investigations, and a small—but important—change to how the FBI closes terrorism investigations.
Shane Harris sat down for a chat on Chatter with Andrew Kirsch, a former Canadian Security Intelligence Service (CSIS) officer, to discuss what CSIS is and what it does, the recruitment and training process, and his first-of-its-kind memoir accounting his decade as a spy for CSIS:
Hyemin Han shared an unsealed criminal complaint, unsealed federal indictment, and an unsealed eight-count indictment related to three separate cases in which a total of 13 individuals were charged with alleged attempts to exert influence on behalf of the People's Republic of China in the United States.
William Appleton shared a livestream of the Justice Department's Oct. 24 press conference in which Attorney General Merrick Garland discussed "malign influence schemes and alleged criminal activity" perpetrated by foreign actors on behalf of the People's Republic of China.
Scott R. Anderson sat down with Sophia Yan, China correspondent for The Telegraph, and Julian Ku, professor of law at Hofstra University, to discuss the events 20th National Congress of the Chinese Communist Party, what it reveals about China's trajectory in the next few years, and what it all might mean for U.S.-China relations:
Rozenshtein, Quinta Jurecic, and Anderson sat down with Ku to discuss some of the week's big national security news including the Chinese Communist Party's 20th National Congress, the Justice Department's announcement of several indictments against Chinese nationals alleged to have engaged in covert campaigns in the United States, rumors that Elon Musk's Twitter purchase might undergo a national security review by the government, and more:
Jordan Schneider sat down with Vivian Zhong to discuss Zhong's grandfather's life in China, from his childhood in the early days of the People's Republic to today. They also discussed her grandfather's experience as a student in provincial China, what it's like to travel down the Yangtze, and how her grandfather came to "hate" sweet potatoes:
Schneider sat down with Reva Goujon, Jay Goldberg, Doug O'Laughlin, and Martin Chorzempa to discuss what the Biden administration's new export controls mean for the semiconductor industry. They covered what it would take for China to circumvent the new controls, how Beijing might strike back, and how the regulations could impact the risk of war:
Benjamin Wittes sat down with Claudia Swain, Lawfare's digital strategist and a former employee at the Federal Railroad Administration, to discuss Positive Train Control, a new computerized safety system, and the potential cybersecurity threats it poses:
Pompilio also shared the Defense Department's unclassified 2022 National Defense Strategy (NDS) which provides insight into the department's priorities for "defending the homeland" and "deterring strategic attacks against the United States." The NDS also provides an overview of the global security environment, risk management, the department's approach to advancing its defense priorities, and more.
Brian L. Cox discussed the Department of Defense's Civilian Harm Mitigation and Response-Action Plan and argued that striking a balance between civilian protection and operational effectiveness is essential for effective implementation. Cox also offered an inventory of specified organizational functions (acronymed SERVICE) that, if employed, could help ensure that CHMR-AP's implementation results in the desired institutional improvement.
Adam Aliano and Russell Spivak explored the early history of military foraging and the relevant legal concepts used by Gen. Ulysses S. Grant, and argued that Grant's actions provide a legal blueprint for contemporary military leaders in future operational planning.
Stewart Baker sat down with Nick Weaver and Dave Aitel to discuss the difficulties the FBI has faced in becoming the nation's principal resource on cybercrime and cybersecurity, the possible national security aspects of Elon Musk's plan to buy Twitter, the Texas attorney general's lawsuit against Google, and more:
Hadley Baker and Pompilio shared the Justice Department's Oct. 26 memo announcing new regulations that codify its revised news media policy which expands legal protections for journalists. The new policy prohibits the use of compulsory legal process—the use of subpoenas, search warrants, court orders, and other investigatory practices—against journalists who possess and/or publish classified information.
Molly K. Land and Laurence Helfer discussed the new Digital Services Act (DSA)—a European Union law regulating social media company liability—and the potential conflicts between the European and American approach to content moderation. They highlight the burden placed on social media platforms by the two different regimes and argue that platforms should adopt mechanisms which allow users to choose which speech norms apply to them.
Charles Corbett and Michelle Melton laid out the case—and concerns—for solar geoengineering, a process in which the Earth's atmosphere is intentionally modified with the goal of cooling temperatures on a regional or planetary scale. They discussed the need to dramatically reduce greenhouse gas emissions and argued for increased funding for scientific research to better understand the possibilities and limitations of solar geoengineering.
And Schneider and Phil Schneider sat down for a conversation with Steve Coulson, creative director of Campfire, to talk about the AI revolution in art. They discuss the impact of art generating technology on struggling artists, the challenge of using AI generators when one doesn't speak English, why Xi Jinping is banned on midjourney, and more:
And that was the week that was.
---
Will Appleton is the Fall 2022 Intern at Lawfare. He is currently a fourth-year undergraduate student at the University of California, Santa Cruz where he majors in Legal Studies.