The Week That Was: All of Lawfare in One Post
Your weekly summary of everything on the site.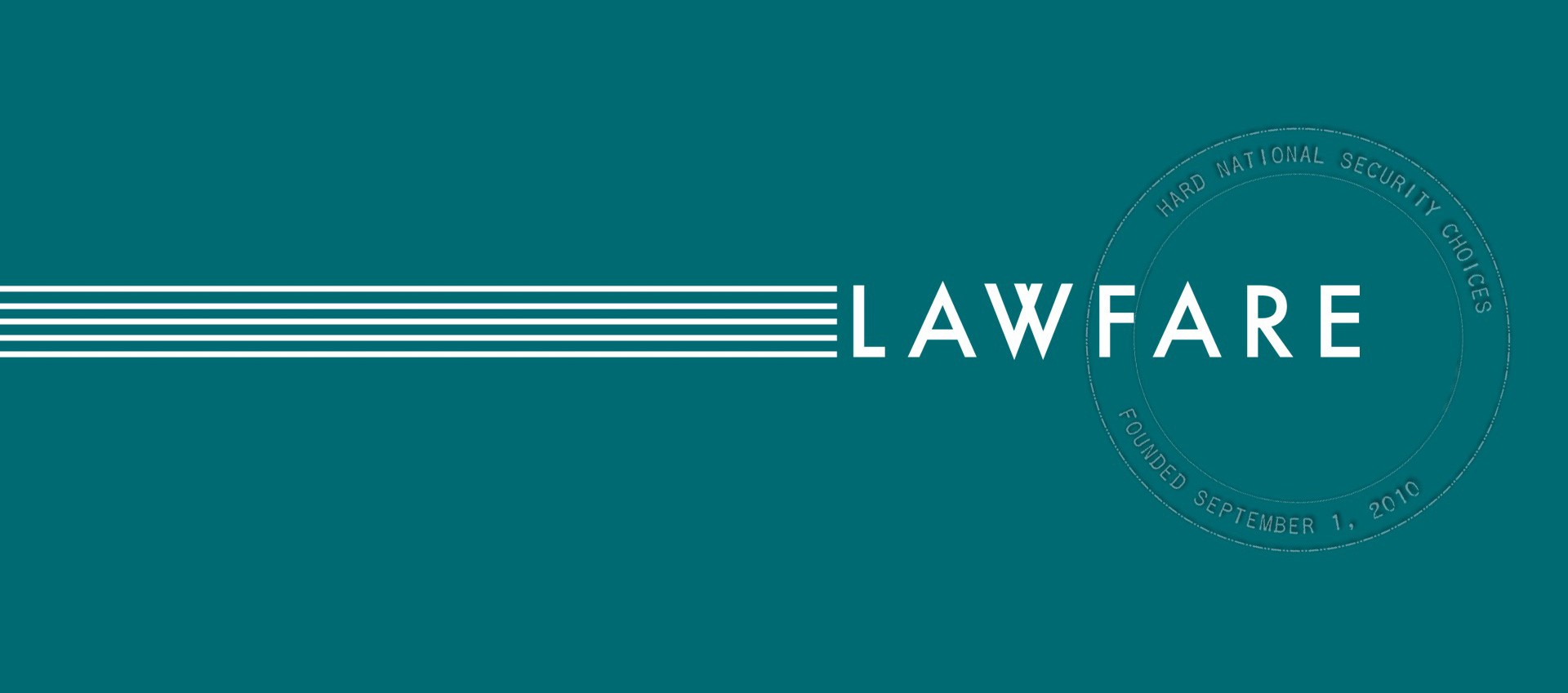 Published by The Lawfare Institute
in Cooperation With


Scott R. Anderson, Daniel Byman, Saraphin Dhanani, Quinta Jurecic, Tyler McBrien, Natalie Orpett, Roger Parloff, Stephanie Pell, Molly Reynolds, Alan Rozenshtein, and Benjamin Wittes shared the 2022 edition of The Year That Was, in which they discussed Lawfare's coverage this year of top national security issues such as climate change, cybersecurity, the Mar-a-Lago investigation, Jan. 6, and more.
Anderson, Hadley Baker, Dhanani, Jurecic, McBrien, Orpett, Parloff, Pell, Katherine Pompilio, Reynolds, Rozenshtein, and Wittes summarized and analyzed the House Select Committee to Investigate the Jan. 6 Attack on the U.S. Capitol's highly anticipated final report.
Wittes sat down with Orpett, Anderson, Jurecic, Reynolds, and Parloff to discuss the House Jan. 6 select committee's final report:
Pompilio shared multiple interview transcripts released by the Jan. 6 committee that include witness testimony from Donald Trump Jr., Ivanka Trump, Cassidy Hutchinson, Brad Raffensperger, and more.
Hyemin Han shared six years of former President Trump's tax returns which were released in the House Ways and Means Committee's report on the Internal Revenue Service's mandatory audit program under the Trump administration.
Justin Sherman discussed a new bill that aims to ban TikTok and ByteDance from operating in the United States and also explained the legislation's shortcomings.
Eugenia Lostri sat down with Caitlin Chin, a fellow with the Strategic Technologies Program at the Center for Strategic and International Studies, to discuss why TikTok is considered a national security threat to the United States, why a ban on the app might not be the right solution to this problem, and recommendations for what a comprehensive data protection framework should look like:
Adam Klein discussed whether next year will be the last year U.S. intelligence agencies rely on Section 702 of the Foreign Surveillance Act.
McBrien sat down with Vox senior foreign policy writer Jonathan Guyer to discuss defense tech startup Rebellion Defense, ethical questions of artificial intelligence on the battlefield, the unholy alliance of Silicon Valley and the Pentagon, and why one former Rebellion Defense employee likened the company to a "Fyre Festival led by Jar Jar Binks":
Pompilio sat down with Paul Mozur, a New York Times correspondent focused on technology and geopolitics in Asia; Adam Satariano, a New York Times technology correspondent focused on digital policy; and Aaron Krolik, an interactive news journalist and developer also at the Times, to discuss their investigation into how Russian state media uses American right-wing and Chinese media to portray the ongoing war in Ukraine to Russian citizens:
Amanda Mattingly discussed how the Biden administration can change its Venezuela policy to help Venezuelans and stem the flow of migrants.
And Rozenshtein, Jurecic, and Anderson answered listener questions including: How should we grade Biden as a foreign policy president? Who wins, werewolf or vampire? Why has the United States let Turkey bully Stockholm and Helsinki over NATO membership? And more:
And that was the week that was.
---
Katherine Pompilio is an associate editor of Lawfare. She holds a B.A. with honors in political science from Skidmore College.