The Week That Was: All of Lawfare in One Post
Your weekly summary of everything on the site.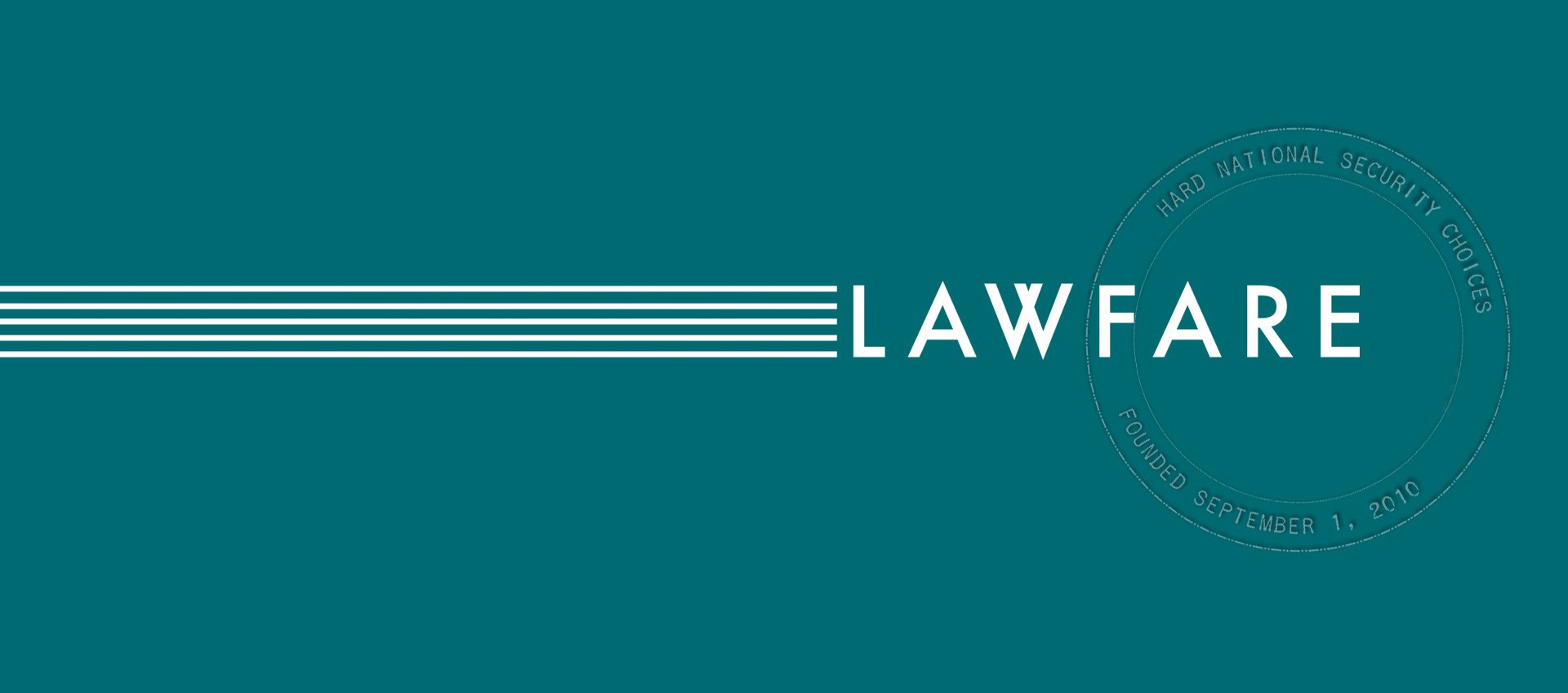 Published by The Lawfare Institute
in Cooperation With


Benjamin Wittes sat down with Thomas Rid and Aric Toler on the Lawfare Podcast to discuss the origins of a recently leaked trove of sensitive Pentagon documents, the threat posed to U.S. and Ukrainian security, and more:
Hyemin Han shared the criminal complaint and affidavit supporting the arrest of Massachusetts Air National Guardsman Jack Teixeira, for allegedly disseminating sensitive national security documents on a Discord server.
On the Lawfare Podcast, Stephanie Pell sat down with Craig Timberg to discuss a series of stories in the Washington Post—co-authored by Timberg—on the Vulkan Files, a collaborative investigative journalism project based on thousands of leaked confidential documents from a Moscow-based cybersecurity contractor:
Saraphin Dhanani analyzed a recent 2-1 decision issued in the Court of Appeals for the D.C. Circuit, which upheld a felony charge of corruptly obstructing an official proceeding for three Jan. 6 participants.
Katherine Pompilio shared a lawsuit filed by Manhattan District Attorney Alvin Bragg against Rep. Jim Jordan (R-Ohio) in response to Jordan's alleged "interference" and "obstruction" of Bragg's ongoing prosecution of former President Donald Trump.
Avery Schmitz shared Trump's filing initiating a lawsuit against his former lawyer, Michael Cohen, seeking $500 million in damages.
On Chatter, Shane Harris sat down with Nancy Yousseff to talk about her career in national security journalism in Iraq, Egypt, Afghanistan, and the Pentagon. The pair discussed Russia's jailing of Yousseff's Wall Street Journal colleague Evan Gershkovich, the abduction of other journalists Yousseff has worked with in the past, and the dangers frontline journalists face in warzones and from hostile governments:
Dhanani sat down with Debasish Roy Chowdhury on the Lawfare Podcast to discuss the proliferation of Hindu nationalism in India, how Modi's governance impacts Indian democracy, and more:
On the Lawfare Podcast, Han sat down with Anderson and Jonathan Lord to discuss Saudi Arabia and Iran's recent deal to restore relations, China's role in brokering the deal, and what to look for as the deal ripens:
On Rational Security, Scott R. Anderson, Quinta Jurecic, and Rozenshtein sat down to discuss the week's big national security news, including a major leak of classified Defense department documents to a Discord server, ProPublica's investigation into Supreme Court Justice Clarence Thomas's relationship with Republican megadonor Harlan Crow, French President Emmanuel Macron's recent comments on Europe's need for greater autonomy from U.S. foreign policy, and more:
Kuzi Charamba and Frédéric Mégret analyzed the challenges in international law that make regulating and apprehending private military and security companies (PMSCs) difficult.
In the latest installment of Lawfare's foreign policy essay series, Raffaello Pantucci evaluated how the Russian government supports right-wing groups to feed instability in Europe.
George E. Bogden discussed historical challenges faced by the Ukrainian National Bar Association and how the ongoing war in Ukraine will affect its ultimate survival.
Brian L. Cox considered how deviations in the goals of civil society and military actors impact attempts to mitigate and respond to civilian harm in conflict zones.
Ashley Merryman reviewed the Defense Department's insufficient attempts to address sexual assault and harrassment in the ranks, and highlighted deficient policies that mandate responses at the "lowest level possible" in service academies.
James Petrila argued in favor of a legal imperative for Section 702 of the Foreign Intelligence and Surveillance Act by tracing its development from the 1970s.
Jim Dempsey discussed a recent report from Stanford and Georgetown tackling security risks for artificial intelligence (AI). The report's recommendations included mitigating the threat of malicious compromise of models, the need for greater integration of AI security into existing cybersecurity programs, improved information sharing between developers, and more.
Andreas Kuehn and Alexandra Paulus outlined resources for policymakers seeking to secure software supply chains, including the implementation of recent innovations including software bills of materials, product security labels, and software product liability regimes.
Dempsey discussed how government review and mandated inspections by federal agencies would support the enforcement of cybersecurity regulations, in the final installment of his three-part series for Lawfare.
Matt Perault and Alan Z. Rozenshtein sat down with Ramya Krishnan and Mary-Rose Papendrea on the Lawfare Podcast to discuss the legal and policy implications of proposals to ban TikTok:
And Paul Rosenzweig considered whether TikTok and Twitter would be eligible for deplatforming under current Apple App Store guidelines as part of a broader discussion on how Apple might leverage App Store guidelines to moderate harmful content.
And that was the week that was.
---
John A. Emmons is an intern at Lawfare and Chinese and political science undergraduate at St. Olaf College, where he is managing editor of the Olaf Messenger.
Avery Schmitz is an intern at Lawfare and a senior at the George Washington University, where he concentrates in Middle Eastern Studies and Arabic.