The Week That Was: All of Lawfare in One Post
Your weekly summary of everything on the site.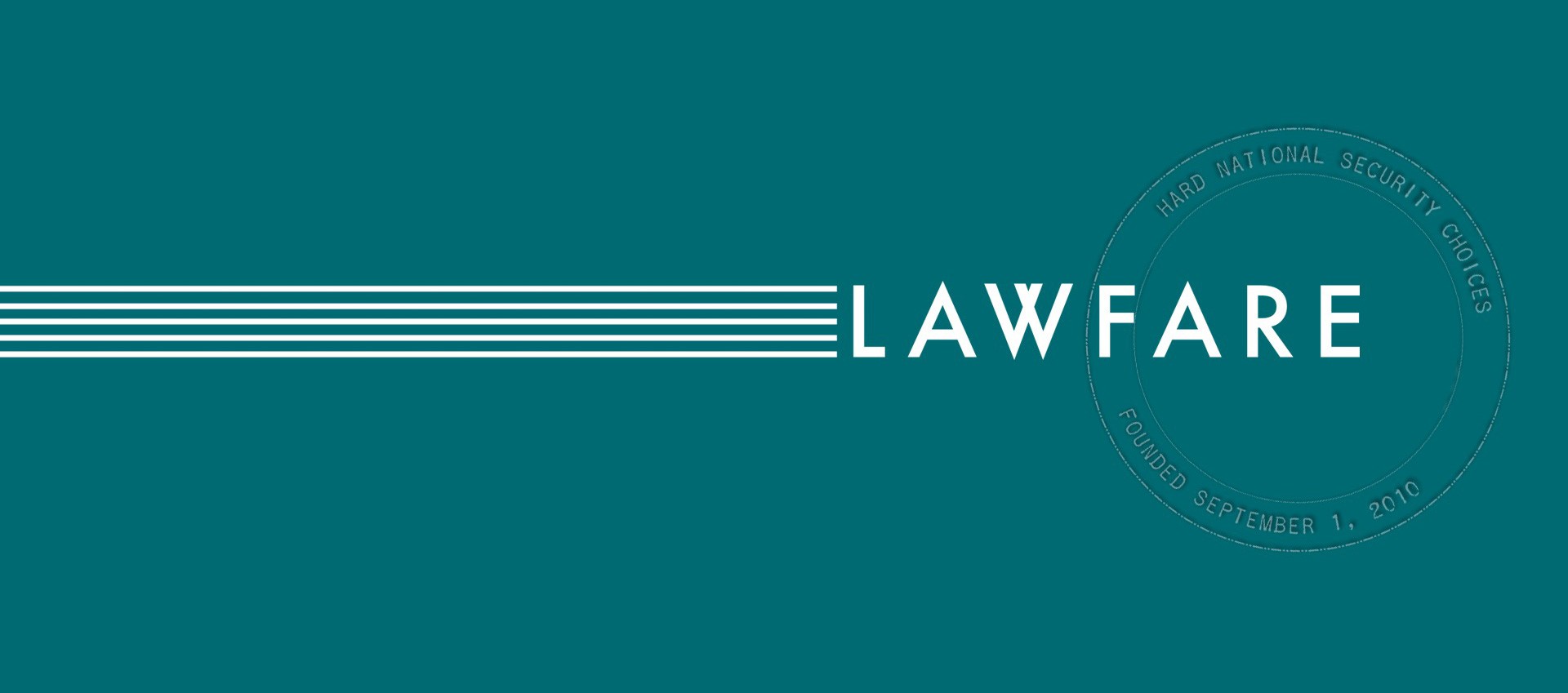 Published by The Lawfare Institute
in Cooperation With


Saraphin Dhanani and Benjamin Wittes evaluated former President Donald Trump's potential presidential immunity defense—as teased by Trump's lawyer John Lauro—in the Jan. 6 case.
On this week's episode of "Lawfare Live: Trump's Trials and Tribulations," Wittes sat down with Anna Bower, Dhanani, and Roger Parloff to discuss updates in the Fulton County case, Trump's motion to recuse Judge Tanya Chutkan, and Judge Aileen Cannon's protective order pertaining to classified documents in the Mar-a-Lago case:
Katherine Pompilio shared Trump's motion for recusal of Judge Chutkan in the Jan. 6 case.
Pompilio also shared the Justice Department's response in opposition to Trump's motion to recuse Judge Chutkan.
On the Lawfare Podcast, Wittes sat down with Bower, Lee Kovarsky, and Alan Rozenshtein to discuss the standard for removal to federal court and whether Mark Meadows should be "yanked" out of Fulton County court, what the Eleventh Circuit and the Supreme Court are likely to do with it, and whether the federal litigation will screw up the timing of the Fulton County prosecution:
Bower reported on the Sept. 14 hearing in Fulton County in which Judge Scott McAfee heard arguments on three pending motions filed by Kenneth Chesebro and Sidney Powell: a motion to permit defense counsel to speak with grand jurors; a motion to unseal transcripts produced during the special grand jury's investigation; and a motion to reveal the identities of 30 unindicted co-conspirators referenced in the indictment.
On Lawfare No Bull, Hadley Baker shared edited audio of the hearing in Fulton County:
Anna Hickey shared a federal judge's order rejecting Meadows' request to remove the Georgia 2020 election subversion case from the Fulton County Superior Court to federal court.
Pompilio shared the D.C. Circuit Court of Appeals ruling blocking Justice Department prosecutors from accessing Rep. Scott Perry's (R-Pa.) communications with other members of Congress as well as executive branch officials.
Paul Rosenzweig and Kimberly Seiler discussed how Judge Cannon can and may exclude key testimony from Trump's attorney M. Evan Corcoran in the classified documents trial if Cannon believes prosecutors' evidence does not satisfy the crime-fraud exception to attorney-client privilege.
Tyler McBrien shared Judge Cannon's order granting the government's motion for a protective order under CIPA Section 3 for information disclosed to Trump and his counsel in the Mar-a-Lago case.
Hyemin Han shared a joint discovery report filed by the Justice Department in the classified documents case.
On the Saturday Lawfare Podcast, which featured audio from the Sep. 6 edition of "Trump's Trials and Tribulations," Wittes was joined by Bower and Parloff to discuss the Colorado lawsuit to keep Trump off of the state's 2024 ballot, the Proud Boys' sentences, Chesebro and Powell's severance hearing in Fulton County, and the potential removal of Meadows' Fulton County election interference case to federal court:
Daphne Keller discussed the Supreme Court's ruling in Twitter v. Taamneh, arguing that the discrepancy between the Court's emphasis on platforms' "passivity" toward content moderation compared to platforms' actual practices could create problems for future litigation.
Kyle Langvardt and Rozenshtein examined Solicitor General Elizabeth Prelogar's brief in Moody v. NetChoice, and NetChoice v. Paxton. They argued that her reasoning in the brief undermines the government's legitimate interest in ensuring broad access to private platforms.
On the Lawfare Podcast, in an edition of Arbiters of Truth, Lawfare's series on the information ecosystem, Rozenshtein and Quinta Jurecic sat down with Talia Stroud and Joshua A. Tucker to discuss their findings in the 2020 Facebook & Instagram Research Election Study, what it was like to work with Meta, and whether similar partnerships between technology platforms' internal researchers and outside academics might be a model for research on platforms going forward:
On the Lawfare Podcast, Jack Goldsmith sat down with Anu Bradford to discuss the global battle to regulate technology and why the EU rights-driven model of tech regulation is in ascendancy in the West and what this means for the U.S. tech companies. They also discussed the tech wars between the United States and China, whether U.S. techno-protectionism is a good idea, how far the United States has departed from its 1990s-style Internet freedom agenda, and how well China's state-driven model is faring in authoritarian countries:
Edward Parker explained why it is extremely unlikely any organization will be able to develop cryptanalytically relevant quantum computers—large-scale quantum computers capable of breaking all existing encryption systems—in secret.
Eugenia Lostri discussed the shifting attitudes of the U.S. and European governments toward establishing processes to request and provide third-country victims with cybersecurity aid. Lostri argued that recent proposals for mechanisms to request and provide cybersecurity aid signal a potential for greater international cooperation on the issue in the foreseeable future.
Lostri also shared the unclassified summary of the classified 2023 Defense Department Cyber Strategy. The strategy outlines four lines of effort: 1) defend the nation; 2) prepare to fight and win the nation's wars; 3) protect the cyber domain with allies and partners; and 4) build enduring advantages in cyberspace.
Melanie Teplinsky discussed the draft of the updated Framework for Improving Critical Infrastructure Cybersecurity (CSF 2.0) recently released by the National Institute of Standards and Technology. Teplinsky argued that CSF 2.0 is unlikely to solve the pressing cybersecurity problems facing U.S. critical infrastructure.
In the latest installment of Lawfare and the Hoover Institution's "AEGIS: Security Policy in Depth" series, Richard Salgado proposed steps the U.S. could take to improve the resilience and defense of its undersea cables.
Caleb Benjamin shared the Department of Homeland Security's 2024 Homeland Threat Assessment.
McBrien sat down with Naunihal Singh on the Lawfare Podcast to discuss the spate of coups in West and Central Africa, the origins of coups, what makes certain countries more coup-prone than others, and the rise and fall of anti-coup norms during and after the Cold War:
Amichai Cohen and Yuval Shany discussed three petitions the Israeli Supreme Court will hear this month: an administrative law challenge to the refusal of the minister of justice to convene the Judicial Selection Committee; a constitutional challenge to the amendment to the Basic Law: The Judiciary; and a constitutional challenge to the amendment to the Basic Law: Government.
Masahiro Kurosaki argued that U.S. recognition of Taiwanese statehood would not be enough to render Taiwan sovereign status and discussed the changes the Taiwan authority would need to make to qualify for statehood. He also found timing challenges may make statehood recognition an ineffective deterrent against Chinese invasion.
In the latest installment of Lawfare's foreign policy essay series, Alexandra Chinchilla discussed the three key lessons the U.S. can learn about security force assistance from the war in Ukraine: (1) training is easier than building (2) shared goals do not imply shared ideas About how to achieve them and (3) security force assistance might not always be the decisive factor.
On the Lawfare Podcast, Natalie Orpett sat down with Erin Sikorsky to talk about the phenomenon of climate migration, the scope of the climate migration crisis, its security implications, and how we can try to mitigate the harm:
On Rational Security, Rozenshtein and Jurecic sat down with Molly Reynolds to discuss this week's big national security news stories, including the back-and-forth between Rep. Jim Jordan (R-Ohio) and Fulton County District Attorney Fani Willis, Speaker of the House Kevin McCarthy's (R-Calif.) announcement of an impeachment inquiry against President Biden, and the controversy sparked by reports that Elon Musk had decided to turn off Starlink coverage near Crimea to block a Ukrainian maneuver, and more:
Pompilio shared a Delaware grand jury's indictment of Hunter Biden on charges relating to his alleged illegal purchase of a firearm.
Robert Chesney called for nominations for the 2023 Mike Lewis Prize for National Security Law Scholarship. Each year, the Mike Lewis Prize—in the amount of $1,000—is awarded to the author of an outstanding national security law article.
And on Chatter, Scott R. Anderson was joined by Shane Harris to discuss Harris's longstanding coverage of unidentified aerial phenomenon, better known as UFOs:
And that was the week that was.
---
Caleb Benjamin is Lawfare's fall 2023 editorial intern. He holds a B.A. with high honors in government from Dartmouth College. He has previous work experience at the Combating Terrorism Center at the U.S. Military Academy, Brunswick Group, and the Democratic Erosion Consortium.